Republican Declared Winner In Disputed Virginia Election
Republican David Yancy was declared the winner of a disputed election, giving the GOP a slim one-seat majority in the state's House of Delegates.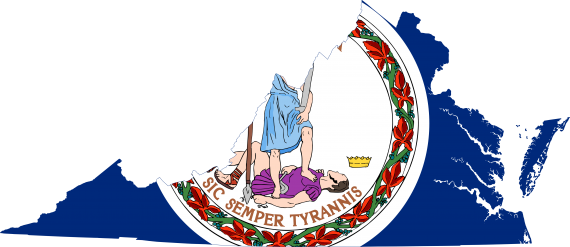 Yesterday. the disputed outcome in a single House of Delegates district in Virginia which initially appeared to show that the Democratic nominee had won by a single vote but which quickly ended up being declared a tie after the three-judge panel overseeing the recount ruled that a disputed ballot should be counted for the Republican ended with election officials declaring the Republican candidate the winner after names were drawn by lot as provided by Virginia law:
An official of the Virginia State Board of Elections pulled the name of David Yancey from a blue and white stoneware bowl on Thursday, breaking a tied race that is pivotal to control of the state House of Delegates.

The outcome in favor of Mr. Yancey, the Republican incumbent, means that the House remains narrowly in his party's hands, 51 seats to 49, after a Democratic wave in November propelled by anger at President Trump. Going into the election, the Republicans had a 32-seat advantage.

The random drawing, a species of political unicorn that attracted attention well beyond Virginia, was conducted in the Patrick Henry Building near the State Capitol in Richmond shortly after 11 a.m. Each candidate's name was written on strips of paper, inserted into film canisters and mixed together in the handmade bowl, made by the potter-in-residence at the Virginia Museum of Fine Arts, Steven Glass.

Despite the high ceremony, the drawing may not bring finality to a race that has already been fiercely fought through a recount and in court skirmishes. By state law, the loser in the drawing may request a second recount.

The Democratic challenger, Shelly Simonds, a school board member in Newport News, said after the drawing that "all options are still on the table." But she also sounded resigned. "You know it was a long hard election season, and it does seem like a sad end to the story to have to end on a game of chance," she told reporters.

Mr. Yancey did not attend the drawing, which was thronged with news cameras and live-streamed on Facebook, but he called on his opponent afterward to move on. "The election is behind us, the outcome is clear, and my responsibility now is to begin the work I was re-elected to do," Mr. Yancey said in a statement. On Twitter, he thanked "all of the kids I have coached in high school rugby who have inspired me to keep fighting."

Ms. Simonds had proposed to Mr. Yancey on Wednesday that each should pledge to forgo a second recount if they lost the drawing. Mr. Yancey rejected the offer.

Republican leaders in the House called on the Democrat to give up the fight, despite her right to ask for a second recount.

"This was a historic election, but now it's time to begin the work of governing," said the House Majority Leader, Todd Gilbert.

For one day last month, when the initial recount gave Ms. Simonds a one-vote lead in the race, Democrats celebrated the end of 17 years of Republican majorities in the House. Republicans even said in a statement that with control evenly divided, they looked forward to a power-sharing arrangement.

But a three-judge recount court, reviewing the count the next day, added an additional ballot for Mr. Yancey. That tied the race at 11,607 apiece, and created the need for the random drawing called for under Virginia law. Ms. Simonds asked the court to reconsider its decision on the single ballot, but the court rejected the request earlier this week.

If Ms. Simonds requests a second recount, it probably would not be complete by Jan. 10, when the House of Delegates is scheduled to reconvene. Republicans said on Thursday that in the past, members have not been seated when a recount of their race was in progress. But even without Mr. Yancey, they would still have one more vote than the Democrats.

"We've been clear that we intend to organize the House on the first day of session," said Kirk Cox, a Republican who is expected to be chosen as speaker.

Control of the speakership on opening day brings with it a bag of political goodies, including control over committee assignments and House rules, which will determine which bills make it to the floor, amplifying Republican influence over a chamber that is nearly equally divided.

Virginia Democrats had hoped that under Ralph Northam, the governor-elect and a Democrat, thwarted liberal priorities would break through a logjam of Republican control of both houses of the General Assembly. Expanding Medicaid in the state was high on that list.

Democrats have angrily pointed to the gerrymandered House of Delegates map, saying that it unfairly prevented them from gaining control, even though their candidates received 10 percentage points more votes statewide than their Republican rivals.

The drawing was held with the three members of the State Elections Board seated at a long table. Noting that they usually attracted only one or two journalists to their meetings, the members sounded and acted a bit nervous.

James B. Alcorn, the chairman and a Democrat, said there was "a fair amount of interest in which bowl we would use." For the drawings the board routinely conducts to decide the order in which candidates are listed on ballots, he said, "we have been using a glass bowl for many years, and more recently a cardboard box." For this occasion, though, he said he asked the fine arts museum for something special.

Strips of paper with the candidates' names were rolled and inserted into old film canisters and placed in the bowl. The vice-chairwoman, Clara Belle Wheeler, a Republican, then gave the bowl a stir, and Mr. Alcorn plucked the winner. It was the first time since 1971 that Virginia broke a tied legislative race by random drawing.
For her part, Simonds is refusing to concede and says she is likely to petition a court to order a second recount:
Speaking to reporters after the drawing, Simonds said she was keeping all options open and would not concede the race, but she did not specify whether she intends to seek a new recount.

"It does seem like a sad ending to the story to have to end on a game of chance," Simonds said.

The elections board signed paperwork certifying Yancey as the winner, but board members said it will be up to others to figure out if a second recount is legally possible.

"That's above my pay grade," Alcorn said.

After learning they'd undoubtedly be heading into the legislative session that starts Jan. 10 with a slight majority instead of a 50-50 split with Democrats, Republican leaders said during a news conference that they believe Simonds has the legal right to ask for a second recount. But they said they hoped she wouldn't, to allow voters in the 94th District to have representation as the House moves forward with business.

"We wouldn't be in this position if it weren't for weeks of intentional delays and unnecessary legal filings by Ms. Simonds' campaign," said Del. M. Kirkland Cox, a Colonial Heights Republican who, after Thursday's drawing, is a virtual shoo-in to be elected House speaker next week to replace retiring Speaker William J. Howell, R-Stafford.

(…)

On Friday, a federal court will hold a hearing on a lawsuit in the 28th House District that asks the court to throw out what appeared to be a Republican victory because nearly 150 voters in the Fredericksburg area cast ballots in the wrong House race. Cox said Thursday that Republicans are "very confident" that lawsuit will be resolved in their favor, which would allow his party to avoid a special election and confirm Republican Bob Thomas as the 28th District winner over Democrat Joshua Cole.

In the 94th District, it's not clear a new recount would produce a different result, but it could give Simonds a chance to get a different set of judges to look at the controversial ballot that created the tie.

Yancey held a 10-vote lead over Simonds in unofficial results tallied on election night, but the Dec. 19 recount showed Simonds squeaking out a one-vote win. Republicans appeared to concede the seat but went into a final court hearing Dec. 20 armed with a surprise letter from a Yancey-aligned recount official suggesting a ballot that had been discarded should have been counted for Yancey. On the ballot in question, the voter filled in bubbles for both Simonds and

Yancey but drew a line through Simonds' bubble.

Simonds' lawyers argued the ballot was an impermissible overvote and should be tossed out because the voter's intentions weren't clear. The judges sided with Yancey, saying the ballot met the criteria for an exception that allows voters to scratch out erroneous votes to clarify their choice.
It's unclear under Virginia law whether Simonds even has legal grounds to continue to challenge the outcome of the race and the tie-breaking procedure. The statute that placed supervision in the hands of a three-judge panel of state trial court Judges based in Richmond does not provide for any right of appeal to a higher court. Instead, the relevant statute provides that the candidate losing the drawing by lot may request a second recount that would presumably be assigned to a different panel of Judges. Whether or not that recount would end with Simonds being declared the winner, of course, is an open question.
Even if Simonds gets beyond that barrier, it's far from clear that a second recount would end up being decided in her favor or that, if she did win, her victory would have any impact on which party controls the leadership positions in the House of Delegates. In order for that to happen, a second recount would have to be ordered and completed prior to January 10th when the state legislature convenes for its new session. On that day, the House of Delegates will vote to select its new Speaker and leadership team and, thanks to the fact that Yancy was declared the winner in the 49th District, Republicans will win that vote. Current rules in the House don't appear to have any procedure that allows for the vote for leadership and committee control to be reconsidered after those votes take place. If that's the case, then Simonds being declared the winner in the district would not change who controls the body, although it would give Democrats some power to force the issue simply be withholding votes from necessary legislation.
Win or lose, though, the success that Democrats in Virginia had cannot be understated. In addition to easily sweeping all three statewide elected offices for the second election in a row. Additionally, they managed to take a Republican advantage in the House of Delegates of more than 30 seats and whittle it down to a single seat at this point. Realistically speaking, this is something few political observers in the Commonwealth thought was even remotely possible this year. This is an accomplishment that sets the usually underwhelming midterm elections in 2019, during which both the House of Delegates and the entire membership of the Senate, up to be far more interesting and important than they normally would be. As things stand, Republicans have a razor-thin majority in the State Senate that matches their apparent majority in the House and it wouldn't take much for Democrats to flip a handful of seats in both bodies to grab full control of state government for the first time in decades.
On a final note, while some might question the idea of deciding the outcome of an election by drawing names out of a bowl, I tend to agree with Philip Bump at The Washington Post that it's a perfectly sensible way to resolve the outcome of a disputed election that ends in a tie:
[T]he pick-a-name-from-a-bowl solution is a good one precisely because it recognizes the imprecision of the electoral process. The race was specifically a tie after all of the votes were counted, but it was effectively a tie on the night of the election. Voters in Virginia's 94th District were essentially split on who they wanted to have represent them in the legislature even if one or the other of the candidates had a few more votes one way or the other. Not all close races should be settled by drawing lots, of course, but there's nothing wrong with using that system to settle races in which the generally arbitrary accumulation of votes resulted in a tie.

Elections are imprecise, which only matters on occasion. In the event of an actual tie, it's better to accept elections are imprecise and we can't perfectly measure the will of the people than to continue to pretend they aren't and force a different — and equally imprecise — result.
In other states, other procedures are used to decide the outcome in the statistically unlikely event of a tie, including the drawing of straws and even the drawing of cards from a deck, with the person who draws the high card being declared the winner. Whatever the process, though, as long as it's completely random and doesn't give one candidate an advantage over another, there needs to be some method in place for dealing with the rare occasions when an election ends in a tie — in Virginia's case, this was the first time the process had to be used in some 40 years — and drawing names from a bowl seems as fair as you can get.
Update:  This post was updated to reflect the fact that Virginia law does provide the loser of an election decided by lot to request a second recount.