VA House of Delegates Race now a Tie
One for the textbooks.
The race that Doug Mataconis blogged about earlier today (A Political Earthquake In Virginia Thanks To A Single Vote) is now a tie (via WaPo):  Virginia court tosses out one-vote victory that briefly ended GOP majority in House.
A three- judge panel declined to certify the recount of a key House race today, saying that a questionable ballot should be counted in favor of the Republican and tying a race that Democrats had thought they had won by a single vote.

"The court declares there is no winner in this election," said Newport News Circuit Court Judge Bryant L. Sugg, after the judges deliberated for more than two hours.

He said the ballot in question contained a mark for Democrat Shelly Simonds as well as a mark for Republican Del. David Yancey but that the voter had made another mark to strike out Simonds' name.
Here's the ballot in question: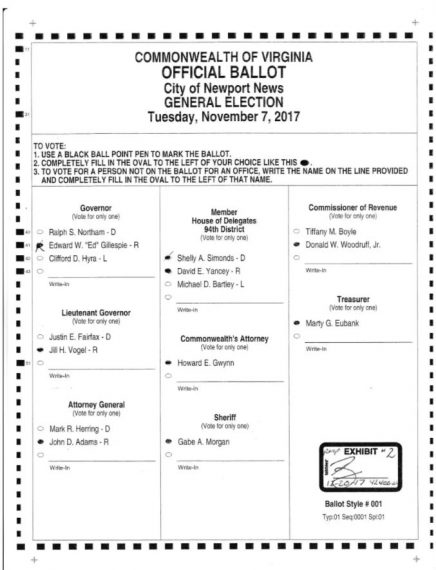 In my opinion, the voter intent is unclear insofar as it is really impossible to know who the voter was voting for in the House of Delegates box for sure.  One might infer a Republican preference, but there is no way to know for sure, and hence in my opinion the court should not be making inferences, although I will allow I do not know the legal standard in Virginia.  Normally clear voter intent is the standard.   Since the voter also made an extra mark on the vote for governor one could as reasonably assume that the vote for Simonds was the preference for House (but there is no way to know for sure, which is why I presume it was not counted originally).
I assume an additional level of appeal remains.  It is unclear as to the procedure if there is an actual tie.  Probably a coin flip or the equivalent.
Still, as has been widely noted today:  this is an object lesson in every vote counting.  (And, no doubt, one for the American government textbooks).
Update:  In case of a tie, VA law states:
If two or more persons have an equal number of votes for any county, city, town, or district office, and a higher number than any other person, the electoral board shall proceed publicly to determine by lot which of the candidates shall be declared elected.