A Political Earthquake In Virginia Thanks To A Single Vote
After nearly twenty years, the Republican domination of the Virginia House of Delegates came to an end thanks to a single vote.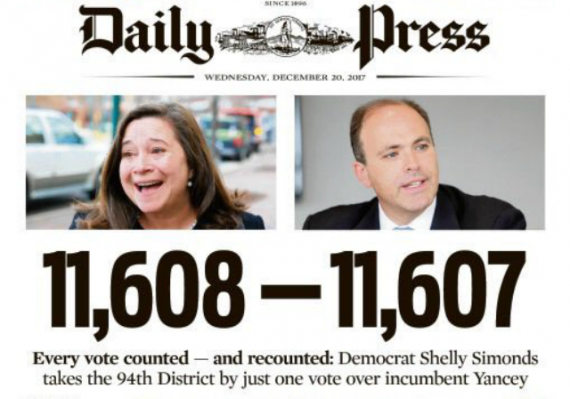 Last month, Democrats scored big wins in Virginia last month when Democratic nominee Lt. Governor Ralph Northam defeated Republican nominee Ed Gillespie by a wider than expected margin in what turned out to be an election that also saw the Democratic nominees for Lt. Governor and Attorney General win their respective elections, giving Democrats all three statewide elected offices for the second time in four years. In addition to those wins at the top of the ticket, though, Democrats also surprised observers by scoring huge gains in the Virginia House of Delegates, where Republicans had held a strong majority for nearly two decades. When the smoke cleared shortly after the election, the GOP still had control of that body but only by the slimmest of margins and the fate of several seats was up in the air due to how close the margin was between the two candidates. Yesterday, though, the recount process ended in one district and it became official that the Republicans had lost majority control of the lower chamber of the state legislature, and it all happened because of a single vote.
The Democratic wave that rose on Election Day in Virginia last month delivered a final crash on the sand Tuesday when a Democratic challenger defeated a Republican incumbent by a single vote, leaving the Virginia House of Delegates evenly split between the two parties.

The victory by Shelly Simonds, a school board member in Newport News, was a civics lesson in every-vote-counts as she won 11,608 to 11,607 in a recount conducted by local election officials.

Ms. Simonds's win means a 50-50 split in the State House, where Republicans had clung to a one-seat majority after losing 15 seats last month in a night of Democratic victories up and down the ballot, which were widely seen as a rebuke to President Trump. Republicans have controlled the House for 17 years.

"I just can't believe it, but it sounds like it's pretty solid," an excited Ms. Simonds, speaking from a bar with the sounds of celebration in the background, told reporters on a conference call. She said she was in awe of the recount process, an example of what she called good government, in which there were no arguments between Democrats and Republican observers. "It was a beautiful thing to see democracy in action."

The recount was a nail-biting exercise avidly followed on Twitter over five hours that began with the Republican incumbent, David Yancy, ahead by 10 votes.

Although results are not official until certified by a three-judge panel on Wednesday, state Democrats declared victory, and Republican leaders in the House congratulated Ms. Simonds. "There were no challenged ballots so nothing for the court to review," leaders of the Democratic caucus said in a statement.

"Fifty-fifty is an unprecedented event in the 400-year history of the House of Delegates," said David J. Toscano, the House Democratic leader.

Ms. Simonds's single-vote victory will enter election annals along with rare other razor-thin majorities. In Mississippi last year, a State House race that ended in a tie was decided in favor of the Democrat by a drawing of straws, before being reversed by a Republican partisan challenge in the State Legislature.

Iowa has been known to use coin tosses to settle tied results in its presidential caucuses. In the 2000 presidential election, when a complicated paper ballot in Florida led officials to examine "hanging chads" with eyepieces and only 537 votes separated George W. Bush from Al Gore, the Supreme Court ultimately made the call a month after Election Day.

As the votes were recounted, results were updated precinct by precinct on a white board with felt marker. Several journalists reported the seesawing results live on Twitter, with Mr. Yancey's 10-vote margin slowly eroding.

It was one of several recounts Democrats pursued after narrow Republican victories in House races on Election Day. Before Tuesday, the others had broken for Republicans, but Democrats are still contesting one race with an 82-vote margin in a district where 147 people received the wrong ballots. A lawsuit requesting a new election is in the courts. If the Democratic candidate, Joshua Cole, somehow ends up the victor, that would give his party a 51-49 majority in the House.

Still, the divided chamber was welcome news to Governor-elect Ralph Northam, a Democrat who as of January will not have to face Republican majorities in both houses of the General Assembly like his outgoing predecessor, Gov. Terry McAuliffe. Virginia Republicans narrowly control the State Senate, whose members were not on the ballot this year, 21 to 19.
It's hard to understate just how big a deal this is for politics in Virginia. For nearly two decades, Republicans enjoyed strong control of the lower chamber of the House and either controlled or had a strong minority in the State Senate, giving them significant political power even when the Governor's office was held by a Democrat. For many years, it was thought that the combination of favorable redistricting and the inertia of incumbency meant that it would be years before Democrats would be able to even make a dent in the GOP majority. Instead, it all came tumbling down in one election, and if the overall trend in Virginia is any indication, it's likely to mean that the Commonwealth will become more and more of a Democratic state unless Republicans pull themselves back from the precipice they find themselves on thanks to their embrace of the mindless populism of the Tea Party, Donald Trump, and Corey Stewart, who nearly won the nomination for Governor on a platform that mimicked Donald Trump's and is now a candidate for the nomination to take on Senator Tim Kaine in 2018.
Practically speaking, this 50-50 divide in the House, if it ends up being how things turn out, isn't going to be easy to deal with. Much like in the Federal Government, there is no procedure for breaking a tie vote, which will make conducting even ordinary business difficult unless the parties are able to come up with some kind of power-sharing arrangement. The first order of business in January, for example, will be choosing a new Speaker, which is ordinarily a fairly simple process. That may not be the case in a chamber equally divided by the parties. Similar issues will likely come up with regard to things such as committee assignments and the question of who will control those committees as chairperson. Additionally, the first order of real legislative business will be to pass a budget, and that too will be more difficult with a tie in the House of Delegates. Finally, regardless of what happens in the House of Delegates, Republicans will continue to have a small majority in the State Senate until at least the 2019 elections.
In the end, Republicans and Democrats will have to find a way to work these issues out no matter how difficult it might be, but as I stated there's no way to understate just how significant this is in terms of Virginia politics. And it all happened because of a single vote.
Update: As Steven Taylor notes, the race is now a tie due to the discovery of an uncounted ballot. The problem appears to be that there seems to be an obvious question regarding voter intent with regard to this ballot. This will no doubt lead to further litigation. In any case, if the ballot stands, then the race is now a tie and would be decided by a drawing of names purusant to Virginia law if that remains the case.
Photo of the front page of Daily Press (Charlottesville, Va.) via Kyle Griffin on Twitter.