Ralph Northam Defeats Ed Gillespie In Virginia In Strong Democratic Rebuke Of Trump
Democrats, Republicans, and Independents came out for an an election that can only been seen as a strong rebuke to President Trump and the Republican Party.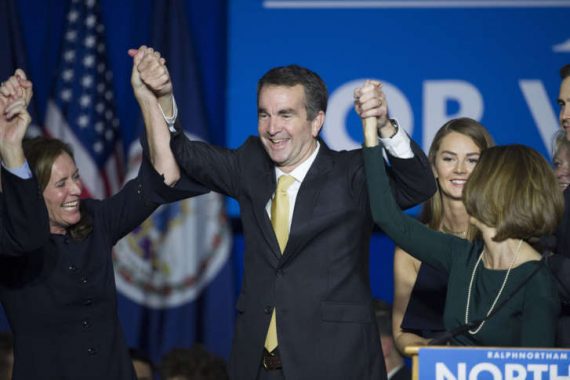 After some signs that the race was tightening, Democratic Party nominee and current Lt. Governor Ralph Northam ended up easily defeating Republican nominee Ed Gillespie in an election that saw big Democratic gains across the state in what clearly seems to be a strong rebuke to President Trump and the Republican Party:
Democrat Ralph Shearer Northam won a hard-fought race to become Virginia's 73rd governor, beating Republican Ed Gillespie in an election watched around the nation as a judgment on President Trump and the politics of polarization.

Voters choose Northam, the lieutenant governor, 54 percent to 45 percent over Gillespie as part of a stunning Democratic sweep of statewide offices, including the lieutenant governor and attorney general. There also were widespread Democratic victories in the House of Delegates.

In his victory speech, Northam — a 58-year-old pediatrician and Army veteran — said "Virginia has told us to end the divisiveness, that we will not condone hatred and bigotry, and to end the politics that have torn this country apart."

The vote had national resonance as well. Democrats — and some moderate Republicans — had rallied behind Northam as a message against the anti-immigrant nativism and angry populism stoked by Trump's surprise victory last year. Gillespie, in turn, had dipped into Trump's playbook with strong law-and-order messages, but tried to keep his distance from the president in a state that now leans blue.

Social media reaction Wednesday framed the Virginia governor's contest as a bellwether race of the sentiments across the country as some people predicted it was also a sign that the GOP faced big troubles. Many voters said they were simply relieved that the election and its ads were over.

One voter, Tina Lee , wrote on Twitter "my weeping with relief after checking my phone this AM to find out what happened in my home state."

Democrats broke into tears as results came in Tuesday evening to the Northam campaign party in Fairfax City, the outcome beyond what most had dared hope. For all the fury unleashed on the Virginia races by Trump and his followers, who lit up social media and tried to define the contests in terms of Confederate statues and Hispanic street gangs, Northam had seemed an unlikely standard-bearer to fight back.

Even some fellow Democrats had criticized Northam for his low-key campaign style. But in the end he won more votes than any previous Virginia governor, and it was a historic night for the party across many fronts.

"In Virginia it's going to take a doctor to heal our differences, to bring unity to our people, and I'm here to let you know that the doctor is in," Northam said to ecstatic supporters Tuesday night at George Mason University. "We need to close the wounds that divide, and bring unity to Virginia . . . Whether you voted for me or not, we are all Virginians. I hope to earn your confidence and support."

Gov. Terry McAuliffe (D), the ultimate party cheerleader and a patron of Northam's political career, said he hadn't expected such a resounding set of victories — especially in the House of Delegates, where the prospect of regaining a majority had seemed out of reach.

"I always say you're going to get it back because you have to say that politically," McAuliffe said in an interview, "but in my mind I was thinking six to eight [seats gained] would have been a great night for the Democrats."

(…)

Gillespie, 56, was gracious in defeat, taking to the stage at a hotel outside Richmond to congratulate Northam and pledging to help the new governor in any way he could.

"I want to thank all those who voted today, on both sides," Gillespie said, his wife, ticketmates and campaign staffers standing beside him. "These million voters [who supported him] and our friends and family love our commonwealth, they love our fellow Virginians, and they love even those who disagree with them."

Gillespie never mentioned Trump during his concession speech, just as he almost never mentioned him on the campaign trail. But the president was quick to lash out earlier Tuesday as it became clear that Gillespie was losing.

"Ed Gillespie worked hard but did not embrace me or what I stand for," the president tweeted before the final tally was in, and shortly before addressing the South Korean National Assembly during his trip to Asia.

Only hours earlier, he tweeted support for Gillespie, saying that electing "Ralph Northam will allow crime to be rampant in Virginia." But if the Republican wins, Trump said, "MS-13 and crime will be gone." He was referring to the MS-13 street gang, which featured prominently in Gillespie ads raising fears of violence and illegal immigration.

(…)

The success of Northam and his ticket was fueled by unprecedented turnout among Democrats and liberals, who traditionally have sat out Virginia elections in nonpresidential years.

Preliminary exit poll results found 28 percent of voters identifying as liberals, up eight points from the 2013 governor's race and two points from last year, when Clinton won the state by five points. Democrats composed 41 percent of the electorate, up four points from 2013 and one point from last year.

Republicans were 31 percent of the electorate, a record low in exit polling dating to 1996.

African Americans accounted for 21 percent of voters, according to exit poll results, identical to their share in last year's presidential election and one point higher than in 2013. In total, nonwhite voters made up 33 percent of the electorate, the same as last year but up from 28 percent in the previous governor's race.

Black voters favored Northam over Gillespie by a 73-point margin, while Hispanic voters favored Northam by 33 points.

Democrats had worked feverishly in recent weeks to court African American voters, and former president Barack Obama held a rally with the ticket in Richmond last month. Obama also recorded a robo-call that went out Monday and Tuesday to encourage people to vote.
As they had four years earlier, Democrats in Virginia swept all three statewide offices up for election, with Lt. Governor candidate Justin Fairfax and incumbent Attorney General Mark Herring winning their races easily, this time by decisive margins that were much better than what they saw in 2013 when the Attorney General's race ended up being in limbo until well into November due to a recount. Most surprisingly, the Democratic success also translated into big wins in down-ballot races, with Democrats cutting significantly into the Republican majority in the House of Delegates to the point where they may actually be able to take control of that house of the state legislature depending on the outcome of a handful of races. In one of the most closely watched of those legislative races, long-standing incumbent Republican Bob Marshall, a socially conservative Republican who has been behind such controversial pieces of legislation such as the state's ban on same-sex marriage, the infamous transvaginal ultrasound bill, and a bill that would have restricted the access of transgender people to bathrooms matching their gender identity in public buildings, was defeated by the first transgender candidate to win a legislative race in Virginia. In another race, the first openly lesbian candidate won in the same county. In another race, Chris Hurst, whose girlfriend was killed by a former co-worker during a live television appearance two years ago, won election over the Republican candidate in a race that focused heavily on gun issues in a part of the state where gun rights are basically a bipartisan issue. Other races saw long-standing Republican incumbents either losing their seats or in races that remain too close to call in districts that they had won easily in previous elections. In fact, Democrats in Virginia won more seats in the state legislature yesterday than they have in any election since the late 19th Century. Regardless of the outcome in the House of Delegates, Republicans will remain in control of the State Senate, which is not up for re-election until 2019. However, even if they only end up reducing the Republican majority in the House of Delegates, Democrats will have gone a long way toward reducing GOP power in Richmond as the state stands at the cusp of a census in 2020 that will determine new lines for Congressional and state legislative districts. In other words, last night was nothing less than a complete sweep for Virginia Democrats and a stunning defeat for Republicans who had hoped that nominating Gillespie, who came close to defeating popular Senator Mark Warner just three years ago, would give them a shot at regaining the Governor's mansion they had lost four years ago when they pinned their hopes on a strongly conservative ticket led by former Attorney General Ken Cuccinelli.
While the Democratic win in New Jersey's Gubernatorial race was entirely predictable and doesn't really tell us very much about national politics as a whole, that isn't necessarily the case when it comes to Virginia. Inevitably, there will be much examination of these results and what they mean for national politics, for the Republican and Democratic parties, and for the political landscape heading into the 2018 elections. President Trump, who had urged voters to turn out for Gillespie in a series of tweets from Asia, see here, here, and here, sought to distance himself in the face of the widespread Republican losses, saying that Gillespie had not really embraced his agenda when the opposite was actually true. Additionally, whether or not Gillespie fully embraced Trump's agenda, it's clear from the exit polls that it was negative reaction to Trump that brought voters to the polls in Virginia yesterday, especially in voter-rich areas such as Northern Virginia, where Gillespie both performed worse than he had in 2014 and worse than Trump did just a year ago. Republican Scott Taylor ,who represents Virginia's Second Congressional District, called the outcome a referendum on Trump, noting that it was Trump's divisive rhetoric, much of which Gillespie adopted when he began concentrating on issues such as immigration and Confederate monuments, that led to the massive turnout in favor of Democrats that we saw in Northern Virginia, Richmond, and other areas of the state. Former Congressman Tom Davis, a Republican who represented a district in Northern Virginia for roughly a decade agreed, saying that  "Ed couldn't escape being a proxy for Trump, which killed him. It's a huge drag on the ticket. It motivated the Democratic base. Democrats came out en masse in protest. This was their first chance to mobilize the base. The lesson here is that Republicans have to get their act together. Ed did as well as he could do with the hand he was dealt."
Taylor is right, of course. While Virginia was not among the states that went for Trump a year ago, the fact that Republicans suffered such extensive losses in a state that they at least should have been far more competitive in can only be attributed to the man in the White House and what the voters in Virginia think of him. As Frank Bruni puts it in today's New York Times, this should have Republicans nationwide worried:
Does it mean that Democrats can wrest one chamber of Congress from Republican control in 2018? Impossible to say. Politically speaking, there are eons between now and then, and the Virginia governor's race had facets all its own. But there are reasons for Republicans to be very afraid.

One is that Northam outperformed Clinton without being a particularly energetic, forceful candidate. Through Tuesday morning and afternoon, I heard from pessimistic Democrats who were already ruing the fact that he'd been the party's nominee. Couldn't they have found someone with more fire? Someone smoother? In the race's final days, he flip-flopped on sanctuary cities and made other blunders that cast him as unsteady and uncertain. Didn't matter. He prevailed, handily.

Republicans should also worry that they've oversold themselves on the moderate-progressive divide in the Democratic Party and how severely Democrats would be hobbled by it. In the days leading up to Tuesday, a book by Donna Brazile, the former head of the Democratic National Committee, reignited the enmity between Clinton's backers and supporters of Bernie Sanders, and that became one of several reasons to wonder if progressives would fail to turn out for Northam, a milquetoast moderate. In the end, enough of them did, not just to guarantee his victory but to jeopardize Virginia Republicans' 66-to-34 majority in the state's House of Delegates. On Wednesday morning, unofficial returns showed that Democrats would pick up at least 14 seats, and they could, after recounts, even wind up with control of the House.

"If the Virginia results showed anything, it's that ideological purity isn't necessary to win in the Age of Trump," Lis Smith, a Democratic operative who worked for McAuliffe, told me Tuesday night. "Northam came out as a two-time George W. Bush voter, and he failed some key liberal litmus tests. Still he won."

In rooting for a Gillespie victory, the G.O.P. was looking for something larger: an assurance that a Republican in a swing state or swing district could find the right recipe for energizing Trump supporters without alienating Trump skeptics. Gillespie's answer was to keep Trump at arm's length physically but not spiritually. So while he never — not once — had Trump stump for him in Virginia, he parroted the president's tough talk about criminals and immigrants and denounced professional football players who didn't stand for the national anthem.
Writing at the well-respected Republican-leaning political blog Bearing Drift, Lynn Mitchell finds another reason for Republicans to worry, namely the fact that Republicans came out to vote against a moderate conservative because of the man in the White House:
The words were spoken forcefully: "I'm voting straight Democrat to teach the Republicans a lesson."

Why?

Donald Trump.

I heard it over and over. These were lifelong Republicans and Republican-leaning Independents, mostly women but also some men, who had a goal on Election Day: Send a message to the GOP.

Some good Republicans were collateral damage. "But he's one of the good guys, pragmatic and willing to work across the aisle," I protested.

"Doesn't matter. He's an R," was the response. The resolve in their voices was unmistakable.

(…)

Will the GOP learn from the stunning losses of Tuesday?
That will be the question going forward. I'm going to guess that, at least in the short-term, the answer will be a resounding no, and that Republicans on Capitol Hill and nationwide will continue to hitch their political fortunes to an increasingly unpopular President. If that's the case, then they're likely to suffer even further in future elections.