Democrat Ralph Northam Continues To Lead In Virginia, But The Race Is Far From Over
New polling shows Democratic nominee Ralph Northam continuing to lead Republican Ed Gillespie in the Virginia Governor's race, but anything is still possible with three weeks to go until Election Day.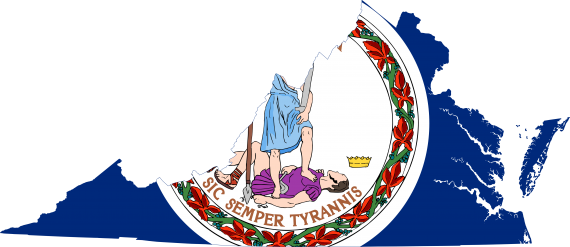 A new poll shows Democrat Ralph Northam with a strong lead over Republican Ed Gillespie in the Virginia Governor's race, but other polling is showing a tightening race as we head closer to Election Day:
Lt. Gov. Ralph Northam (D) leads Republican Ed Gillespie by 14 points in the race to be the next Virginia governor, according to a Quinnipiac University survey released Wednesday.

The poll found Northam taking 53 percent over Gillespie, a former Republican National Committee chairman, at 39 percent. In the previous Quinnipiac University survey, released in September, Northam led by 10 points, 51 to 41 percent.

The survey appears to be an outlier. Three polls released in October have found Northam ahead by between 4 points and 6 points, while a fourth poll, conducted by Monmouth University, found Gillespie ahead by 1 point.

Northam led Gillespie by 3.5 points in the RealClearPolitics average before the Quinnipiac survey was released.

The Nov. 7 contest has attracted national attention.

(…)

Northam's lead in the Quinnipiac survey is bolstered by his support from women — he leads Gillespie 61 to 31 percent in that demographic — and independents, with whom he has a 53 to 39 percent advantage.

Gillespie leads Northam among white voters, 48 to 47 percent. But Northam runs up the score among nonwhite voters in the poll, 71 to 15 percent.

Northam is viewed favorably by 51 percent of Virginians, while Gillespie is under water, with 39 percent viewing him positively and 45 percent negatively.

Trump lost Virginia by more than 5 points in 2016, and voters there say they disapprove of the job he is doing by a margin of 62 to 35 percent, according to Quinnipiac.
While this poll shows Northam with his strongest lead yet over Gillespie, it should be taken with a grain of salt given that other recent polling shows the race to be tightening rather than Gillespie slipping out of contention. A new Roanoke College poll, for example, shows Northam at 50% versus 44% for Gillespie, giving Northam a six percent lead while a poll from Christopher Newport University puts the race at 48% for Northam and 44% Gillespie. Another poll, meanwhile, is giving Gillespie supporters hope as the Monmouth University poll shows Gillespie actually leading Northam 48% to 47%. This last poll is unusual as it is the first poll since March that shows Gillespie with any kind of a lead over his Democratic opponent, and the first such poll since Republicans and Democrats actually chose their nominees over the summer. For that reason, there seems to be as much reason to believe that the Monmouth poll is an outlier as the Quinnipiac poll appears to be. Looking at the polling average, meanwhile, RealClearPolitics shows Northam (49.4 %) with a  5.6 point lead over Gillespie (43.8%) and the trend still looking favorable for Northam headed into the final three weeks of the campaign: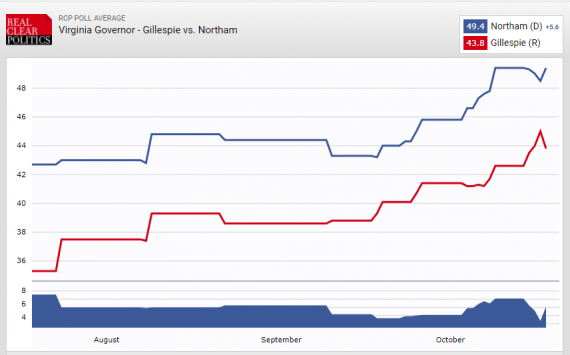 As I noted when we last looked at the polling in this race two weeks ago, the Virginia Governor's race is being seen by many political pundits as a bellwether and an indication of which way the political winds in the country as a whole are blowing in this first year of the Trump Administration. This is especially true given the fact that the only other statewide race in November, the New Jersey Governor's race, appears to be basically over with Democratic nominee Phil Murphy showing a strong and seemingly insurmountable lead over Republican nominee and Lt. Governor Kim Guadagno. It's not surprising then that the one name that's dominating the race in Virginia is one that isn't even on the ballot:
RICHMOND, Va. — Ed Gillespie, the Republican nominee for Virginia governor, deployed just about every tactical evasion he had learned from a lifetime in politics as he dodged questions about President Trump.

Then he finally flashed irritation.

"I don't know the president," Mr. Gillespie said in an interview at his headquarters here when asked whether he thought Mr. Trump was ethical. "I've not met him."

If Mr. Gillespie is exasperated with persistent questions about Mr. Trump in the only Southern state that the president lost last year, his Democratic opponent in the governor's race has his own problems. He is being whipsawed between his instinctive pragmatism and his party's passion.

"Where there's room to work with him, I will. Where he's dangerous, I'll stand up and protect Virginia," said the Democrat, Lt. Gov. Ralph Northam, suggesting he was prepared to do business with a man he spent much of this year calling "a narcissistic maniac."

By mid-October, the Virginia governor's race every four years has typically pierced the consciousness of voters here. State law requires that they pick a new governor each time, and they do so in odd years, free from the distraction of a congressional or presidential campaign on the ballot. Always taking place the year after the White House contest, the statehouse races here and in New Jersey are often looked to for insights about the mood of the electorate toward the new administration.

But Mr. Trump has so overwhelmed a campaign waged by a pair of bland candidates lacking signature proposals that, much the same way he does across the Potomac, he has made himself and his incendiary style of politics the central issue.

"There is so much focus on the activity and the machinations in Washington," said George Allen, the former Republican governor and senator who ran statewide four times. "With President Trump, whatever he tweets becomes the news till whatever he tweets next."

With the president rampaging through news cycles seemingly every day, the biggest question looming before Mr. Gillespie is whether it is worth the risk of trying to harness Mr. Trump's total-eclipse-of-the-sun attention-getting skills to rouse conservative voters.

His campaign and the Republican Governor's Association signaled to the White House at a meeting this spring that they preferred the reliable hand of Vice President Mike Pence, who campaigned with Mr. Gillespie on Saturday, over Mr. Trump in a state where the president is loathed in the vote-rich population centers but well-liked in many rural areas.

But trailing in every public poll, Mr. Gillespie is now engaged in a robust debate with his advisers about whether he should ask the president to stump with him, according to multiple Republican officials familiar with the conversations.

Those in favor of bringing Mr. Trump in for a rally argue that Mr. Gillespie will be linked to Mr. Trump regardless and, in a state where turnout plummets in nonpresidential years, that the president can jolt his supporters who may have been indifferent about the race or uneasy with an establishment-aligned candidate such as Mr. Gillespie, a former George W. Bush adviser and Republican National Committee chairman.

But the camp urging Mr. Gillespie to keep his distance from Mr. Trump counters that it would be malpractice to embrace a polarizing president who failed to win even 30 percent of the vote in Fairfax County, the most populous jurisdiction in the state and once a suburban battleground.

As they consider their options, Gillespie supporters have an object lesson: Mr. Trump's ill-fated rally for Senator Luther Strange in Alabama, where he could not resist veering off-message. At that rally, Mr. Trump started his feud with the N.F.L. while offering a backhanded endorsement of Mr. Strange's rival, Roy Moore.

(…)

Mr. Northam, for his part, also does not quite seem sure how he should handle Mr. Trump. Appearing earlier this month at a Falls Church shopping center that is a hub for the Vietnamese community, he alluded to "bigotry" in last year's campaign without mentioning Mr. Trump by name. But his remarks were tame compared to those by the state legislator who introduced him and called Mr. Trump's election "the world's largest nightmare" and scorned the president as a "draft dodger."

After winning his primary partly on the strength of a heavily aired commercial in which he called the president "a narcissistic maniac," Mr. Northam, who is running to succeed Virginia's Democratic governor, Terry McAuliffe, used the first debate of the general election to call Mr. Trump a dangerous man who also "lies like a rug."

But at the final debate last week, held in a pro-Trump enclave of Southwest Virginia, Mr. Northam, who will campaign here this week with former President Barack Obama, made no mention of Mr. Trump. And he has started airing a commercial in which he says to the camera that if Mr. Trump is helping Virginia, "I'll work with him."
Whether or not Trump ends up coming to Virginia to campaign for Gillespie in these final two weeks, his role in the race is likely to be important in the weeks ahead. While it's true that Trump would likely do much to rally Republicans in the rural part of the state to turn out for Gillespie, the fact remains that these are not the parts of the state that are likely to decide the election. Instead, that's going to occur in the suburbs of Northern Virginia around Washington, D.C. and to a lesser extent the Tidewater region around Virginia Beach, which also holds a growing portion of the state's population but which has been slightly more helpful to Republicans in recent elections than Northern Virginia has. Additionally, it's worth remembering that Trump lost Virginia last year by more than 200,000 votes and that the three largest counties in Northern Virginia, Arlington, Fairfax, and Loudon, all went heavily for Hillary Clinton. Clinton also won in nearby Prince William County, which has also trended into the Democratic camp in recent years after years of bucking the Democratic trend of the rest of the region. Given this, all the factors in this race would seem to still be leaning in Northam's favor, which also bodes well for the Democratic candidates for Lt. Governor and Attorney General.
All that being said, it's worth noting that Gillespie has faced long odds before and managed to close the gap in the final weeks of a statewide election in the Commonwealth. In 2014, he was the Republican nominee in a seemingly hopeless race against incumbent Senator and former Governor Mark Warner in a state where Barack Obama had already won in 2008 and won the state again in 2012. Two years later, Gillespie managed to overcome polling that showed Warner with seemingly insurmountable double-digit leads well past Labor Day to pull within 20,000 votes of someone who was both a popular incumbent Senator and had left office as one of the most popular Governors in recent Virginia history. It was the fact that Gillespie performed so well in what was his first run for elected office against a candidate like Warner that played a large role in his convincing Republicans to rally around him in the race for Governor. Whether or not he can pull off a similar feat now remains to be seen, but the possibility should not be dismissed out of hand, even with Donald Trump hanging around his neck like a solid lead albatross.
Update (October 19, 2017): A Fox News poll released this morning shows Northam up by seven points over Gillespie. This puts the RealClearPolitics average at Northam 49.3% and Gillespie 43.5%, giving Northam a 5.8 point advantage in the average.