Race For Virginia Governor Tightens Significantly In Campaign's Final Hours
With less than forty-eight hours to go, the race for Virginia's Governor is tighter than ever.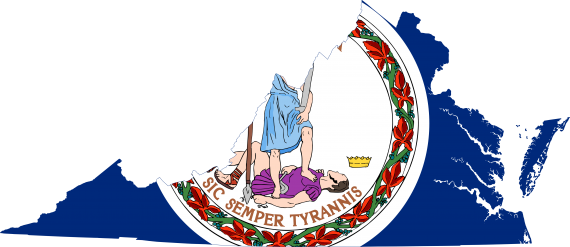 In less than forty-eight hours, voters in Virginia will begin heading to the polls in what are the only competitive statewide races in the country this year. The other statewide race, for Governor of New Jersey, is basically over and done, with polls showing Democratic candidate Phil Murphy with a massive double-digit lead over Republican candidate Lt. Governor Kim Guadagno. In Virginia, though, the most recent polling is showing that Republican candidate Ed Gillespie closing the gap with Democratic Party nominee and current Lt. Governor Ralph Northam to the point where the race appears to be a clear toss-up that will ultimately depend on turnout.
First up, there's a new poll from The New York Times and Sienna College that puts Northam's lead at just three points, within the poll's margin of error:
The campaign for Virginia governor has divided voters along demographic lines highly reminiscent of last November's presidential election, according to a New York Times Upshot/Siena College poll on Sunday, and the Democrat, Ralph Northam, holds a modest three-point lead over the Republican, Ed Gillespie, 43 percent to 40 percent.

It is the latest poll to show a tight race. The election is Tuesday, and the poll was conducted Oct. 29 to Thursday, a period when Mr. Northam made headlines for saying he would sign a bill to ban so-called sanctuary citiesfrom becoming a possibility in Virginia.

The campaign has been dominated by hot-button racial and cultural issues. Sanctuary cities, confederate monuments and the MS-13 gang have all played a prominent role in Mr. Gillespie's advertisements. Unsurprisingly, these issues have split voters by race and education.

White voters without a college degree backed Mr. Gillespie by a 40-point margin in the poll, 63 percent to 23 percent, while nonwhite voters backed Mr. Northam by a similar margin, 65 to 17. Mr. Northam holds roughly a 10-point lead among college-educated white voters, enough to give him the edge statewide.

But neither Mr. Northam nor Mr. Gillespie appears to be matching Donald J. Trump or Hillary Clinton's huge margins among their strongest demographic groups.

The poll asked respondents how they voted in last year's presidential race, and there was a consistent pattern across demographic groups and geography. The governor's race, although reminiscent of 2016, hasn't quite polarized voters to the same extent.

White working-class voters said they backed Mr. Trump by a 48-point margin, 67 percent to 19 percent, somewhat wider than Mr. Gillespie's 40-point edge.

Mr. Northam holds a 26-point lead among voters from Northern Virginia; voters from that area said they backed Mrs. Clinton by 31 points. It's a pattern up and down the ballot.

The pattern has also been fairly common beyond Virginia this year. In special congressional elections, Republicans have fallen far short of Mr. Trump's strong showing in white working-class areas, while Democrats have struggled to exceed Mrs. Clinton's showing in the areas where she excelled, like Georgia's Sixth Congressional District.

But the Virginia contest seems to have a distinct dynamic. Mr. Gillespie, with establishment roots as a former chairman of the Republican National Committee, has run a campaign plainly intended to rally Mr. Trump's supporters, making the question of whether he can approach Mr. Trump's strong tallies somewhat more interesting.

If Mr. Gillespie prevails or runs well ahead of Mr. Trump, it might be interpreted as a sign that establishment Republicans can excel by embracing Mr. Trump's message. According to this view, they could lure white working-class Trump supporters with his message on race and immigration, while maintaining greater support among well-educated voters with their establishment-friendly credentials and tone.

Even if Mr. Gillespie loses by a small margin, his campaign could be judged a success, given national political conditions and Virginia's Democratic lean.
A second poll, from a Republican-leaning polling group, has Gillespie up by three points, also within the margin of error:
Republican Ed Gillespie is now narrowly leading the Virginia gubernatorial race by 3 points, according to a new poll, just three days before Tuesday's election.

The new poll of likely Virginia voters by Republican firm Optimus/Firehouse Strategies over Wednesday and Thursday shows Gillespie leading his Democratic opponent Ralph Northam by 40.4 percent to 37.4 percent. His lead is just outside the poll's margin of error.

Recent polls have suggested a late-game comeback for Gillespie, who trailed Northam by a small margin for recent months of the race, with a Friday poll showing the two locked in a dead heat at 47 percent apiece.

However, Northam is predicted to win by a 1.5 point margin if voter turnout mirrors 2016 levels, the poll said, citing "volatile" party composition. The poll used a model based on 2013 voter turnout to predict a Gillespie win.

An average of major polls still shows Northam with a slight lead of 1.2 points, which marks a steep decline over recent weeks from averages favoring the Democrat by over 3 points.

The contentious Virginia election has invited the support of national political figures such as former Presidents Barack Obama and George W. Bush, each stumping and fundraising for their party's nominees.
These two polls mirror other recent poll results that show the race between Gillespie and Northam tightening in the past two weeks. For example, a poll from the Republican-leaning Trafalgar Group has Northam leading by one percentage point while the latest Rasmussen poll of the race has the race tied. Similarly, a Gravis poll has Northam leading by five percentage points while a poll from a Republican-leaning group called The Polling Company shows Gillespie up by three points. Rounding out the new polling that has been conducted within the past week, a Roanoke College poll has the race tied and a Suffolk University poll has Northam ahead by four points. Finally, the most recent Washington Post poll has Northam ahead by five points. The one outlier of the group appears to be a Quinnipiac University poll that put Northam's lead at eleven points, far above any lead of any other recent poll. All of this puts the RealClearPolitics average giving Northam a very narrow 1.9 point lead over Gillespie, well within any conceivable margin of error. This is in marked contrast to the poll numbers from previous points in the race. Back in June shortly after the Republican and Democratic primary seasons ended, the relatively limited polling at the time showed Northam with what seemed like a strong lead over Gillespie. Just a month ago, the RealClearPolitics gave Northam a lead of more than five points over Gillespie, and it was at roughly the same point two weeks ago. As the RCP chart shows, the race has tightened over the subsequent two weeks: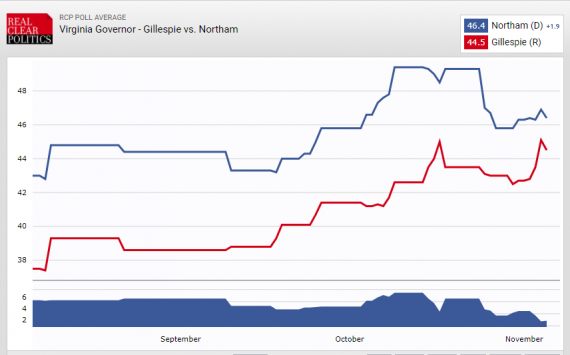 The reasons that the race has tightened appear to be multi-faceted and to reflect the fact that, notwithstanding the recent past, Virginia remains very much a battleground state outside of the Presidential context. Additionally, there have been several miscues during the course of the past month by the Northam campaign, especially relating to joint campaign efforts with Justin Fairfax, the Democratic nominee for Lt. Governor who happens to be African-American. These miscues have caused Northam's campaign to be criticized by many minority groups for what appears on the surface to be an effort to not associate the Gubernatorial campaign with Fairfax in advertising and outreach in the more rural parts of the state. Additionally, Gillespie has stayed largely on message regarding taxes and other issues notwithstanding efforts by Democrats to tie him to Donald Trump and to the far-right campaign that was run by his primary opponent, Chairman of the Board of Supervisors for Prince William County Corey Stewart, who is now a candidate for the GOP nomination to run against Tim Kaine in 2018.
On paper at least, this race should favor Northam winning, even if it turns out to be a narrow win. After going for Republicans in every Presidential election from 1968 to 2004, Virginia returned to the Democratic fold in 2008 and went for the Democratic nominee again in 2012 and in the race last year. Additionally, both of Virginia's Senate seats are held by Democrats. On the other hand, those Democratic victories were accompanied by Republican victories as well. Just one year after President Obama won the state for the first time, Virginians elected Republican Bob McDonnell Governor. Four years later, Republican nominee Ken Cuccinelli nearly defeated current incumbent Governor Terry McAuliffe in an election that was most notable due to the fact that both candidates were viewed negatively by the voters. Additionally, the GOP has held the majority of the seats the state's Congressional delegation since the 2010 election and when Gillespie ran against the seemingly unbeatable Mark Warner in 2014 he ended up pulling to within 20,000 votes in what turned out to be a nail-biter of an election. Additionally, Republicans have an overwhelming majority in the House of Delegates, the lower chamber of the Virginia legislature, and control the Virginia Senate by a narrow margin. Neither of these things is likely to be affected by the outcome of Tuesday's election.
Regardless of all of this, the outcome of the elections in Virginia is likely to have a significant impact on the narrative nationwide. If Northam manages to pull out a win, many will interpret it as a repudiation of Trump even though the President has largely stayed out of the race and refrained from campaigning for Gillespie like he has for other Republicans running this year. If Gillespie wins, it's like to cause many to question the current Democratic strategy, which clearly seems to be largely based on running against Trump, and contribute to the ongoing disputes within the national party between the various factions of the party about what direction the party should take in 2018 and beyond. In reality, the election is likely to be more about local and state issues than it is national ones, and the outcome will depend in no small part on voter turnout in places such as Northern Virginia and the Tidewater region, which have become increasingly Democratic or at least independent, as opposed to the more Republican rural parts of the state where Gillespie is likely to pile up a substantial majority of the votes. Because of this, it's likely to be well into the night before we know who won, especially since the results from the key counties in Northern Virginia tend to come in later than those from the rural parts of the state. Either way, we should know the outcome by Wednesday morning.