Ed Gillespie and Ralph Northam Win Primary Battles For Virginia Governor
Republicans and Democrats have picked their candidates for 2017's Governor's race, but the biggest name is likely to be one not on the ballot, Donald Trump.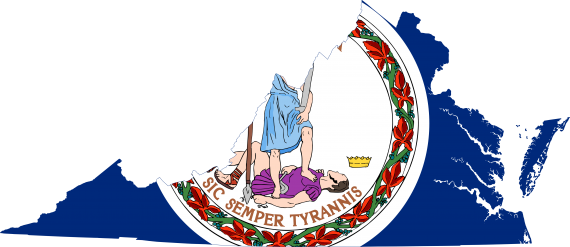 Virginia voters went to the polls yesterday and selected the Republican and Democratic nominees for the three statewide races that will be up for a vote in November. In the end, the results ended up being basically what polling was indicating would occur, but the results were surprisingly close on the Republican side, and that could have implications for the party going forward:
ARLINGTON, Va. — The former Republican National Committee chairman Ed Gillespie barely survived an anti-establishment scare to claim the Republican nomination for governor of Virginia on Tuesday, according to The Associated Press. He will face Lt. Gov. Ralph Northam in a November clash that may test how much of a burden President Trump is among moderate voters, who are deeply contemptuous of the president.

With all but one precinct reporting early Wednesday, Mr. Gillespie was leading by about 4,300 votes, or about 1.2 percent, over Corey Stewart, the chairman of the Prince William County Board of Supervisors. The threshold for a recount in Virginia is a margin of less than 1 percent of the total votes cast.

The unexpectedly narrow outcome illustrated Mr. Trump's enduring appeal among conservatives.

Emulating the president's incendiary style by railing against political correctness and vowing to protect the state's Confederate monuments, Mr. Stewart defeated Mr. Gillespie in a number of rural counties. It was a deeply embarrassing night for Mr. Gillespie, who greatly outspent Mr. Stewart and entered the primary with significant name recognition after barely losing a challenge to Senator Mark Warner, a Democrat, three years ago.

Mr. Stewart embraced the president and assailed Mr. Gillespie, 55, in harsh terms, calling him "Establishment Ed," in much the same way Mr. Trump gave derisive nicknames to his rivals in last year's Republican primary. And Mr. Gillespie kept his distance from the president, rarely stating his name and, when pressed by Mr. Stewart, saying only that he had supported the party's "ticket" in 2016.

Mr. Northam begins the general election with an advantage in large part because of Mr. Trump. Nearly 60 percent of Virginia independents disapprove of Mr. Trump, according to a Washington Post poll last month. Virginia is increasingly diverse, especially in its vote-rich urban crescent from the Washington suburbs to Hampton Roads, and it has been drifting away from Republicans, who have not won a statewide election here since 2009.

Mr. Trump has further widened the political gulf in a state that was already culturally cleaved among Appalachia, the traditional South and the fast-growing Middle Atlantic. Mr. Gillespie will have to try to forge a delicate coalition that melds pro-Trump rural conservatives with anti-Trump suburbanites.

And some Republicans fear that Mr. Northam, an Army veteran from the state's Eastern Shore, could be difficult to attack as a dogmatic liberal. In fact, he said earlier this year that he had voted twice for former President George W. Bush, for whom Mr. Gillespie worked in the White House.

Democrats here are plainly energized about sending a message to Mr. Trump: Turnout spiked from the last time they had a contested primary for governor and was substantially higher than in the Republican race. After Mr. Perriello, 42, entered the race with slashing speeches against the president, Mr. Northam saw how voters were responding and began speaking out more fiercely. By the end of the campaign, both Democrats were releasing commercials attacking Mr. Trump.

Mr. Northam's primary victory was a sign that institutional advantages still mattered in an increasingly diffuse political era, at least in a statewide election.
In the Democratic race, Northam ended up beating Perriello by more than eleven points in a race where pre-primary polling had shown that the margin between the two men was likely to be much closer. This was especially true given the fact that Perriello had managed to garner the endorsement of The Washington Post, which has proven to be influential in deciding races for Democratic nominations in the past, especially due to the fact that it is typically closely followed by voters in the Northern Virginia suburbs and has been known to have an impact on races in the past. This time around, though, it doesn't appear that the endorsement helped Pereillo in Northern Virginia at all, or that it had any real impact elsewhere in the state. Instead, it would seem that Northam's superior organization, along with the support of the Democratic establishment were sufficient to put him well over the top in a race where it appeared that he was most likely to win only by a narrow margin. Additionally, Northam likely benefited from what appears to have been a surge in turnout among Democrats in the areas where his support was strongest, which is also a favorable sign for Democrats as we head into the fall. The winning Democratic candidate for Lt. Governor, Justin Fairfax, also did quite better than expected, but that race didn't get nearly the amount of attention that the Northam-Perriello race did. The race for the nomination was uncontested as the incumbent, Mark Herring, is running for re-election and faced no opposition.
If the Democratic race was resolved surprisingly quickly, the race for the Republican nomination did not. Based on most pre-election polling, it appeared that former RNC Chairman Ed Gillespie, who had previously run as the Republican nominee for Senate against Mark Warner in 2014, would win his race against Prince William County Board of Supervisors Chairman Corey Stewart and State Senator Frank Wagner rather easily. Instead, it turns out that Gillespie appears to have squeaked by with a win that constitutes roughly 1.2% of the vote. If it holds, this number is important because it is above the one-percent margin that would trigger the right to a recount under Virginia law. It will take a week or so for the final vote to be certified, so this question may remain up the in the air until then, but for the time being at least, it looks as though Gillespie's win is secure and he can proceed planning for the General Election against Northam. The outcome was similar for the GOP nomination for Lt. Governor, with State Senator Jill Vogel beating her closest opponent by just 2.7% percent of the vote, but it was always expected that this race, which was closely fought most especially between Vogel and fellow State Senator Bryce Reeves. As in the Democratic race, the race for the GOP nomination was uncontested, with only former Assistant United States Attorney John Adams declaring for the race.
Stewart's better than expected performance in the race is likely to come as bad news for many Republicans due to the fact that it indicates that the party is still moving in the direction that Donald Trump's candidacy appears to have pushed it during the 2016 campaign. Stewart had been one of the elected officials who signed on early as a Trump supporter, becoming a co-chairman of Trump's Virginia campaign in December 2016, and had been fairly active as a Trump supporter throughout the year leading up to the election last year before being abruptly removed from his position in mid-October 2016 after he participated in a pro-Trump protest at the headquarters of the Republican National Committee over what the group claimed was unfair treatment of Trump and his supporters by the Committee. Instead of distancing himself from Trump after that, though, Stewart continued to embrace him and reached out to Trump supporters throughout the course of the primary campaign. Additionally, Stewart had made waves in the campaign in the past several months by making the treatment of Confederate symbols and statutes in Virginia and elsewhere an issue in the campaign and managing to make an issue out of Southern "heritage" despite the fact that he was a native of Minnesota who had moved to Virginia only after graduating Law School, something for which he was roundly criticized by more mainstream Republicans. The fact that Stewart did so well in the primary is a rather strong indication that the political forces he tapped into are far from dead and that the Republican Party will be dealing with Trumpism for some time to come.
Looking ahead to the General Election, the most recent polling would seem to indicate that this is Northam's race to lose, but the numbers between him and Gillespie are close enough that the race is likely to be competitive going forward. The same is true of the races for Lt. Governor and Attorney General. While none of the Republican nominees are on record as particularly vigorous supporters of the President, Democrats are expected to run a campaign that focuses heavily on Trump himself and the party's national record. While we already knew this, it seems to be even more likely given the outcome of the Republican race, which shows large Trump/Stewart contingent in the GOP that could make a difference in the race simply be sitting the race out and not showing up at the polls in November. More importantly, though, with some polls showing his disapproval number as being as high as 60%. While this isn't entirely surprising given the fact that Hillary Clinton won the state easily last November, it is significantly higher than it is in the rest of the nation. As such, it seems like a smart strategy going forward. In any case, unlike the race for New Jersey Governor, where Democrats are expected to win easily, this race will be closely watched as an indicator for which way political winds may blow in 2018 and is likely to be one that outside groups on both sides of the aisle end up spending a lot of money on.