Corey Stewart: The Virginia GOP's White Supremacist Albatross
Corey Stewart rose to become the Republican Party's Senate nominee in Virginia with blatant appeals to racial division. Now his party fears they'll be the ones who end up paying the price.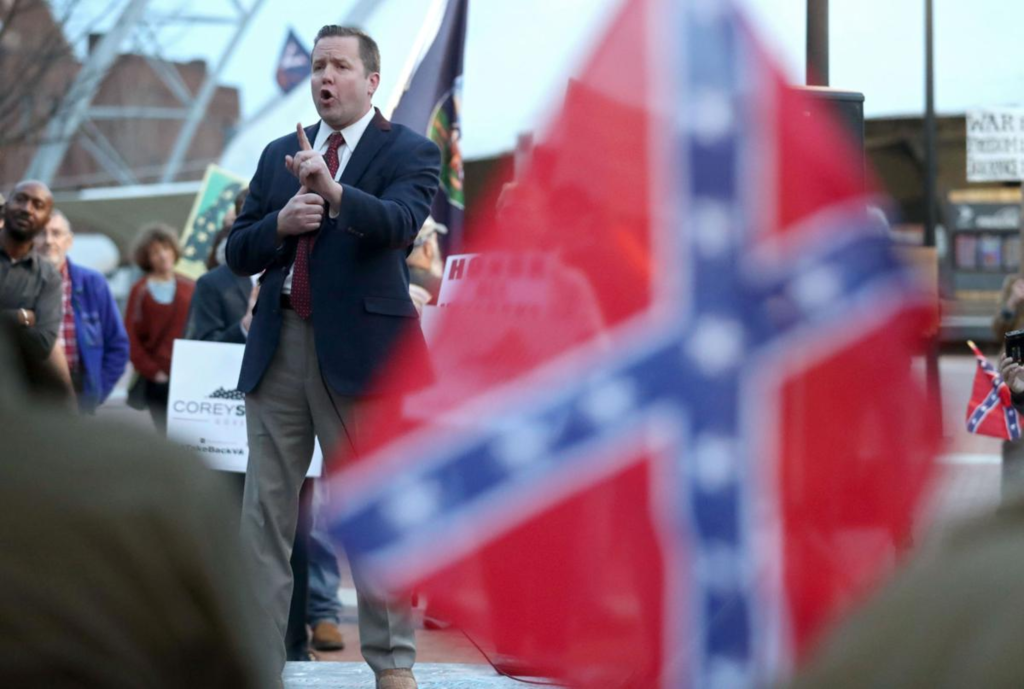 The New York Times published a long, and not very flattering, profile piece about Corey Stewart, the Republican Party's nominee to face Senator Tim Kaine in November and, not surprisingly, it focuses largely on Stewart's open courting of white supremacists and those with a fetish for the Confederacy during the course of his campaign:
WOODBRIDGE, Va. — Corey Stewart stands at the end of a long driveway that leads back in time, to his 18th century plantation manor hidden in woods behind a modern housing development. Mr. Stewart, the Republican Senate nominee from Virginia, treats the brick home like a living museum, complete with buttons from Redcoats, a Civil War soldier's belt buckle and a room dedicated to George and Martha Washington, who were once visitors.

Both Mr. Stewart and his opponent, Senator Tim Kaine, were born in Minnesota, which makes it all the more unusual that Mr. Stewart has styled himself as a champion of the Confederacy and its statues, and, as he puts it, "taking back our heritage."

This has made him a popular figure with white nationalists, much to the horror of many Virginia Republicans. While Mr. Stewart has disavowed some on the extreme right, interviews with dozens of his friends, colleagues, supporters and fellow Republicans yielded a portrait of a political opportunist eager to engage the coarsest racial fringes of his party to advance his Trumpian appeal.

Some white nationalists volunteer for Mr. Stewart's campaign, and several of his aides and advisers have used racist or anti-Muslim language, or maintained links to outspoken racists like Jason Kessler, the organizer of last year's violent rally in Charlottesville, Va. Mr. Stewart has not distanced himself from those aides.

For mainstream Republicans in Virginia and nationwide, a profound political dilemma of the Trump era is whether to support the growing number of candidates like Mr. Stewart who make racially divisive remarks — particularly about immigrants — and back causes that are championed by white nationalists. President Trump's own language and policies have energized Mr. Stewart and other far-right candidates, and Mr. Trump has high approval ratings from Republicans, but it is not clear how many rank-and-file voters will embrace like-minded politicians like Mr. Stewart.

Mr. Trump has enthusiastically endorsed Mr. Stewart — tweeting in June: "Don't underestimate Corey, a major chance of winning!"— and the candidate is comfortable defending the president's most controversial comments. Sitting in the living room of the historic brick home he bought in 2012, Mr. Stewart praised President Trump's statement that there were "very fine people on both sides" at the Unite the Right white nationalist protests in Charlottesville last August.

"I don't think he said anything bad there," Mr. Stewart, 50, said during a 90-minute interview last month. "In fact I was one of the few people in the country that actually said pretty much the same thing."

He does not accept that slavery was at the heart of the Civil War.

"We can debate about the causes of the Civil War," he said, adding, "But the causes of it were much more complex" than only slavery.

"The question of what actually caused Civil War is secondary to the result of the Civil War, which is that after the war was over, slavery was ended and the North and the South reconciled. And I think we need to respect that."

He contended that the term "white supremacist" was a concoction of the left.

"This term they literally resurrected, 'white supremacist,' which hadn't been used in 100 years, or whatever it was," he said, adding that "there's clearly a coordinated effort to — because they know the term 'racist' has been overused — they've come up with another one which is 'white supremacist,' an equally ridiculous term."

"I don't have a racist bone in my body," Mr. Stewart said during a recent appearance. "Not one. I challenge anybody to find a single racist statement that I've ever made."

In an extraordinary sign of discomfort with Mr. Stewart, some Republicans have been eager behind the scenes to provide opposition research aimed at discrediting him, with disaffected party members circulating racially inflammatory tweets and Facebook postings authored by one of Mr. Stewart's advisers.

Shaun Kenney, former state party executive director, lamented that "the alt-right has taken over the Virginia Republican Party." After Mr. Stewart secured the nomination in June, John C. Whitbeck, Jr., the party chairman who once accused Mr. Stewart of "racist" language, resigned.

But many Republican leaders haven't publicly disavowed Mr. Stewart, mindful that Mr. Trump is supporting him, and that the president has strong influence with the party base — many of whom supported Mr. Stewart in the primary.
The Washington Post Editorial Board, meanwhile, pushes back against Stewart's assertions that he is being unfairly associated with white supremacists:
Corey Stewart. the Republican nominee for U.S. Senate in Virginia, is mortified — simply aghast — that anyone could imagine he shares the racist, white-supremacist views of a lengthy and growing list of his political allies, backers and advisers. So what if he hailed a self-avowed "pro-white" provocateur as his "personal hero"? That was before the man "went nuts," protests Mr. Stewart. Who cares if the organizer of last summer's violent neo-Nazi march in Charlottesville had endorsed Mr. Stewart after they met few months earlier? "I didn't know he stood for all those horrible things," objects the blameless candidate.

Now comes news that a Stewart campaign consultant, who has been paid tens of thousands of dollars so far this year, tweeted "DON'T OPEN A BUSINESS IN A BLACK NEIGHBORHOOD!" after protests erupted in Baltimore and Ferguson, Mo., following the deaths of young, unarmed African American men . The consultant, Rick Shaftan, shares with Mr. Stewart a fondness for Confederate statues and symbols. Last year, he posted a picture of a Confederate flag with the caption "If The South Would Have Won, We Would Have Had It Made."

Mr. Stewart hasn't repudiated those views or Mr. Shaftan, who remains an adviser to his campaign for the Senate. Instead, he falls back on the usual defense deployed by race-card-playing politicians, insisting he doesn't have a racist bone in his body. Or, as he put it in a TV appearance several weeks ago, he has "always condemned . . . any of these white supremacists or bigots or anything like that." (PolitiFact rated that statement "Mostly False," noting that he has distanced himself from white-supremacist supporters "only in the face of mounting public pressure . . . and even then it took him some time.")
There's much more in the Times article and in the supporting links to the Post editorial documenting Stewart's embrace of far-right rhetoric, a process that began when he first entered the political scene more than ten years ago. At that time in 2006, Stewart was elected Chairman of the Board of Supervisors in Prince William County, a fast-growing and increasingly diverse Northern Virginia suburb that unlike neighboring Fairfax County and the close-in suburbs still tends to lean Republican. From that time, Stewart made a name for himself statewide and nationally by successfully pushing through the Republican-controlled Board of Supervisors a law allowing local law enforcement to check the immigration status of anyone even if they were not suspected of having committed a crime. He also took the lead in cutting off county-level assistance programs to illegal immigrants and pushed forward other provisions designed to crack down on immigrants but which also put the county's large and growing Latino population. Many of these measures pre-dated the anti-immigrant turn that the national Republican Party itself took during the rise of the Tea Party and Donald Trump, and drew national attention to Stewart notwithstanding the fact that he was in a position that was relatively anonymous in the past.
On the statewide level, Stewart had unsuccessfully ran for the nomination for Lieutenant Governor in 2013 but ended up being eliminated at the state party convention in a race that saw an even more controversial candidate win the nomination ahead of a General Election campaign that saw Democrats sweep all three statewide races — Governor, Lt. Governor, and Attorney General — for the first time since the 1970s. In 2016, Stewart ended up becoming the statewide Chairman for Donald Trump's Presidential campaign before being dismissed from that position but was dismissed from that position after leading a protest at RNC headquarters in Washington, D.C. amid allegations that the RNC was withdrawing assets from the Trump campaign in the Old Dominion in favor of preserving the party's position in down-ballot races for Congress. Most recently, Stewart narrowly lost the Republican nomination for Governor last year in a campaign in which Stewart, in the wake of the alt-right rally in Charlottesville last year that led to the death of a young woman, concentrated heavily on cultural issues and on preserving Confederate memorials around the state. This year, of course, he ran for the Republican nomination for Senate, a race he narrowly won by beating State Delegate Nick Freitas, who ran a surprisingly strong campaign but ultimately came up short thanks largely to the fact that Stewart openly courted the Trump supporters that have largely taken over the Republican Party of Virginia.
All of this has led to major headaches for Virginia Republicans. As things stood, the Virginia GOP stood little hope of beating Senator Kaine in November due to the fact that he is immensely popular in the Commonwealth. At the national level, it didn't take long for top party officials to announce that they would not be supporting Stewart's campaign in the fall, and that shows no sign of changing between now and November. On the statewide level, what's left of the sane segment of the Virginia GOP is increasingly concerned that they could end up losing Congressional seats as well, and Republican analyst Norm Leahy accuses many of them sitting back and doing nothing while Stewart and his alt-right supporters were allowed to take over the state party:
These leaders know Stewart's failings. They have witnessed his suspect associations with bigots and white supremacists, links Stewart eventually disavowed. They have seen him embrace Confederate imagery and monuments as if they were holy relics. They have seen members of his campaign staff linked to white supremacists and the most recent revelations about a campaign consultant whose views on African Americans would make Archie Bunker blush.

The Washingtonian's Andrew Beaujon said, it's "probably just a coincidence that these guys all ended up on Corey Stewart's campaign." Yes, it must be. Otherwise, all this would lead us to conclude that Stewart and Virginia Republicans were intent not just on losing the Senate race to Kaine, but also putting the tiki-torch to everything else.

Few of the GOP's top elected officials have called him and his supporters out. They prefer to focus elsewhere, hoping Stewart and his sideshow won't affect them. They are wrong.

Some, though, have gone public with their doubts, dismay and disgust. Former lieutenant governor Bill Bolling said of Stewart's rise, "This is clearly not the Republican Party I once knew, loved and proudly served. Every time I think things can't get worse they do, and there is no end in sight."

Former Rep. Tom Davis pinned the GOP's decline on Ken Cuccinelli's ill-fated 2013 gubernatorial run, saying, "it's just been spiraling down" ever since.

It accelerated in 2014. Shaun Kenney, who once served as the Republican Party of Virginia's executive director, witnessed the plunge firsthand.

Before he took the RPV job, Kenney warned Republicans they needed to "clean house," casting the nativists and the nascent alt-right out of the party. He was savaged for such heresy.

And he was ignored. The bad elements got stronger. They rallied behind Dave Brat in his 2014 upset of then-House Majority Leader Eric Cantor and eventually found new champions in Donald Trump and Stewart.

As the fringes grew stronger, the GOP's statewide fortunes cratered. It is not a coincidence.
It wasn't always like this for the Virginia Republican Party. For many years, the most prominent Republican in the state was former Senator John Warner, who was conservative in the mold of men like Ronald Reagan and who had served as Secretary of the Navy and in other positions in the Navy Department in the Nixon Administration before being elected to the Senate in 1978, where he remained until retiring at the end of 2008. Warner's election preceded an era when, after years of political isolation that stretched back to the years after Reconstruction ended in the 19th Century and include the years when Virginia politics was controlled nearly completely by the Democratic machine of the dynasty begun by Harry Byrd (no relation to the late former West Virginia Senator Robert Byrd) which held sway over Virginia politics until well into the 1970s, Republicans in the Commonwealth began winning statewide election for the first time in a century. This led to the election of Governors such as George Allen, Jim Gilmore, and Jerry Kilgore as well as the rise of other politicians such as former Lt. Governor Bill Bolling as well as candidates such as John Hager, Ed Gillespie, and Pete Snyder. Much like many of the Republicans currently representing Virginia in Congress, such as Barbara Comstock,  H. Morgan Griffith, Scott W. Taylor, and Rob Wittman. were generally conservative but far from being far-right. In no small part, this was due to the fact that the two fastest growing regions of the state — Northern Virginia and the Tidewater area around Virginia Beach — were being populated with transplants from other parts of the United States that aren't exactly conservative. As a result, in order to win statewide, any candidate has to be careful to avoid ideological extremes and to speak to the concerns of these suburban voters who largely hold the political fate of the state in their hands.
As Leahy notes, things began going downhill for the Virginia GOP somewhere around 2014. While the party had seen success with the election of  Bob McDonnell in 2009, the legacy of the McDonnell Administration caused great damage to the party as a whole, which allowed the Tea Party and other far-right groups to slip into control and nominate people like Ken Cuccinelli and E.W. Jackson Jr. as their candidates for statewide office. Stewart's victory in June in the Senate primary was simply the apotheosis of a process that had been dragging the RPV to the right for several years. Now, Virginia Republicans have reached the peak of that insanity with Corey Stewart.
As for the race itself, Stewart's strong ties to Trump seem likely to be more of a hindrance than a help, and it seems likely that this will be a race where Democrats can be fairly confident of holding onto the seat. As noted, President Trump's Job Approval in Virginia has consistently been worse among Virginians as a whole than it has been nationwide. The most recent poll on that issue from Roanoke College, for example, shows Trump with just 36% job approval in the state compared to 49% disapproval, a thirteen point deficit that is far starker than the RealClearPolitics national average that puts the President at a 9.8 point deficit. Additionally, Virginia is a state that Democrats have won statewide almost consistently since President Obama won the state in 2008 and again in 2012 while Virginia Democrats swept the three statewide races in 2013 and again last year in an election that also saw them make significant advances in the state legislature. Finally, of course, Hillary Clinton won the state by some 200,000 votes in 2016. The only exception to this trend came in 2009 when Republicans, led by Bob McDonnell, swept all three statewide races. This, however, was the last time that the Republican Party of Virginia has won a statewide race in the Old Dominion, and it's highly unlikely that they'll break that slump this year.
So far, the race seems to be going about as I expected it would when Stewart won the primary in June. While polling has been limited so far, it all shows Senator Kaine with a strong lead over Stewart. Additionally, the race is listed as "Solid Democratic" by The Cook Political Report, CNN and Stuart Rothenberg's Inside Elections, "Safely Democratic" by Larry Sabato's Crystal Ball, and "Likely Democratic" by Fox News and RealClearPolitics. While it is wise to remember that polling in 2014 similarly showed Senator Mark Warner with a massive lead over his Republican opponent Ed Gillespie only to end up narrowly winning the race by a far smaller margin, it's also worth noting that Stewart is no Gillespie and that it is unlikely that Stewart will do as well in Northern Virginia and other parts of the state as Gillespie did, which was the major reason he was able to close the gap. Stewart won't have that ability and he's likely to be a drag on the rest of the ballot in several of Virginia's Congressional District, most especially the Tenth Congressional District, which is currently represented by Barbara Comstock.
In other words, the Virginia GOP could end up seeing yet another political bloodbath. Counting back to the 2013 election, that would make four in a row stretching back to the 2012 election and five out of six stretching back to 2008. Virginia hasn't seen a bloodbath like that since Lee surrendered to Grant.