Senate Republicans Already Distancing Themselves From Corey Stewart
Corey Stewart may be the darling of the Trumpidians in the GOP, but he won't be getting any help from Senate Republicans.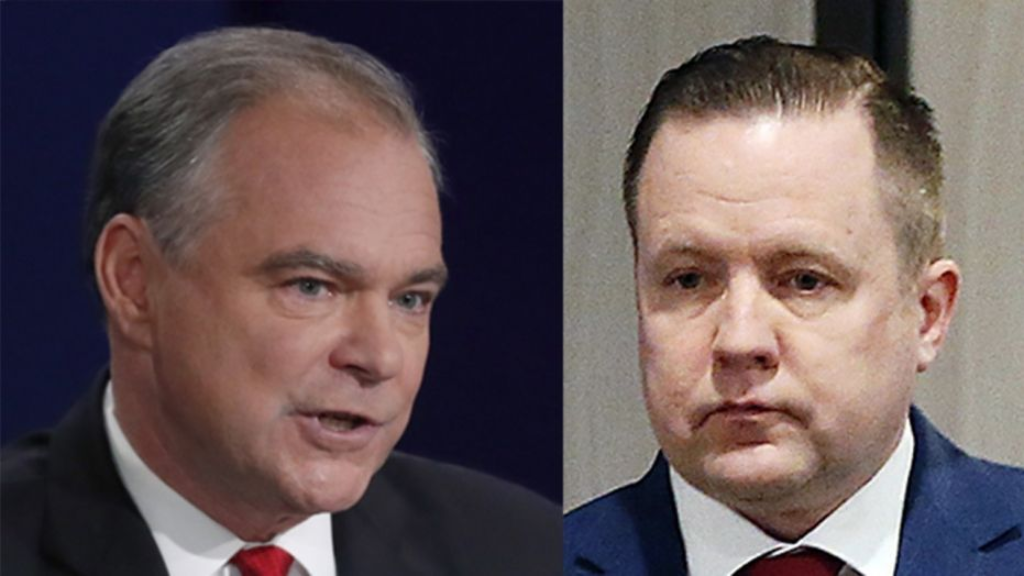 Just one day after he won the primary to face Senator Tim Kaine in November, Corey Stewart is finding that he may not have a united party behind him:
President Donald Trump may be excited about Corey Stewart's primary win in the Virginia Senate race, but Senate Republicans certainly aren't.

The Senate GOP's campaign arm hasn't endorsed Stewart, who has made defending Confederate monuments a central plank of his political career. And its chairman said that the committee has "no plans" to spend any money on Stewart in his race against Democratic Sen. Tim Kaine (D-Va.).

"At the senatorial committee we're focusing on Missouri, Indiana, North Dakota, Montana, West Virginia and Florida. There are great races around the country. [Virginia] is not the map," said National Republican Senatorial Committee Chairman Cory Gardner (R-Colo.). "We have a big map this year, and what I've laid out in races that I've talked about, Virginia's not on it."

"Sometimes in the primary process, the thing we try and get done is get the most electable candidate on the ballot in the fall. And that doesn't always happen," conceded Sen. John Thune (R-S.D.), the No. 3 GOP leader.

And Thune, like other Republicans expressed ignorance of Stewart despite his affinity for earning press with stunts like protesting outside the RNC in 2016, which got him ousted from Trump's official campaign apparatus. Stewart also drew criticism for refusing to condemn white nationalists after last year's violent rally in Charlottesville.

Sen. Tim Scott (R-S.C.), said he has "no idea who he is. Not at all."

And Senate Majority Whip John Cornyn of Texas, a two-time NRSC chair, couldn't say whether he will endorse Stewart because he doesn't know him.

"I've just heard a few things about him," Cornyn said. "I just don't know anything about him."

The feeling is mutual. Stewart held a press conference outside the NRSC in May to rail against party leaders for not supporting his campaign.

(…)

GOP leaders had hoped to block Stewart, making a late play to boost state Del. Nick Freitas, who narrowly lost to Stewart on Tuesday evening. Republicans said privately it's a huge blow to the Virginia GOP's down-ticket races, particularly in competitive House races, even if they never saw a serious path to defeating Kaine.

Sen. Rand Paul (R-Ky.), who did events and campaign work for Freitas, said he was "disappointed" in the result and refused to say he will support Stewart. He said the race is now up to the "people of Virginia."

"I guess I didn't do enough. But it was really close," Paul said of Freitas. "He would have been great to the party because he'd bring new people into the party.

Sen. Jeff Flake (R-Ariz.) said supporting Kaine over Stewart "has crossed my mind."

"I don't think he has a prayer," Flake said. "I won't be doing anything for Stewart, I'll put it that way."
While Senate Republicans are distancing themselves from Stewart, President Trump is congratulating him on his win:
Congratulations to Corey Stewart for his great victory for Senator from Virginia. Now he runs against a total stiff, Tim Kaine, who is weak on crime and borders, and wants to raise your taxes through the roof. Don't underestimate Corey, a major chance of winning!

— Donald J. Trump (@realDonaldTrump) June 13, 2018
The fact that Trump is an enthusiastic supporter of Stewart's is hardly a surprise. In 2016, Stewart served as the statewide Chairman for Donald Trump's Presidential campaign before being dismissed from that position but was dismissed from that position after leading a protest at RNC headquarters in Washington, D.C. amid allegations that the RNC was withdrawing assets from the Trump campaign in the Old Dominion in favor of preserving the party's position in down-ballot races for Congress. Despite that dismissal, Stewart remained a vocal supporter of the President both during the campaign and afterward and in many respects mirrored Trump's campaign in both his unsuccessful run for the GOP's Gubernatorial nomination last year and his more successful campaign this year, and says that he will continue to do so in his campaign against Kaine, who of course was Hillary Clinton's running mate in the 2016 Presidential election.
As I noted earlier today, though, it's unclear that having the President's endorsement is going to do Stewart much good, and indeed it may end up doing him more harm than good. In addition to the fact that Hillary Clinton handily won the state in 2016, continuing the trend that former President Obama began in 2008 and 2012, the President is not exactly a popular figure among Virginia voters. This is best seen by the fact that his job approval in the Old Dominion is significantly worse than it is in the nation as a whole. While Trump's support could help boost turnout among Republican voters, it's also likely to boost turnout among anti-Trump independents and Democrats, thus making Stewart's problems even worse Add into that the fact that the principal campaign arm of Senate Republicans has effectively written off his campaign, and things look bleak indeed for the Stewart campaign.