Tim Kaine Crushing Corey Stewart In New Virginia Senate Poll
Nominating Corey Stewart is beginning to look like the biggest mistake Virginia Republicans have ever made.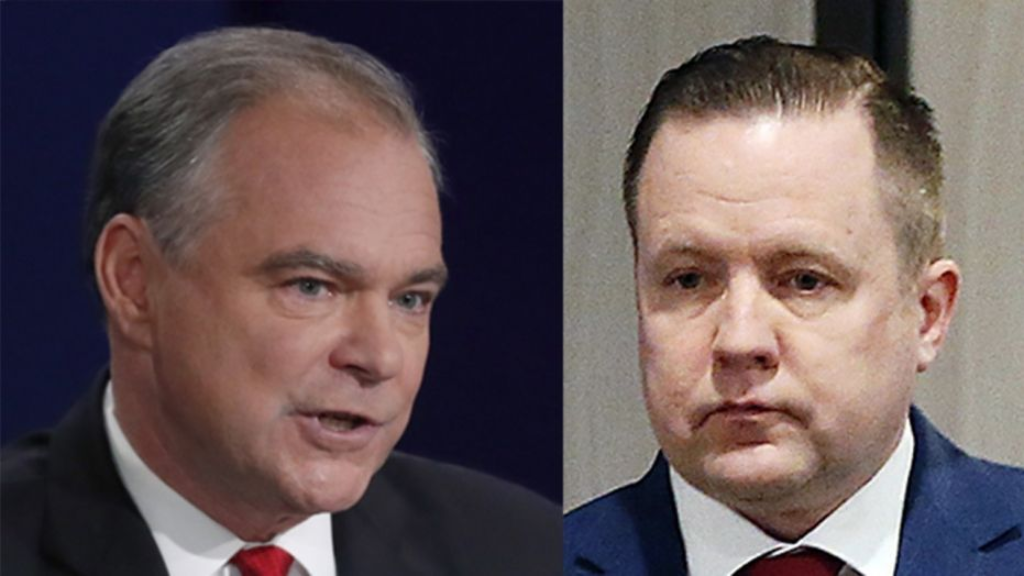 A new poll from Virginia Commonwealth University shows Senator Tim Kaine crushing controversial Republican nominee Corey Stewart:
Sen. Tim Kaine, D-Va., led GOP rival Corey Stewart by 23 percentage points in a July poll of likely voters released Wednesday.

Kaine had 49 percent to 26 percent for Stewart, chairman of the Prince William Board of County Supervisors, with 5 percent for Libertarian Matt Waters and 20 percent undecided, according to the survey from the L. Douglas Wilder School of Government and Public Affairs at Virginia Commonwealth University.

While Virginians do not register by party, the survey found that a third of self-described Republicans or Republican-leaning voters were not yet backing Stewart — with 20 percent undecided, 10 percent supporting Waters and 3 percent backing Kaine.

While Stewart had backing from 66 percent of Republicans, Kaine had backing from 88 percent of Democrats.

Kaine led in four of the five regions broken out in the poll — Northern Virginia, Tidewater, South Central and Northwest. Stewart leads in the Southwestern part of the state.

Asked which party they want to control Congress after the November elections, 51 percent said Democrats, 32 percent said Republicans and 17 percent said they did not know.
This is the worst so far that Stewart has performed in the VCU poll specifically, or in any other poll that has been taken in this race to date. In the May VCU poll, for example, which was taken before the Stewart had won the Republican primary that was held in June, Kaine led Stewart by 11 points. In the June poll taken in the wake of the primary, Kaine's lead expanded to 18 points. And now, the same poll shows the incumbent Senator leading by 23 points. The only other notable poll that has been taken since the primary, a Quinnipiac poll from June, showed Kaine with an eleven point lead. While it's probably true that many Virginians are not paying much attention to this race at the moment, these poll numbers clearly seem to show that voters are rejecting Stewart as they come to know him. Whether that will change remains to be seen but it is difficult to see how Stewart can make up this kind of difference in the just about three months left to go between now and Election Day.
Perhaps the most interesting statistic in this latest poll comes in the crosstabs, and it's a statistic that ought to have Republicans all over the Commonwealth shaking in their boots. As there has been in several of the last statewide elections, the Libertarian Party of Virginia has a candidate on the statewide ballot. In the 2013 Governor's race and the 2014 Senate race between Mark Warner and Ed Gillespie, that candidate was Robert Sarvis, a Virginia attorney. In the Governor's race between Terry McAuliffe and Ken Cuccinelli, Sarvis managed to get more than 6% of the vote, larger than the margin by which McAuliffe ultimately beat Cuccinelli. That margin was smaller in the 2014 Senate race, but Sarvis still managed to garner just under 2.5% of the vote, again larger than that closer-than-expected margin between incumbent Senator Mark Warner and Republican challenger Ed Gillespie.
This year, the Libertarian Party has nominated Matt Waters, a relatively unknown candidate who most recently served as Director for Development at an organization called Students for Liberty, which is largely a legacy of the 2008 Ron Paul Presidential campaign and the movement that developed around the former Texas Congressman. In any case, Waters is polling at 5% in this new VCU poll and is drawing more support from disaffected Republicans who cannot bring themselves to support Stewart (10%) than he is from self-identified "Independents" (8%). If this accurate, then the things are not going to go very well at all for Stewart of the Republican Party of Virginia. At the same time, the poll shows that Stewart is only getting support from 66% of self-identified Republicans while Kaine gets the support of 88% of Democrats, 25% of the Independents, and even 3% of Republicans. Finally, the poll shows that 20% of voters are undecided in the race, with 20% of Republicans, 8% of Democrats, and a surprisingly high number of 57% of Independents saying they are independents. If the undecided numbers break in a manner consistent with the polls, then most of those voters seem likely to go to Kaine.
As I've said before, the biggest concern among Virginia Republicans is that Stewart and, to some extent, President Trump, is likely to be a drag on the rest of the ticket, which could post problems for Congressional candidates in other parts of the state. Generally speaking, the most vulnerable Republican Member of Congress is most likely Barbara Comstock, who has represented the Tenth Congressional District since winning the election in 2014 to succeed Frank Wolf, who had held the seat since first being elected in 1980. Comstock's District comprises parts of Northern Virginia, the most populated section of the state and an area that has proved pivotal in most recent statewide elections. It also happens to be an area that has been trending purple in recent years, requiring Comstock to thread the needle between being a relatively center-right Republican and staying in tune with her district. Even though she's succeeded in that effort in the past, Stewart's presence at the top of the ticket could pose problems for her in November. In addition to Comstock, other potentially vulnerable Members of Congress in the Commonwealth of Virginia include Scott Taylor, who has represented the Second Congressional District since being elected in 2016 and now finds himself under scrutiny related to efforts to get a third-party candidate on the ballot in his district, Dave Brat in the Seventh Congressional District, who famously defeated Eric Cantor back in 2014, Thomas Garrett in the Fifth Congressional District, and the open seat in the Sixth Congressional District created by the retirement of long-serving Congressman Bob Goodlatte, who currently serves as Chairman of the House Judiciary Committee. While it's unlikely that the Virginia GOP will lose all of these seats, if Stewart's presence on the ballot, combined with the Trump effect, makes them more vulnerable, then that is going to cause problems for the GOP in Virginia and nationwide.