Hillary Clinton Picks Tim Kaine As Her Running Mate
As expected, Hillary Clinton went with the 'safe' choice, and has selected Virginia Senator Tim Kaine as her running mate.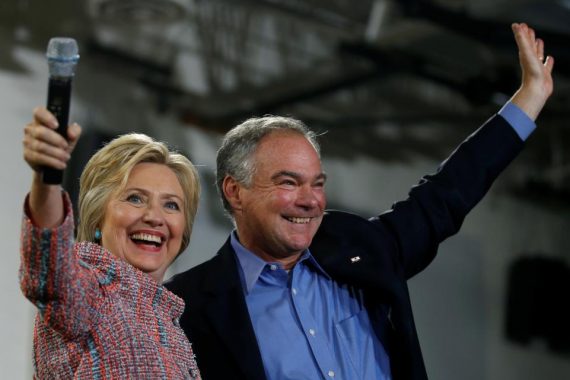 In an announcement issued late yesterday afternoon, Hillary Clinton's Presidential campaign announced that their candidate had chosen Virginia Senator Tim Kaine as her Vice-Presidential running mate:
TAMPA, Fla. — Hillary Clinton named Senator Tim Kaine of Virginia to be her running mate Friday, selecting a battleground-state politician with working-class roots and a fluency in Spanish, traits that she believes can bolster her chances to defeat Donald J. Trump in November.

Mrs. Clinton's choice, which she announced via text message to supporters, came after her advisers spent months poring over potential vice-presidential candidates who could lift the Democratic ticket in an unpredictable race against Mr. Trump

In the end, Mrs. Clinton decided that Mr. Kaine, 58, a former governor of Virginia who sits on the Senate Foreign Relations Committee, had the qualifications and background, and the personal chemistry with her, to make the ticket a success.

Mrs. Clinton had entertained more daring choices. She considered Thomas E. Perez, the secretary of labor, who would have been the first Hispanic on a major party ticket; Senator Cory Booker of New Jersey, who would have been the first African-American to seek the vice presidency; and James G. Stavridis, a retired four-star Navy admiral who served as the supreme allied commander at NATO but had never held elected office.

Ultimately, Mrs. Clinton, who told PBS that she was "afflicted with the responsibility gene," avoided taking a chance with a less experienced vice-presidential candidate and declined to push the historic nature of her candidacy by adding another woman or a minority to the ticket.

Instead, the campaign, which had become concerned about its deficit with white men, focused on Mr. Kaine and Agriculture Secretary Tom Vilsack, and looked more closely at Gov. John Hickenlooper of Colorado.

At a campaign stop with Mrs. Clinton in Annandale, Va., last week, Mr. Kaine tried out for the role. "Do you want a 'You're fired' president or a 'You're hired' president?" he asked the crowd. "Do you want a trash-talker president or a bridge-builder president?" He compared Mrs. Clinton's record of public service to that of his wife, Anne Holton, Virginia's secretary of education. In recent days, former President Bill Clinton and the White House had expressed support for Mr. Kaine.

Mrs. Clinton will formally introduce Mr. Kaine as her running mate at a campaign stop on Saturday at Florida International University in Miami, which has a large number of Hispanic students.

The announcement came after a day of campaign events in Orlando and Tampa in which Mrs. Clinton tried to offer a rebuke, both in actions and in words, to the Republican National Convention in Cleveland.

In Orlando, she laid flowers on a makeshift memorial outside the Pulse nightclub, where a gunman who expressed sympathy with the Islamic State killed 49 people last month. At an earlier round-table discussion with emergency medical workers and elected officials, Mrs. Clinton nodded solemnly and hardly spoke, an implicit contrast with Mr. Trump's 75-minute speech on Thursday night.

(…)

The son of a welder who owned a small metalworking shop, Mr. Kaine, a Roman Catholic, grew up around Kansas City, Mo. He attended a Jesuit school and took a break from law school at Harvard to spend time as a Catholic missionary in Honduras, an experience that his family has said shaped him and helped him become fluent in Spanish.

Early in his career, Mr. Kaine worked on fair housing and civil rights issues as a lawyer. He was elected to the City Council in Richmond, Va., in 1994, and proceeded to climb the ranks of elected office in the state. He became the city's mayor in 1998, the state's lieutenant governor in 2002 and the governor in 2006. He also served as chairman of the Democratic National Committee.

As governor, Mr. Kaine drew some support from rural parts of the state as well as strong backing in the state's Democratic-leaning suburban areas. He led the state through one of its darkest times, the shooting at Virginia Tech that killed 32 people in 2007. In 2013, Mr. Kaine implored the United States Senate to find a "small measure of courage" to fight the gun lobby and impose tougher background checks on gun ownership.

Mr. Kaine was an early endorser of Senator Barack Obama's presidential bid in the 2008 nominating fight against Mrs. Clinton. Mr. Kaine was also considered on Mr. Obama's shortlist of vice-presidential candidates before Mr. Obama selected Senator Joseph R. Biden Jr. of Delaware. In 2012, Mr. Kaine defeated George Allen, a Republican, to take the Senate seat being vacated by the Democrat Jim Webb.
Clinton's selection of Kaine is not entirely surprising, of course. Even before he was widely reported to be on the campaign's short list of candidates for the position earlier this month, Kaine's name was one that has been frequently mentioned as a potential running mate for the former Secretary of State. In addition to the fact that he represents a swing state that Republicans at the very least must win in order to win the Presidency, Kaine also potentially helps Clinton address her potential weaknesses among white, male, working class voters, a constituency that Donald Trump has dominated since the start of the Republican race for the White House. Additionally, Kaine speaks fluent Spanish, something that will allow him to go into Latino communities across the country and easily communicate with voters who are already becoming highly motivated to vote this year thanks to the rhetoric of the Trump campaign. Since entering the Senate, Kaine has been a prominent voice on issues that Clinton has not really spoken to during her campaign, including civil liberties, limitations on Presidential war-making powers, and the necessity for Congress to step up and duty its Constitutionality duty vis a vis the war on ISIS. These last points could be important in mollifying progressives who may be upset that Clinton did not select Bernie Sanders, who was never realistically going to be Clinton's running mate to begin with, or Elizabeth Warren, who was on the short list but considered by many an unlikely pick in no small part because her replacement in the Senate would have been selected by a Republican Governor.
As Nate Cohn notes, if Kaine helps Clinton in Virginia even slightly, it will justify her selection of him:
Vice-presidential selections don't usually make much of a difference to the overall results. But there is pretty clear evidence that they can deliver a bonus in their home state. It's often modest, but any help at all could be significant to Mrs. Clinton in a state as important as Virginia.

On average, the ticket tends to do about two percentage points better in a vice president's home state than it does in the surrounding area.

ometimes, the boost is bigger: Sarah Palin and Joe Biden really do seem to have helped their tickets a lot in Alaska and Delaware in 2008.

The effect is especially obvious in the case of Ms. Palin, since we now have had an election without her. Not only did Ms. Palin and John McCain do far better in Alaska than anywhere else in the western United States, but when she was off the ticket in 2012, Barack Obama surged there despite fading somewhat nationally.

Other times, it's not clear that a vice president helps at all. Paul Ryan helped Mitt Romney beat expectations in Wisconsin by at best a point, if that, in 2012.

Over the long run, though, the ticket holds up a bit better in a vice president's home state. The effect tends to be largest in years without an incumbent and if the candidate held statewide office. The effect may also be bigger in less populous states — like Alaska or Delaware, where voters may feel more pride about one of their own being selected to the second-highest office in the country.

By these measures, Mr. Kaine would seem to stand a real chance of helping Mrs. Clinton.
As I noted when I examined Clinton's short list several weeks ago, there's nothing particularly exciting about Kaine himself. In many ways, he's a "safe" choice in that he clearly has the resume to answer the question of whether or not he'd be ready to assume the office of the Presidency on a temporary or permanent basis if the unthinkable should happen to Clinton while lacking any of the potential risk factors of a choice that might have been more headline grabbing such as Cory Booker or Julian Castro. Playing it safe is a smart move for Clinton at this point, though. She doesn't need the kind of "Hail Mary" pass that John McCain did in 2008, and she arguably doesn't need to worry about a running mate's ability to bring minority groups to the polls since the primarties proved that she can do that on her own. Finally, the first rule of picking a running mate is 'do no harm,' and it's hard to see any way that Kaine harms Clinton's chances to win the White House. Notwithstanding the fact that it is still possible that Trump could win the election in November, Clinton's best option right now is to play it safe and go with a running mate who doesn't make too many waves while also potentially helping even marginally in a state that could go a long way toward deciding the outcome of the election. In the long run, that makes for a smart pick.