Could Crazy Donald Trump Actually Win The Presidency?
While a Clinton landslide seems obvious after the dumpster fire of a Republican convention, the race is close.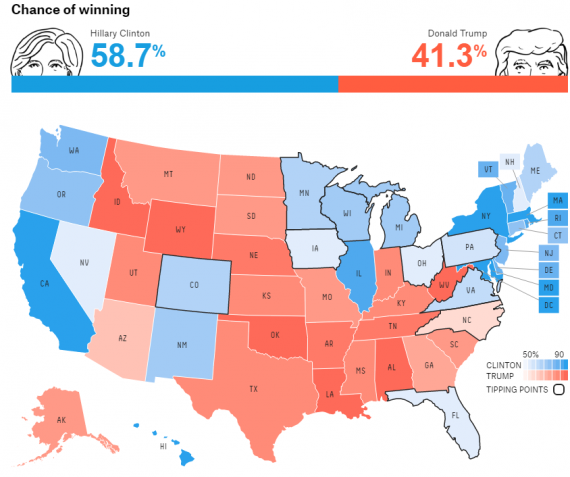 Like many, I spent months denying that Donald Trump, an obvious clown running on a platform of saying whatever fool thing came to mind, could win the Republican presidential nomination. Now that he's officially been anointed in the most bizarre national convention in my memory, it would seem obvious that he's going to get trounced in November. But maybe I'm misjudging the American public once again?
The overwhelming share of the Republican-leaning professionals I know in real life or connect with on Twitter and Facebook have long since rejected Trump, either outright endorsing Hillary Clinton or opting for Libertarian Party nominee Gary Johnson as a compromise. But they're mostly foreign policy and national security professionals or 30-something activists who are uniquely immune to Trump's fact-free hatemongering.
Nate Silver, who's both very much a liberal Democrat but also one of the best numbers-based analysts of polling trends, warns against complacency.
Don't think people are really grasping how plausible it is that Trump could become president. It's a close election right now.

— Nate Silver (@NateSilver538) July 23, 2016
A convention and acceptance speech that were almost universally panned as something between a "shit show" and "dumpster fire" by the folks I follow on Twitter has nonetheless yielded the traditional bounce in the polls.  The latest Reuters/Ipsos results:
Republican presidential nominee Donald Trump has pulled nearly even with Democratic rival Hillary Clinton for the first time since May, according to a Reuters/Ipsos poll taken over the course of the Republican National Convention in Cleveland this week.

The July 18-22 national online poll found that 41 percent of likely voters supported Clinton, while 38 percent supported Trump. Given the poll's credibility interval of about 4 percentage points, Trump and Clinton should be considered to be about even in the race.

Just before Republicans opened the convention on Monday, Trump had trailed Clinton by nearly 10 percentage points in the poll.
The latest RealClearPolitics average has Clinton up only 2.7%–and that includes the old Reuters/Ipsos poll.  My guess is that it'll be closer to a dead heat by the time the Democratic convention kicks off on Monday, with Clinton presumably regaining some if not all of the loss with her own bounce.
Now, of course, we don't elect presidents by popular vote but rather via the odd mechanism of the Electoral College. While the two almost always come out the same, the dynamics of this contest may make it an exception. The bicoastal elites' rejection of Trump will widen the traditional Democratic lead in major states like California and New York without yielding any advantage in the race to 270.
Silver's analysis gives Clinton what appears to be a sizable lead, with a 58.7% chance of winning to Trump's 41.3%.  But his model—which is before the convention bounce—only gives her 289.1 electoral votes to his 248.1 (no, they can't be split; he's doing probabilities, not predictions).  In the closest states, the margins are very thin indeed: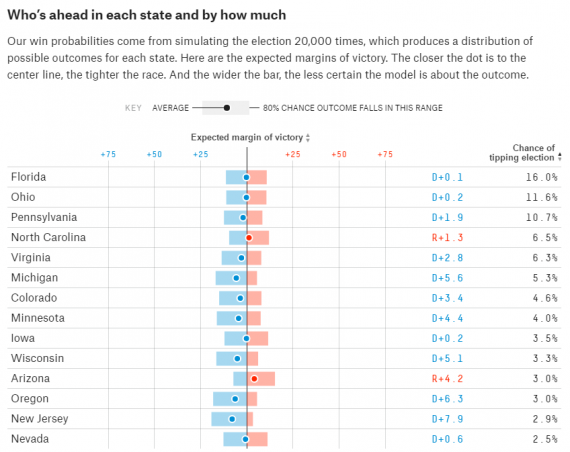 And, again, the weird dynamics of the Electoral College mean very narrow swings in a handful of states could radically urn the outcome. All votes aren't created equal.
Two measures help capture how important a state and its voters will be in determining the next president: "Tipping-point chance" is the probability that a state will provide the decisive vote in the Electoral College. "Voter power index" is the relative likelihood that an individual voter in a state will determine the Electoral College winner.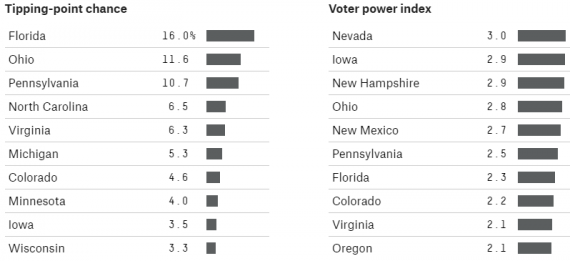 We've long become accustomed to Florida and Ohio having outsized influence and this year will be no different. Several Rust Belt states will also be in especial play this year.
Based on the current modeling, Silver assigned a 36.8% probability to Trump winning the popular vote, compared to only 14.1% to the Clinton landslide that seems to me the obvious outcome.
My intuition keeps telling me that Trump will implode. That the American public will reject putting this lunatic in control of our nuclear weapons. The polling however, shows that he's still got a real chance.