Hillary Clinton Gets Her Post-Convention Bounce, Takes Back The Lead In The Polls
Hillary Clinton appears to be doing very well in the wake of the first round of post-convention polls.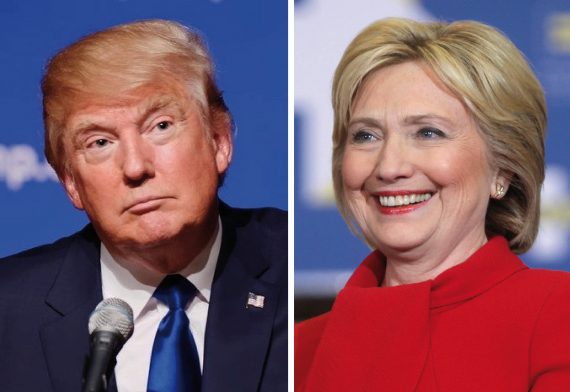 In the short time period between the Republican and Democratic conventions, a handful of national polls appeared to show a positive bounce in the polls for Donald Trump. Depending on which poll you looked at, Trump's numbers jumped between four and six percentage points to the point where he was leading Hillary Clinton in the RealClearPolitics poll average for the national race. As I noted in a comment to James Joyner's post about those polls, though, it was probably advisable to wait until after both conventions were over to determine the real impact, if any, that the conventions may have had on the race. In part, this was due to the fact that the amount of time between the two conventions was so short that it would be hard to get an accurate measurement of the impact of just the Republican convention. With both conventions over, we're likely to see a new round of polling coming out, and that will tell us a lot about the post-convention direction of the race. Well, the first round of that polling is out today.
First up, there's a new national poll from Public Policy Polling that puts Clinton back in front with a five point lead and also shows some signs that the Democratic National Convention may have helped her at least a little bit in overcoming her favorability problems:
PPP's new national poll, taken completely after both party's conventions, finds that Hillary Clinton emerged with a much more positive image than she had a month ago. Donald Trump meanwhile is just as unpopular as he was before the conventions.

Clinton's net favorability improved by 9 points over the last month. She's still not popular, with a -6 net favorability at 45/51, but it's a good deal better than the -15 spread she had at 39/54 a month ago. The gains are particularly attributable to Democrats increasing in their enthusiasm for her, going from giving her a 76/15 rating to an 83/12 one. Trump, on the other hand, is at a -22 net favorability with 36% of voters seeing him favorably to 58% with a negative one. That's barely changed at all from the 35/58 standing we found for him in late June.

Clinton leads the race with 46% to 41% for Trump, with Gary Johnson at 6% and Jill Stein at 2%. In a head to head just between Clinton and Trump, Clinton hits 50% and leads Trump 50-45. A month ago Clinton led 45-41 in the full field contest and 48-44 in the head to head so there hasn't been much change. But not much change is good news for Clinton. We've been writing for months that this race is shaping up pretty similarly both nationally and at the state level to the margins Barack Obama won by in 2012- not a huge landslide by any means, but a solid victory. The conventions have passed without any change to that big picture, and that leaves Clinton as the favorite going into the final three months.

It's also important to note that most of the remaining undecided pool is very Democratic leaning. They give Barack Obama a 55/33 approval rating, and they'd rather have him as President than Trump by a 59/10 spread. If they ended up voting for Clinton and Trump by those proportions, it would push Clinton's lead up from 5 points to 8. But they don't like Clinton (a 4/83 favorability) or Trump (a 2/89 favorability). A lot of these folks are disaffected Bernie Sanders voters, and even after the successful convention this week they're still not sold on Clinton yet. She and her surrogates will have to keep working to try to win those folks over and if they can the election enters landslide territory.

(…)

This election is never likely to turn out to be the sort of landslide for Clinton that some expected a year or 6 months ago because Trump voters just hate Clinton too much for that to ever happen. For instance on this poll we find that 74% of Trump voters think Clinton should be in prison, to only 12% who disagree. By a 66/22 margin they say Clinton is a bigger threat to the United States than Russia. And 33% think Clinton even has ties to Lucifer, to 36% who say they don't think so, and 31% who are unsure either way. Against that set of findings it's simply not very likely that many Trump voters will be moving into the Clinton column and that's why although she's certainly the favorite the chances of her winning a double digit victory are pretty minimal.
Second, Clinton has a re-taken a lead outside the margin of error in the CBS News national poll:
Hillary Clinton has received a bump in support after the Democratic convention and has now pulled ahead of Donald Trump.

Forty-six percent of voters nationwide say they'll vote for Clinton in November, while 39 percent say they'll back Trump. The race was tied last week after the Republican convention. Clinton led by a similar margin in June.

Clinton got a four-point bounce after her party's convention, compared to a two-point bump for Trump after his convention.

When compared to previous Democratic presidential nominees, Clinton's bounce is similar to those President Obama got in 2012 and 2008, but short of the 13-point bounce her husband, Bill Clinton, received in 1992. In 2000, support for Al Gore rose 10 points after the Democratic convention, but he went on to lose a close race that fall.

When leaners are included – voters who are undecided when initially asked their vote preference but lean toward a candidate – Clinton leads Trump by six points.

Clinton also retains her lead when Libertarian candidate Gary Johnson is added.

Voters who back a candidate remain firm in their support. Nine in 10 Clinton and Trump voters say their minds are made up about their candidate.

In the wake of the Democratic convention, positive views of Hillary Clinton have risen five points among registered voters, from 31 percent a week ago to 36 percent today. Unfavorable views of Hillary Clinton have dropped six points: from 56 percent to 50 percent.

Over half of voters continue to hold an unfavorable opinion of Donald Trump. Although Trump received a slight bounce in his favorable rating after the Republican Convention, now just 31 percent view him favorably – similar to what was recorded before his party's convention.

After the conventions, Clinton has expanded her lead with women, but she still trails Trump by a large margin among men. Clinton continues to get the support of more than eight in 10 Democrats and has seen an uptick in support among liberals. The race among independents is even; Trump led among this group last week.
Finally, the new CNN/ORC poll shows Clinton with a seven point post-convention bounce:
Hillary Clinton emerges from her party's convention in Philadelphia with a restored lead over Donald Trump, having earned a 7-point convention bounce, according to a new CNN/ORC Poll.

In a two-way head-to-head matchup, Clinton tops Trump 52% to 43%, and in a four-way matchup including third party candidates Gary Johnson and Jill Stein, Clinton leads 45% to 37% with Johnson at 9% and Stein at 5%.

Besides improving her standing against Trump, Clinton's convention appears to have boosted the share of Americans who think her policies will move the country in the right direction (from 43% before either convention to 48% now), while Trump's right direction number held roughly steady following the back-to-back political gatherings in Cleveland and Philadelphia.

Further, a majority of Clinton's backers now say their vote is more to show support for her than to oppose Trump, a sharp shift since early May. Back then, 48% said their vote was one of support for the former secretary of state, 58% say so now. While Trump also improved his numbers on that metric, his voters are more evenly divided, with 47% saying they're backing him to show support and 50% saying it's more to oppose Clinton.

More of Clinton's backers also say they are certain to support her come November: 44% of registered voters are Clinton supporters who say their mind is made up, while 36% say they are solidly behind Trump. Only about 16% of voters say their minds could change in the 99 days left between now and Election Day.

Clinton's convention appears to have helped her reverse the damage done to perceptions of her honesty during the GOP convention, but she did not improve those numbers compared with where they stood before either convention. Overall, 34% say they consider Clinton honest and trustworthy, up from 30% after the GOP convention but exactly where that figure was in a poll conducted before either convention happened.

Clinton made more progress on several other measures, however, with 50% now saying she's in touch with the problems of ordinary Americans, and 48% that she will unite the country and not divide it. She gained three points — a change inside the margin of sampling error for this poll — compared with a poll conducted before the Republican convention on having the right experience, running for the good of the country rather than personal gain and as someone you would be proud to have as president.

On each of those measures, Clinton fares better than Trump, except when voters are asked about their honesty. Thirty-five percent say they see Trump as honest and trustworthy, just about even with the former secretary of state.

On the rest of the attributes tested, the Democratic convention appears to have wiped out the significant gains Trump made on several of these measures, including being seen as in-touch with ordinary Americans, someone you'd be proud to have as president, running for the good of the country rather than personal gain and uniting the country rather than dividing it.

(…)

Clinton's convention, despite regular interruption from dissatisfied Bernie Sanders delegates inside the convention hall, also appears to have bolstered Democratic unity overall and strengthened her position among Sanders' supporters. Among Democrats and independents who lean toward the Democratic Party, 84% now feel the party will be united by November, up from 75% before either convention. Those who say they would rather have seen the party nominate Sanders now split 69% for Clinton, 13% for Stein, 10% for Johnson and just 3% say they'll back Trump. That's a 5-point improvement for Clinton (inside the margin of sampling error for this subgroup), an 8-point dropoff in the share who say they'd back Trump and a 7-point increase in support for Jill Stein.

Republican Party unity, meanwhile, has faded some compared with a survey immediately after their convention. While 73% said they thought the GOP would unite by November in a post-GOP convention poll, just 66% say the same now.
The Vice-Presidential nominees, meanwhile, remain largely unknown:
Tim Kaine's favorability rating among registered voters rose from 31% before the Democratic convention to 39% after. That's a bit smaller than Mike Pence's increase after the Republican convention (his favorability rose from 26% before the GOP convention to 39% after), but those gains have faded some as just 29% of registered voters say they have a favorable opinion of Pence now.
In other polls conducted by the Los Angeles Times and the University of Southern California, Trump has a four point lead, but this is down substantially from previous numbers from this tracking poll that showed Trump with a seven point lead. Additionally, a tracking poll from Reuters/Ipsos gives Clinton a five point lead while the Rasmussen tracking poll gives her a one point lead  In the RealClearPolitics average, all of this leaves Clinton with a 3.9 point lead over Trump in a head-to-head matchup, a 3.0 point lead in a three-way race that includes Libertarian Party nominee Gary Johnson in which Johnson is averaging  7.5%, and a 2.6 point lead in a four-way matchup that includes Johnson and Green Party nominee Jill Stein which shows Johnson averaging 7.0% and Stein averaging 2.0%. Clinton does slightly better in the averages at Pollster for both the head-to-head and three-way matchups, likely because, as I've noted before the Pollster average includes several polls that RealClearPolitics does not include in the calculation of its average.
In any case, after taking all of these post-convention polls into account it does appear that the Clinton has benefited far more from her convention than Donald Trump did from his. This isn't entirely surprising given how the two conventions went, but given the fact that this election is likely to be as closely fought as the battles in 2008 and 2012, it could end up providing Clinton with important momentum. This is especially true at this point since we will shortly be headed into a two week period when political news is likely to be crowded out of the headlines by coverage of the Olympics in Rio de Janeiro and the fact that August is typically a month when many Americans take vacations as we get closer to Labor Day and the start of the school year for most school children. That's not to say that Clinton and Trump won't be campaigning during this period, of course, but it's also likely that many Americans won't exactly be paying a lot of attention to the Presidential election for the next several weeks and that it won't be until after Labor Day that this changes. For that reason, if Clinton heads into this period with a solid lead in the polls as now seems apparent, then it's likely that it will last until the campaign begins its final swing in September. Between that and Clinton's Electoral College advantage, she could be heading into the final phase of the campaign in very good shape while the Trump campaign continues to search for a strategy while at the same time dealing with a candidate who seems intent on going off message whenever he feels like it. That's not a recipe for success, and it's beginning to appear that the Trump campaign knows it and knows there's very little it can do about it.