Trump Leads Clinton After Convention Bounce
The worst convention in history has given Trump a yuuge bounce.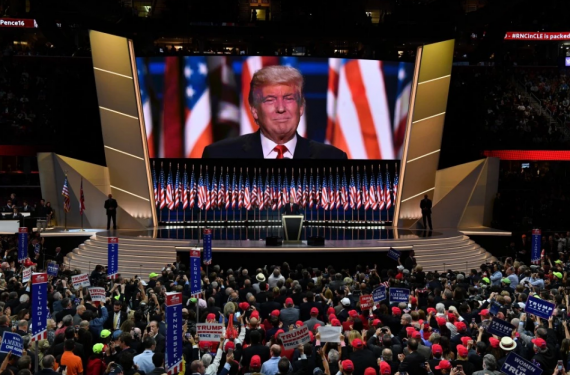 For the first time this year, Donald Trump leads Hillary Clinton in the national polling, with a six-point bounce from the dumpster fire in Cleveland.
CNN:
Donald Trump comes out of his convention ahead of Hillary Clinton in the race for the White House, topping her 44% to 39% in a four-way matchup including Gary Johnson (9%) and Jill Stein (3%) and by three points in a two-way head-to-head, 48% to 45%. That latter finding represents a 6-point convention bounce for Trump, which are traditionally measured in two-way matchups.

There hasn't been a significant post-convention bounce in CNN's polling since 2000. That year Al Gore and George W. Bush both boosted their numbers by an identical 8 points post-convention before ultimately battling all the way to the Supreme Court.

The new findings mark Trump's best showing in a CNN/ORC Poll against Clinton since September 2015. Trump's new edge rests largely on increased support among independents, 43% of whom said that Trump's convention in Cleveland left them more likely to back him, while 41% were dissuaded. Pre-convention, independents split 34% Clinton to 31% Trump, with sizable numbers behind Johnson (22%) and Stein (10%). Now, 46% say they back Trump, 28% Clinton, 15% Johnson and 4% Stein.
Of course, the Democratic convention starts today and the bounce could disappear immediately. More importantly, we don't elect presidents in a national popular vote but rather via the Electoral College, which indirectly aggregates weighted state-by-state totals.
Still, considering how awful I and most of OTB's readership thought the convention was, it's truly remarkable that it made people more likely to vote for Trump.
Nor is this a CNN anomaly. Trump would be leading in the current RealClearPolitics average if they didn't inexplicably have the pre-convention Reuters poll still in the numbers. Trump has a 4 point lead in the LA Times poll and a 2 point lead in the Gravis poll. Clinton has a 3-point lead in the latest Reuters poll, but most of the data came in before Trump's convention speech.
Given how long Hillary Clinton has been on the national stage and the firmness which public opinion around her should therefore be, I don't expect a comparable bounce from her convention. Four days of what I presume will be much-better-coordinated attacks on Trump in what would almost have to be a better run convention should help her some but there just can't be that many people out there without a pretty good idea of what they think of her.
This is easily the most bizarre presidential cycle in my political memory. Perhaps 1968 topped this, but I was a toddler at the time.  Things that would have destroyed any presidential aspirant in previous years seem to make Trump more popular. Other than large numbers of people simply fed up with "the system," I'm at a loss to explain it.