Signs Of An Obama Convention Bounce?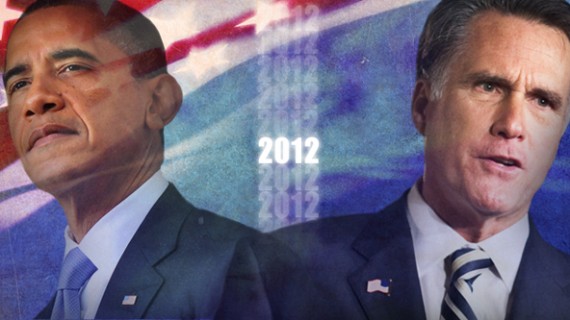 Sean Shephard at National Journal notes that there are signs of a convention bounce in Gallup's most recent polling:
This week's Democratic National Convention has delivered a bump in President Obama's poll numbers, according to new Gallup data released on Friday that show Obama out-bouncing Mitt Romney in the immediate wake of the Democratic Party's gathering.

A slight majority of Americans, 52 percent, surveyed Tuesday through Thursday said that they approve of the job Obama is doing as president, his highest approval rating since early June 2011, a month after the U.S. military killed Osama bin Laden. Forty-three percent disapprove in the latest poll.

In Gallup's horse-race tracking poll, conducted over the past seven evenings among registered voters, Obama leads Romney, 48 percent to 45 percent. That is not a significant change from the previous seven-day sample, when Obama and Romney were statistcally tied, 47 percent to 46 percent respectively. But the wide range of field dates for this tracking poll means that any bounce could lag behind other, more immediate surveys; today's release is the first conducted entirely after Romney's acceptance speech last week.
You can see the movement in the polls more clearly in this chart, which shows the Gallup Daily Tracking Poll for the period from August 24th through today, the two week period during which both conventions took place: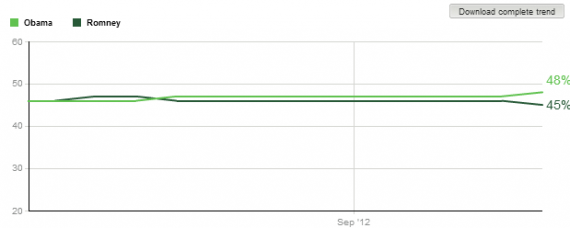 There are also signs of an uptick for Obama during the time the Democratic Convention took place in Rasmussen's Tracking Poll, which currently has Romney leading by a single point after several days in the wake of the Republican Convention where it showed Romney leading by anywhere from three to four points.
There are obviously only two data points, and it's still too early to tell what impact the Democratic Convention may have had on the race. Additionally, we don't know what impact today's unemployment numbers will have on voter sentiment. For the moment, though, it appears that the President got a moderate bounce in the polls from what most people believe was a successful convention. Whether it continues into the opening week of the final stretch of the 2012 campaign is another question.