National Polls Show Obama With Slight Lead In A Very Close Race
Heading into the party conventions, the Presidential race is as close as ever.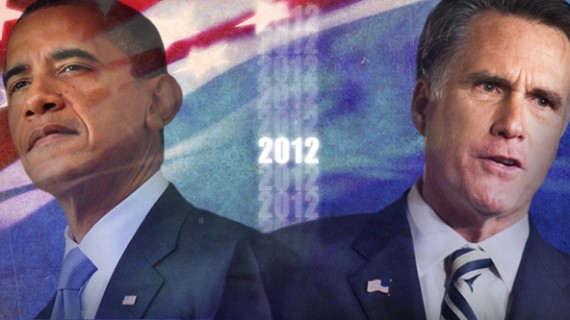 With the two week convention period about to start, the Presidential race remains as close as it's been for much of the summer with neither candidate being about to execute a real breakout. Indeed, a few weeks ago it had seemed as though the President was beginning to break away from Mitt Romney thanks in no small part to a month of negative campaigning focusing on Romney's business history at Bain Capital and his wealth. Since then, though, the polls have tightened again and, since Romney has gotten no appreciable bounce from his selection of Paul Ryan, the race is essentially tied as we had into the final two months of the campaign.
First up, we have a new poll from NBC and The Wall Street Journal that gives the President a four point lead over Romney, but which also contains some news that the Romney campaign can be happy about:
After Mitt Romney selected his vice presidential running mate, and just days before the political conventions kick off next week, President Barack Obama maintains his advantage in the race for the White House, according to the latest NBC News/Wall Street Journal poll.

A Democratic ticket featuring Obama and Vice President Joe Biden gets support from 48 percent of registered voters, and a Republican ticket of Romney and new running mate Paul Ryan gets 44 percent.

These numbers are only slightly changed from July, when Obama led Romney by six points in the survey, 49 percent to 43 percent, suggesting a minimal bounce for Romney (if at all) after this month's Ryan pick.

(…)

In a smaller sample of voters living in 12 key battleground states – Colorado, Florida, Iowa, Michigan, Nevada, New Hampshire, New Mexico, North Carolina, Ohio, Pennsylvania, Virginia and Wisconsin –  Obama leads Romney by three points, 49 percent to 46 percent.

That's a narrower edge in these battlegrounds than the eight-point lead the president enjoyed in the June and July NBC/WSJ polls.
I've written before about the questionable value of these mass "battleground state" polls, so that last part should be taken with a grain of salt, but it's fairly clear that the election is close nationally, and even closer in the states that are likely to decide the election. That suggests that there's still an opportunity for Romney to break through and start pushing his numbers up in the states he needs to win, especially places like Virginia and Ohio. However, when you look deeper into the poll, it appears that he's going some work to do if he's going to get there:
According to the poll, Mitt Romney has two challenges heading into next week's Republican convention in Florida: repairing his image and selling his proposal to overhaul Medicare.

For starters, Romney continues to have a net-negative favorable/unfavorable score (38percent/44 percent) – which no other modern Republican presumptive presidential nominee has had.

What's more, Obama bests Romney by 35 points (58 percent to 23 percent) on the question of which candidate is more likeable, and by 22 points (52 percent to 30 percent) on caring about average people.

In addition, a majority of voters (51 percent) view the former Massachusetts governor's approach to issues as being "out of step" with most Americans' thinking. By comparison, 54 percent say Obama's positions are "in the mainstream."

And by a 36 percent to 6 percent difference, voters say what they have seen, heard and read about Romney's tax returns – he has refused to release returns prior to 2010 – has given them a more negative impression of the Republican candidate. Forty-one percent say it doesn't make much of a difference.
Republicans will likely point to that last paragraph and say that it's evidence that most voters aren't really bothered by the fact that Romney hasn't turned over more tax returns, however they would be missing the point if they did. In a close election, 36% is a significant portion of the potential electorate, and to the extent that it adds to Romney's unfavorable numbers, which continue to be a problem, it's a real problem for the Romney campaign. If  the voters come into the voting booth not really liking Mitt Romney very much, then it's going to be that much harder for them to vote for him instead of a President who's favorable numbers are much better notwithstanding the state of the economy. Combine this with the fact that the voters don't believe that Romney cares about average people and you've got a candidate with a serious image problem. Indeed, I hazard to guess that if the economy were in better shape that this wouldn't even be a race, President Obama would be leading Romney by a significant margin in all the polls. To that extent, Romney is lucky that the economy is still giving him a chance, but he's in danger of blowing it if he can't address the likability gap.
Over at NBC's First Read, Chuck Todd makes this observation about the new poll:
Our latest NBC/WSJ poll shows President Obama leading Mitt Romney by four points among registered voters, 48%-44%; it suggests that Romney didn't get much of a bounce after his VP pick; it finds that attitudes about the economy are still dogging the president; and it points to Romney maybe having steeper challenges when it comes to his likeability, perceptions about his compassion, and his plans for Medicare. But NBC/WSJ co-pollster Bill McInturff (R) makes this larger point about the numbers: This isn't your ordinary August poll — it's more something you'd see in mid-October. That's because 1) the numbers have barely moved in the poll since the general election began in earnest in April, and 2) more than $500 million in TV ads have been dropped on these two candidates. After all, if you live in a battleground state, you've seen almost every negative ad that the campaigns and outside groups can produce. So when you look at the numbers, think of this as being October, but with the conventions and debates still to come.

[T]he survey offers three macro-conclusions. One, Obama holds the advantage heading into the conventions. "The election has moved from a referendum to a choice," co-pollster Peter Hart (D) said. "Mitt Romney is starting to accumulate a number of negatives on the personal front and issues front." Two, the president is still below that all-important 50% threshold for an incumbent. "When a guy gets stuck at 48%, it doesn't mean they are out of the clear," McInturff says. "It means they are in an incredibly competitive campaign." And three, Romney has some work to do in selling himself at next week's GOP convention. Per the poll, Obama has a 22-point lead (52%-30%) on caring about average people, as well as a 28-point advantage (52%-24%) on issues concerning women. These are what we call our "gut check" questions, and Romney is trailing here — and trailing badly.
One caveat to keep in mind here is that this is a poll of Registered, rather than Likely, Voters so there may be some differences once NBC starts narrowing its voter screen. Additionally, the poll was taken while the Akin story was breaking, but largely before it had likely had an opportunity to register with the public so we can't tell what impact that story may have had on the race. Finally, there appears to be some slight oversampling of Democrats in the poll but it's unclear that it's enough to really impact the outcome.
The race is even closer in a new poll from the Associated Press, which shows the President with just a one point lead over Governor Romney:
WASHINGTON (AP) — For all the attention it got, Republican Mitt Romney's selection of Rep. Paul Ryan of Wisconsin as his running mate has not altered the race against President Barack Obama. The campaign remains neck and neck with less than three months to go, a new AP-GfK poll shows.

Overall, 47 percent of registered voters said they planned to back Obama and Vice President Joe Biden in November, while 46 percent favored Romney and Ryan. That's not much changed from a June AP-GfK survey, when the split was 47 percent for the president to 44 percent for Romney.

(…)

The frail economy, with the unemployment rate hovering at 8.3 percent more than three years after the deep recession officially ended, remains the No. 1 issue. Nine in 10 call it important for them and half of voters say it is "extremely important," outpacing all other issues tested by at least 10 percentage points. Two-thirds in the poll described the economy as poor.

Registered voters split about evenly between the two candidates on whom they'd trust more to handle the economy, with 48 percent favoring Romney and 44 percent Obama. They are also about evenly divided on who would do more to create jobs, 47 percent for Romney to 43 percent for Obama. Among independent voters, Romney has a big lead over the president on handling the economy — 46 percent to 27 percent.

(…)

The president remains more positively viewed than Romney, and continues to be seen as more empathetic. Some 53 percent of adults hold a "favorable" opinion of the president, compared with just 44 percent who view Romney favorably. Obama also held a commanding lead among voters as the candidate who better "understands the problems of people like you," 51 percent to 36 percent for Romney. Some 50 percent see him as a stronger leader than Romney; 41 percent see Romney as stronger.

Michelle Obama remains more popular than her husband. Sixty-four percent of adults view her favorably and just 26 percent unfavorably, although that's down from 70 percent favorable in May. Ann Romney's favorable rating is mostly unchanged since May, with 40 percent viewing her favorably, 27 percent unfavorably and nearly a third declining to say.

Thirty-five percent overall say things in the nation are heading in the "right direction," up from 31 percent in June.
The fact that the Ryan selection hasn't really impacted Romney's numbers isn't entirely surprising. I've already noted several recent polls that show that there really hasn't been much of a "bounce" from the selection, and it's unlikely that one is going to materialize at this point. What we do see here, though, are the same likability problems that manifested themselves in the NBC/WSJ poll. Again, though, we're dealing with a Registered voter poll so the usual caveats apply.
Other than these two new polls, there are also the Daily Tracking Polls by Gallup and Rasmussen, both of which show Romney leading by two points, and a SurveyUSA poll, which shows Obama leading by one point. This leaves the RCP Average at +1.5 in favor of the President, essentially a statistical tie, and a race that seems to be returning to it's previous state as we enter convention season: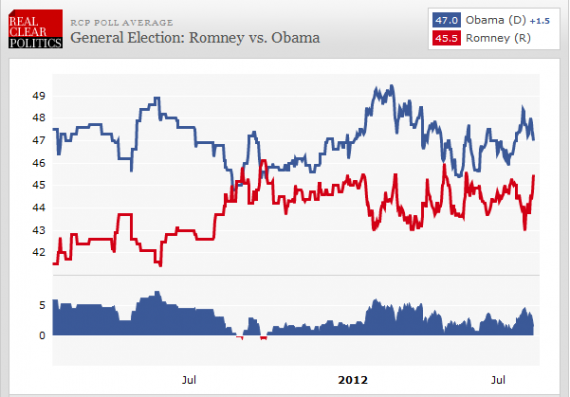 In the excerpt above, Chuck Todd refers to this as an October Poll in August, and that's a fairly good description of what we're looking at. Considering how early we are in the race, things have been dramatically stable and a large segment of the voting public has apparently already made up its mind. Ordinarily you would expect to see the polls shaken up by the conventions, but given the way this election has gone so far, it's possible we could look around the second week of September and see a race that's as close as it has been since April. If that's the case, then you can expect the next eight weeks or so to be one long, bitter fight as both sides struggle to break through to victory. In the end, they may end up turning off more voters than they attract.