In Picking Paul Ryan, Has Romney Actually Helped Obama?
Mitt Romney has effectively rebooted his campaign by picking Paul Ryan, but he's also handed the President a powerful weapon.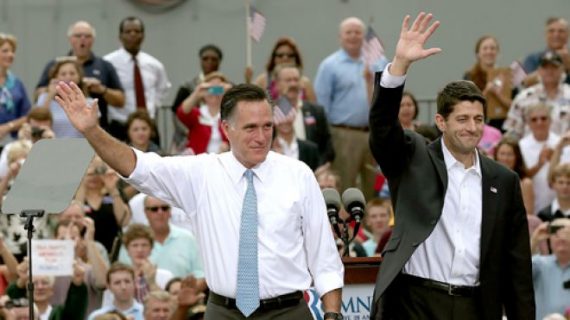 As I noted yesterday, while the naming of Paul Ryan as Mitt Romney's running mate has energized the Republican base, there are plenty of reasons why Democrats are energized too, not the least of them being because they think that it allows them to tag the Republican ticket much more easily with the Medicare arguments that they've been making ever since Ryan introduced his "Path to Prosperity" after Republicans took control of the House. Perhaps the more significant thing about the pick, though, is the fact that by picking Paul Ryan, Mitt Romney has demonstrated that the campaign's original strategy wasn't enough to win the election:
In making Paul Ryan his running mate, Mitt Romney is discarding one of the most basic assumptions that has driven his campaign until now: Make the race about President Barack Obama, and Republicans will win back the White House.

Don't worry about being accused of being empty, or even demagogic, went the theory of the case in Boston: The more specific Romney's campaign, the more chance voters will be distracted from a simple referendum on the Obama economy. Run out the clock, come off as at least vaguely credible, and don't lunge for shiny objects that take you off-message.

In selecting the 42-year-old House member from Wisconsin, a man identified with some of the most polarizing policy ideas in the Republican party, Romney has lunged for a shiny object in about the most dramatic way possible.

In this case, the shiny object ­is a sharply pointed weapon: the choice will instantly infuse a sullen, content-free contest with new energy and ideas but it's just as likely to lacerate Romney by handing Democrats a fresh line of attack.

Ryan's advantages are profound: he's young, Rust Belt, Catholic, serious, and – his top advantage – he will bring excitement and purpose to a campaign that had been devoid of both.

Many outside Republican strategists, however, are already fretting that the pick will likely turn out to be political malpractice—turning off independents and older voters, who depend especially on programs that are targeted by Ryan's budget plan that would cut entitlements.

For now, Romney's bold move is a gamble that in its own way is as breathtaking as the ultimately self-defeating one John McCain made four years ago with Sarah Palin.
John McCain also made the Sarah Palin connection yesterday when he spoke about the endorsement, likening the picking of Ryan as the same kind of "bold choice" that he made when he picked the former Alaska Governor four years ago. This is probably not what the Romney people wanted to hear because it was very clear from the beginning that the one thin the Romney campaign wanted to avoid was a repeat of the Palin fiasco. To some extent, I think it's pretty clear that they succeeded in that regard because it's rather clear that Ryan possesses none of the weaknesses that Sarah Palin did in 2008 in terms of experience or readiness for office. However, that doesn't mean that they haven't taken a risk here. If Romney wanted to play it safe, he would've gone with Tim Pawlenty, Rob Portman, or Bob McDonnell, the pro-typical "boring white guy" choice that wouldn't have rocked the boat. Any one of those three men would've made good choices for Romney, I think.
Instead, he went with Ryan who, while he may be white, is anything but boring. You wouldn't hear T-Paw, Portman, or McDonnell talking about a fiscal plan that would massively restructure the role of Washington in the economy over the coming decades. They aren't policy wonks like Ryan, who many of his colleagues describe as someone  more interested in spending an evening with the Federal Budget than at a Washington cocktail party. Actually, that's one of the reasons why I figured Romney wouldn't pick Ryan to begin with, because he can do more in the House of Representatives, or potentially as the head of OMB or Treasury, than he ever could as Vice-President. Instead, Romney did the unexpected, which is in itself unexpected for a candidate who as tried to run a campaign like a well-0iled, highly financed, machine ever since he started thinking about running again for President after the 2008 elections.
There can only be one reason for that, Romney and his advisers decided that simply trying to characterize the election as a referendum on the economy and the Obama Presidency wasn't going to be enough to push them over the finish line. It's easy to see why they might have concluded that. All you have to do is look at the polls, and you see that even though the economic statistics continue to show an economy stuck in a stagnant growth phase with little to no real job growth, even though voters continue to say that the country is on the wrong track and that the President has done a poor job handling the economy, the race remains essentially within the same range that it has been for months now. Indeed, some recent polling even appears to show the President breaking away from Romney, although that's likely to change as we get closer to the conventions. While it's possible, the likelihood that merely concentrating on the economy alone would lead to a shift in the polls in Romney's favor, it doesn't seem to be very likely at this point. So, they concluded that it was time to shake things up by bringing on a guy like Ryan and expanding the economic argument to one that also focuses on the nation's long-term fiscal problems and their impact on the very prospect for ever achieving the kind of economic growth we need to get the Great Recession behind us.
Of course, by doing that, the Romney campaign also gives the President and his campaign the chance to change the subject:
The selection of Representative Paul D. Ryan as the Republican vice-presidential candidate provides President Obama with something he has been eagerly looking for — a bigger target.

A race that has revolved, at least in part, around each month's mediocre jobs report and Mr. Obama's persistent failure to move unemployment below 8 percent will now allow Democrats new lines of attack — starting with the assertion that Republicans are intent on dismantling Medicare — while setting off a larger debate about the role of government in the economy and society.

For Mr. Obama, that seems more promising territory, a chance to press the offensive against his challengers rather than just defend his record. Instead of a referendum on his own performance, the president has an opening to turn the election into a referendum on the vision that Mr. Ryan has advanced and Mitt Romney has adopted.

That strategy may put Mr. Obama, a self-declared agent of hope and change four years ago, in the awkward position of seeming to be the defender of a status quo that is not working, or at least not working well enough. He risks having Republicans seize the mantle of reform that he used so skillfully in 2008 by contrasting his stay-the-course incumbent's message with the youthful Mr. Ryan's energetic willingness to tear up the old order and reinvent it for troubled times.

After months of Mr. Obama hammering Mr. Romney's prescriptions for the country as too radical, Mr. Ryan's addition to the ticket will sharpen what already had been shaping up as the starkest contrast over domestic policy in any presidential race in a generation. The president and his liberal allies wasted little time on Saturday rolling out their attacks on Mr. Ryan as an avatar of extremism who would cut health care for old people to finance tax cuts for the rich.

"The architect of the radical Republican House budget," declared Jim Messina, the president's campaign manager. "Catering to the Tea Party and the far right," said Senator Harry Reid of Nevada, the Democratic majority leader. "Puts millionaires ahead of Medicare and the middle class," asserted Representative Nancy Pelosi of California, who leads the Democratic minority in the House.

Within an hour or so of Mr. Romney's announcement, the Obama campaign posted a Web video labeling the Republican ticket the "Go Back Team," a reference to policies of the past. Fund-raising appeals with targeted messages went out in swing states, like one in Ohio saying that Mr. Ryan "followed in the footsteps of his mentor," John Kasich, the state's governor, with "a radical, ideological budget." Liberal interest groups, labor unions and women's organizations began rolling out their own long-planned attacks.

The president's political strategists were focusing on Florida, already a swing state but now perhaps ground zero for attacks on Mr. Ryan's plans to restructure Medicare, while monitoring Wisconsin to see if the Republicans tried to invest in Mr. Ryan's home state. Congressional election strategists were mapping out plans to force every Republican candidate for the House and Senate to own or disown Mr. Ryan's budget plan.

"This is the perfect choice for us to finish our frame of Romney," said Eddie Vale, a spokesman for Workers' Voice, an A.F.L.-C.I.O. "super PAC." "What Romney and Bain did to working families and companies is what Romney and Ryan would do to all Americans."

Bill Burton, one of the founders of Priorities USA Action, a pro-Obama super PAC, said his group had always planned to devote the fall to tying Mr. Romney to Mr. Ryan's budget plan, but had worried that it might not stick.

"From the beginning when we polled, we found that the Ryan plan was the most toxic political document ever, but the problem was you couldn't convince voters that any politician would actually support it," Mr. Burton said. "Now this actually makes the job easier."
The Miami Herald notes today that Ryan's Medicare position, as well as past statements he's made (since retracted) opposing the extension of the embargo against Cuba,could pose problems for the Romney/Ryan ticket in Florida. It is in possible recognition of this fact that when Romney is in Florida campaigning tomorrow, Ryan will be in Iowa. Republican leaders in Ohio are expressing similar fears about the impact of Ryan's Medicare plans in the Buckeye state,  and Politico's Alexander Burns reports on similar concerns voiced by national Republican political strategists.
Allahpundit puts those concerns into words:
I'm under no illusions. This makes winning harder, not easier. Some tough truths: The Democrats are going to flood Ohio and Florida with ads aiming to scare the pants off of seniors and blue-collar workers about the "safety net" disappearing under Romney/Ryan. Obama will now frame the election not merely as a choice between Ryan's budget and his own plan (whatever that is) but as a choice between the president and, as represented by Ryan, the most unpopular Congress in modern history. If the attacks work and Romney fades down the stretch, that could have huge downballot effects in House races too, jeopardizing the GOP majority. I think the best-case scenario is that Ryan's salesmanship brings enough people around on entitlement reform to fight the Democrats to a standstill on that issue, and then Romney wins the election narrowly due to voter dissatisfaction on the economy. In other words, it's both a "referendum election" and a "choice election": If Ryan can make the choice on the budget a stalemate, the ticket can still win a referendum on Obama's job performance. But that assumes, per Ryan's speech this morning, that some critical mass of voters will respond to a campaign that tells them the truth and that ideas beat demagoguery, as the man himself once insisted. Is that true? Has it ever been true before when it comes to entitlements? If Krauthammer's right that the infamous Obama Super PAC steelworker ad is working because voters don't pay enough attention to be able to cut through the B.S. in emotionally charged ads, imagine how difficult it'll be to rebut B.S. on a subject as complex and emotionally toxic as entitlements. Sean Trende, RCP's elections guru (who's no liberal, needless to say), argues that not only does this pick make things harder for Romney, it actually opens up the possibility of an Obama landslide. Huge gamble.
I think it's far too early to say that, but I do think Republicans who are so enthusiastic right now about the Ryan pick, and there is much to recommend about him I will admit, need to be honest with themselves about what this means for the race. Romney is taking a risk, he's hitting the restart button on his campaign much like John McCain did in 2008. Fortunately for him, he at least managed to pick someone who is competent, aware of the world around him, and able to speak intelligently on the issues. That doesn't mean he didn't take a risk, and a big one at that. We'll have to wait to see if it pays off.