Paul Ryan as VP Choice: First Thoughts
He's no Sarah Palin but Paul Ryan doesn't make immediate sense as Romney's running mate.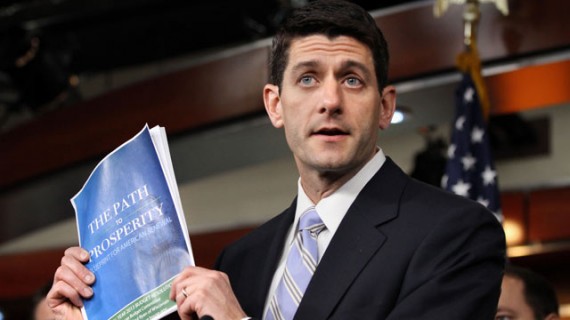 Well, it's official: Mitt Romney has chosen Paul Ryan as his running mate. I'm intrigued by the choice but skeptical.
Romney's pick is certainly a better pick than John McCain's. When the news broke four years ago that McCain had chosen Sarah Palin, I was dumbfounded:
Aside from being young and hot-for-a-politician, though, Palin undercuts McCain's entire campaign theme. She's got less political experience and less foreign policy experience than Obama.

[…]

I'd never heard of Palin before the VP buzz started on the blogs a while back. She's supposedly an excellent campaigner. And, obviously, her youth and gender make her a bold pick. Ultimately, though, I think she doesn't make sense. If you're running on "the country's security is too important to be run by neophytes," you can't have one as next in line.

While Joe Biden was, twice, an awful presidential candidate, he's a plausible president. Sarah Palin is not.

[…]

She's going to make us pine for the days of Dan Quayle, methinks.

[…]

We'll see what the reaction turns out to be.  I'm certainly not the target audience.  But McCain's first big decision is, in my mind, a truly awful one.   Obama went traditional but steady in Biden.  It wasn't a bold pick but it was one that butressed his claim that he has judgment even though he lacks experience.   McCain has done the opposite here.
Again, that was my instant reaction. Regular readers know that Palin did not grow on me as I learned more; indeed, the opposite was true.
While also very young, Ryan is no Sarah Palin. He's been on Capitol Hill for two decades, first as a staffer and speechwriter and since 1999 a Representative, and is by all accounts enormously bright and hard working. Joe Scarborough raves about how impressive Ryan was as a 22-year-old staffer and Harold Ford, Jr., a moderate Democrat, has very nice things to say about him.
Further, Ryan arguably bolsters Romney's core message, which is that he's a fiscally conservative businessman with the skills to fix an ailing economy and get our fiscal house in order. While the Ryan Plan is controversial, it at least has the virtues of being a plan—which is more than Obama and company have offered—and addressing the real train wreck that is Medicare. Ultimately, I don't see Ryan's rather radical solution as politically feasible or even necessarily desirable; but he's looking in the right direction.
And, of course, Ryan is very attractive to conservatives skeptical of Romney's fealty to The Movement and could get them excited enough to not only vote but encourage their neighbors to do the same. That could matter.
Still, while my instant reaction is much more positive than it was four years ago, I don't yet understand the logic of this pick.
First, Ryan probably doesn't help give Romney a major swing state. He's never run state-wide in Wisconsin and it's likely that the state will go to the Democrats no matter what.
Second, he's a mere Representative. Outside of the sort of political junkies who read political blogs, few people have heard of him. Nor does he carry the gravitas that comes with a governorship or even the Senate.
Third, he doesn't shore up any major weakness of Romney's.
On paper, at least, I'd have preferred a Rob Portman—who also doubles down on Romney's fiscal strength but  brings foreign policy experience from his tenure as US Trade Representative. Or, if he thought a "bold choice" was necessary, he could have gone with Chris Christie (assuming he was willing), who would have been an effective attack dog on the stump.