Mitt Romney To Announce Vice-Presidential Pick Saturday In Virginia, Signs Point To Paul Ryan
Is the the 2012 Republican Presidential ticket? We'll find out Saturday morning.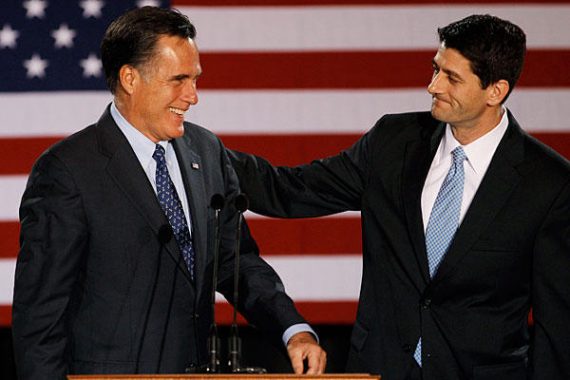 Breaking late Friday night came news that Mitt Romney would be making his Vice-Presidential pick known at a campaign appearance Saturday morning in Norfolk, Virginia:
(CNN) - Presumptive Republican presidential candidate Mitt Romney will announce his vice presidential candidate Saturday at an event in Virginia, his campaign said.
Mitt Romney is scheduled to announce his vice presidential candidate on Saturday in Norfolk, Va., ending a four-month search for a running mate on the opening day of a four-day bus tour through four critical battleground states.

Mr. Romney is set to disclose the selection at 8:45 a.m. as he tours the USS Wisconsin, the campaign announced Friday evening. Several signs were pointing toward Representative Paul Ryan of Wisconsin as a leading candidate for the position, a choice that would electrify the party's conservative base and potentially shake up the race with President Obama.

Mr. Romney telephoned other finalists for the position on Friday evening, a senior Republican aide said, and thanked them for their cooperation in the vetting process and their help with his campaign effort. But he did not tell them who he had decided upon.
Since the event is taking place at the kickoff of Romney's four state bus tour in Norfolk,Virginia near where the USS Wisconsin, a retired battleship, is berthed. The first reaction that many would jump to is that Virginia Governor Bob McDonnell is the pick, but this report from National Review earlier on Friday is causing some to think it might be someone else entirely:
Take note, veep watchers: Earlier today, a charter plane took off  in Boston, stopped in Chicago, then flew to the tiny airport in Janesville, Wis. Janesville, of course, is the hometown of Representative Paul Ryan, a top vice-presidential contender. According to a source on the ground, the plane is still in Wisconsin.

Tomorrow morning, Mitt Romney will visit the USS Wisconsin in Norfolk, Va. For what it's worth, Ryan is scheduled to be on vacation in Colorado.
You'll recall that, four years ago, even as the hours were ticking down to when John McCain would be making his announcement of his own VP pick in Dayton, Ohio, people were tracking claims that the choice was Tim Pawlenty and tracking flights from Minneapolis. It wasn't until mere hours before the announcement that the news began to leak that Sarah Palin was the pick. So, the mere presence of this plane in Wisconsin may mean nothing, or it may just be a diversion. According to reports, Tim Pawlenty is supposed to be appearing at events in New Hampshire, but that's something that's easily changed. As for the other potential nominees, there's no indication where they might be. Obviously, Bob McDonnell is going to be at the kickoff event with Romney so, if it is him, the announcement wouldn't be all that much of a surprise.
Keeping all that in mind, Bill Kristol has this to say The Weekly Standard:
THE WEEKLY STANDARD has learned that the Romney campaign has begun to prepare a vigorous effort in support of Paul Ryan if he is selected as Mitt Romney's vice presidential pick—something now likely to happen soon. For example, GOP officials tell THE WEEKLY STANDARD that Wisconsin governor Scott Walker is among a group of Republicans who has been asked to be ready, in terms of his schedule and other practical preparations, to make the case publicly for a Romney-Ryan ticket as early as Saturday.
This of course does not mean the Wisconsin congressman will necessarily end up as Romney's running mate. The Romney campaign may be working to lay the groundwork for one or two other possible picks, though THE WEEKLY STANDARD has been unable to find evidence of any comparable preparation for other candidates. Or the Romney team could be engaging in some last minute misdirection, as other campaigns have done. In 2000, much of the attention in the days before the announcement of Dick Cheney as Bush's running mate focused on John Danforth, thanks to nudging from inside the campaign. And in 2004, the New York Post splashed on its front page a story indicating that Richard Gephardt would be John Kerry's running mate. It's entirely possible that the Romney campaign is engaging in the same kind of shenanigans.

(…)

But if the signs pointing toward Ryan, increasing in number, are meant as a feint, it's an odd one. Ryan is popular among conservatives and Republicans, and the talk about him is generating lots of excitement in conservative and GOP circles. The campaign would presumably be acting to tamp down Ryan speculation if Ryan weren't going to be the pick, in order to avoid a sense of letdown if he's passed over. But the campaign is doing no such thing. Rather, it seems to be preparing observers for Ryan.
We'll find out in the morning, of course, but if it is Ryan, it's a surprising choice for many reasons because it's only been in the past week or so that attention had really shifted to the Wisconsin Congressman. Also unusual is making the announcement on a Saturday morning in the summertime, especially when the Olympics are still on. It doesn't strike me as timed very well for maximum media attention, although I suppose it will be the topic of discussion on all the Sunday morning news broadcasts.
Tune in tomorrow to see what the word is. The announcement will be made at 8:45am Eastern time.
One final note, I've got to give a hat tip to Jeff Quinton, who speculated on Thursday that the kickoff event at the USS Wisconsin would be the time and place of Romney's announcement, and that it would be either Bob McDonnell or Paul Ryan being announced as the nominee.
Update:  NBC News is reporting that three sources inside the Romney campaign confirm that Ryan will indeed be the person announced as Romney's running mate tomorrow in Virginia.