Paul Ryan Willing To Be Speaker, If All His Conditions Are Met
Paul Ryan has never really wanted to be Speaker Of The House, but he's take the job if House Republicans meet the conditions he's set out.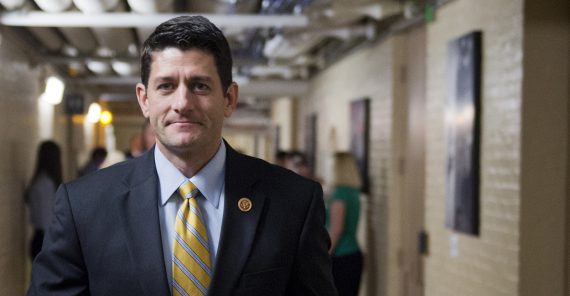 Late yesterday in a meeting with House Republicans Wisconsin Congressman Paul Ryan said that he's willing to put himself out as a candidate for Speaker, but only if conditions that may be difficult to extract from the various factions of the House Republican Caucus are met:
WASHINGTON — Representative Paul D. Ryan said Tuesday that he would be willing to serve as speaker if all the factions of his party could unite behind him, giving hope to House Republicans who have been divided by conflict and confusion.

In what were at times pointed remarks in a private session with his colleagues, Mr. Ryan called for changes both to the way the speaker's job is structured — focused more on communicating the party's message and less on fund-raising — and for an end to the antics of "bomb throwers and hand wringers," according to members in the room.

"We have become the problem," Mr. Ryan said in a news conference afterward. "If my colleagues entrust me to be the speaker, I want us to become the solution."

He suggested that he wanted an answer by Friday.

There is fear among many Republicans that the same issues that brought Mr. Boehner's leadership to an early end would spell trouble for Mr. Ryan, too. He would face a series of urgent and difficult fiscal challenges heading into an election year, including a possible federal default if Congress does not increase the government's borrowing authority and a December deadline for a budget measure to avert a government shutdown.r. Ryan made it clear that he would not accede to preconditions set by "one group," a clear reference to the members of the hard-line Freedom Caucus, which helped push Speaker John A. Boehner into retirement. Now it may be those same hard-liners who are feeling pressure to fall in line behind Mr. Ryan.

By demonstrating a willingness to serve but with the caveat of essentially unconditional acceptance, Mr. Ryan appeared to be playing a rather canny card. Instead of begging for support, he more or less dared members not to give it, leaving them the option of rejecting him and trying to find another willing candidate while explaining to the party — and perhaps the nation — why Mr. Ryan was not a viable choice.

His decision, an abrupt pivot after saying for weeks he did not want the job, fundamentally alters the dynamic in the race for speaker. But it was still uncertain whether Mr. Ryan, the Republican nominee for vice president in 2012, could unite all factions.

"I came to the conclusion that this is a very dire moment, not just for Congress, not just for the Republican Party, but for our country," Mr. Ryan said.

One of the candidates for the job, Representative Jason Chaffetz of Utah, said he would drop out and support Mr. Ryan. "I'm excited," Mr. Chaffetz said. "I supported him for vice president. I think he would be wonderful, exceptional as speaker."

Some conservatives hinted at supporting Mr. Ryan, but stopped short of an explicit backing.

"I think my response reflects the view of the overwhelming majority of the conference," said Representative Mark Sanford of South Carolina, a member of the Freedom Caucus, which has endorsed Representative Daniel Webster of Florida. "I think he was quite realistic in what he asked for. His candidacy is going to create conversations that I suspect will be quite animated."

Mr. Ryan is viewed by many in the fractious Republican conference as a force for unity, even as the far-right members have demanded more power and caused more headaches for the party as it tries to prove itself capable of governing as a majority.

"It's not a job I've ever wanted, I've ever sought," Mr. Ryan said.

The most conservative group of House members have been cool to the idea of his candidacy, and Mr. Ryan had not been willing to yield to their demands that the next speaker change House rules extensively to empower a minority of members. The far-right media have also been bludgeoning Mr. Ryan on a number of issues, including his vote in 2008 to bail out large banks and his role in brokering a bipartisan budget measure.

The father of three young children, Mr. Ryan also clearly did not relish the idea of spending hundreds of days on the road raising money for Republican candidates instead of spending time with family in his hometown, Janesville, Wis.

"I cannot and I will not give up my family," Mr. Ryan said. "I may not be on the road as often as previous speakers, but I pledge to make up for it with more time communicating our vision, our message."
Washington Post Capitol Hill reporters Robert Costa and Mike DuBonis have more:
Rep. Paul Ryan (R-Wis.) delivered a pitch Tuesday night to run for House speaker and end weeks of GOP chaos as long as Republican lawmakers meet certain conditions for his tenure.

"If you can agree to these requests and I can truly be a unifying figure, then I will gladly serve," Ryan said in a press conference following a closed-door meeting of the House GOP Conference on Tuesday night.

"This is not a job I ever sought. This is not a job I ever wanted. …. I came to the conclusion that this was a dire moment," Ryan said. "We need to move from being an opposition party to being a proposition party…Our next speaker has to be a visionary one."

In a reference to the demands of the House Freedom Caucus that wants dramatic changes to House rules, Ryan said: "We need to update our House rules so that everyone can be a more effective representative."

But Ryan hasn't completely committed yet to the job of replacing Speaker John Boehner (R-Ohio), who wants to step down by Oct. 30. He sketched out a timeline of making a decision by Friday — but in order to run, he wants the fractious Republican conference to rally around him, including the moderate Tuesday Group, the hard-line House Freedom Caucus and the conservative Republican Study Committee.

Several Republicans said they expected Boehner to announce a date for the leadership elections on Wednesday.

"We as a conference should unify now and not after a divisive speaker election," Ryan said.

"I considered to do this with reluctance and I mean that in the most personal of ways," he said, adding that Janna, his wife, and his young children should not have to suffer as a result of his seeking the speakership. "I cannot and will not give up my family time."

"I genuinely worry about the consequences that my agreeing to serve will have on them," he said, but added that: "My greatest worry is the consequence of not stepping up."

Inside the closed-door Republican meeting earlier that night, the Wisconsin Republican stood calmly before his colleagues, said several GOP lawmakers.

According to several lawmakers present, Ryan said: "I'm willing to take arrows in the chest but not in the back."

He referenced the bitter infighting between House conservatives and former GOP leaders that saw the ouster of Boehner (R-Ohio) and contributed to House Majority Leader Kevin McCarthy (R-Calif.) not taking the plunge.

"I don't want to be the third log on the bonfire," Ryan  said, in a reference to Boehner and McCarthy, according to Republicans who were inside the private meeting.

On running for speaker, Ryan said: "I hope it doesn't sound conditional… but it is," he said, with a smile.
There were indications, however, that Ryan's conditions may be a step too far for some lawmakers, and that could scuttle the opes of GOP insiders to get him to the Speaker's chair before they even start:
But there were signs that some conservatives weren't happy with a Ryan candidacy.

But Rep. Ken Buck (R-Colo.), a House Freedom Caucus member, said Ryan's apparent entry doesn't clear the field.

"There's still a race for the speakership," he said.

And Rep. Steve King (R-Iowa), known as a tough immigration foe, said he's concerned about Ryan's views on immigration and granting legal status to undocumented immigrants. "In the short term, it wouldn't be a struggle with Paul Ryan, but we know what he believes in," King said.

"We've got candidates for speaker. Can't we have an election, and elect a speaker? I'm not an anti-Paul Ryan guy. I appreciate him. I like him. I respect him," King explained. "There are big issues that transcend those things, and immigration is one of those."
Most members of the House GOP Caucus are no doubt letting Ryan's words sink in before they take a position, but the fate of the entire effort to elevate Ryan to a position he is obviously reluctant to take to begin with will likely lie in the hands of the same small group of House conservatives who have given John Boehner and Kevin McCarthy a headache for the past four years. In that respect, the early signs aren't necessarily looking good for those who would like to see the Speakership battle over quickly Early reporting on Twitter from Fox News Congressional reporter Chad Pergram, for example, seemed to indicate very negative reactions to Ryan's conditions from members such as Idaho Congressman Raul Labrador, who was particularly negative toward Ryan's condition that the Motion To Vacate The Chair, a parliamentary procedure to remove the Speaker from the floor, be eliminated, and from Kansas Congressman Tim Huelskamp, who said the conditions are unacceptable and seem like a means for Ryan to say he tried to step in and help, but was blocked by the Freedom Caucus and others. The Post's Robert Costa reported similarly seemingly negative reactions from Labrador, Kentucky Congressman Tom Massie, and Florida Congressman Daniel Webster, who is saying that he will remain a candidate for Speaker regardless of what Ryan does. How much these kind of comments represent the final position these members may take on Ryan's conditions, or how much they reflect the positions others may take, is unknown, but the immediate reaction from the people that Ryan was obviously intending his ultimatum for doesn't seem promising for the acceptance of those conditions.
As Aaron Blake notes, the way that Ryan is approaching this process is politically smart from his point of view and also a reflection of his rather obvious belief that stepping in to save the House GOP by agreeing to become Speaker, which he's never wanted to do, is a sacrifice on his part that can only happen under certain conditions. The most obvious thing, of course, is the fact that these conditions give Ryan and easy way to step back and resist the pressure that has been growing on him since Kevin McCarthy stepped away from his own bid to become Speaker. If all of Ryan's conditions aren't met, then he can simply say that he tried to step in to a role that has proven nearly impossible to perform well in given the internal politics of the GOP Caucus but that it's clear that the radicals aren't willing to do what needs to be done to get the job done. If the Freedom Caucus and other groups do ultimately accede to Ryan's conditions, then that gives him a tremendous amount of leverage over them going forward when it comes to getting matters through the House, controlling the Committee process, and other matters. Ultimately, of course, these groups will probably end up trying to revolt against a Speaker Ryan the same way they did against John Boehner, and the same way they helped block Kevin McCarthy's ascension to the Speaker's chair, but they'll be in a far less advantageous position of being seen as having broken a deal that every other Republican House Member agreed to, something that would potentially undercut their ability to actually cause trouble on the House Floor.  In the end, Ryan has laid out the conditions under which he's willing to do something that he's never really wanted to do, and since he knows that the Republicans need him more than he needs them right now, he's in a very strong position and pretty much stands to win however this turns out.
At this point, the only question is whether Ryan will be able to get the support and agreement that he's asking for to be able to move forward. Unofficially at least, he's set a deadline of the end of this week for agreement to be reached, and John Boehner's original retirement announcement essentially means that House Republicans need to meet to select a new Speaker by the end of the month and put a vote for Speaker on the House Floor. Boehner has said that he'll stay around past the end of the month if necessary, but he's made clear that he'd prefer that it not be a long period of time past October 31st. So, for better or worse, the future of the position that is second in line for succession to the Presidency will have to be decided within the next week or so. The ball is in the court of House Republicans, Paul Ryan is just waiting to see what they'll do.