Is Boehner's Position As Speaker In Danger?
Last night's defeat of "Plan B" demonstrated yet again that John Boehner does not really control his caucus.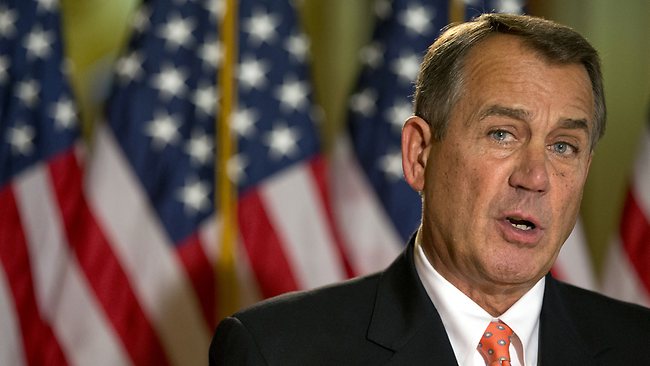 At a morning press conference today, House Speaker John Boehner said that he was "not worried" about his speakership despite the inability of him and the rest of the House Leadership to wrangle enough Republican votes to support their so-called "Plan B" tax plan. Despite Boehner's confidence, though, last night's events have lead to much speculation about Boehner's political future in the face of a House GOP Caucus that doesn't seem to want to listen to him:
John Boehner's speakership is suddenly "on the ropes," says at least one outside conservative group after Thursday night's head-spinning developments that saw the Republican leader scrap a vote on his own plan to avert the year-end "fiscal cliff" because not enough members of his party would support it.

"Speaker Boehner said today's bill would pass. His credibility as a leader has evaporated," declared Ron Meyer a spokesman for American Majority Action, a Virginia-based group, which has trained thousands of conservative activists and says it predates the tea party movement.

Meyer's group was in contact with members and keeping track Thursday of the lack of support for Boehner's bill, and by early evening was predicting correctly that a lack of conservative support for the speaker's plan—more than 30 opposed it—meant it would not pass if voted on.

Boehner's pulling back—at least for now—on floor consideration of his own Plan B option that would let taxes rise only on those with annual incomes of $1 million or higher further muddles Washington's efforts to resolve a partisan stalemate over about $500 billion in year-end tax increases and spending cuts. Economists warn that going over the cliff could send the country into a recession.

Even before Boehner pulled his "Plan B" off the floor Thursday night and lawmakers departed for their holiday recess, American Majority had already this month launched an effort to oust Boehner as speaker, focusing on about 100 House Republicans members. The group sought to convince enough of them to vote for someone else in the upcoming speaker's election on Jan. 3 that will kick off the new 113th congressional session.

Meyer's group now says the lack of votes Thursday night for the House GOP leader's Plan B tax measure is a vote of no confidence for Boehner by his conference.
This effort to unseat Boehner has always struck me as kind of idiotic. For one thing, Boehner had already effectively won the position in November when the House GOP Caucus conducted its leadership votes. Nobody stood up to challenge Boehner at that time. At this point, there is no real credible alternative to Boehner within the GOP. Eric Cantor is second in line in the party leadership, but he's made his loyalty to Boehner very clear. Indeed, both he, Boehner, and GOP Whip Kevin McCarthy were involved in trying to corral votes for Plan B last night, as was Paul Ryan, who has often been mentioned as an alternative candidate for Speaker even though he's shown no real interest in the position, or indeed any position in leadership other than Chairman of the Budget Committee. If you don't have a credibly candidate, then you just end up casting meaningless votes for people who no chance of winning, such as several Demcorats did two years ago when they voted for Heath Schuler instead of Nancy Pelosi. That would be political stupidity on the part of the conservatives who are complaining about Boehner today.
The more important thing, I think, is to look at exactly what it is that conservatives on the hard right are upset about when it comes to John Boehner. For the most part, Boehner has been a hardline negotiator with the President and Harry Reid both this time around and during the debt ceiling negotiations during the summer of 2011. Indeed, Boehner was roundly criticized by many for being too much of a hardliner in his talks with the President last year. This time around, Boehner has quite honestly been as hard a negotiator as he can be given the fact that he really doesn't hold a very good hand. One can criticize the whole "Plan B" idea, but it reflects a reality that the only way a fiscal cliff deal can be made is if Republicans agree to a tax rate increase on high income earners.
As for Boehner's future, Ezra Klein thinks that last night's events make a challenge when Congress reconvenes more likely:
A significant number of Boehner's members clearly don't trust his strategic instincts, they don't feel personally bound to support him, they clearly disagree with his belief that tax rates must rise as part of a deal, and they, along with many other Republicans, must be humiliated after the shenanigans on the House floor this evening. Worse, they know that Boehner knows he'll need Democratic support to get a budget deal done. That means "a cave," at least from the perspective of the conservative bloc, is certain. That, too, will make a change of leadership appealing.

If a conservative spoiler runs, he or she could very possibly deny Boehner the 218 votes he needs to become speaker, clearing the way for a consensus candidate like Eric Cantor to unite the party. It's hard to say exactly how likely that is. But it's likelier than it was, say, this morning.
Steve Kornacki, meanwhile, wonders if Boehner even wants to be Speaker anymore:
The better question is whether this might be a moment of personal reckoning for Boehner. Being speaker has given him a nice title, lots of visibility, some stature and prestige, and a place in history. But he's been a SINO – speaker-in-name-only. He can't cut big deals with Obama, can't cajole and threaten his members into line, and can't even pass his own stick-it-to-Obama tax plan. This has been the story of his two-year run as speaker, and after last night there's no reason to think the next two years will be any different. It's not impossible to imagine Boehner in the next two weeks deciding he's had enough and just walking away, leaving the gavel for some other unfortunate soul. (A potential variation of this idea: Boehner cuts a deal with Obama, faces down the wrath of the right, musters just enough GOP votes to pass it with Democratic help, then steps down as speaker, knowing he'll be deposed on January 3.)

Basically, Boehner is probably safe as speaker if he wants to be. But more than ever, it hard to see why he wants to keep putting himself through this.
Since none of us can read Boehner's mind, I can't say whether or not Kornacki might be onto something here. I get the impression that Boehner intends to remain as Speaker and that the likelihood of a serious challenge between now and January 3rd is pretty low. At the same time, though, one has to wonder how the next two years are really going to be any different than the last two. The past six weeks have demonstrated quite aptly that conservatives have learned nothing at all from the 2012 elections and are unlikely to change their behavior in the 113th Congress. That means that the odds of any of the many issues we're likely to face over the next two years in Congress going any more smoothly in Congress than they have to date. On some level, you've got to think that the whole thing has Boehner is rather frustrated about the whole thing.