House Speaker John Boehner To Resign
Big news out of Washington, D.C.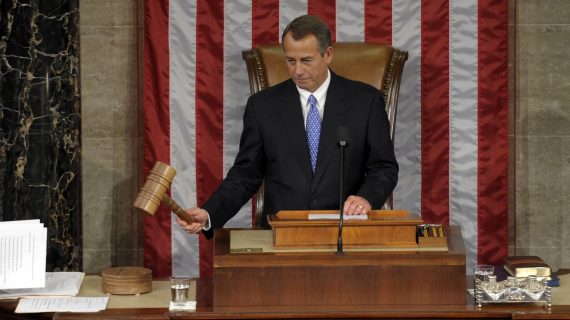 In a move that is coming as a surprise to pretty much everyone in Washington and around the country, The New York Times reported today that John Boehner, who has been Speaker Of The House for some four and a half years and a Member of Congress since 1991, will be resigning Congress at the end of October:
WASHINGTON — Speaker John A. Boehner, under intense pressure from conservatives in his party, will resign one of the most powerful positions in government and give up his House seat at the end of October, throwing Congress into chaos as it tries to avert a government shutdown.

Mr. Boehner, who was first elected to Congress in 1990, made the announcement in an emotional meeting with his fellow Republicans on Friday morning.

The Ohio representative struggled from almost the moment he took the speaker's gavel in 2011 to manage the challenges of divided government and to hold together his fractious and increasingly conservative Republican members.

Most recently, Mr. Boehner, 65, was trying to craft a solution to keep the government open through the rest of the year, but was under pressure from a growing base of conservatives who told him that they would not vote for a bill that did not defund Planned Parenthood. Several of those members were on a path to remove Mr. Boehner as speaker, though their ability to do so was far from certain.
More from The Washington Post, which reports that Boehner says he chose to step aside to avoid a divisive leadership fight:
House Speaker John A. Boehner (R-Ohio), faced with a constant conservative rebellion, told Republicans Friday morning that he will resign at the end of October, according to aides and lawmakers in a closed-door meeting.

The resignation will end a nearly five-year reign as speaker, allowing House Republicans to approve a short-term government funding bill that will avert a shutdown of federal agencies. Boehner's hold on the speaker's gavel had grown increasingly unsteady amid threats from more than 30 Republicans that they would force a no-confidence vote in his speaker's position, which would have forced him to rely on Democratic votes in order to remain in charge. It's unclear whether Boehner is just resigning the speakership next month or also abandoning his House seat.

The shocking move means there's unlikely to be a government shutdown next week.  Following Boehner's announcement, House Republicans said there was agreement to pass a clean spending bill to avert a government shutdown. Several members of the Freedom Caucus, the conservative group which led the revolt against Boehner's leadership, said they will now support the spending bill without demands to defund Planned Parenthood attached to it.

"The commitment has been made that there will be no shutdown," said Rep. John Flemming, (R-La.).

The House intends to vote next week on a clean spending bill and then move on to budget reconciliation — where, Republicans said, both repealing the Affordable Care Act and stripping Planned Parenthood of funding will be considered.

Reconciliation bills are considered under special rules that require only a simple majority to pass and they cannot be filibustered in the Senate.

Boehner, who capped his career with Thursday's address by Pope Francis, met with a handful of the most conservative Republicans after the papal address to lay out the plan to fund the government. But those rebels continued to agitate and threaten to force a vote at sometime in the near future to vacate his speakership.

A believer in the institution, Boehner decided to walk away on his own terms rather than relying on Democratic support or becoming the first speaker to lose the gavel midterm.

(…)

Boehner's departure is rooted in deep conservative discontent with the way he has handle his majority — in particular, what they haveseen as an unwillingness to stand up to President Obama.

"He's run circles around us since John Boehner was speaker of the House," said Rep. Tim Huelskamp (R-Kan.). "I think it's a victory for the American people."

Huelskamp said it was "clear that he did not have the votes to remain as speaker unless Nancy Pelosi helped him out, which is obviously a very vulnerable position."

"Obviously the pope had a big impact on him, said Rep. Richard Nugent (R-Fla.) " That's about the most selfless act I've sever seen, willing to step down to save this country and save this nation."

Nugent, who did not support Boehner in the January speaker election, said the room was uniformly shocked — including McCarthy, who told the conference immediately afterwards that he had only a moment's notice of Boehner's decision, Nugent said.

The resignation sets up a bruising leadership race that will represent a long-delayed open clash between conservative and establishment Republicans.
This announcement comes in the context of yet another difficult September for Boehner and the rest of the leadership in the House and Senate. Back in July, before the summer recess, a little known Congressman from North Carolina had filed a motion aimed at removing Boehner from the Speaker's chair. This was really just the latest round in a war that had been waged against the Ohio Congressman since taking office back in January 2011 by the hard right Tea Party wing of the House Republican Caucus. It started during the Debt Ceiling Showdown in the summer of 2011 when a restive Tea Party Caucus that rejected the idea of any compromise at all made it difficult if not impossible for Boehner to make any deals with the White House or the Democrats in Congress and sent the nation to the brink of default. Even when that crisis was averted with a deal that gave the Tea Party about as much of what they were asking for as they could have reasonably expected, the purists continued to attack Boehner throughout the remainder of 2011 and into 2012, when Tea Party groups were funding efforts to defeat him in the primary for his House Seat and there was already talk of selecting a new Speaker when the new Congress convened in January 2013. In the end, the promised rebellion against Boehner never materialized and he was easily re-elected  with only a handful of dissenters who voted for other candidates or chose to vote "present." The same thing happened in January of this year when there were yet another round of rumors that Boehner was under threat, only to see the challenge collapse.
This time around, it seemed from the outside as if this latest rebellion would unfold in roughly the same manner as those in the past. While there were rumors about this Member of the GOP Caucus or that one joining in with the motion. Additionally, the fact that we're heading for the end of a Fiscal Year and the threat of another government shutdown over Planned Parenthood funding meant that the pressure on Boehner was once again becoming especially acute. As it stood, it was increasingly unclear if Congress would be able to avoid a shutdown despite the fact that Republican leadership in both the House and the Senate was opposed to the idea and that the American public was opposed to it as well. If it is to be avoided, it would likely require much of the same deal making and parliamentary maneuvering that Boehner has used in the past, and that was likely to enrage his Tea Party critics even more notwithstanding the fact that their shutdown strategy was both politically stupid and doomed to fail in the end anyway. If anything, Boehner stepping down means that we will likely avoid another shutdown, at least in the short term, since he will be free to make a deal that otherwise might cause trouble in the future. What kind of tone all of this sets for whomever replaces him, though, is unclear.
In the end, perhaps it was the prospect of yet another battle with that group that led Boehner to decide it was time to retire, especially given the fact that there had already been rumors circulating in Washington that Boehner may not be sticking around after the end of the current Congress regardless of the outcome of the Presidential election. For four years now, Boehner has been essentially herding cats on Capitol Hill in trying to get his party to agree to do even things that have usually been considered routine in Congress. To some degree, this was a problem of his own making because of the fact that one of the first steps House Republicans took after the 2010 elections was to eliminate earmarks, the process by which Members of Congress direct certain Federal spending that has already been allocated to their districts. Without the carrot and stick approach that earmarks allowed, Boehner and the rest of the leadership was deprived of a very powerful tool to ensure compliance in the caucus. Add to that the fact that the proliferation of outside funding sources meant that members were no longer as dependent on party organizations like the Republican Congressional Campaign Committee and you have a situation where it's very hard for leadership to offer much of anything to get people to vote their way.  Finally, perhaps it's just the case that Boehner has finally grown tired of dealing with an intransigent minority in his own party that makes it impossible to get anything done, and which attacks him even when he gets a deal that gets them as much of what they want as they can reasonably expect.  Having succeeded in what was reportedly a decades long quest to get a Pope to speak to Congress, there really wasn't more for John Boehner to do.
Going forward, of course, there will now be a battle to determine who is going to replace Boehner as Speaker. The most logical and traditional successor, of course, would be House Majority Leader Kevin McCarthy from California, however these are not logical times on Capitol Hill. McCarthy is reportedly not viewed any better by the most conservative members of the House Republican Caucus than Boehner was, so it's likely that they would at least try to resist his ascension to the Speaker's Chair. Beyond McCarthy, those most likely to compete for the slot include Texas Congressman Jeb Hensarling, who has far deeper ties to the more conservative members of the House. Additionally, House Majority Whip Steve Scalise could be a potential competitor for McCarthy, but he may be more interested in concentrating on rising to Majority Leader. Finally, Wisconsin Congressman Paul Ryan is likely to see his name mentioned as a potential Speaker just as it has been in the past, but Ryan has said repeatedly that he has no interest in becoming Speaker, and his new position as Chairman of the Ways And Means Committee is one that he's been after for several years now. In the end, then, it is likely to be the case that McCarthy will be the consensus candidate to succeed Speaker and that there will be some token Tea Party candidate that will challenge him, but come up far short of the votes needed to win. The bigger fight is likely to be the one to succeed McCarthy as Majority Leader and, possibly, to succeed Scalise as Majority Whip. So, it will be an interesting October on Capitol Hill.
Update:: Paul Ryan has already told NBC News that he's not running for Speaker, this likely makes McCarthy's ascension even more likely:
Paul Ryan was just asked if he's going to run for Speaker, and he said, "I'm not, it's a good job for an empty nester."

— Frank Thorp V (@frankthorpNBC) September 25, 2015