The Latest Conservative Rebellion Against John Boehner Is Fizzling Out
The latest effort by conservative Republicans to oust John Boehner appears to be coming to an unsurprising end.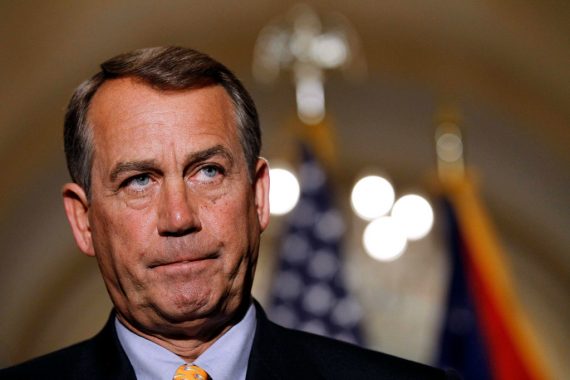 The latest effort to push John Boehner out of his position as Speaker Of The House appears to fizzling out as the two men who would be most likely to replace him pledged their support and called for the effort to oust him to end:
The only two viable potential replacements for John Boehner as speaker of the House say they back the Ohio Republican and will oppose any effort to remove him from power. But other high-ranking Republicans are testing the waters should the embattled speaker be forced out.

In a pair of statements to POLITICO, House Majority Leader Kevin McCarthy (R-Calif.) and Ways and Means Chairman Paul Ryan (R-Wis.) forcefully backed Boehner and called for an end to the intraparty warfare crippling the House Republican Conference as it faces a possible government shutdown on Oct. 1.

"I support John Boehner as speaker," McCarthy told POLITICO in a statement.

"We should be spending all of our time and energy confronting this administration's disastrous policies," he added. "The intrigue and fighting amongst ourselves only makes it harder to get that done. It ought to stop immediately."

Ryan was similarly dismissive of the threat by conservative hard-liners to oust Boehner. "The best person to lead the conference right now is John Boehner, and any attempt to remove him would be counterproductive," Ryan said.

The support from McCarthy and Ryan represents the most full-throated endorsement of Boehner since a small pocket of conservatives said they were looking to knock him out of the speaker's chair in July.

Still, Boehner's tenuous hold on power, exacerbated by conservative demands to cut off federal funding to Planned Parenthood, has set off some jockeying for position in the upper ranks of the House GOP hierarchy should he fall.

Several GOP lawmakers have approached McCarthy, majority leader since mid-2014, to discuss Boehner's fate. The California Republican isn't entertaining that talk or planning a run, but a number of other Republicans in leadership have started to formally test their own political viability inside the GOP conference in the event that Boehner is forced to give up his post.

A potentially hot race is already shaping up for majority leader post-Boehner. House Republican Conference Chairman Cathy McMorris Rodgers (R-Wash.) has been actively positioning herself for a run for the No. 2 spot. The highest-ranking woman in the House GOP, she has been busy consulting fellow lawmakers on a policy platform for the conference.

But a run by McMorris Rodgers — currently the No. 4 House Republican — would put her in direct competition with House Majority Whip Steve Scalise (R-La.), who is now No. 3 in the GOP leadership. Scalise has been asking lawmakers to commit to him in a race for majority leader if one develops. Aides to Scalise and McMorris Rodgers said the lawmakers back Boehner's continued tenure as speaker.

"It's the whip's job to be in constant contact with other members and keep his finger on the pulse of the conference," said Chris Bond, a spokesman for Scalise. "Right now, House Republicans are working to stop a bad nuclear deal with Iran and end Planned Parenthood's disturbing practice of selling fetal body parts. We're actively focused on the job at hand, and anything else is just a distraction."

But the palace intrigue surrounding Boehner is indisputable. And it's unusual for a leadership election to burst into full view less than a year after Boehner won his third term as speaker, and just 14 months after the last contested House leadership election.

However, Boehner does face serious internal challenges, as even his closest allies openly admit. A small pocket of roughly two dozen conservatives — led by members of the House Freedom Caucus — have threatened to try and remove the speaker if they don't get what they want on a government funding bill by the end of this month.

GOP leadership prefers to defund Planned Parenthood as part of the budget reconciliation process, while the Republican hard-liners want to include a prohibition on funding for the group in a must-pass continuing resolution to keep the government open. These conservatives say the issue of cutting off Planned Parenthood's money is worth the political backlash from a shutdown

Boehner remains personally popular inside the GOP conference, and his supporters say he is the only person who could command enough support to be speaker. Yet his fate might rest with Democrats, who have not decided how they would vote if a Republican files a so-called motion to vacate the chair.

Several House Democratic leadership aides say it would be difficult to vote against Boehner, while others said Democrats would vote present. Should they vote present, Boehner would need to earn the simple majority of Republicans voting. If every GOP lawmaker voted, Boehner would win with 124 votes.
The fact that this latest attempted coup against Boehner seems to be fizzling out isn't entirely surprising of course. To a large degree, what we're seeing unfolding in the House now is unfolding in about the same way as all of the other efforts to oust Boehner over the past four years. Talk like this started almost as soon as Boehner took the Speakership after the GOP's historic win in the 2010 midterm elections, and became louder on the far right after the showdown with the White House over raising the debt ceiling in the summer of 2011. When the 2012 election rolled around, Tea Party groups were funding a primary opponent to run against Boehner in his Ohio District, but even when that failed spectacularly they were not deterred. In January 2013, when it came time for the House to choose a Speaker again, a cabal of conservative House members and Tea Party groups tried to launch a bid to unseat Boehner but, largely because of the fact that they had no viable replacement and nobody in House Leadership supported them, Boehner was easily re-elected. A similar effort was made at the beginning of the new Congress this year, and again it failed spectacularly. Through all of these challenges, it became clear that the actual number of House Members willing to unseat Boehner was very small and the fact that Boehner responded to each of these coup attempts by punishing those involved with a loss of plum committee assignments made other members reluctant to get involved. That seems to be exactly what's happening this time, and the fact that both McCarthy and Ryan and lining up behind Boehner is a strong indication that this latest effort will fail as spectacularly as the rest.
The news of McCarthy and Ryan's support came on the same day that California Congressman Tom McClintock resigned from the conservative House Freedom Caucus, which is largely the group behind the current attempted rebellion. In his resignation, McClintock criticized the groups tactics and its frequent fights with leadership that have often resulted in some of the most conservative members of the House voting with Democrats only to punish the leadership of their own party. McClintock specifically attacked the group for its current effort to force a showdown over Federal funding to Planned Parenthood despite the fact that polling has made clear that the public would oppose such a move and that they would blame the GOP if a shutdown happened. While he didn't specifically mention the challenge to Boehner, it isn't too hard to read what McClintock was saying as an attack against that strategy, which of course isn't really a strategy at all. If McClintock represents the thoughts of other conservatives in the House, it would seem clear that the latest effort at rebellion will fail spectacularly and that once again Boehner will be left holding the power and his opponents will end up with nothing.