Voters Would Blame Republicans For Government Shutdown, Poll Shows
Some Republicans are threatening a government shutdown over funding of Planned Parenthood, but a new poll shows that it would be a big political risk for Republicans.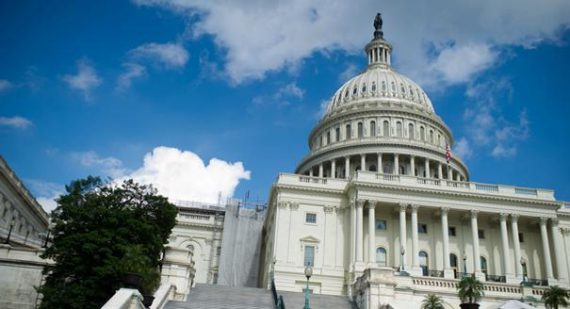 As some Republicans plot to force a showdown over Federal funding to Planned Parenthood that could lead to another government shutdown, a new poll shows that Americans who blame the Republican Party if the dispute came to the point that the government shut down on October 1st:
A plurality of voters would blame Republicans in Congress for a government shutdown this fall, according to a poll released Monday by Quinnipiac University.

Forty-one percent said they would blame the GOP, and a third of people said that Democrats and President Obama would be responsible for a shutdown.

Seventeen percent said both parties would be equally responsible, and 9 percent said they don't know which party would take the blame.

Broken down by political party, only 9 percent of Republicans polled said the GOP would be blamed, while nearly two-thirds of them said Democrats and Obama would be blamed.

Nearly 80 percent of Democrats surveyed said Republicans would be blamed for a shutdown, and only 6 percent said members of their own party would be responsible.

When lawmakers return to Capitol Hill next week after their annual August recess, they will only have about 12 days in session before the deadline to fund the government.

Congress must pass new legislation to fund the government by Oct. 1.

Conservatives are calling for using a spending bill to defund Planned Parenthood over videos that an anti-abortion group has been releasing showing officials discussing the handling of fetal tissue.

A group of 18 House conservatives notified Speaker John Boehner (R-Ohio) in late July that they wouldn't support any legislation that continues to fund Planned Parenthood.
These numbers, of course, aren't very different from the ones that we saw two years ago when Ted Cruz and a small group of Congressman, assisted by a grass roots effort led by organizations such as Senate Conservatives Fund, vowed to push for a government shutdown at the end of the Fiscal Year unless the new budget defunded the Affordable Care Act. Since the law was set to go into effect on October 1st of that year with the launching of the marketplace websites, many of these groups believed that the Fiscal Year 2014 Budget would be their last real hope of pushing back against the law unless Republicans managed to win the White House in 2016. At the time, polling showed that the public was overwhelmingly against the idea of a shutdown and many top Republicans, including Mitch McConnell, John Boehner,  former Oklahoma Senator Tom Cotton,  former House Majority Leader Eric Cantor, and others were openly critical of Cruz and the others who were backing that proposal. In the end, though, they were unable to resist the small contingent of Tea Party aligned Members of Congress who refused to pass any budget, or even a Continuing Resolution, that didn't include "defunding" for Obamacare. As a result, we went into a shutdown that lasted more than two weeks and ended up being a public relations disaster for the Republican Party the impact of which was only discounted because of the fact that the rollout of the websites for the Affordable Care Act turned out to be an administrative disaster that lasted well into the holiday season. At the very least, though, it is fair to say that Republican came out of that showdown as losers. Not only did they suffer in the polls, but they didn't get anything that Cruz and his band of intractable ideologues were asking for to begin with.
With that lesson behind them, as well as the lessons of previous government shutdowns during the Clinton Administration, one would think that Republicans would have learned their lesson at this point. As this poll shows, they likely would not win the public relations battle if their effort to defund Planned Parenthood led to a government shutdown, and it's also unlikely that they would accomplish their goal in the end when the inevitable deal to resolve the showdown is made. At the same time, though, it's worth noting that funding for Planned Parenthood and abortion are both hot button issues on the right, so it would difficult if not impossible for Congressional Republicans to simply ignore the matter. The politically smart thing to do, of course, would be to allow the vote to take place and then, when it is likely ultimately defeated int he Senate through a Cloture Motion, to pass a clean budget and live to fight another day. That way, the right wing of the party gets its vote and they get to use the issue against Democrats in the 2016 elections.
No doubt, the Republican leadership in the House and Senate is hoping that this, or something like it, is how this matter ends up getting resolved. Another shutdown would be disastrous for the GOP, and even more so heading into a Presidential and Congressional election year. Nonetheless,it was also obvious in the late summer of 2013 that a shutdown over Obamacare would have been political suicide and, despite the fact that the leadership clearly didn't want it to happen, that's exactly what we got. It's also worth noting that the budget will be being dealt with at the same time as the vote on the Iran nuclear deal, which now seems certain to survive an attempt to override President Obama's veto and may not even get to an up-or-down vote in the Senate. In that case, conservatives on the Hill may be less inclined than usual to compromise with the Administration. A shutdown would be bad for the GOP, obviously, but unless you believe Mitch McConnell and John Boehner have more control over their respective caucuses than they did two years ago, you cannot discount the possibility that it might happen.