Republican Infighting Over Ridiculous Government Shutdown Schemes?
There seems to be a divide developing between Republican leadership and the Tea Party over the idea of shutting the government down over Obamacare.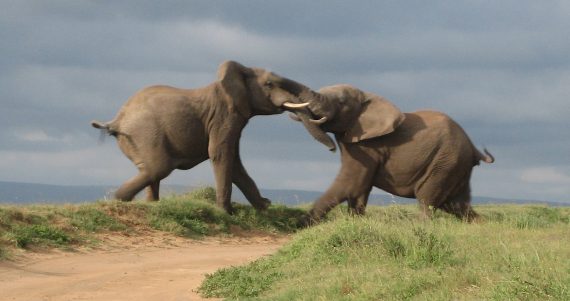 In an interview with National Review's Robert Costa, House Majority Leader Eric Cantor seems to place himself firmly behind those who are arguing against the idea of shutting down the government unless President Obama and the Democrats agree to defund the Affordable Care Act:
As the fall's fiscal drama nears, a group of conservative lawmakers is urging Republican leaders to use Obamacare as a bargaining chip. Behind the scenes, they're warning Speaker John Boehner and Senate minority leader Mitch McConnell that unless the president's signature law is defunded, they won't support a "continuing resolution" to fund the federal government.

The debate has caused tension in the ranks since many Republicans are uncomfortable with talk of a shutdown. Speaking with National Review Online on Friday, House majority leader Eric Cantor clarified the House's strategy. "No one is advocating a government shutdown," he said.

He also threw a little cold water on the "defund or shutdown" rallying cry. "In order to avoid a government shutdown, we need 60 votes in the Senate and 218 votes in the House to pass a continuing resolution," he explained. "To get 60 votes in the Senate, you need at least 14 Democrats to join Republicans and pass a CR that defunds Obamacare. Right now, I am not aware of a single Democrat in the Senate who would join us. If and when defunding has 60 votes in the Senate, we will absolutely deliver more than 218 votes in the House."
Cantor's numbers are actually slightly off. With a Democrat in the White House, you'd actually need 23 Democrats to join Republicans in the Senate, along with 56 Democratic to join Republicans in the House in order to override an inevitable veto. And that quite simply is not going to happen any time in the foreseeable future. Indeed, it's hard to see any effort to defund, delay, or repeal the PPACA succeeding unless and until Republicans control the White House and the Senate along with the House. That simply isn't going to happen before 2017 at the earliest, and probably not then either if things keep going the way they have been..
Additionally, Cantor is being slightly disingenuous in arguing that "no one is advocating a government shutdown," because that is exactly what people like Ted Cruz and Mike Lee, along with groups like the Heritage Foundation, are spending the summer recess doing. Either because they are stubborn or because they simply refuse to recognize reality, these people seem to believe that there is some realistic scenario under which the House GOP and the Republican minority in the Senate could force the President and Senate Democrats to agree to defund or delay the Affordable Care Act. They never seem to be able to provide a realistic scenario under which they could achieve these results. Of course, it's possible that they don't actually care about achieving anything, and that these unrealistic plans of there's are meant mostly for the consumption of the base as a means to both rally that base and to make sure that donations keep flowing in to the various Tea Party related organizations that take these unreasonable positions. It wouldn't be the first time that grifting was the name of the game among conservative political activists.
This isn't the first time that we've seen a prominent Republican speaking out against this latest government shutdown scheme. No less a fiscal hawk that Senator Tom Coburn has been making similar points to those that Cantor made for weeks now. However, unlike Cantor, Coburn is not a member of leadership so these comments arguably carry much more weight and are meant to send a clear message to those on the right still intent on engaging in what is clearly a strategy that is destined to fail.  Whether they'll listen to him is another question entirely.