Cantor's Wharton Speech Derailed
House Majority Leader Eric Cantor abruptly canceled a long-scheduled speech to the Wharton Business School after school officials changed the guest list.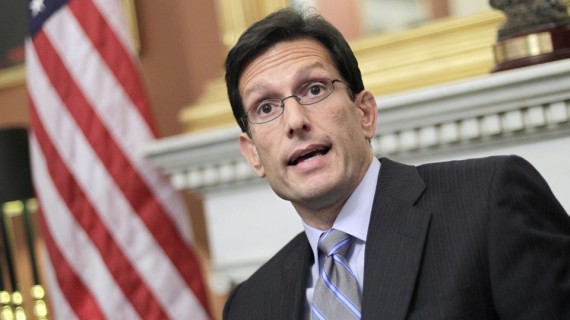 House Majority Leader Eric Cantor abruptly canceled a long-scheduled speech to the Wharton Business School after school officials changed the guest list.
The Daily Pennsylvanian ("Protesters storm campus after Cantor cancels visit"):
Amid Occupy Philadelphia protesters and discrepancies in the attendance policy, United States House Majority Leader Eric Cantor (R-Va.) canceled his Wharton Leadership Lecture slated for Friday, Oct. 21 at 4:30 p.m. Cantor had planned to speak at Huntsman Hall about income inequality.

"The Office of the Majority Leader was informed last night by Capitol Police that the University of Pennsylvania was unable to ensure that the attendance policy previously agreed to could be met," Cantor spokeswoman Laena Fallon wrote in an email. "Wharton is a educational leader in innovation and entrepreneurship, and the Majority Leader appreciated the invitation to speak with the students, faculty, alumni, and other members of the UPENN community."

His absence didn't deter activists, however, who assembled inside and outside Huntsman. "It appears [Cantor] doesn't want to talk to the 99 percent," said Jamie Mondics of advocacy group Keystone Progress, after learning of the canceled speech.

Vice President for Public Safety Maureen Rush said the Division of Public Safety increased security efforts around the site of the protests and continued to monitor and adjust its presence throughout the day. DPS spokesman Stef Karp estimated that about 500 demonstrators were at the protest. Protesters entered Huntsman by force through Au Bon Pain and occupied the lobby, shouting chants such as "Eric Cantor, come out, come out wherever you are" and "We are the 99 percent."
The Hill ("Wall Street protests force Cantor to cancel economic speech"):
House Majority Leader Eric Cantor (R-Va.) abruptly canceled a planned economic address Friday at the University of Pennsylvania after learning the event could be flooded with protesters aligned with the Occupy Wall Street movement.

Cantor was to deliver a speech titled, "A Fair Shot at the American Dream and Economic Growth" at the university's elite Wharton School of Business, but the school announced the event was off about three-and-a-half hours before Cantor's scheduled 4:30 p.m. start time.

[…]

Cantor's office said it scheduled the speech several months ago with the understanding that the audience would be composed of about 250 "members of the Wharton community," including students, faculty and invited guests. But on Friday morning, the university's student newspaper, The Daily Pennsylvanian, reported that between 500 and 1,000 protesters affiliated with Occupy Philadelphia planned to rally outside the hall where Cantor was to speak.

The majority leader's office also said it learned Thursday night that university security planned to open the speech to the public and allow the first 300 people in line to attend the speech, regardless of affiliation, raising the possibility that Cantor would be addressing a room full of protesters.

Instead,Cantor published his planned remarks in an op/ed on the website of The Daily Pennsylvanian on Friday afternoon.
The prepared remarks are available here.
This is weirdly ironic in at least two ways. First, Cantor drew substantial fire for referring to the Occupy movement as "an angry mob" a few days back; he would seem vindicated. Second, Cantor countenanced such tactics on the behalf of the Tea Party movement when it was flooding town hall meetings and shouting down elected representatives attempting to have a civil discussion with their constituents.
Certainly, I don't blame Cantor at all for canceling the speech. He came to have a dialog with the students and faculty of the nation's most prestigious business school, not to serve as a prop for angry rabble to scream at. Not only is there nothing to be gained by such a confrontation but, frankly, these aren't his constituents and he doesn't have to answer to them.
Some spokesmen for the protestors and commenters on the linked stories are crowing about Cantor's lack of courage and running and hiding; that's just silly. Had a spokesman for the group attended the speech and asked an insightful question during the Q&A, I'd have expected Cantor to take it on. That's the deal one makes when accepting an invitation to speak at a university. Being drowned out by protesters–let alone those unaffiliated with the school–is not supposed to be part of the package.
I'm frankly surprised that the University of Pennsylvania, having invited Cantor, didn't manage this better. He's a controversial figure coming to address a controversial subject–indeed, the Occupy protests are at the heart of it–so protestors showing up was a given. Indeed, reports indicate that they had been in planning for more than a week and students knew all about them. So, the protestors should have been given an assembly area to get their message out.  Cantor should have been given a safe, non-confrontational escort into the lecture hall–which should have been packed by Wharton faculty, students, and administration. The Q&A would naturally have had questions challenging Cantor's message. Useful, educational dialog would have thus ensued.
In my undergraduate days, we had controversial Reagan interior secretary James Watt in shortly after he was fired. When I was in graduate school, we had Los Angeles police chief Daryl Gates in shortly after the LA riots. There were no angry mobs or attempts to shout down the speakers. They were treated as the invited guests they were, given a respectful listen, and then challenged by questioner after questioner, often quite pointedly. That's how these things are supposed to work.