Eric Cantor To Step Down As Majority Leader
Get ready for a big GOP Leadership fight in the House.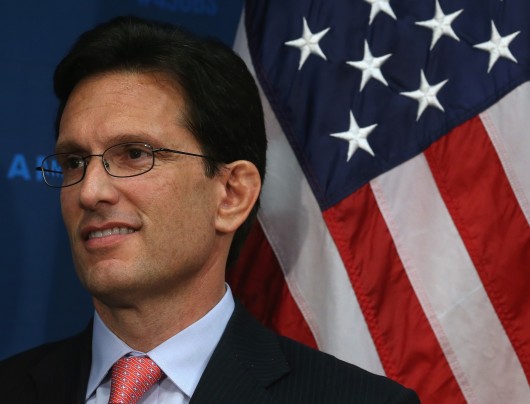 After yesterday's political earthquake in Central Virginia, it's being reported that Eric Cantor will step down as House Majority Leader at the end of July:
House Majority Leader Eric Cantor (R-Va.) plans to step down from his leadership post by the end of July, setting off a weeks-long scramble for the chamber's number two job, according to three Republicans familiar with his plans.

Cantor will formally announce his plans later Wednesday in a meeting with his House Republican colleagues in the basement of the U.S. Capitol.

Cantor's decision – coming just hours after he lost a primary contest to tea party-backed economist Dave Brat - comes as several senior Republicans began scrambling Wednesday to build support and fill the leadership vacuum.

With jockeying already underway, Cantor, House Speaker John Boehner (R-Ohio) and House Majority Whip Kevin McCarthy (R-Calif.) were expected to meet around midday. McCarthy, the next in line after Boehner and Cantor, is widely expected to run for majority leader, but he will have competition. Members of the Republican Study Committee — the caucus for the most conservative House Republicans — were also huddling to discuss the future.

In addition to stepping down as majority leader, Cantor has decided not to run as a write-in candidate in November, according to two Republicans close to him. The Republicans were granted anonymity to discuss sensitive internal talks.

Cantor returned to the Capitol Wednesday morning by sneaking into the building through a back door on the Senate side in hopes of avoiding reporters. He appeared stone-faced and tense, grimacing when asked by The Washington Post whether he would step down from his leadership post or resign from Congress.
There was much discussion in the wake of last night's loss about what Cantor would do regarding his leadership post. Theoretically at least, he could have held on to the position until the current Congressional term end at the end of the year, with the new Republican class picking a new Majority Leader in mid-November after the midterm elections. However, by stepping down early, Cantor gives at least some room to his fellow members of the House Leadership to promote a preferred candidate into the Majority Leader's position, which would likely give them a boost when elections for the new Congressional term are held later this year. Additionally, a loss such as this pretty much ended whatever influence Cantor may have had inside the House GOP Caucus in any case, so he would have been Majority Leader in name only had he decided to hold on to the position.
Regardless of when the election is held, though, it's quite clear that there's going to be a huge battle for Cantor's spot as well as other leadership positions that may open up because of this resignation that will lay out in the open many of the "establishment v. Tea Party" battles that we've been seeing play out in primary elections this year:
House Rules Committee Chairman Pete Sessions is making an aggressive play for the No. 2 spot. The Texas Republican has been calling and emailing lawmakers seeking support for a potential bid to replace Cantor, according to several sources and a Sessions aide. He sent out a mass text message Tuesday night seeking support.

House Majority Whip Kevin McCarthy, the chamber's No. 3 Republican, has also been speaking with a lot of members. But McCarthy will not engage in a formal campaign until Cantor makes a decision about whether he will stay in leadership for the duration of his term — one of the biggest unanswered questions on Wednesday.

The strategy for McCarthy of California is to make his ascension appear to be the most logical choice for Republicans. He and Texas Rep. Jeb Hensarling, another possible contender for the majority leader position, spoke by phone Tuesday night, according to a GOP source familiar with the conversation. The two have a friendly relationship and discussed the leadership situation. But it is unclear if there was any resolution from the discussion.

Reps. Jim Jordan (Ohio) and Cathy McMorris Rodgers (Wash.) are also considered potential contenders for the majority leader position. Jordan has already made calls to some lawmakers.

GOP Vice Chair Lynn Jenkins (Kansas) would also consider moving up, according to a GOP source.

"I am humbled by the many people who have approached me about serving our Republican Conference in a different capacity in the future," Hensarling said. "There are many ways to advance the causes of freedom and free enterprise, and I am prayerfully considering the best way I can serve in those efforts."

(…)

Republican Study Committee Chairman Steve Scalise and Illinois Rep. Peter Roskam have all but openly declared they are running for the whip slot. Both lawmakers have been reaching out to people, but have not formally announced bids for the slot.

Scalise aggressively began texting and calling members Tuesday evening to begin formulating a whip count, sources said.

McMorris Rodgers has signaled interest to her allies in both the majority leader and whip slot. She said she was "talking to a lot of people." But sources close to her added that she has not yet made a decision to run for majority leader or whip.

Other potential whips include Sessions and Georgia Rep. Tom Price.
With the primaries basically winding down, this will be the major battle inside the Republican Party over the next six weeks or so. No doubt various outside groups from the Tea Party and elsewhere will weigh in with their choices. In the end, however, the votes belong to the current Republican members of Congress and, because of that, I would suspect that an early vote such as this will work to the advantage of people like McCarthy and McMorris-Rodgers who essentially will be seeking to move a step up in the leadership — McCarthy from Majority Whip to Majority Leader and McMorris-Rodgers from Chair of the House Republican Conference to Majority Whip — while candidates that are likely to get backed by insurgent forces likely to divide the vote between them. Much will depend, though, on who ends up throwing their name into which leadership race, and whether or not we end up seeing consensus candidate(s) emerge for Cantor's seat and any other open positions. At the very least, though, I'd expect that we'll see the Tea Party wing of the GOP Caucus demand additional representation in leadership that has been denied them in the past due to seniority rules. Cantor's downfall opens up a huge hole in the leadership of the caucus, and the battle for re-positioning is going to be fierce.