Kevin McCarthy, Steve Scalise Win Leadership Elections, But The Battle Resumes In November
The House leadership elections turned out about as expected, but we may be doing this all over again in five months.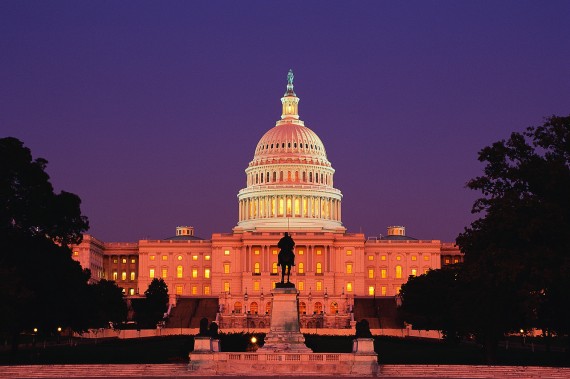 As Matt Bernius noted, the House Republican Caucus held the leadership elections that were necessitated by the defeat earlier this month of House Majority Whip Eric Cantor, with Kevin McCarthy moving up the ladder from Whip to Majority Whip and Steve Scalise of Louisiana taking McCarthy's position as the third-ranking member in the House Leadership:
House Republicans dramatically reshaped their leadership team Thursday by selecting Rep. Kevin McCarthy (R-Calif.) to serve as the next House majority leader and Rep. Steve Scalise (R-La.) as the next majority whip.

The pair will serve alongside Speaker John A. Boehner (R-Ohio) and steer the often rancorous GOP caucus through an intense four months of critical legislative work on several spending matters leading up to November's midterm election.

McCarthy, 49, and Scalise, 48, were chosen Thursday in an unusual snap election caused by the surprising primary defeat of outgoing Majority Leader Eric Cantor (R-Va.).

McCarthy is serving his fourth term in Congress and his win makes him the fastest-rising majority leader in American history. Scalise currently leads the Republican Study Committee, a caucus of conservative Republicans, and has been in office since 2008.

McCarthy clinched the race during a closed-door election over his lone competitor, Rep. Raul Labrador (R-Idaho), who found it difficult to get votes beyond a small group of conservatives who helped him mount a failed coup against House Speaker John A. Boehner (R-Ohio) last year.

Scalise defeated two opponents — the current chief deputy whip, Rep. Peter Roskam (R-Ill.), and Indiana conservative Rep. Marlin A. Stutzman — and prevailed on the first ballot, a bold demonstration of how he quickly consolidated support in the past nine days.

The election of new GOP leaders began around 2 p.m. and lasted about 90 minutes.

(…)

The process of electing new leaders mirrored the secrecy of a papal electionand began with nominating and seconding speeches for McCarthy and Labrador, followed by the counting of ballots from the House Republicans.

Cantor plans to relinquish his duties as majority leader on July 31, but will keep his House seat until the end of his term in January. McCarthy and Scalise are expected to spend the next six weeks hiring staff and preparing for the transition.

They will need to work quickly with Boehner to address a series of legislative issues, including measures to replenish the nation's highway construction fund; to reauthorize the Export-Import Bank; to revamp the troubled Department of Veterans Affairs; and to fund the federal government during the new fiscal year that begins in October.

Boehner provided few details on the pending legislation during his weekly news conference Thursday, but he conceded that the new highway bill will not mirror the ambitious, long-term agreement he has sought in the past. And he said he doubts that the cost of the bill to shore up the VA will be within current spending limits, meaning that several fiscally conservative Republicans might oppose the legislation.

Boehner made no reference to Thursday's leadership elections other than to start his press conference by saying simply: "Happy election day."
McCarthy's win was no surprise at all, of course. Last week, both of his two major potential opponents, Jeb Henserling and Pete Session of Texas, declined to mount a challenge in what was obviously a recognition of the fact that McCarthy had locked up the votes necessary to win election. McCarthy did face a challenger in the form of Raul Labrador, a second term Idaho Congressman who has generally been a Tea Party favorite although he does depart from their orthodoxy on immigration reform in many respects. Labrador's challenge seemed from the beginning as more of an effort on his part to provide at least some outlet for more vocal members of the House GOP's Tea Party wing to express their views in the hastily called election rather than a serious bid for leader. That seemed to be confirmed earlier this week when it was reported that Labrador's campaign had gotten off to a very slow start over the weekend since he apparently didn't have contact information for most of his fellow House Republicans. Given that, it was clear from the start that McCarthy was going to win the top slot in today's election.
As Matt noted in his post, the real drama today was expected to be in the race to replace McCarthy as Majority Whip, with some suggestion that the presence of three candidates in the race would force the caucus to take a second ballot to get to a winner. As it turned out, though, a second ballot was unnecessary since Scalise had apparently rounded up enough to support to win the first time out. I'll admit to not having paid all that much attention to the Whip's race, but Scalise seems like a solid choice from a leadership perspective.
The Tea Party, of course, is not likely to be pleased by the results of either of these elections, most especially the outcome of the Majority Leader race. However, they can hardly claim to be surprised by the outcome. As I noted, McCarthy had no serious opposition in the race and, while we're likely to never know the final vote count I would be surprised if Labrador ended up with more than 30 votes when the ballots were counted. Today's vote, however, was just the beginning because the House GOP will be doing this all over again after the midterm elections:
Conservatives looking for an opportunity to unseat the Republican leadership were dealt a surprise opportunity to ascend the party ranks after Eric Cantor's loss. But the hasty election left lawmakers with little time. Reps. Jim Jordan and Jeb Hensarling declined to run for majority leader, and Rep. Raúl Labrador, who stepped in as an alternative, struggled to shore up support. Californian Majority Whip Kevin McCarthy will likely sail to victory.

That won't be the case next time, several lawmakers told BuzzFeed, saying there would be more concerted effort over the next several months to challenge McCarthy in November's leadership election.

They argue there is enough time between now and November to properly sway members and convince someone else to step up and run.

"As quickly as they moved, it was hard for anybody outside of the Capitol to influence it," said Rep. Tim Huelskamp, a sharp critic of the current leadership team. "If the end result is just a promotion within the dynasty, that won't be good enough for the base of the Republican Party. Conservative groups won't be happy with that and it's as if we didn't listen at all."

"But it builds the case that we'll need new leadership in the fall. I don't think it solidifies anything for the fall, even if McCarthy gets his automatic promotion," he added. "Partly it's about time, but partly it's about understanding that race wasn't just about Eric Cantor, it was about the entire leadership team. The defeat of Eric, the insiders just don't get it."

Outside forces have largely stayed out of the leadership races. One exception is the conservative group FreedomWorks, which is backing Labrador for majority leader but has stayed out of the more contested whip race, telling BuzzFeed they were also looking towards November to plan for a shake-up then.

South Carolina Rep. Mark Sanford, who would not say who he was supporting in the leadership race, believes the unique circumstances of Thursday's leadership election would inspire conservatives to run a more serious challenge in a few months.

"Given the one week duration of this race, there's really not a credible way of mounting a really serious challenger campaign because you have to engage the outside forces and do all the other nuts and bolts of politics which is really difficult to do in a week," he said. "I'd say if conservatives are frustrated in November, I would argue there's a much greater shot of making a change at that point because you'd have time in which to do so."

But there are some perils in the November strategy: On the Hill, incumbency and power both matter — the leadership controls all-important committee assignments. And McCarthy would have both heading into the fall.
The big question, of course, is whether there would be a serious challenge to McCarthy in November given today's results and the fact that his two most serious challengers decided to stay out of the race. No doubt, there will be outside groups seeking to make that happen, and if the GOP gains control of the Senate then we're likely to see activists argue that people with a more conservative agenda need to be part of the leadership. At the same time, there is a big difference between being a challenger for an open leadership seat and challenging an incumbent for that same position, and McCarthy's incumbency, albeit a brief one by the time the next leadership elections roll around, could scare people like Hensraling and Sessions, who have committee positions to worry about, away form an open challenge to someone they've served with for nearly a decade.  The same goes for Scalise. Indeed, as Dave Weigel notes, all three of the people underneath John Boehner in the House GOP Leadership are in a unique political position:
If you're looking for a "conservative victory" here, look to Scalise. The fast-talking Southerner bested Rep. Peter Roskam, a deputy whip who'd been groomed for big things, and Rep. Marlin Stutzman, a sort-of-Tea Party candidate who nonetheless gets farm subsidies back home in Indiana. He becomes, as some reporters quickly pointed out, the first Republican from a "red" state to take a leadership job since Barack Obama won the presidency.

But "red state" is a sort of useless term when you're talking about congressmen. The victories of McCarthy and Scalise are good news for Republicans who want to avoid future Cantordammerung-style upsets.

Why? Simple: There are three states where party primaries have been replaced by jungle primaries, followed by runoffs between the top two finishers. After John Boehner, the rest of the GOP's leadership hails from these states. McCarthy is from California; Scalise is from Louisiana; Cathy McMorris Rodgers is from Washington. In none of these states can a conservative sneak into a low-turnout primary and defeat an incumbent with 5 or 6 percent turnout

And in all of these states, for 2014, the leaders are safe as milk. McCarthy has no challenger for the fall. Scalise is being challenged by a Libertarian candidate. Rodgers has a couple of token challengers, but if one managed to get more votes than her in the August 5 primary, wouldn't matter: They'd face off again in November, when the whole midterm electorate will be out.
This may mean that even in November McCarthy and Scalise will be safe, but we'll have to wait and see.