Kevin McCarthy Confident Of Victory In Majority Leader Race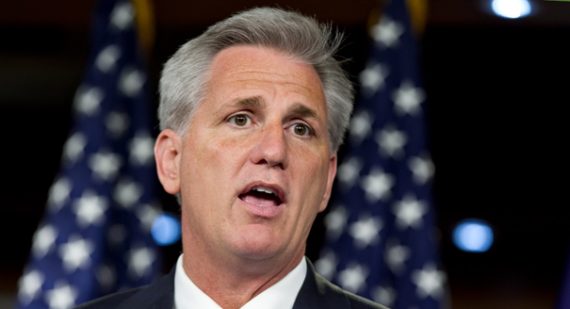 Less than a day after Eric Cantor announced he was stepping down as Majority Leader after his primary defeat, California Republican, and House Majority Whip, Kevin McCarthy seems to be well on the way to winning the election to replace him:
At a Wednesday night dinner with big-dollar donors, Kevin McCarthy all but declared victory in his race for majority leader.

The California Republican confidently predicted that he had enough votes to win the race for the No. 2 slot in leadership, according to sources present. His office declined to comment.

It's a bold statement that is a perfect example of the California Republican's strategy: he's trying to project confidence and inevitability. And it appears to have worked. In a major blow to conservatives, Rep. Jeb Hensarling (R-Texas) announced he won't challenge McCarthy for the number two spot on the GOP leadership ladder behind Speaker John Boehner (Ohio).

McCarthy is closing in on a victory in his race for majority leader. Rep. Pete Sessions (R-Texas) is also running. Thursday is a key day, though. The vote to replace Rep. Eric Cantor (R-Va.) in GOP leadership is one week away, and the Capitol has turned into a hotbed of political intrigue. All candidates are trying to shore up critical constituencies Thursday, as the House gavels out of session in the afternoon. Time is of the essence and McCarthy has moved quickly to shore up his base.

Hensarling, the Financial Services chairman, was McCarthy's biggest potential threat for the majority leader's job.

On Thursday morning, McCarthy attended a meeting of southern Republicans to make his pitch for the No. 2 slot. This is a key power bloc inside the House GOP Conference – and the Republican Party as a whole.

"I talked to them about what we're going to do in the future, about bringing the conference together and working on policy," McCarthy said following his 30 minute appearance before the group of 20 t0 25 members.
With Hensarling out, McCarthy's only major opponent for Majority Leader at this point is Texas Congressman Pete Sessions. While Sessions is a name that many on the right have mentioned in the last day as their preferring candidate to replace Cantor, it seems apparent that he doesn't have the same backing that Hensarling did on the right, and it seems likely that many of the people who might have supported Hensarling will get behind McCarthy's now seemingly inevitable victory rather than supporting Sessions. Assuming that to be the case, the next question will become who replaces McCarthy in the No. 3 slot in House Leadership:
Majority leader is the marquee race, but the race for whip – the post McCarthy will slide out of should he move up – is a dogfight. Rep. Peter Roskam (R-Ill.), the chief deputy whip, is squaring off against Rep. Steve Scalise (R-La.), the chairman of the Republican Study Committee. Meanwhile, Rep. Marlin Stutzman (R-Ind.) will also enter the whip race, a development that could take conservative votes away from Scalise. And if Sessions loses to McCarthy in the majority, he could jump into the whip contest, turning it into a messy four way race

There is a sense that Scalise has the edge. Roskam huddled with allies all Wednesday and into the evening. He has locked up the support of between 60 and 70 lawmakers, according to sources familiar with his whip count. Scalise has closer to 100 supporters, aides said. Roskam needs to turn things around quickly to have a shot.

Both lawmakers are working hard. Scalise attended the meeting of Southerners to hear McCarthy's pitch, and then immediately stepped outside to start lobbying his colleagues on the phone. Scalise could be heard talking to a member and asking for his vote.

Roskam and his allies huddled late into the night on the Wednesday, going over whip counts and lobbying assignments.

In conversations with Republicans, Roskam is not only asking for support in his race with Scalise, but also trying to gauge whether he could win on a second or third ballot.

Stutzman has privately expressed interest in chairman of the Republican Study Committee. His entrance to the whip race could help him achieve that goal.

All sides have assembled intricate whip operations to lock up support. Roskam is being aided by Reps. Richard Hudson (R-N.C.) and Steve Southerland (R-Fla.), who are serving as chief surrogates. Scalise has Reps. Patrick McHenry of North Carolina, Ann Wagner of Missouri and Aaron Schock, who is from Roskam's home state of Illinois. Other whips include Stephen Fincher (Tenn.), Trent Franks (Ariz.), Phil Roe (Tenn.) and Dennis Ross (Fla.).
If the Majority Leader's race is indeed over as it appears to be, then we can expect to see House conservatives concentrate on the race for Whip and perhaps other seats below it in an effort to gain a larger voice in the House leadership. However this all ends up, though, it will all be temporary. There will be a new round of leadership elections in mid-November shortly after the elections to pick the leadership for the new Congress, and we may well see a more contentious battle at that point.