Tom Coburn: Lady Gaga of Fiscal Conservatives
If a crisis over the national debt is averted, Oklahoma's Tom Coburn may be the unlikely hero.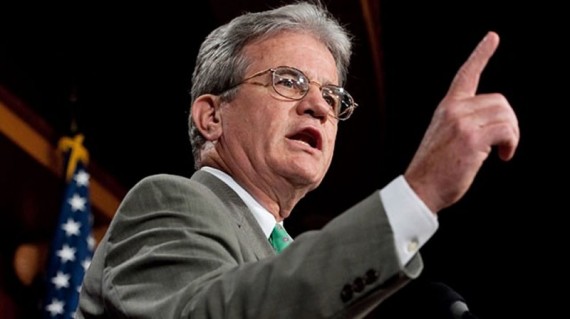 If a crisis over the national debt is averted, Oklahoma's Tom Coburn may be the unlikely hero.
NYT: "A Rock-Solid Conservative Who's Willing to Bend"
Senator Tom Coburn of Oklahoma was a Tea Partier long before the movement even had a name, the family physician who came to Washington to hammer on Democrats and Republicans alike. His years of bill blocking earned him the nickname Dr. No.

Now that the debt limit negotiations between the White House and Republican lawmakers have collapsed, however, Mr. Coburn suddenly seems more like Dr. Probably. Months after he abruptly exited the so-called Gang of Six, a bipartisan group of senators in search of a solution to the nation's increasing deficits, Mr. Coburn reappeared last week, saying he supported the group's path.

With that, he advocated revenue raising as a way to break the stalemate over the budget deficit, embroiling him in a verbal war with Grover Norquist, the activist responsible for the antitax pledge taken by so many Congressional Republicans. Mr. Coburn said Mr. Norquist "represents the silliness of our political situation today."

And so Mr. Coburn, a Republican and one of the longest-standing deficit hawks on Capitol Hill, finds himself on a divergent path from the Tea Party newcomers whose spirit and politics he shares but whose means he is at odds with. It is a divide that underscores just how intractable the spending debate has become.

But please don't call him a moderate. "I have a 100 percent conservative rating," Mr. Coburn, 63, said in an interview in his Senate office. "I've offered more ways to cut the government than anybody in the last 30 years in Congress. I know who I am and I know what I believe."

His conservative views were underscored Friday night when he issued a statement praising John A. Boehner, the House speaker, for holding out for more spending cuts. "Raising the debt limit without addressing the cause of our debt — out-of-control spending, especially in entitlements — will be as damaging as a default," he said.

Last week, Mr. Coburn presented his own plan to cut $9 trillion from the federal government over the next decade — far more than others have proposed — in a manner that would radically reduce government services but also produce $1 trillion in new tax revenues.

President Obama invoked Mr. Coburn in his weekly radio and Internet address on Saturday, saying: "Earlier this week, one of the most conservative members of the Senate, Tom Coburn, announced his support for a balanced, bipartisan plan that shows promise. And then a funny thing happened. He received a round of applause — from a group of Republican and Democratic senators."

Mr. Coburn is known for objections that delay votes on bills for days, infuriating even his fellow Republicans. Yet he almost always strikes a deal eventually, as was the case recently with his plan to end ethanol subsidies. "I'm contrarian," he said. "I'm not much of a partisan. I go after Republicans as much as Democrats."

Mr. Coburn said that the 87 freshmen Republican House members are "the most wonderful thing to happen to our country in a long time," and that they "are a fantastic addition to the debate in this country." But he also talked about balancing the passion for ideas with the need to get on board with things you dislike in part, even sometimes in large part. "The No. 1 thing people should do in Congress is stay true to their heart," Mr. Coburn said. "But you have to recognize that we're in a situation that's dire for our country. If you put your name on something that will move the ball forward, you're going to get hit."

[…]

"Tom Coburn is very, very conservative," said Senator Charles E. Schumer of New York, the No. 2 Democrat in the Senate. "He is a true believer, but he is one who can see the other side, which is not the case with what is going on in the House right now."

Mr. Coburn, who served on the president's fiscal commission and then the Gang of Six, walked out of the group's talks this spring over his request for $130 billion more in Medicare cuts than others had proposed. His exit devastated the other members, particularly the Republicans who needed his backing.

When he saw the group's presentation last week, he felt that it was no panacea for ending the impasse over raising the federal debt limit, but was the right start. "My idea with the Gang of Six was to try and get something moving," Mr. Coburn said. "Is it my ideal? Absolutely not. It is a compromise? Yes. Will it go a long way toward helping us get off the dead center? Yes. If I had my pleasure and I was king, we would lower revenues. But I'm not king. So that's where I am."
All emphases above added.
Coburn is way more socially conservative than I am and probably even more hard core on fiscal policy. But he's smart, fairminded, and willing to adjust to the landscape around him. He's also got his priorities in the right order: country, political principle, party, and re-election.