Is Ending Subsidies a Tax Increase?
Grover Norquist believes ending government handouts must be offset by tax cuts.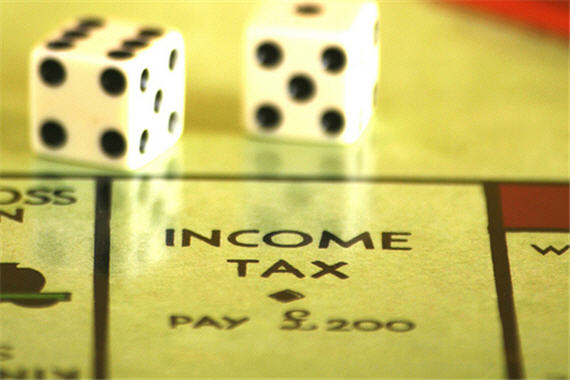 HuffPo runs an interesting story under the provocative headline "Grover Norquist Rebuked by GOP."
Grover Norquist's grip on the Republican Party's tax policy slipped dramatically on Tuesday, a development that is likely to have significant repercussions on the debate over spending, revenue and the federal deficit.

Norquist, the head of Americans for Tax Reform and a leading party power broker for a generation, drew a hard line in the sand against repealing ethanol subsidies, arguing that ending the tax breaks is equivalent to a tax increase and therefore a violation of The Pledge — a document nearly every Republican has signed promising never to vote to raise taxes.

Thirty-four Senate Republicans walked nonchalantly across that line on Tuesday, voting to move forward on an amendment sponsored by Sen. Tom Coburn (R-Okla.) that would repeal the subsidies.

Norquist has been vicious in his recent talks on Coburn, charging that his amendment means he "lied his way into office" and is breaking the pledge.

Coburn was unmoved. "I think you all think he has a whole lot more hold than I think he has," Coburn told reporters before the vote. "I don't disagree with him on a lot of principles. The fact is it's not a good position to put yourself in when you say, 'Here's a tax expenditure that nobody needs, and yet we have to give somebody else a tax cut to take away this.'"

Late on Friday, as it became increasingly clear the Republican conference was shifting toward Coburn, Norquist performed a bit of legislative gymnastics, releasing a statement saying that it was okay to support the Coburn amendment — the same measure he'd savaged for weeks — as long as Coburn also supported an amendment from Sen. Jim DeMint (R-S.C.) that would cut the estate tax and repeal ethanol subsidies. DeMint was asked whether he'd vote for the Coburn amendment regardless of whether he was able to also vote for his amendment. He said he is offering his amendment to avoid making that decision, but that he would vote down the final bill.
Given that HuffPo is a Democratic-leaning outlet, I was naturally skeptical of the slant. But it's accurate. The linked Americans for Tax Reform statement is titled "Coburn Amendment half-baked without DeMint Fix."
Americans for Tax Reform today reiterated its support for full, tax revenue neutral repeal of all government granted advantages and preferences to the ethanol industry. To this end, ATR is pleased to support Senator Jim DeMint's amendment which repeals the Renewable Fuel Standard (ethanol mandate) and kills the death tax. This amendment fills in the gaps left by Senator Tom Coburn's ethanol amendment and overwhelms the Coburn tax increase with a more significant tax reduction. The Coburn amendment repeals the ethanol tax credit and tariff but in a way that raises net taxes and grows government spending. The DeMint amendment abolishes the death tax which is a significantly larger tax cut than the Coburn amendment's $6 billion tax increase. [emphasis mine – jhj]

[…]

The DeMint amendment which abolishes the death tax insures that repealing the ethanol tax credit is done in a way that prevents additional money from flowing to the appropriations committees. ATR has always opposed all forms of government support of ethanol. Our goal has been to repeal the ethanol tax credit, tariffs and the mandate totally…without raising taxes.
So . . . ATR enthusiastically agrees that the subsidy is a waste of taxpayer money but opposed ending it because doing so would yield more money for the appropriations committees? That's the same idiotic logic that calls increasing spending less than an agency asked for a "spending cut."
I understand the logic of calling the repeal of the Bush tax cuts a "tax increase." Aside from being a good political hammer, it actually makes sense from an economic point of view since it's an across-the-board rate increase that nobody can rightly be said to be paying for. Those in the top brackets are paying less than they would if the rates returned to Clinton era levels but they're still paying more than those in the lower brackets and no one is paying more. (That it's legitimately a "tax increase" doesn't end the debate on whether it would nonetheless be a good idea, but it's irrelevant to this discussion.)
In the case of a targeted subsidy, however, some people and businesses are paying less than their peers because the government is favoring some activity in which they engage. It's true that the individuals and businesses losing the subsidy will pay more in taxes than they would have had the subsidy continued.  But eliminating the subsidy so that they pay exactly the same as others in their situation isn't "raising taxes" any more than my giving a beggar a dollar today and not giving him one tomorrow constitutes a "pay cut."
Even if all agree that the subsidy was either always a bad idea or has outlived its usefulness, there are reasonable arguments to be made against eliminating it in one fell swoop. But that the appropriations committee will get more money isn't among them.