Blaming Grover Norquist
Grover Norquist has become the target of blame for problems that are far more deep than just one man.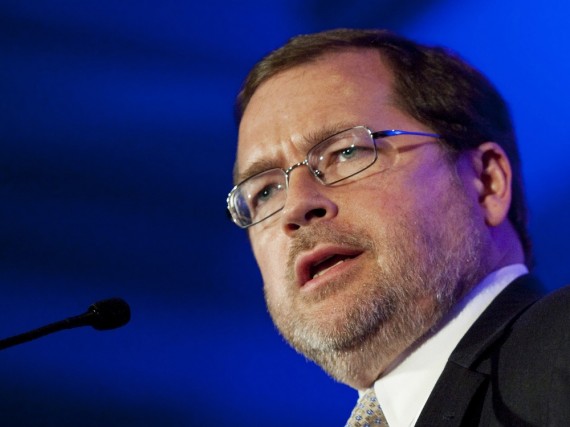 With the typical Washington blame game over the collapse of the so-called "Super Committee" in full swing, one man in particular is being singled out by many Democrats as the reason the talks never succeeded, the head of Americans for Tax Reform Grover Norquist. Even before the committee finally admitted defeat yesterday evening, Senator John Kerry was calling him the "13th member" of the committee, and claiming that he was primarily responsible for the fact that the talks collapsed:
KERRY: We Democrats put a $4 trillion dollar plan on the table. We had $1.3 trillion of cuts, and we had $1.3 trillion in revenue. Now, some of that revenue, we're not asking that to happen tomorrow or the next day, it could happen in a year. This is a ten-year plan and longer. So we have the ability here to do something that's fair for all Americans. But unfortunately, this thing about the Bush tax cuts and the pledge to Grover Norquist keeps coming up. Grover Norquist has been the 13th member of this committee without being there. I can't tell you how many times we hear about 'the pledge, the pledge.' Well all of us took a pledge to uphold the Constitution and to full and faithfully and well-execute our duties and I think that requires us to try and reach an agreement. So we have to compromise.
Senate Majority Leader Harry Reid, meanwhile, said a week ago that Norquist was "thwarting" the committee's negotiations and called on Americans to "impeach" him, whatever that means. Even on the right, there are some who seem to relish Norquists role, such as The Wall Street Journal which credited him with defeating the Super Committee in an editorial this morning:
So it's all Grover Norquist's fault. Democrats and the media are singing in unison that the reason Congress's antideficit super committee has failed is because of the conservative activist's magical antitax spell over Republicans.

Not to enhance this Beltway fable, but thank you, Mr. Norquist. By reminding Republicans of their antitax promises, he has helped to expose the real reason for the super committee's failure: the two parties disagree profoundly on a vision of government.

Democrats don't believe they need to do more than tinker around the edges of the entitlement state while raising taxes on the rich. Republicans think the growth of government is unsustainable and can't be financed no matter how much taxes are raised.

Sounds like we need an election
Now, as you read the WSJ Editorial, it's clear that they don't really buy into the "it's all Grover Norquist's fault" meme that seems to be the theme of the day in the media. And neither do I. I've been fairly critical of Norquist and the extent to which Republicans have hidden behind ATR's anti-tax pledge over the past year, especially during the hubub over the debt ceiling negotiations and the Norquist's insistence that a debt deal should not include tax increases. Moreover, as I've noted, some Republicans such as Alan Simpson, Tom Coburn, Frank Wolf, and others have begun speaking out against the idea that Republicans should consider themselves bound by a "pledge" to a public policy organization when it comes to dealing with the nation's fiscal problems. Nonetheless, it strikes me that blaming someone who isn't a Member of Congress, and certainly wasn't a member of the Super Committee, for the failure of negotiations that probably weren't going to succeed to begin with is pretty silly. It isn't  Grover Norquist's fault that we're in the position we're in today, and if he departed from the political scene tomorrow, we would still have the same problems we have today.
Michael Dougherty makes much the same point:
If there is a problem here, it isn't with Grover Norquist. The problem is with Republicans who pre-emptively sign away a policy decision they could use in governing, or in a compromise.

Here's a simple piece of advice to Republicans who don't like the pledge: don't sign it.

And then if you want to prove your anti-tax bona fides, you'll have to do it the old-fashioned way, by consistently opposing tax increases and lowering taxes.

Indeed, most Republican voters are willing to trade slightly-higher taxes on wealthy Americans, for significant adjustments to entitlement programs. That was easy to figure out years ago, before most GOP lawmakers signed the pledge.

Most lobbyists conduct back-room meetings with politicians. They extract promises of policy and support in secret. Norquist's Pledge and the campaigns he runs against pledge-breakers are completely open and transparent.

You may not like the results, but there is nothing mysterious about them.
Doughtery is completely correct here. Which is better, an anti-tax pledge signed by a candidate for office that is publicly available*, or some back room deal made in exchange for a PAC contribution? Obviously, the candidates who signed the ATR Pledge did so because they thought it would help them either in a primary or a General Election. Nobody put a gun to their head, nobody grabbed their hand and forced them to sign something they didn't want to. As Doughtery notes, if  a legislator truly believes that they need to vote for a bill that violates the pledge in some way for the good of the country, then they are completely free to do so and to explain to their constituents why they did it. Their fate for making that decision would be decided on the next Election Day, as it should be. Of course, they could have avoided the conflict by not signing the pledge to begin with, but again, that was a completely voluntary act. Don't blame Grover Norquist because you did something you wanted to, Congressman.
On some level, I think it's convenient for Republicans to have Norquist be the boogeyman here. It's easier to have someone outside the political sphere blamed for the fiscal mess on Capitol Hill than to take responsibility for it yourself, for example. And if the press meme becomes "it's Grover's fault," that's certainly better for the GOP than saying that it's their fault. In this respect, then, think of Grover Norquist as the Republican Fall Guy, the stunt man who stands in for the real star and takes the arrows while the person who's really in charge sits back in their trailer sipping a latte. It's intellectually lazy, of course, and one has to wonder why a politician would want to see themselves perceived as too weak to take on a lobbyist, but if it works it works.
Taking things from a different angle, former Congressman and current MSNBC morning host Joe Scarborough took the opportunity today to rip into Democrats who are trying to focus blame for the Super Committee's collapse on Joe Scarborough:
Former Republican congressman and MSNBC co-host Joe Scarborough went on an extended rant Tuesday defending anti-tax activist Grover Norquist against Democratic charges that he is to blame for the collapse of the supercommittee.

"Blaming Grover Norquist is the greatest Democratic fabrication since the Tonkin Gulf incident," said Scarborough, who called into the show by phone during a day off.

The extended tirade against the claim that Norquist is the cause for Republican inaction led Scarborough to remark that "Grover Norquist has absolutely no power in Washington, D.C." and assert that the argument was a "straw man."

"His idea may be powerful to conservatives, but he in and of himself is not a powerful guy," said Scarborough. "Democrats have the President of the United States, right? They have the United States Senate… America's most exclusive club, and they haven't produced a budget in over 900 days."

Scarborough continued to rail against the Grover-as-God notion, and slammed the president and Democrats for not embracing the Simpson-Bowles commission.

"The president of the United States and Democrats appoint a commission to take care of the debt [the Simpson-Bowles commission], then ignores everything that commission says," said Scarborough. "Anybody today trying to blame Grover Norquist or suggest he's more powerful than the president of the United States and the United States Senate…is laughable."

Morning Joe panelist and former Tennessee Rep. Harold Ford responded that Grover was part of the problem, but Scarborough wouldn't have any of it.

"He's not part of it. Grover doesn't control an army. Grover can't raise taxes. Grover can't produce a budget. He has a single sheet of paper they signed a decade ago," replied Scarborough.
Scarborough has a point here. The President's failure to follow-through at all on the recommendations of the Simpson-Bowles Commission was a pretty stunning failure of leadership. Yes, it would have been a tough fight, but then when haven't fights over the budget, entitlements, and taxes been tough in Washington? This was supposed to have been the President's commission, he met with the co-chairmen on more than one occasion, and their report last November was highly anticipated by everyone in Washington. Not surprisingly, of course, the reception from both the left and the right wasn't very good, but it strikes me that this should have been a signal for Obama and others in Washington to pick up this ball and run with it. Thanks to a Tea Party inspired Republican victory in the mid-terms, the political climate was better than it's ever been for the kind of wide ranging reform that the commission was advocating. Instead, what happens? The report gets filed away and forgotten and, less than a month later, Obama was giving the GOP everything they wanted on the extension of the Bush tax cuts. Heck, in December 2010, Obama and the Democrats could have used the Bush tax cuts as leverage to get a debt ceiling increase passed, thus avoiding the entire debacle we witnessed in the summer. Last time I checked, Grover Norquist had nothing to do with White House legislative strategy.
Just as it's convenient for Republicans to let Norquist get blamed for failure, it's similarly convenient for Democrats. In their case, they get a convenient whipping boy and a way to paint the House GOP Caucus as "radical" and "extreme." Additionally, it helps to deflect from their own responsibility for this mess. As Scarborough notes, the Senate Democrats have not produced a budget in more than 900 days. 900 days. What exactly are they doing over there in the Upper House, anyway?
I'm not quite sure how Grover Norquist will become an election issue 2012, but I'm sure someone will try it. MSNBC will continue portraying him as the puppet master, some Democratic Super PAC will probably feature him in ads in targeted districts, and of course Harry Reid and others will continue to point the finger at him. In reality, of course, the fault, dear Congress, lies not in Grover, but in yourselves, all of you.
* On the ATR website, you can find a list of Members of the 112th Congress who have signed the pledge [PDF], as well as state-level elected officials [PDF] who have done so.