Republican Congressman Takes on Grover Norquist
Congressman Frank Wolf (R-VA) took to the floor yesterday to lambaste Grover Norquist and his influence over the GOP.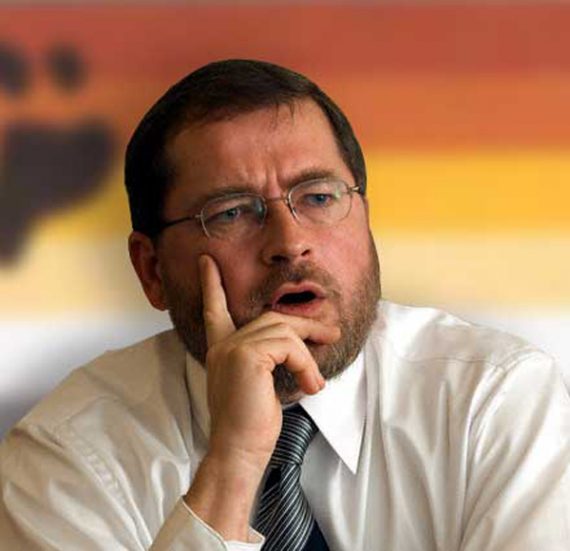 Congressman Frank Wolf (R-VA) took to the floor yesterday to lambaste Grover Norquist and his influence over the GOP.
Wolf ("Grover Norquist's Relationships Should Give People Pause"):
In a speech today on the House floor, Rep. Frank Wolf (R-VA) expressed concern about Grover Norquist's influence on the political process in Washington and his association with several individuals, groups and causes many would consider unsavory.

Wolf questioned Norquist's relationship with convicted felon Jack Abramoff and terrorist financiers Abdurahman Alamoudi and Sami Al-Arian. He also raised the issue of Norquist's advocacy of moving Guantanamo Bay detainees to the United States, including 9/11 mastermind Khaled Sheik Mohammed, and his representation of the Internet gambling industry and Fannie Mae.

Norquist is the head of Americans For Tax Reform (ATR) and author of the organization's anti-tax pledge. Wolf's concern is not with ATR's goals but with Norquist being the sole interpreter and enforcer of the pledge, especially given his history with questionable individuals and groups.

"I want to be clear: I raise these issues not just because Mr. Norquist's associates may be unsavory people," Wolf said. "There are many lobbyists in Washington who represent clients of all stripes and backgrounds. But my concern arises when the appearances of impropriety are raised over and over again with a person who has such influence over public policy. That, I believe, should give any fair-minded person pause."

Wolf raised the issue in the context of working to solve the debt crisis facing the nation, stating that he believe the "pledge" is thwarting every good faith effort to reforming the nation's tax code and ridding it of the special interest loopholes and earmarks.

Wolf pointed to Norquist's opposition to Senator Tom Coburn's attempt this summer to eliminate the special interest ethanol tax subsidy as an example.

"Have we really reached a point where one person's demand for ideological purity is paralyzing Congress to the point that even a discussion of tax reform is viewed as breaking a no-tax pledge?" Wolf asked.

Wolf closed his five-minute floor speech by quoting British parliamentarian and abolitionist William Wilberforce, saying "having heard all of this, you may choose to look the other way, but you can never say again that you did not know."
Wolf was my Congressman for the first three years I lived in Virginia. (Because of its population density and some odd districting, the DC suburbs and exurbs of Northern Virginia are broken up into three districts, and I've lived in all of them at some point over the last nine years.) What prompted this speech yesterday, given that the Abramoff case was years ago and the agenda of ATR hasn't changed much over the years, I don't know. But Wolf is largely right here.
The scandal involving Jack Abramoff, Tom DeLay, Rick Santorum, Grover Norquist, and the K Street Project was a major embarrassment for the Republican Party. Not only were key GOP leaders involved in shady–and occasionally illegal–dealings, but they belied their alleged small government principles in their scheme to raise and spend more money on their political machine.
Norquist's odd dealings with the Middle East are more complicated. His wife, Samah Alrayyes, is Palestinian and this gives him some unusual allegiances. [Actually, the causal link here is less than I thought. He and Alrayyes married in 2004. He co-founded the Islamic Free Market Institute, of which she served as communications director, in 1998.] This has mostly led him in the right direction, away from dogged subservience to the Likudist view of Israeli relations with the region, toward getting American troops out of Afghanistan, and away from demonizing Muslims (he was a stanch advocate of the so-called Ground Zero mosque). But relationships in that part of the world are, well, complicated with people who are arguably good guys having relationships with Hamas, the Muslim Brotherhood, and others who are less than savory.
Ultimately, my issue with Norquist has to do with the last point Wolf emphasized: the dogmatism of his anti-tax position. Wolf gets this right, I think:
America is in trouble. Unemployment is over 9 percent. Housing values continue to decline. Retirement accounts are threatened. The American people are worried. Yet, Washington is tragically shackled in ideological gridlock.

Some are dead-set against any change to entitlement programs, while others insist that any discussion of tax policy is off the table.

We are at a point today that the tsunami of debt in America demands that every piece of the budget be scrutinized – and that means more than just cutting waste, fraud and abuse and discretionary programs.

The real runaway spending is occurring in our out-of-control entitlement costs and the hundreds of billions in annual tax earmarks in our tax code. Until we reach an agreement that addresses these two drivers of our deficit and debts, we cannot right our fiscal ship of state.

Everything must be on the table and I believe how the "pledge" is interpreted and enforced by Mr. Norquist is a roadblock to realistically reforming our tax code.

When Senator Tom Coburn recently called for eliminating the special interest ethanol tax subsidy, who led the opposition? Mr. Norquist.

Have we already forgotten the battle over earmarks from last year? Unlike an earmark included in an annual appropriations bill, "tax earmarks" are far worse because once enacted they typically exist in perpetuity.

Have we really reached a point where one person's demand for ideological purity is paralyzing Congress to the point that even a discussion of tax reform is viewed as breaking a no-tax pledge?
Like Wolf, my default position is that income tax rates should be low. But Norquist takes it to absurd lengths, treating even the closing of loopholes he personally finds objectionable as tax hikes that need to be offset with reductions elsewhere. That's just crazy and destructive.