GOP Senator: Plan To Defund Obamacare Is Dishonest Hype
A top Republican Senator blasts the plan by some of his colleagues to "defund" Obamacare.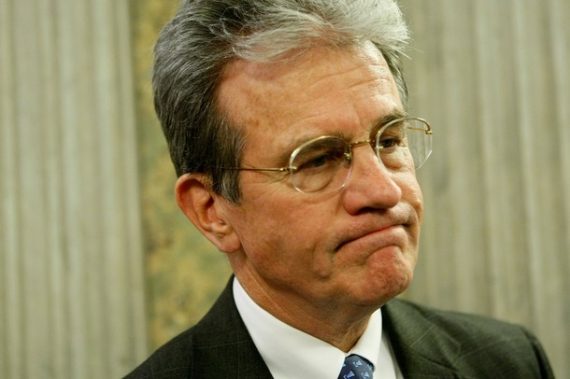 Republican Senator Tom Coburn, hardly a squish when it comes to fiscal issues, isn't much of a fan of the plan being pushed by some of his fellow Republicans to shutdown the government unless the President's health care plan is defunded:
In a phone interview from his home state of Oklahoma, Coburn slammed a dozen fellow Republican senators who have signed a pledge not to vote for any continuing resolution or appropriations bill that funds Obamacare, which is set to go fully into effect on January 1, 2014. "I'd love to defund it," said Coburn, a physician who has opposed the president's national health care scheme from the beginning. "I'd be leading the charge if I thought this would work. But it will not work." (For details on the problems with the defunding plan, see here.)

Coburn's case against the proposal is simple: Republicans, having failed to win control of the White House and Senate in 2012, do not have the votes to cut off Obamacare funding. Given that, he sees the defunding proposal as not just wrongheaded but also an effort to mislead conservatives across the country who long to see Republicans stop Obamacare. "The worst thing is being dishonest with your base about what you can accomplish, ginning everybody up and then creating disappointment," Coburn said. "It's a terribly dangerous and not successful strategy."

"You're going to set an expectation among the conservatives in our party that we can achieve something that we're not able to achieve," Coburn continued. "It's not an achievable strategy. It's creating the false impression that you can do something when you can't. And it's dishonest."

Even though Republicans don't have the votes to defund Obamacare, they do have the power, if they choose, to bring the government to a halt. Coburn sees that as a disastrous possible result of the plan. "You're not going to stop the funding, but what you will do is shut down the government," he said. "Among that group of senators that has been considering this, I was the only one who was here for that," a reference to the government shutdowns of 1995 and 1996, when Coburn was a member of the House. "The president is never going to sign a bill defunding Obamacare. Do you think he's going to cave?"

"The strategy that has been laid out is a good way for Republicans to lose the House."
National Review's Ramesh Ponnuru sees it as a guaranteed losing strategy for the GOP:
The chance that Democrats would go along — would give up on their signature legislative initiative of the last decade soon after having won the presidential election and gained Senate and House seats — approaches zero percent. So if Republicans stay firm in this demand, the result will be either a government shutdown or a partial shutdown combined with a debt default.

Either would be highly unpopular, and each party would blame the other. The public, however, would almost certainly blame Republicans, for five reasons.

First, Republicans are less popular than the Democrats and thus all else equal will lose partisan finger-pointing contests. Second, the executive has natural advantages over a group of legislators in a crisis atmosphere. Third, people will be naturally inclined to assume that the more anti-government party must be responsible. Fourth, some Republicans will say that government shutdowns or defaults are just what the country needs, and those quotes will affect the image of all Republicans. And fifth, the news media will surely side with the Democrats.
As I explained yesterday, Coburn and Ponnuru are correct, of course. Even if accepting for the sake of argument that Republicans are right about the Affordable Care Act being bad policy that needs to be repealed, the simple fact of the matter is that the political strategy that Senators like Ted Cruz, Mike Lee, and others are advocating would be nothing less than political suicide. Without a majority in the Senate, preferably one capable of defeating a filibuster, and control of the White House any discussion about repealing the Affordable Care Act is nothing more than sheer fantasy, and those Senators who are presenting it as a viable strategy are doing nothing more than lying to their constituents and their fellow Republicans. There can really only be two alternatives, actually. Either they are so suicidal that they don't care how much they damage their own party, or they have no real intention of actually trying to go through with their plan. No matter which one it is, though, it's completely irresponsible "governing."
As I said, Coburn's criticism really ought to hit home on the right. He's been at the forefront of those Senators advocating fiscal conservatism for years, and he's been a big critic of the Affordable Care Act as well. So, the question is whether Coburn will be listened to or whether he'll be dismissed as a RINO sellout. Personally I'm guessing that he won't be listened to and that Cruz, Lee, and the others will continue to lead their party to disaster.