With Eight Days To Go, Can Congress Avoid Another Government Shutdown?
Congress has just over a week to pass a funding bill, and it's not looking very good.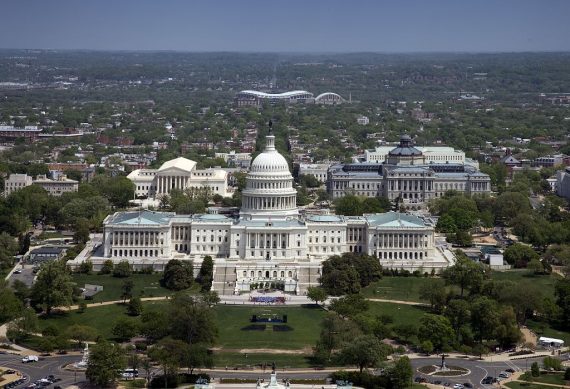 At some point within the next eight days, Congress will either have to pass the Federal Budget for the next Fiscal Year, which seems unlikely at this point, or pass a Continuing Resolution that will allow the government to continue operating until a final budget deal can be reached. Just as we've seen in the past, what should be a routine Congressional function is being bogged down by members of the House and Senate who see the budget process, and most importantly the impending deadline of October 1st, as an opportunity to score political points. Two years ago, of course, the crisis was prompted by an effort to "defund" the Affordable Care Act led by Senator Ted Cruz and others notwithstanding the fact that leadership in both the House and the Senate said the effort could never succeed. This time around, the argument is over the Federal Government's funding of Planned Parenthood, which amounts to roughly $500 million in a budget of nearly $4 trillion. As was the case two years ago, the leadership in both chambers says that they will not allow a shutdown to take place, and Mitch McConnell has said that the GOP does not have the votes to strip Planned Parenthood funding from the budget. Whether they will be able to hold off the more conservative members of Congress, though, is an open question,
As that battle heads toward its final hours, Senate Republicans are hoping to be able to get a clean funding bill passed, but it's unclear if they'll be able to succeed:
Mitch McConnell is taking control as the government hurtles toward a shutdown.

The Senate majority leader is preparing to flip the script to avoid a lapse in federal funding on Oct. 1, a legislative strategy that threatens to confront House Republicans with a do-or-die vote right at the deadline to keep the government open.

McConnell set up a vote for Thursday that would fund the government through Dec. 11 while gutting federal funding for Planned Parenthood and boosting defense spending by $13 billion. That legislation will fail due to Democratic opposition, allowing McConnell to argue that Senate Republicans tried the hardline tactic proposed by Sen. Ted Cruz (R-Texas) but it couldn't. McConnell could then turn to a "clean" funding bill that Democrats are vowing to support.

"There's going to be votes to defund Planned Parenthood. But I think given the president's opposition and Democrats' opposition, at some point I anticipate there will be a clean (continuing resolution)," Senate Majority Whip John Cornyn (R-Texas) told reporters. "But, that's not the end of the fight over late-term abortions and over Planned Parenthood."

But first, McConnell agreed to test Cruz's approach.

"It would keep the government funded through the fall while adhering to the bipartisan spending levels already agreed to by both parties," McConnell said Tuesday after he began to implement his shutdown prevention plan. "And, for one year, it would defund Planned Parenthood and protect women's health by funding community health clinics with that $235 million instead. This would allow us to press the 'pause' button as we investigate the serious scandal surrounding Planned Parenthood."

There's a growing realization that the Republican-controlled Senate, which had long planned to hang back until it sees what kind of funding bill the House could pass, will have to move first on averting a government shutdown. But the conservative disarray in the House is forcing the more deliberative, slow-moving Senate to fire the first volley.

A clean CR would draw major flak from conservatives who are urging the GOP to seize on the backlash at Planned Parenthood over secret videos depicting officials allegedly discussing sales of fetal body parts. But McConnell is operating under the assumption that most of those hardliners would have opposed his plan, anyway, and aides seem confident that the leader has enough GOP supporters to pass a funding bill before Oct. 1.

Still, even McConnell's closest confidantes are uncertain. Asked Tuesday whether a clean stopgap funding bill can pass the Senate, Sen. John Thune (R-S.D.), No. 3 in Senate leadership, replied: "We'll find out."

By moving first, the Senate has more time to clear through the procedural hoops in the chamber – allotting just a handful of days before a shutdown to throw the funding hot potato into the House's lap. The move would put the onus on the lower chamber to prevent a federal shutdown. It would also let McConnell breath easier that opponents like Cruz can't throw sand in the gears at the last moment.

But there's no guarantee that the House will accept what the Senate sends over. And there's no guarantee Cruz won't fight McConnell tooth and nail, as he has done all year.

Asked about leadership's plan to move on a clean CR, Cruz declined to commit to a drawn-out "talking" filibuster, but appeared to be girding for battle. In a note of irony, Cruz presided over the Senate as McConnell began to set up an end game to avoid a shutdown.

"We should stand for principle and not capitulate to President Obama," Cruz told reporters.

Sen. Rand Paul (R-Ky.), a rival of Cruz's in the GOP primary whom McConnell has endorsed for president, said he will oppose any plan by leadership to avoid the Planned Parenthood fight.

"I won't vote for anything that's got Planned Parenthood in it and I won't vote for a CR. … It's bad government," Paul told reporters.

Republicans don't know exactly how it will unfold. Though GOP senators have been speaking with their House colleagues about the end game, the level of coordination hasn't been so high to sooth fears of a shutdown. The House isn't even in session until Thursday, less than a week before the government runs out of money.

"I just know there's a deadline. But I think you can expect to see some activity soon," Cornyn said.
Congress doesn't really have a lot of time before we reached the deadline at midnight on September 30th after which the Federal Government will no longer have the authority to spend money without a budget or a Continuing Resolution. For one thing, a good part of this week on Capitol Hill will be taken up with activities surrounding Pope Francis's visit, which starts with his arrival this afternoon and doesn't end until he leaves Washington on Thursday afternoon. After the Pope arrives, Chinese President Xi Jingping arrives and, while he will not be addressing Congress like the Pope will, the fact of his visit to the U.S. will keep many of the top leaders on Capitol Hill busy for at least a good part of his visit. Factored into all of this, of course, are the rules that govern how quickly things move on Capitol Hill. If the House Leadership is behind a bill, they can get it to the floor relatively quickly if they have sufficient support on the Rules Committee, but it doesn't work that way in the Senate. Absent unanimous consent, which seems unlikely given the statements of Senators such as Rand Paul and Ted Cruz, it could take as much as three days to get a bill through the upper chamber. Even if Congress works over the weekend, that still pushes us into early next week at the earliest and gives both chambers little time do anything if the initial effort to pass a funding bill fails. This is much the same problem that materialized two years ago. Thanks to the intransigence of a small group of people in the House and Senate, leadership was unable to get any bill at all passed before September 30th, and once the government shutdown went into effect both sides dug in their heels and prepared for a long battle. It's entirely possible that this could happen again this time.
Politically, of course, a government shutdown would be as politically a stupid move for Republicans as the shutdown over the Affordable Care Act was two years ago. Back then, polling prior to the shutdown showed that the pubic opposed a shutdown and that it would blame the GOP if there was a shutdown and, when it was over, that's exactly what happened. In the end, the only reason that the GOP didn't suffer longer term damage from the 2013 shutdown like it did after the 1995-96 showdown between President Clinton and Newt Gingrich is because of the myriad of problems with the implementation of the PPACA that happened shortly after the shutdown. This time around, we also have polling that shows that most Americans would oppose a shutdown over Planned Parenthood funding and that the GOP would be likely to get the lion's share of the blame if it happened. Nonetheless, the possibility still exists that Republicans will make the same mistake they did two years ago. Whether or not it actually happens is something we'll have to watch unfold over the coming week.