Mitch McConnell: Republicans Don't Have The Votes To Defund Planned Parenthood
Mitch McConnell spoke a truth that many conservatives are likely not going to want to accept.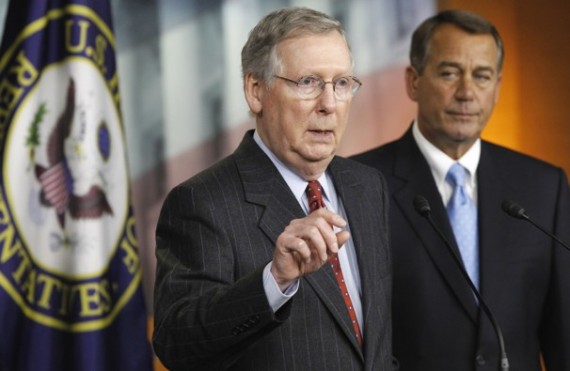 Senator Majority Leader Mitch McConnell is pouring cold water on conservative hopes of eliminating Federal Government funding of Planned Parenthood during the upcoming budget fight:
Attempts by Congress to strip Planned Parenthood of federal funding are destined to fail as long as President Obama is in office, Senate Majority Leader Mitch McConnell (R-Ky.) said.

"We just don't have the votes to get the outcome that we'd like," McConnell said in an interview taped Monday with WYMT-TV, which serves eastern Kentucky. "I would remind all of your viewers, the way you make a law in this country, the Congress has to pass it, and the president has to sign it. The president's made it very clear he's not going to sign any bill that includes defunding of Planned Parenthood so that's another issue that awaits a new president hopefully with a different point of view."

McConnell's comments put him at odds with hard-line members of his own party who are pushing to use the approaching Oct. 1 deadline for funding the federal government as leverage to force Obama and congressional Democrats to defund Planned Parenthood. A series of undercover videos released over the course of the summer has whipped up conservative outrage over the group's practices regarding the harvesting of fetal tissue for research. While federal money is already banned from being spent directly on abortions, Planned Parenthood opponents say Medicaid reimbursements and other federal grants indirectly support the group.

The outcry has been most fierce among conservatives in the House, though Sen. Ted Cruz (R-Texas) has also pledged to block attempts to continue government funding without addressing Planned Parenthood.

"If we can't get that done, oh my goodness," Rep. Jim Jordan (R-Ohio), a influential conservative leader, said in a recent interview. "If the president and [Senate Minority Leader] Harry Reid think it so much more important that this organization get your money, that that's more important than paying our troops and paying our veterans, I'll take that debate."

Cruz recently urged pastors to contact their congressional representatives and urge them not to back down on Planned Parenthood. "An empty vote with no teeth on it will not suffice," he said. "Now is the time for Congress to act and actually end taxpayer funding for Planned Parenthood."

But McConnell is wary of repeating the government shutdown of 2013, which began after conservatives launched an ill-fated attempt to defund the Affordable Care Act. The gambit failed, and the two-week shutdown helped distract public attention from the largely disastrous rollout of the health care reforms.

"There's no education in the second kick of the mule," McConnell said last month, addressing shutdown concerns before leaving Washington for the summer congressional recess.

In the TV interview Monday, McConnell suggested that many conservatives harbored false expectations for the Senate GOP majority, which is six Republicans short of a filibuster-proof margin and 13 shy of a veto-proof majority.

"The thought that we could completely stop Barack Obama by electing a Republican Congress, I never claimed that last year," he said. "We have stood up to him, but to succeed you have to get a presidential signature, and that's just the way the Constitution has worked for over 200 years. So I can't change the condition of the country with this guy in the White House. We have been able to change some things, but we haven't been able to change everything."
McConnell is largely correct, of course. For one thing, it's not even clear that an amendment that strip Planned Parenthood funding would even make it pas a cloture vote in the Senate given the fact that Republicans do not have a filibuster proof majority and it's unlikely any Democrats would join them to advance the bill. Even if it did get past that hurdle, though, and get to a full vote Republicans would still face the possibility of a Presidential veto. Perhaps they are gambling on the chance that the President would not veto all or part of a Federal spending bill over $500 million in Planned Parenthood spending, but given the fact that it's unlikely the veto would be overridden there doesn't seem to be much risk for the President in utilizing his veto pen. Additionally, Democrats are likely to spin the upcoming Republican attack on Planned Parenthood as an attack on women's health, so they would have every political incentive to be as intransigent as Republicans on the issue. At that point, the GOP would have to decide if they wanted to risk a government shutdown over this issue.
This isn't a new question for Republicans, of course. Two years ago, they were faced with another insurgent movement seeking to force a showdown over funding in the Federal Budget as the end of the Fiscal Year loomed. At that time, of course, the battle was over funding for the Affordable Care Act and, despite the warnings of top Republicans, including Senator McConnell, Congressional Republicans ended up forcing a shutdown over the issue that led to a sixteen day long Federal Government shutdown at the end of which the PPACA remained funded and the Republican Party saw its approval numbers sink like a stone. Preliminary polling on a shutdown this time around shows that, once again, Republicans would receive most of the blame if they forced another shutdown at the end of September. Meanwhile, polling also shows that the American public remains largely split on the issue of abortion, and a majority of Americans support continued Federal funding for Planned Parenthood. Given this, McConnell is correct to point out that Republicans would be fighting a losing battle to force a shutdown over this issue.
No doubt, conservatives will react to McConnell's words here quite negatively, just as they rejected similar warnings in the run up to the 2013 shutdown. The question, then, will become whether they will be placated by the entirely symbolic vote that they will most likely get in the Senate, or whether they will demand more.  As things stand, it seems implausible that the GOP would let another shutdown happen, but even just a week away from the deadline two years ago it seems implausible that the GOP would allow a shutdown over the PPACA funding as well, and we all know what happened then.