Congressional Republicans Wake Up To Post-Shutdown Poll Headaches, Will It Matter In 2014?
Polling looks bleak for the GOP right now, but it's unclear what that will mean a year from now.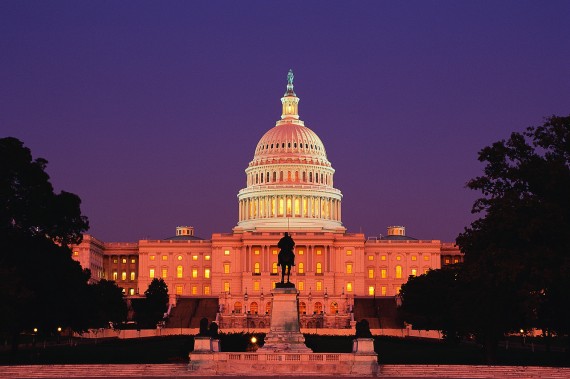 With the shutdown/debt ceiling crisis now several days behind us, and attention moving on other matters, pundits are beginning to debate what the long term impact of the entire debacle will turn out to be, especially for Congressional Republicans who had been on the losing end of the polls both before and during the whole crisis. Over the weekend, many Republican Senators and Congressmen spoke confidently, asserting that they'd be able to put the matter behind them electorally and would be in an excellent position when the 2014 elections roll around in just over a year. If the new poll from CNN and ORC International is any indication, though, things are still quite bad for the GOP at the moment:
Just over half the public says that it's bad for the country that the GOP controls the House of Representatives, according to a new national poll conducted after the end of the partial government shutdown.

And the CNN/ORC International survey also indicates that more than six in 10 Americans say that Speaker of the House John Boehner should be replaced.

The poll was conducted Friday through Sunday, just after the end of the 16-day partial federal government shutdown that was caused in part by a push by House conservatives to try and dismantle the health care law, which is President Barack Obama's signature domestic achievement.

According to the survey, 54% say it's a bad thing that the GOP controls the House, up 11 points from last December, soon after the 2012 elections when the Republicans kept control of the chamber. Only 38% say it's a good thing the GOP controls the House, a 13-point dive from the end of last year.

This is the first time since the Republicans won back control of the House in the 2010 midterm elections that a majority say their control of the chamber is bad for the country.

(…)

According to the poll, only 30% of the public says Boehner, who became Speaker in January 2011, should continue in that role.

The survey indicates that the approval rating for Congress remains near an all-time low. Only 12% of those questioned say they approve of the job Congress is doing, just two points higher than the historic low in CNN polling. And 86% give federal lawmakers a thumbs-down, also near the all-time high.

Forty-four percent say they approve of the job the President is doing with 52% saying they disapprove.
There was similar bad news for House Republicans in a new poll from Public Policy Polling:
A new round of Democratic polling shows Republican lawmakers vulnerable and hurting from the shutdown, with incumbent Republicans trailing generic Democrats in 15 of 25 new districts polled.

The polling, conducted by Democratic firm Public Policy Polling for progressive group MoveOn.org, shows a generic Democratic candidate leading Republican Reps. Ed Royce (Calif.), Darrell Issa (Calif.), Scott Tipton (Colo.), John Mica (Fla.), Mario Diaz-Balart (Fla.), Peter Roskam (Ill.), Justin Amash (Mich.), Scott Garrett (N.J.), Rodney Frelinghuysen (N.J.), Steve Stivers (Ohio), Jim Renacci (Ohio), Joe Pitts (Pa.), Robert Hurt (Va.) and Tom Petri (Wisc.), prior to respondents receiving any information about the shutdown.

And six GOP incumbents — Reps. Dave Camp (Mich.), Leonard Lance (N.J.), Richard Hanna (N.Y.), Michael Turner (Ohio), Rob Wittman (Va.) and Reid Ribble (Wisc.) — all take a hit when respondents are told they supported a shutdown, with a generic Democrat either leading or tying each one.

Democrats only need to pick up 17 seats to take back the majority, and previous PPP polling has shown a similar result for the party, prompting speculation that if the 2014 elections were held today, Democrats would take back the House.
Another PPP poll conducted just as the shutdown was winding down seemed to show similarly concerning news for the GOP when it came to those Senate races it must win in order to regain control of the Senate in 2014:
-In Georgia voters oppose the shutdown 61/31, and it's just another factor helping make this seat competitive for Democrats next year. Michelle Nunn is knotted with a generic Republican opponent at 42%.

The shutdown will be particularly problematic for the GOP if it nominates one of the House members seeking a promotion to the Senate- 47% of voters say they're less likely to vote Paul Broun, Phil Gingrey, or Jack Kingston for the Senate because of their support for the shutdown to only 32% who think it's a positive. After being informed that her most likely opponents were among those House Republicans who favored the shutdown, Nunn improves to a 48/42 lead lead on the generic ballot.

In a pair of key open seat Senate races Democrats are well positioned because voters are mad about the shutdown, and appreciative of the Democratic House members looking to move up who opposed the shutdown:

-In Michigan's open seat race Democrat Gary Peters leads Republican Terri Lynn Land 43/36. Voters are opposed to the shutdown by a 65/27 margin, and when voters are informed that Peters stood against the shutdown in the House his lead expands to 50/36.

-It's a similar story in Iowa's open seat race- there Democrat Bruce Braley leads a generic Republican opponent 45/41. Voters are against the shutdown 64/27, and when voters are informed of Braley's opposition his lead goes up to 7 points at 46/39.

In a pair of red states where Republican House members are challenging incumbent Democratic Senators, their support of the shutdown is proving to be a liability:
-In Louisiana Mary Landrieu leads Republican challenger Bill Cassidy 48/41 for reelection. Voters oppose the shutdown 60/30, and 47% say they're less likely to vote for Cassidy for the Senate next year because he supported it compared to only 32% who are more likely to. Landrieu's lead grows to 52/42 when voters are informed of Cassidy's position on the shutdown.-In Arkansas Mark Pryor leads Republican challenger Tom Cotton 44/41. Voters there oppose the shutdown 59/32. When informed that Cotton supported it, 45% of voters say they're less likely to support him for a move up to the Senate next year compared to just 33% who say they're more likely to.
Obviously, these aren't very good numbers and, if they are a representation of what we're going to see going forward, then Republicans quite obviously have something to worry about in the midterms. However, there are several caveats to keep in mind when looking at these polls that suggest that it's far to early for Democrats to start high-fiving themselves.
The most obvious one, of course, is that we're more than a year away from the elections themselves and polling today doesn't necessarily tell us much of anything about what's likely to happen in November 2014. Polling in the fall of 2009 gave no real indication that we'd be looking at a GOP wave election that would shift control of the House just a year later. Similarly, polls a year ahead of the 2012 elections, and indeed as late as January and February of 2012 suggested that President Obama could be vulnerable come November 2012, an election he obviously went on to win. For that reason alone, these data points today don't really tell us much of anything unless they continue into the future. Talk to me six months from now and we'll see where things are.
A second caveat is directed specifically at PPP's House seat polling. Putting an incumbent Congressman up against a generic Democrat generally doesn't tell us much of anything about how things might go in those particular Districts over the course of the next year. Incumbents don't run against "generic" opponents they run against actual opponents and the course of a particular campaign, there are a myriad of factors that are likely to effect the outcome of the race, including the identity of the candidate, what kind of campaign her or she runs, what kind of resources the two candidates have access to, and what kind of campaign the incumbent runs. As we've seen in the past, it's pretty hard to unseat House incumbents in general, even in "wave" years the reelection rates of members of the House rarely dips below 90%, so it would be foolish to discount the advantages of incumbency even in the current political climate. Finally, it's worth noting that polling individual Congressional Districts is quite often a difficult thing since you're dealing with a much smaller sample size than in a statewide or nationwide election. This is especially this far removed from Election Day when it's virtually impossible to identify an accurate likely voter model for an election that won't take place for more than a year.
There are also issues with PPP's Senate polling. For one thing, their selection of races is rather selective and not really representative of where the battleground is likely to be in 2014. Nobody at this point expects either Iowa or Michigan to be competitive for the GOP, which is one of the reasons you haven't seen prominent Republicans in either state stepping up to run for either open seat. Including either of them in a group poll like this is thus essentially useless. Instead of those two states, PPP ought to be looking at Montana, South Dakota, and West Virginia, three red states with open seats being vacated by Democrats. Most polling I've seen in those states has the potential Republican nominees leading the declared Democratic candidates, and it would be interesting to see if the shutdown has had any impact on those races. Additionally, it's not really a surprise that Arkansas and Louisiana are close, that was also true in the pre-shutdown polling.Both Pryor and Landrieu have proven themselves to be skilled politicians who have managed to hold onto their seats despite the fact that they represent states where the Republican tide has almost completely overtaken state politics. Yes, it's important that the shutdown could hurt the Republican candidates there, but the numbers haven't really shifted very much, especially when you take into account all the polling in those states and not just PPP's.
None of this is to suggest that the GOP has nothing to worry about from these bad numbers. Clearly, they do. They latched their party onto a doomed strategy that caused a government shutdown that was wildly unpopular and they are now paying a political price for it. The question is how long it will continue, and what impact it will have going forward. It's simply too early to know the answers to those questions, but one thing that's clear is that the GOP cannot afford to let itself get in the same position in January when the deadlines that were set on Wednesday begin to expire. If that happens, then most of the caveats I note above probably won't apply.