The Government Shuts Down And Washington Plays The Blame Game
The government is shut down and Washington is playing the usual blame game. In reality, there's plenty of blame to go around, and one of the guilty parties is the American people.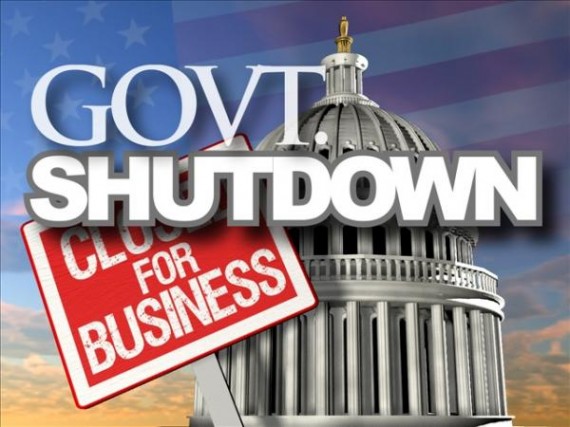 For most of Friday, it seemed from the outside as though there was next to nothing was happening with respect to the impending threat of a government shutdown at midnight. On Thursday, the House had passed its version of a Continuing Resolution that includes government funding through February 16th, a six-year extension for the Children's Health Insurance Program (CHIP) that had been in limbo since the new Fiscal Year started in October, and a handful of other "sweeteners" that Republicans hoped would garner some Democratic support in the House and Senate. Initially, the plan was for the House to go out of town for the weekend, but those plans were scrapped early in the day in case the Senate passed a funding bill that was different from the House version which the lower chamber would then need to approve. On the Senate side, though, there were few outward signs that anything was going on that would bring the two sides closer together. The one sign of hope came when Senate Minority Leader Chuck Schumer showed up at the White House to meet with President Trump, but that meeting ended without either side saying much of anything about progress toward an agreement. As the hours wore on, it became more and more likely that the government would shut down. Some proposals were put forward regarding shorter-term funding extensions, but in the end, the only thing the Senate voted on was the Continuing Resolution passed by the House. Even with the support of five Democrats, though, including newly elected Alabama Senator Doug Jones, that bill failed to garner enough votes to proceed and, as a result, the government shut down:
WASHINGTON — Much of the federal government officially shut down early Saturday morning after Senate Democrats, showing remarkable solidarity in the face of a clear political danger, blocked consideration of a stopgap spending measure to keep the government operating.

The shutdown, coming one year to the day after President Trump took office, set off a new round of partisan recriminations and posed risks for both parties. It came after a fruitless last-minute negotiating session at the White House between Mr. Trump and Senator Chuck Schumer of New York, the Democratic leader.

With just 50 senators voting in favor, Senate Republican leaders fell well short of the 60 votes necessary to proceed on the spending measure, which had passed the House on Thursday. Five conservative state Democrats voted for the spending measure. Five Republicans voted against it, although one of those, Senator Mitch McConnell of Kentucky, the majority leader, did so for procedural reasons.

As the clock ticked toward midnight, when funding for the government was set to expire, senators huddled on the floor of the crowded Senate chamber, searching for some way forward.

Then, in the early morning hours, Mr. McConnell proposed a measure that would keep the government open for another three weeks, not four as the House measure would have done, and said the Senate would come back to into session at noon Saturday.

"Senate Democrats own the Schumer Shutdown," the White House press secretary, Sarah Huckabee Sanders, said in a statement. "Tonight, they put politics above our national security, military families, and our country's ability to serve all Americans."

Democrats, calling it the "Trump shutdown," countered that Republicans were responsible for the management of a government in their control.

"Every American knows the Republican Party controls the White House, the Senate, the House," Mr. Schumer said. "It's their job to keep the government open."

In addition to funding government operations through Feb. 16, the House-passed bill would extend funding by six years for the popular Children's Health Insurance Program, a provision intended to secure Democratic votes.

But Democrats were seeking concessions on other priorities, such as protecting young undocumented immigrants from deportation, increasing domestic spending, securing disaster aid for Puerto Rico and bolstering the government's response to the opioid epidemic.

Federal agencies had prepared for the shutdown; on Thursday night, officials at the White House Office of Management and Budget instructed federal agency leaders to give their employees informal notice of who would be furloughed and who would not if funding lapsed.

Formal notifications are to be given as early as Saturday morning, budget office officials said, insisting on anonymity to brief reporters about the details of what the White House called "lapse planning and shutdown operations."

More than one million active-duty military personnel will serve with no lapse, they said, but could not be paid until the shutdown ends. Agencies like the Energy Department that have funding that is not subject to annual appropriations can use that money to stay open, the officials said, and the administration is encouraging them to do so. Most mandatory programs — entitlements such as Social Security that are automatically funded rather than subject to congressional appropriations — can continue without disruption.

Officials said Mr. Trump may travel on Air Force One to carry out his constitutional responsibilities, including a planned trip next week to Davos, Switzerland. But it was unclear whether trips to Mar-a-Lago — his exclusive club in Palm Beach, Fla. — such as the one he had planned for this weekend, would fall into that category.

Mr. Trump canceled plans on Friday to travel to his Florida resort and will stay in Washington until a spending bill is passed, a White House official said Friday morning.

The Senate's vote, late Friday night, came after a day of budget brinkmanship in Washington that included the 90-minute Oval Office negotiating session between Mr. Trump and Mr. Schumer.

"We had a long and detailed meeting," Mr. Schumer said at the Capitol after leaving the White House. "We discussed all of the major outstanding issues. We made some progress, but we still have a good number of disagreements. The discussions will continue."

Just hours later, the negotiations collapsed.

By Friday night, a last-minute congressional deal to stop a rare shutdown of a federal government under one-party control remained elusive.

"Our Democratic colleagues are engaged in a dangerous game of chicken," Senator John Cornyn of Texas, the No. 2 Senate Republican, warned in a speech on the Senate floor.
More from The Washington Post:
Congress prepared to return to work Saturday as negotiators pressed for a budget deal to keep a government shutdown that began at midnight shortlived.

Agencies shut down for the first time in more than four years late Friday after senators rejected a temporary spending patch and bipartisan efforts to find an alternative fell short as a midnight deadline came and went.

Republican and Democratic leaders both said they would continue to talk, raising the possibility of a solution over the weekend. Office of Management and Budget Director Mick Mulvaney said Friday that the conflict has a "really good chance" of being resolved before government offices open Monday, suggesting that a shutdown's impacts could be limited.

The House was expected to reconvene at 9 a.m. and the Senate at noon. Meanwhile, House Republicans and Democrats planned for separate caucus meetings at 10 a.m. Saturday to kick off private talks.

But the White House drew a hard line immediately after midnight, saying they would not negotiate over a central issue — immigration — until government funding is restored.

"We will not negotiate the status of unlawful immigrants while Democrats hold our lawful citizens hostage over their reckless demands," White House press secretary Sarah Huckabee Sanders said in a statement. "This is the behavior of obstructionist losers, not legislators. When Democrats start paying our armed forces and first responders we will reopen negotiations on immigration reform."

Both parties confronted major political risks with 10 months to go until the midterm elections. Republicans resolved not to submit to the minority party's demands to negotiate, while Democrats largely unified to use the shutdown deadline to force concessions on numerous issues — including protections for hundreds of thousands of young undocumented immigrants.

The standoff culminated in a late-night Senate vote that failed to clear a 60-vote hurdle, sending congressional leaders and President Trump back to the starting line after days of political posturing on all sides.

"A government shutdown was 100 percent avoidable. Completely avoidable. Now it is imminent," Senate Majority Leader Mitch McConnell (R-Ky.) said on the Senate floor following the vote. "Perhaps across the aisle some of our Democratic colleagues are feeling proud of themselves, but what has their filibuster accomplished? . . . The answer is simple: Their very own government shutdown."

The early contours of the blame game appeared to cut against Trump and the Republicans, who control all levers of government but cannot pass major legislation without at least partial support from Senate Democrats. According to a Washington Post-ABC News poll, Americans said by a 20-point margin that they would blame a shutdown on Trump and the GOP rather than Democrats.

A government shutdown causing employee furloughs has never occurred under unified party control of Congress and the White House. Some furloughs of White House employees began immediately early Saturday.

Trump took to Twitter on Saturday morning to lay the blame on Democrats, saying they "are far more concerned with Illegal Immigrants than they are with our great Military or Safety at our dangerous Southern Border. They could have easily made a deal but decided to play Shutdown politics instead." He also noted in a follow-up tweet that Saturday is the first anniversary of his inauguration and that "the Democrats wanted to give me a nice present."

One possible path out of the impasse appeared in wee hours: Sen. Jeff Flake (R-Ariz.), leaving the Senate floor, said that he had secured an agreement from McConnell to bring a bipartisan bill addressing "dreamers" — young immigrants brought to the United States illegally as children — up for a vote.

Flake said he expected a short-term spending deal to be agreed to during Saturday's Senate session, extending government funding through Feb. 8. By that same date, he said, McConnell would move to bring up the dreamer bill crafted by Sens. Richard J. Durbin (D-Ill.) and Lindsey O. Graham (R-S.C.).

Flake had previously gotten a similar commitment from McConnell, but the majority leader insisted in recent days that any dreamer bill would have to be one Trump supported. Flake said he had urged him, and McConnell had agreed, not to wait on the president.

"At this point, we agree we can't wait for the White House anymore," Flake said.

A McConnell spokeswoman did not immediately comment Saturday morning on Flake's account of a deal.
As a practical matter, the real impact of this shutdown won't be felt until Monday morning when Federal workers are scheduled to return to work. That doesn't mean that there won't be any immediate impact, of course. If you're in Washington D.C. this weekend it may end up being the case that the Smithsonian museums are either closed or understaffed due to the fact that non-essential personnel are likely to be told to go home. Federal workers around the nation will spend the weekend wondering if they will need to go to work on Monday, and some will wonder if they are going to get paid for the work they've already done in January. Federal contractors at all levels will face the same degree of uncertainty.
That's not to say there isn't a good side to the fact that the shutdown occurred on a Friday night rather than in the middle of the week. To some extent, this gives Congress the weekend to try to resolve the impasse that it finds itself in. In that regard, as noted above, there is some talk about a shorter term funding extension than the one that the House voted on combined with a separate bill that would deal with the Deferred Action For Childhood Arrivals (DACA) program and other immigration-related issues. The problem seems to be that neither side trusts the other enough to take a deal like this. Republicans don't trust that Democrats won't make additional demands beyond DACA before agreeing to a spending bill, and Democrats don't trust Republicans enough to believe any promise to bring up a DACA bill separate and apart from the spending bill itself. That, ultimately, seems to be the reason that they were unable to reach an agreement this week and why we find ourselves in the situation we're in this morning. Whether it gets resolved before Monday depends, to a large extent, on whether they are able to get beyond that mistrust to reach a deal out of fear that they could be blamed for a shutdown that lasts for an extended period of time.
This being Washington we're talking about, the biggest question being asked today is who is to blame for the place we find ourselves in, and who would end up paying the biggest political price.
This morning, James Joyner makes a strong case for the argument that the blame for the shutdown should be placed at the feet of Senate Majority Leader Mitch McConnell  As James notes he was unable to corral even his entire caucus into voting for the House Continuing Resolution and he appeared unable to reach a deal across the aisle that would deal with both federal spending and the DACA issue that is the rallying point for Democrats. At the same time, though, the reality is that the House CR would have fallen short even with the support of the entire Senate GOP Caucus. Let's assume that McConnell could get those three Senators who voted no change their vote. Last night, the House CR failed on a 50-49 vote, meaning it was ten votes short of the 60 it needed although it's worth noting that one of those no votes was McConnell who changed his vote to no so he could bring the bill back up in the future if needed. Putting McConnell back in the yes column and assume he could have gotten Graham, Paul, and Rounds to vote yes as well and we're at 50-49. Add in the five Democrats who voted for the bill and we're at 55-44. Add in McCain and that only gets us to 56-44, still four votes short. Perhaps the fact that the vote would have been that close to 60 votes might have led a handful of other Democrats to vote yes, but we don't know that. So, even if McConnell had been able to keep his caucus together, he still would have needed at least four other Democrats to vote for cloture to go forward.
Last night, I made the case that Democrats should have ended up supporting the House CR and live to fight another day on DACA. While I understand the arguments against that position, I think it's one that has merit. For better or worse, the fate of DACA is not currently an emergency situation. It isn't going to expire for another two months, and that extension is at least theoretically delayed for an unforeseeable amount of time thanks to the injunction enter earlier this month by a Federal District Court Judge against enforcement of the order issued by the Justice Department. Additionally, the CR would have given Democrats a month to try to force the issue and the potential of another deadline that falls far closer to the DACA deadline than we are now. Additionally forcing a shutdown over an issue completely unrelated to the budget is problematic to me, just as it was in 2013 when Republicans shut the government down over an issue unrelated to the budget.
A third candidate for blame, of course, is the President of the United States. This President campaigned on the idea that he was the consummate dealmaker and even achieved fame with a book titled The Art Of The Deal. He said on more than one occasion that he would be a great President because of his ability to make deals in the business community. Additionally, it's worth noting that at several points during the Obama Presidency Trump blamed the President for what was happening and stated that it should be the President's job to bring all the sides together, get them in a room, and not let them leave until they had hammered out a deal. Instead of doing any of that, though, Donald Trump has been on the sidelines of the debate over this issue just as he was on the sidelines for the debate over the spring and summer over health care reform and during the fall and early winter over tax reform. To use Harry Truman's phrase, Trump has spent the entire first year of his Presidency passing the buck rather than recognizing that it stops with him. To that extent, the blame for this shutdown should arguably fall principally on him.
Finally, Jazz Shaw argues that the blame can be found by looking in the mirror:
So who's really at fault here? You are. And I am. We all are because we keep electing the same cast of circus clowns who feel like they have to put on these strutting displays in an endless attempt to gain a bit of leverage in the political wars. As long as the same leaders are continually sent back to work alongside their usual cast of blacklegs and cullions, devoting more energy to "winning" for their party than actually delivering a win for their constituents, nothing is going to change.

Congratulations. This isn't the #TrumpShutdown or the #SchumerShutdown. It's the #AmericanShutdown.
This argument is compelling. We elected these idiots. We are the ones whose reflexive hyperpartisanship gives politicians on both sides of the aisle the incentive to act the way that they do. And, we keep reelecting them. It's happened before and it will happen again. Even if 2018 ends up being a "wave election," the vast majority of Congressmen and Senators running for re-election will end up being re-elected. In the words of Walt Kelly, we have met the enemy and he is us.
To a large degree, of course, it isn't up to me or anyone else to decide who the blame for this shutdown should be placed on. That determination will be made by the American people and will depend in no small part on how long the shutdown lasts and how it impacts them. Heading into last night, polling on the blame issue was mixed. A CNN poll released on Friday even as the final debate was going on showed that 10% of respondents would blame all three of the groups in Washington noted above, 21% would blame President Trump, 26% would blame Congressional Republicans, and 31% would blame Congressional Democrats. In what is possibly a red flag for Democrats, a majority of respondents (56%) in the same poll said that avoiding a shutdown was more important than dealing with DACA. A Washington Post/ABC News poll, meanwhile showed that a plurality of Americans (48%) would blame President Trump and Congressional Republicans while 28% would blame Democrats and 18% would blame both sides equally. In the end, though, these polls are largely irrelevant since they were taken before the shutdown and before any impact from the shutdown would be felt. It will take at least a few days for the reality of the shutdown to soak in and be reflected in polling that we can rely on, assuming the shutdown even lasts that long.
My initial guess is that the current shutdown will end up being resolved, most likely through a short-term Continuing Resolution, and that the odds are that it will happen before the weekend is out. That could be overly optimistic, though, and if I'm wrong then everyone in Washington will have to worry about what it all means for the fortunes for the year to come and, most importantly, in November.