House Passes Spending Bill, But Shutdown Threat Still Looms
With just hours to go, it seems increasingly unlikely that the Senate can reach a deal to keep the government open.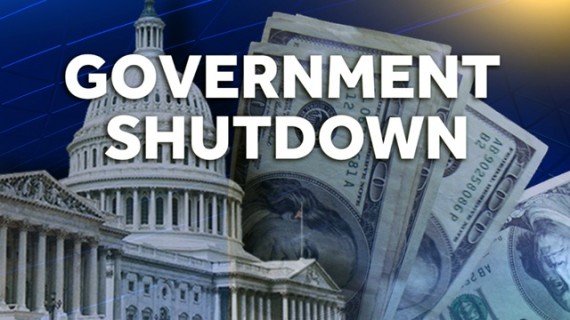 Late yesterday, the  House of Representatives passed a government funding bill that would keep the government operating through mid-February, but the prospects for a deal of any kind making it through the Senate seem slim as the clock ticks down to a government shutdown at midnight tonight:
WASHINGTON — The Senate is heading toward a showdown vote on Friday on legislation to keep the government open past midnight, and Democrats appear ready to block it, gambling that a weakened President Trump will have to offer concessions in the face of a looming government crisis.

After the House cleared stopgap spending legislation on Thursday that would keep the government funded through Feb. 16, Senate Republicans are set to test whether Democrats will make good on their promise to move the government toward a shutdown. But Democrats appear intent on securing concessions that would, among other things, protect from deportation young immigrants brought to the country illegally as children, increase domestic spending, aid Puerto Rico and bolster the government's response to the opioid epidemic.

And they hope that Mr. Trump, scorched by the firestorm prompted by his vulgar, racially tinged comments on Africa last week, will be forced back to the negotiating table.

"Republicans control the House, they control the Senate and they control the presidency," said Senator Patrick J. Leahy, Democrat of Vermont. "The government stays open if they want it to stay open, and it shuts down if they want it to shut down. It's time to stop kicking the can down the road and time to start negotiating in good faith."

In an early-morning Twitter post on Friday, Mr. Trump put pressure on Democrats to keep the federal government open.

If Democrats vote the bill down, the move would hold undeniable risks. Ten Senate Democrats are running for re-election in states that Mr. Trump won in 2016, and many of those states — such as Indiana, Missouri, North Dakota and West Virginia — may hold little sympathy for one of the primary causes of the looming shutdown: protecting young undocumented immigrants known as Dreamers.

Senator Mitch McConnell of Kentucky, the majority leader, lamented the Democrats' "fixation on illegal immigration" at the expense of addressing other matters.

Instead, Republicans emphasized what Democrats were voting against: continued funding for the military and renewed funding for children's health care.

"If Senate Democrats obstruct this legislation — and as a result shut down the government — they have made the decision to cut off pay to our troops and block children's health care funding they support," said Representative Kevin McCarthy of California, the majority leader.

The bill, which passed the House hours earlier, 230 to 197, would keep the government open for a month, provide funding for the Children's Health Insurance Program for six years and delay or suspend a handful of taxes imposed by the Affordable Care Act.

At least about a dozen Senate Democratic votes will probably be needed to approve the measure because some Republican senators are expected to vote no and Senator John McCain, Republican of Arizona, is absent.
More from The Washington Post:
The showdown over government funding shifted Friday to the Senate after the House passed a short-term extension that was cobbled together with enough GOP votes to overcome an internal revolt.

Still, the possibility of a federal shutdown moved closer to a certainty after Senate Democrats rallied against the GOP proposal, announcing they would not lend their votes to a bill that did not reflect their priorities on immigration, government spending and other issues.

"Shutdown coming?" President Trump tweeted Friday, attempting to blame Senate Democrats for the logjam with the midnight deadline looming.

"Government Funding Bill past last night in the House of Representatives," Trump wrote. "Now Democrats are needed if it is to pass in the Senate — but they want illegal immigration and weak borders. Shutdown coming? We need more Republican victories in 2018!"

By Thursday evening, nine Senate Democrats who had voted for a spending measure in December said they would not support the latest proposed four-week extension, joining 30 other Democrats and at least two Senate Republicans — and leaving the bill short of the 60 votes needed to advance.

As a result, Republican leaders — long on the defensive against claims that they were failing to govern — appeared emboldened as they sought to cast the Democrats as the obstacle to a compromise to keep critical government functions operating.

"My Democratic colleagues' demands on illegal immigration, at the behest of their far-left base, have crowded out all other important business," Senate Majority Leader Mitch McConnell (R-Ky.) said Thursday night. "And now they are threatening to crowd out the needs of veterans, military families, opioid treatment centers and every other American who relies on the federal government — all over illegal immigration."

Senators of both parties voted to open debate on the House bill late Thursday, but Senate Minority Leader Charles E. Schumer (D-N.Y.) said Democrats remained opposed to the measure and proposed a spending extension that would last just a few days to allow talks on a broader agreement to continue.

"We have to sit down together and solve this, with the president or without," he said.

Republican leaders rejected that suggestion. They did not lay out a Plan B to pursue if the House bill is ultimately rejected, except to point blame at Democrats for a shutdown.

"I ask the American people to understand this: The only people in the way of keeping the government open are Senate Democrats," House Speaker Paul D. Ryan (R-Wis.) said Thursday night. "Whether there is a government shutdown or not is entirely up to them."
The Senate is not scheduled to resume business until 11:00 am this morning, and as things stand now it appears unlikely that they'll be able to reach a deal to keep the government open unless one side or the other blinks and moves to make concessions to avoid a shutdown. As I noted yesterday, Republicans are at least three votes short of even having the 50 votes they would need to pass the legislation due to both the absence of Senator John McCain for health reasons and the announcement by Senators Lindsey Graham and Mike Rounds that they would oppose the Continuing Resolution ultimately passed by the House last night. Later in the day, there were indications that Kentucky Senator Rand Paul is opposed to the bill and rumors that Texas Senator Ted Cruz may also be a "no" vote at the moment. Even before this news, Republicans needed the support of at least nine Senate Democrats to get the bill past a cloture vote. With the absences of McCain and the no votes of Graham and Rounds, that number stands at eleven. If Paul and Cruz join them that puts the number as high as twelve or thirteen.
As things stand, it seems unlikely that Majority Leader McConnell is either prepared to or capable of making the kind of concessions that would bring that many Democrats on board. As Post report linked above notes, nine Democrats who voted for the last Continuing Resolution in December have indicated that they would be a no vote this time around. This includes the ten Democratic Senators up for reelection this year in red states or states that Donald Trump won in 2016, who appear to be standing with most of the rest of the Democratic caucus in opposition to any spending bill that doesn't address the issue of the extension of the Deferred Action For Childhood Arrivals (DACA) program. The only exception to this rule appears to be West Virginia Senator Joe Manchin, who has indicated that he would at least vote with Republicans on a cloture vote to allow the bill to advance to a final vote. Even if we get to that point, though, it's still unclear that the bill can pass the Senate given the fact that there are three Republicans opposed to the bill, meaning that the GOP would be unable to get to the 50 votes it needs to pass the Continuing Resolution with the Vice-President's tie-breaking vote. Whether that changes in the next twelve hours or so is what we'll have to wait to fund out.