Congress Moves Ahead On Budget Deal As Trump Threatens Shutdown
Congress appears to be moving closer to a budget deal even as the President tries to throw a monkey wrench into the whole thing.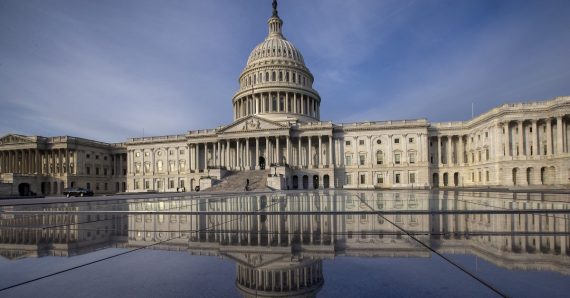 Late yesterday, the House of Representatives passed a Continuing Resolution that would fund most of the Federal Government through March 22nd, while providing extended funding for the Defense Department, but President Trump is threatening a shutdown over immigration issues:
WASHINGTON — President Trump called on Tuesday for shutting down the federal government if Congress does not crack down on illegal immigration, even as congressional negotiators closed in on a major budget deal that would set spending levels for two years and break the cycle of fiscal crises that has bedeviled the nation's capital.

On Tuesday night, the House approved a stopgap spending bill that would increase military spending through September while keeping funds flowing to the rest of the government for six weeks. The House measure is unlikely to pass the Senate, where Democrats insist that an increase in military funds be matched with additional domestic spending.

But the House vote was a first step in what congressional leaders hoped would be a legislative dance that yields a bipartisan spending deal. Mr. Trump's comments, though combative, had little to do with the delicate negotiations, a fact that appeared to elude Mr. Trump. They did, however, add a note of uncertainty.

"I'd love to see a shutdown if we don't get this stuff taken care of," Mr. Trump said at a meeting with lawmakers and law enforcement officials to discuss gang violence. "If we have to shut it down because the Democrats don't want safety," he added, "then shut it down."

The two-year deal that congressional leaders want would raise statutory spending caps on military and nonmilitary spending through September 2019. That agreement would further balloon the budget deficit, but it would also ease the way to passing a temporary spending measure before the government shuts down on Friday. A longer-term spending deal could follow shortly thereafter.

"We are closer to an agreement than we have ever been," Senator Chuck Schumer of New York, the Democratic leader, said, referring to the negotiations over raising the spending caps, which were imposed in 2011.

Republicans were similarly upbeat. "I'm optimistic that very soon we'll be able to reach an agreement," said Senator Mitch McConnell of Kentucky, the majority leader.

But if the bipartisan deal falls through, lawmakers have no clear plan to keep the government open past Thursday, with the parties disagreeing over spending priorities and the president lobbing verbal bombs from the White House.

"I would shut it down over this issue," Mr. Trump said as he demanded an immigration deal on his terms. "If we don't straighten out our border, we don't have a country."

Mr. Trump's call for a shutdown was not the first time he had brandished the threat of closing down the government. He mused on Twitter last year that the country "needs a good 'shutdown,'" a suggestion Democrats did not forget.

And on Tuesday, in a striking moment, a lawmaker from the president's own party, Representative Barbara Comstock of Virginia, pushed back at the White House meeting.

"We don't need a government shutdown on this," said Ms. Comstock, a top Democratic target in the midterm elections. She represents a moderate district in Northern Virginia, an area that is home to many federal workers.

Soon after, Mr. Trump interrupted her. "You can say what you want," he said. "We're not getting support from the Democrats on this legislation."

It has been less than three weeks since the last shutdown — a three-day closing that ended after Democrats won a promise from Mr. McConnell to have the Senate consider legislation to protect young immigrants who were brought to the United States illegally as children.

Mr. McConnell pledged that the Senate would turn to immigration if no deal had been reached on that subject by Thursday, when the current government funding measure is set to expire. This time, Senate Democrats have shown no appetite to force a shutdown.

(…)

[W]ith less than 72 hours remaining to avert a shutdown, congressional Republicans were moving on an entirely different track from the president, and immigration was not part of the equation as the House moved ahead with the stopgap spending bill.

The House voted 245 to 182 to approve the bill, with most Democrats voting against it.

House Republicans were hoping to pressure Senate Democrats to go along or face harsh political consequences. The bill would keep the government open through March 23.

"Quite literally the safety of our service members and the security of our country is at stake," Speaker Paul D. Ryan of Wisconsin said.

But 44 members of the Senate Democratic caucus signed a letter in December opposing the House Republican approach. Passing the bill in the Senate will require 60 votes, meaning that those 44 Democrats, if they stick together, could block it.
Trump's comments threw many observers and those members of the House and Senate who have actually been negotiating over the budget deal and the beneficiaries of the Deferred Action for Childhood Arrivals (DACA) program off balance and raised some uncertainty about what the path forward going forward might actually.  Before this, the President had seemed as though he was willing to let the House and Senate work out a budget deal on their own and to understand that the idea of a linkage between immigration and a budget deal had largely been taken off the table. Indeed, Senate Democrats who had been the ones who originally refused to vote for a budget bill last month without some kind of assurance of a deal to protect DACA beneficiaries said immediately after the shutdown that they would not insist on any such linkage to move forward with a budget deal. Senate Minority Whip essentially repeated that commitment on Sunday on CNN's State Of The Union. While this led to some pushback from some Democrats immediately after the deal and more recently, this seems to be the best way to go forward at this time. In any case. based on that premise, members of both parties in both the House and the Senate have been moving forward, on largely separate tracks, to come to some kind of agreement on both issues.
While Trump's comments do appear to throw a monkey wrench into the negotiations over both the budget and DACA, there also seems to be a likelihood that Congress is just as apt to ignore Trump's comments as they are to take them to heart. For all his bluster it seems likely that Trump would sign whatever stopgap spending bill Congress manages to come up with before February 8th when the current Continuing Resolution expires. If he didn't then the Democrats on Capitol Hill would be entirely justified in calling it a "Trump Shutdown," as they attempted to do during the three-day shutdown last month notwithstanding the fact that it was apparent to outside observers that Senate Democrats and their insistence on assurances regarding DACA beneficiaries that led to the January shutdown. Whether that was a politically wise decision on their part or not is debatable, but they did "win" in some sense, the complaints of hardline Democrats outside Washington to the contrary notwithstanding. Because of that,  he would bear the brunt of the blame for a shutdown this time around, and that seems as though it would be even he would rather avoid. Given this, legislators seem to be calculating that Trump's words about a shutdown yesterday are not serious, and are prepared to essentially call the President's bluff.
All that being said, the path forward over the next two days remains unclear. The Senate appears to be signaling that the Continuing Resolution that the House passed may be a non-starter due to the add-ons such as military funding that the House attached to it, for example, and that body seems prepared to move forward on a Continuing Resolution through March 22nd that includes the entire Federal Government while simultaneously moving forward on a separate package that would increase both defense and non-defense spending:
Top Senate leaders were working Tuesday to finalize a sweeping long-term budget deal that would include a defense spending boost President Trump has long demanded alongside an increase in domestic programs championed by Democrats.

As negotiations for the long-term deal continued, the House passed a short-term measure that would fund the government past a midnight Thursday deadline and avert a second partial shutdown in less than a month.

The House bill, which passed 245 to 182, would fund most agencies through March 23 but is a nonstarter in the Senate because of Democratic opposition.

But the top Senate leaders of both parties told reporters earlier in the day that a breakthrough was at hand on a longer-term budget deal. Spending has vexed the Republican-controlled Congress for months, forcing lawmakers to rely on multiple short-term patches.

"We're on the way to getting an agreement and on the way to getting an agreement very soon," said Senate Majority Leader Mitch McConnell (R-Ky.).

Minority Leader Charles E. Schumer (D-N.Y.) echoed him, "I am very hopeful that we can come to an agreement, an agreement very soon."

Despite the optimism, no agreement was finalized with less than three days until Thursday's deadline.

(…)

The agreement McConnell and Schumer are contemplating, with input from House Speaker Paul D. Ryan (R-Wis.) and House Minority Leader Nancy Pelosi (D-Calif.), would clear the way for a bipartisan accord that would break through the sharp divides that helped prompt a three-day government shutdown last month.

Under tentative numbers discussed by congressional aides who were not authorized to speak publicly about the negotiations, defense spending would get an $80 billion boost above the existing $549 billion in spending for 2018. Nondefense spending would rise by $63 billion from its current $516 billion. The 2019 budget would include similar increases.

"Democrats have made our position in these negotiations very clear," Schumer said on the Senate floor Tuesday. "We support an increase in funding for our military and our middle class. The two are not mutually exclusive. We don't want to do just one and leave the other behind."

Among the other issues that could be addressed in the deal is an increase in the federal debt limit, which could be reached as soon as early March, according to the Congressional Budget Office. The aides said that an increase was being discussed in the negotiations but that no final decisions have been made.

"It's a question of what the traffic will bear," said Sen. John Thune (R-S.D.), the No. 3 Senate GOP leader, describing the likelihood of a debt-ceiling increase.

A disaster aid package aimed at the victims of recent hurricanes and wildfires is also part of the talks, potentially adding $80 billion or more to the deal's overall price tag. That provision could help win support from lawmakers representing affected areas in California, Florida and Texas but further repel conservatives concerned about mounting federal spending.
A deal like this would essentially kill two birds with one stone since it would effectively set a relatively easy path forward for the budget for Fiscal Year 2019, which begins on October 1st. Ordinarily, that would mean that Congress would have to spend a good part of the summer and in September banging out a budget deal before heading out of town to campaign for reelection only to be forced to deal with the final details of a budget in a Lame Duck Session after the election. Reaching what would amount to a two-year budget deal now would avoid most of those deadlines and would relieve the pressure that Congress may face in September as it scrambles to finalize a budget or a Continuing Resolution so it can get out of town to campaign. That incentive, combined with the fact that it would raise spending caps for both defense and non-defense spending is one reason why Congressional leaders on both sides of the aisle seem to be so happy with the proposal.
That being said, there are potential roadblocks to such a longer term bill in the House:

Even the rumors of a coming deal were enough to send some hard-liners reeling.

"This is a bad, bad, bad, bad — you could say 'bad' a hundred times — deal," said Rep. Jim Jordan (R-Ohio), a co-founder of the House Freedom Caucus. "When you put it all together, a quarter-of-a-trillion-dollar increase in discretionary spending — not what we're supposed to be doing."

If the parties cannot reach an agreement in the next two days, it is unclear how a shutdown might be averted.

Multiple House Republicans said Tuesday that if the Senate takes their spending bill and substitutes its version with a significant boost for domestic programs, they could not vote for it. House Democrats, meanwhile, have showed only limited willingness to help pass temporary spending measures absent a broader agreement.

Rep. Mark Meadows (R-N.C.), the Freedom Caucus chairman, said a broad deal encompassing a debt-limit increase and a huge disaster package would be "considered a lead balloon" among hard-line conservatives. "It'd get zero support" from the caucus, he said, aside from a member or two representing states affected by the disasters.
Jordan and Meadows do have a point here, I think. This proposed two-year budget deal is essentially the means by which we would head once again into the territory of trillion dollar budget deficits and out-of-control spending that marked much of how Congress acted up until the Budget Control Act of 2011 because it would bring to an end even the relatively weak spending caps that were put in place by that agreement. That strikes me as a bad idea if only because it creates the prospect that Republicans and Democrats will simply open up the spigot of Federal spending on both defense and non-defense spending with no worries about how, if ever, such increases are going to be paid for, or even whether such increases are necessary or based on any rational analysis of the needs and reasonable requests of the Defense Department or any other government agency. In the long run, that's a bad idea, but this is Congress, where bad ideas seem to not only continue to exist, but to flourish.