Senate Democrats Prepared To De-Link Budget Talks From Progress On DACA
Democrats in the Senate appear ready to de-link DACA from the budget. That would remove the threat of a government shutdown, but it could anger their base.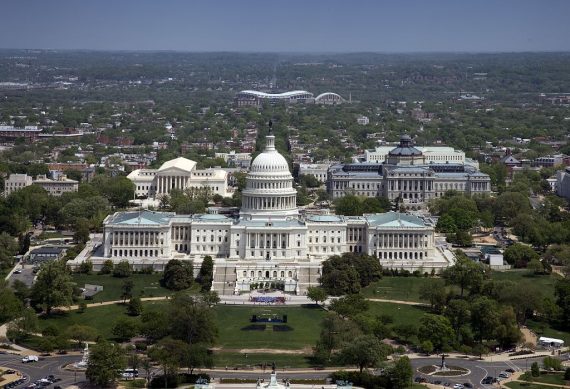 Senate Democrats appear to be ready to drop any demand that there be action on the Deferred Action For Childhood Arrivals (DACA) before they will support a deal to fund the government beyond February 8th:
Senate Democrats are willing to drop their demand that relief for Dreamers be tied to any long-term budget agreement — a potential boost for spending talks, but one that could face opposition from their House counterparts.

The shift comes in response to the deal struck between Senate leaders Monday to reopen the government and begin debate on an immigration bill next month. Meanwhile, budget negotiators are expressing optimism that a two-year agreement to lift stiff caps on defense and domestic spending is increasingly within reach.

"We're viewing [immigration and spending] on separate terms because they are on separate paths," Senate Minority Whip Dick Durbin (D-Ill.) said Tuesday.

Senate Majority Leader Mitch McConnell's "procedural concession means we've got a deadline and a process," Durbin added. "That to me is a significant step forward. It's not everything I wanted, that's for sure, but it's a step forward."

But House Democrats have signaled they are not ready to go along with a long-term budget deal without a fix to the Deferred Action for Childhood Arrivals program that President Donald Trump is ending.

"We are insisting that these things be in the same negotiation," said a senior House Democratic aide. "To us, what's important is are these talks linked or not linked? To us, they are linked."

The division among Democrats is complicating negotiations, as lawmakers in both parties face intense pressure — and a two-week time crunch — to show progress on government funding, immigration and a raft of other issues that have resulted in the government operating on stopgap spending bills since September.

Both parties are eager for a long-term budget agreement, with GOP defense hawks furious about uncertainty for the Pentagon and liberal Democrats concerned about deep cuts to domestic programs. But any legislation to boost spending by upwards of $250 billion over two years would likely need broad bipartisan backing in both chambers, as House conservatives have already hinted they'll balk.

Sen. Patty Murray (D-Wash.), another member of Democratic leadership, said that although she would prefer a deal to protect young undocumented immigrants be part of budget negotiations, the agreement reached with McConnell could make that impossible. The Kentucky Republican has said the Senate would turn to an immigration bill only if the government is still funded, and few Democrats seem to want another shutdown.

"Feb. 8, we're going to have another [stopgap bill]. But we have to have that budget agreement in order to move forward. … That's the goal," Murray said. "And then the deal is that if DACA is not part of that, then it will be the next thing considered."

"Everyone's first preference is to get it all done by the 8th," a Senate Democratic aide said on Wednesday. "We haven't speculated on what happens if it doesn't all come together."

If Democrats are indeed willing to deal on spending caps without a firm commitment on DACA, it would represent a significant shift in the budget talks, which have stalled for months over immigration.

"I think everybody has a pretty general idea about where it's going to end up. But this has been again another casualty of the DACA issue, that they've refused to conclude those," Senate Majority Whip John Cornyn (R-Texas) said Wednesday when asked how close leaders are to a spending caps deal.

"There's gonna have to be some agreement on the spending caps, I believe [by Feb. 8], because I am skeptical whether the House in particular will vote for another continuing resolution. That's the dilemma created by our Democratic colleagues," Cornyn added.

Without a solution for Dreamers, Democrats have largely refused to acknowledge that they are making progress on a spending deal. But sources familiar with the talks say the distance between Republicans and Democrats has been narrowing for weeks.

Negotiators have already agreed to a massive boost to the Pentagon's budget. While the figures are still in flux, multiple sources say Congress would raise military spending by at least $70 billion above the caps for fiscal 2018 and $80 billion in fiscal 2019.

That huge increase, much more than the White House's most recent budget request, would deliver assurance to the GOP's long-suffering defense hawks who have grudgingly voted for four short-term funding bills this fiscal year alone.

What remains is how much to spend on domestic programs, including everything from homeland security to the Department of Education.
This doesn't necessarily mean that a deal on a spending bill that would cover government operations through the conclusion of the Fiscal Year in September is imminent, of course. As the linked article goes on to note, there are several questions still left to be resolved regarding domestic spending and related issues. This includes issues such as additional spending for disaster relief for the victims of Hurricanes Harvey, Irma, and Maria as well as other disasters. There is also likely to be some give and take between Republicans and Democrats on cutting sending in some sectors. Finally, Senators must deal with the fact that the sequestration caps placed on discretionary spending are still in place, thus limiting the amount of money available for projects or issues that may be close to the heart of Democrats or Republicans in general or individual members specifically.  In the past, though, it's generally been fairly easy for those issues to be resolved in a way that guarantees that the final product will receive sufficient support in the Senate and House, and of course from the White House, to guarantee that the budget will pass and the government will be funded through September 30th.
What's significant here is the suggestion that Democrats in the Senate are apparently willing to agree to abandon the idea of using the possibility of another government shutdown to force Republicans to do anything with regard to DACA. As I've noted, the commitment they have from Majority Leader McConnell was that a bill regarding DACA and related immigration issues would be brought to the floor for Senate consideration and debate. That process appears to be moving forward on a track independent of the budget negotiations, but there's no guarantee that there will be a bill ready for consideration before February 8th, and most certainly no guarantee that such a bill will pass the Senate and the House and be signed into law by the President. As I've said before, it is quite simply impossible for McConnell or anyone else to make any guarantees of that kind. Thus, the best that the Democrats can ask for is what they've been promised, which is a DACA bill ready for debate and considering by February 8th, forcing a government shutdown if McConnell lives up to his end of the bargain is likely to backfire on them with a public that has already stated that DACA is not an issue worth shutting the government down over.
All of this does present Democrats with something of a dilemma, though. The deal that was reached on Monday has already proven controversial for many on the left who have argued that Senate Minority Leader Chuck Schumer gave up too much and that he should have pressed Republicans for something more. If they really are willing to go ahead with a budget agreement while the status of a DACA bill remains up in the air, then that would likely lead to more consternation on the left even though there doesn't appear to me to be anything more that Senate Democrats can do for the DACA beneficiaries than they've already done. As I've stated, the prospects for an actual DACA deal aren't entirely clear, and that remains true notwithstanding the fact that the President said as recently as yesterday that he would be inclined toward a DACA deal that includes an eventual path to citizenship. While some have taken that as a positive sign, the truth is much more complicated. There's no guarantee that a DACA bill can make it through the House, or that the House and Senate can reconcile the inevitable differences that will likely arise between their proposals. Additionally, as we've seen before, the President cannot be trusted to be consistent with previous statements on this or any other issue. This is already becoming clear today, less than twenty-four hours after Trump talked about a DACA deal with a path toward citizenship. Today, the White House is saying that they would demand significant concessions on immigration from Democrats on immigration. Given all of that, we're still at the point we were on Monday. The government is reopened and a DACA bill will be brought to the floor of the Senate. Beyond that, there are no guarantees at all.