The Path To A DACA Deal Won't Be An Easy One
Getting to a DACA deal isn't going to be easy.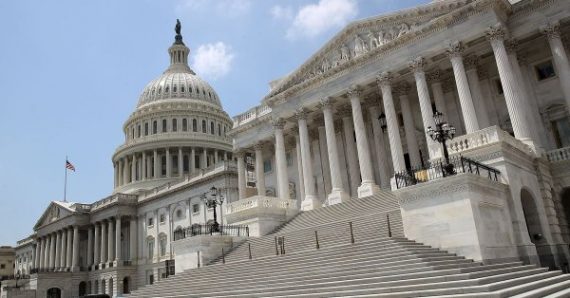 With the government shutdown behind us, attention is now shifting to the immigration debate and the issue of protection for the beneficiaries of the Deferred Action for Childhood Arrivals (DACA) program but it's already becoming apparent that there is an uphill battle ahead:
Senators crashing on a two-week deadline to come up with an immigration plan are already sparring over funding for President Donald Trump's border wall, what qualifies as border security — even what the scope of the negotiations are.

It was an inauspicious start Tuesday to the bipartisan effort to break the months-long impasse over Dreamers and the budget that crescendoed with last weekend's government shutdown. That crisis ended quickly, but Congress could be back in almost the same spot in two weeks absent a deal that can get 60 votes.

The path to 60, though, looks rocky indeed.

Though Senate Majority Leader Mitch McConnell has pledged to take up an immigration bill, what it would look like is anyone's guess. Minority Leader Chuck Schumer (D-N.Y.) revealed Tuesday he yanked his massive earlier offer of $25 billion in wall funding — a move that angered top Republicans and potentially undercut negotiations among a slew of senators trying to craft an immigration plan that can pass.

An initial gang of six senators has casually doubled, but some members aren't deeply versed in immigration policy. The group's leaders say their plan is by far the most developed proposal that can attract Democrats and Republicans, but conservatives with Trump's ear say the administration has no interest negotiating off their bill.

The goal is seemingly straightforward: enshrining the Obama-era Deferred Action for Childhood Arrivals program that protects from deportation young immigrants brought to the country as children, but which Trump decided to end. But the negotiations are anything but simple.

"It won't be easy," said Sen. John Thune of South Dakota, the No. 3 GOP leader. "If it's DACA for border security, that's probably a deal that will get done. If we start adding other elements of the whole immigration debate into it?"

Thune answered his own question: "Narrower gets it done."

Senate Minority Whip Dick Durbin (D-Ill.), a longtime advocate of young undocumented immigrants known as Dreamers, acknowledged: "We're still caught up in this conversation of border security and what is acceptable and what isn't."

Indeed, senators are still largely talking more in terms of process than substance. Just over a dozen senators, led primarily by Lindsey Graham (R-S.C.), on Monday began charting out how the group could begin to reach a Dreamers accord.

The list included senators who had already struck the bipartisan immigration deal vehemently opposed by the White House: Durbin and Graham, as well as Sens. Michael Bennet (D-Colo.), Cory Gardner (R-Colo.) and Jeff Flake (R-Ariz.). Among others who attended were Sens. Jon Tester (D-Mont.), Tim Kaine (D-Va.), Angus King (I-Maine), Gary Peters (D-Mich.), Mike Rounds (R-S.D.), James Lankford (R-Okla.), Jerry Moran (R-Kan.) and Lamar Alexander (R-Tenn.).

The guest list was confirmed by two people familiar with it.

Graham is trying to persuade Durbin and Senate Majority Whip John Cornyn (R-Texas), the respective party whips, to effectively serve as clearinghouses for immigration ideas from both sides.

"I'm trying to create a process where all this bipartisanship has someplace to go," Graham said. "So if Cornyn and Durbin can work together and receive input, they can give us some idea of whether we can get a deal or what a base bill would look like."

Senators are facing a tight deadline. Government funding expires again after Feb. 8, and McConnell has pledged to bring a bill to the floor so as long as the government stays open. Senior Democrats didn't signal much appetite on Tuesday for another shutdown.

Trump has set March 5 as the official date by which DACA permits will begin expiring en masse, though a court decision this month that partially revived the program effectively pushes back that date indefinitely.

Still, Republicans know that, politically, they need to act on immigration before March — a point they repeatedly stressed to skeptical Democrats during the bipartisan meetings convened during the three-day shutdown.

"We were able to get some assurances to them that we really were going to move to DACA," Rounds said. "We were able to explain to them, it's in our own best interest to get beyond the March 5 issue without having problems because politically, we can't allow DACA not to be addressed."

But beyond agreeing on the need to act, there's little consensus on what to do.
On paper at least, the logical deal here would be something along the lines of what Senator Thune suggests above, an agreement to extend DACA and make the protections it provides to people brought here without documentation as children a permanent part of the law combined with some agreement regarding border security that includes funding for the President's border wall. The details of this agreement would need to be worked out, of course, and one can see certain limitations being placed on exactly who is eligible for protection under this expanded version of DACA. For example, it would be likely that the law would exclude people who have committed violent felonies from receiving relief from deportation and benefits such as Permanent Residence and if they choose to apply for it after they become legally eligible to apply for it, citizenship. This is the deal that Senate Minority Leader Chuck Schumer has said he thought he had with President Trump before the shutdown, but the prospects for that deal were dealt a setback yesterday when Schumer revoked his offer on the border wall:
Hopes for a fresh start on immigration slammed into political reality Tuesday as the Senate's top Democrat said he had rescinded an offer to President Trump on a border wall and the White House called an emerging bipartisan compromise "dead on arrival."

Senate Minority Leader Charles E. Schumer (D-N.Y.) said he had withdrawn an offer to Trump of $25 billion for new border security measures in exchange for permanent legal protections for some undocumented immigrants brought to the country as children.

"We're going to have to start on a new basis, and the wall offer's off the table," Schumer told reporters. He said his proposal had applied only to a deal that was never realized.

News of his decision came as Schumer is facing a backlash from liberals that he had been too accommodating to the president.

Late Tuesday night, Trump reiterated that "if there is no Wall, there is no DACA."

In a message on Twitter, the president said: "Cryin' Chuck Schumer fully understands, especially after his humiliating defeat, that if there is no Wall, there is no DACA. We must have safety and security, together with a strong Military, for our great people!"

Trump repeatedly promised during the 2016 campaign that he would build a border wall that Mexico would finance. Democrats and some Republicans have balked at the administration's request of $18 billion to pay for it.

Schumer made the proposal in a major concession to Trump on Friday in a private meeting at the White House, then pulled it back Sunday night, according to a person familiar with the meeting. Schumer acknowledged Tuesday that the offer was no longer operable.

At the White House, the administration said Tuesday that it expects Congress to move beyond a bipartisan deal to protect the undocumented immigrants that the president rejected during a vulgar exchange with lawmakers nearly two weeks ago.

"It's totally unacceptable to the president and should be declared dead on arrival," press secretary Sarah Huckabee Sanders said during a White House news briefing of a plan being crafted by Sens. Lindsey O. Graham (R-S.C.) and Richard J. Durbin (D-Ill.).

She said their plan, not yet written into formal legislation, would not sufficiently secure the border and would increase legal family-based immigration, a practice that conservatives are hoping to curb to dissuade migrants from entering the country.

The partisan sniping came only a day after lawmakers struck a bipartisan deal to end the three-day government shutdown with the promise to move forward on immigration. The disputes underscored the difficulty all sides face in trying to compromise on the issue while answering to party political bases that are far apart on immigration.

Schumer's decision to withdraw the border wall offer drew rebukes from Republicans, who accused him and Democrats of not taking ongoing talks seriously. And the move once again exposed divisions among Democratic lawmakers, who support permanent legal protections for the undocumented immigrants but cannot agree on how to compromise with Republicans on a deal.
Trump responded to Schumer last night with a tweet saying that there can be no deal on DACA without funding for the border wall:
Cryin' Chuck Schumer fully understands, especially after his humiliating defeat, that if there is no Wall, there is no DACA. We must have safety and security, together with a strong Military, for our great people!

— Donald J. Trump (@realDonaldTrump) January 24, 2018
It's possible, indeed probable, that Schumer's decision to withdraw his offer on border wall funding is simply a negotiating tool and that it could still be possible to put that idea back on the table as we go forward with negotiations on a DACA bill in the Senate. This is especially true given the fact that a DACA bill that doesn't address the wall and border security is unlikely to pass the House and could potentially face a Presidential veto if it made it to the White House. Schumer no doubt recognizes the fact that if Democrats are going to get a deal on a DACA bill that actually has a chance of passing they are going to give up something with regard to the wall and border security. His decision to take it off the table now, then, shouldn't necessarily be taken as a sign that it is off the table forever.  If that were the case, then we might as well fold up the tents now and move on, because it's hard to see how the Senate and House can get to yes on a DACA bill if it doesn't include those items. By withdrawing his offer for now, though, Schumer is likely trying to maximize his bargaining position going forward. Nonetheless, it is a good demonstration of just how difficult it is going to be to get a deal in the Senate.
Of course, even if the Senate is able to get to a deal that doesn't mean that the deal is done by any means. In addition to having to ensure that any deal that would be reached is one that the President is willing to sign on to, a DACA bill would also have to be approved by the House of Representatives.
In some respects, it's possible that a deal that President Trump approves of would pass the House easily, but even that isn't necessarily clear. For one thing, as we've learned over the past year it's virtually impossible to pin the President down on what he actually believes or what he will agree to vis a vis a specific piece of legislation. More than once over the past year, Trump has seemed to agree with a position and then back away from it. This happened with regard to the House effort to 'repeal and replace' Obamacare when he hailed the passage of the House Bill in the White House Rose Garden only to turn around an call that same bill "mean" just a few days later. It also happened just this month with regard to a DACA deal and was one of the factors that led to the weekend's shutdown. As Schumer put it over the weekend, negotiating with the President is like negotiating with Jello. Given that, the fact that the President says he agrees to something doesn't really mean much of anything.
With regard to the House, the path ahead isn't any easier. It seems clear, though, that any bill that would be able to get to the floor there would need to address at least the wall and border security along with DACA. Some members are also suggesting that the bill should address more complicated issues regarding the current immigration system such as the provisions that allow people here legally to sponsor family members and help them attain legal status as well as the so-called "visa lottery." As Senator Thune notes in the article above, though, the more that gets added to a bill the harder it's going to be for a bill that can pass both chambers to pass.
All of this will be happening, of course, with the prospect of another shutdown looming on February 8th when the current Continuing Resolution expires, and at that point, everyone is going to have a choice to make. As I noted when the deal was struck Monday night and in my post, yesterday regarding blowback from the left to what some perceive as a "cave" by Senate Democrats, continued negotiation on a deal would seem to be contingent on the government remaining open past February 8th if necessary. This would require Democrats to give up a powerful negotiating tool, though, and how they act when the deadline approaches is likely to depend on the progress that's been made on a deal in the Senate. It's also unclear if Democratic Senators up for re-election in red states would be eager to get behind another shutdown regardless of the circumstances given the fact that polling has shown that the public does not want to see the budget being held hostage over an unrelated issue such as DACA. If we end up with another shutdown, that could scuttle negotiations yet again and leave the possibility of getting a deal on DACA even more remote than it may already be.
As they say, stay tuned.