Ranting On Twitter, Trump Says "No More DACA Deal"
In a bizarre Twitter rant, President Trump declared a DACA deal "dead," blaming Democrats when it's clear that it's largely his fault.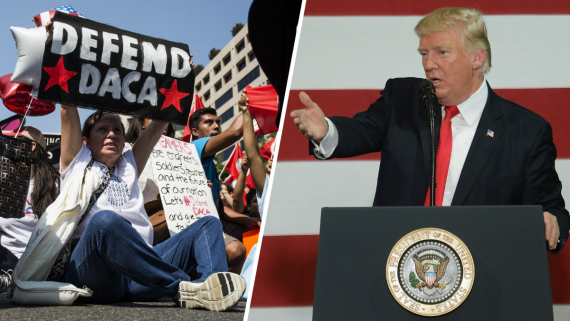 President Trump spent at least part of Easter morning ranting on Twitter about immigration and Mexico and apparently saying that any kind of deal to save President Obama's Deferred Action for Childhood Arrivals (DACA) is off the table:
PALM BEACH, Fla. — President Trump, blaming Democrats and the Mexican government for an increasingly "dangerous" flow of illegal immigrants, unleashed a series of fiery tweets on Sunday in which he vowed "NO MORE DACA DEAL" and threatened to walk away from the North American Free Trade Agreement.

Minutes after wishing the nation a happy Easter Sunday, Mr. Trump denounced "liberal" laws that he said were preventing Border Patrol agents from doing their jobs. He said that Republicans should use the "nuclear option" to sidestep Democratic opposition in the Senate and enact "tough laws NOW."

It was unclear whether the president's tweets represented any change in his immigration policy, or were just the sort of venting he is known to do after reading a newspaper article or seeing a television program. The president, who spent much of his holiday weekend golfing with supporters and watching television, was apparently reacting to a "Fox and Friends" segment on immigration that had aired minutes before.

Whatever his intention, Mr. Trump's Twitter outburst captured the fickle tendencies that have driven his policy positions on immigration. On one hand, he has suggested at times that he is open to extending citizenship to millions of undocumented people. On the other hand, he has denounced those who have entered the country illegally as brutal criminals and raged about lax enforcement that he said had allowed immigrants to pour into the country.

In his tweets, Mr. Trump referred to "caravans" of immigrants heading north toward the United States-Mexico border — a subject that was addressed on the Fox program. A group of hundreds of Central Americans has been traveling through Mexico toward the United States, where some hope to seek asylum or sneak across the border. A reporter for BuzzFeed has been traveling with the group as it makes its way north.

As he walked into church in Palm Beach on Sunday morning, Mr. Trump did not respond to a question from reporters about whether his tweets meant that he would no longer support any deal for the young immigrants protected by the DACA program. But he said that "Mexico has got to help us at the border, and a lot of people are coming in because they want to take advantage of DACA."

The Deferred Action for Childhood Arrivals program, known as DACA, gave protected status to hundreds of thousands of young immigrants brought to the country illegally as children. The program requires immigrants to have resided in the United States since 2007, meaning any crossing the border now would not be eligible.

Mr. Trump announced last year that he was ending the program, but courts have blocked his decision. He has said he is open to negotiating with Democrats on it, but has repeatedly backed away from potential deals that he argues do not include immigration changes that are tough enough.

Outside the church on Sunday, the president said the Democrats "blew it" after having "had a great chance."

"But we'll have to take a look," he added.

Several Democrats challenged the idea that they were at fault for a breakdown in negotiations.

"'NO MORE DACA DEAL'?!!" Representative Keith Ellison of Minnesota wrote on Twitter. "You were never doing a DACA deal. Your actions gave you away: cancelling DACA with no plan, making racist comments about Black/Brown immigrants, ejecting several by bipartisan deals. You didn't fool anybody."

Representative Dwight Evans, Democrat of Pennsylvania, said on Twitter that DACA recipients were "students, military service members, teachers, scientists, doctors, and lawyers — they are integral members of our community."

Mr. Evans said the president's comments were "simply unacceptable."

The president's remarks also drew a rebuke from a high-profile member of his own party. Gov. John Kasich of Ohio wrote on Twitter: "A true leader preserves & offers hope, doesn't take hope from innocent children who call America home."

Mr. Trump directed an equal measure of anger at Mexico, saying the country was "doing very little, if not NOTHING, at stopping people from flowing into Mexico through their Southern Border, and then into the U.S." He said Mexican leaders "must stop the big drug and people flows, or I will stop their cash cow, NAFTA."

It was far from the first time that Mr. Trump has threatened to scrap Nafta as he pushes to change American trade policiesthat he says have hurt the United States economy and cost the country large numbers of jobs. The United States, Mexico and Canada are locked in difficult negotiations over a revamping of the trade pact.

The president's tweets seemed at odds with some unifying steps taken last week by members of his administration: The homeland security secretary, Kirstjen Nielsen, met with President Enrique Peña Nieto of Mexico to discuss ways to work together on security and trade issues, according to a description of the conversation released by the Department of Homeland Security.
Here's the barrage of tweets that we saw from the President just about two hours after he had wished the nation a "Happy Easter":
Border Patrol Agents are not allowed to properly do their job at the Border because of ridiculous liberal (Democrat) laws like Catch & Release. Getting more dangerous. "Caravans" coming. Republicans must go to Nuclear Option to pass tough laws NOW. NO MORE DACA DEAL!

— Donald J. Trump (@realDonaldTrump) April 1, 2018
Mexico is doing very little, if not NOTHING, at stopping people from flowing into Mexico through their Southern Border, and then into the U.S. They laugh at our dumb immigration laws. They must stop the big drug and people flows, or I will stop their cash cow, NAFTA. NEED WALL!

— Donald J. Trump (@realDonaldTrump) April 1, 2018
These big flows of people are all trying to take advantage of DACA. They want in on the act!

— Donald J. Trump (@realDonaldTrump) April 1, 2018
And the rant picked up again this morning:
Mexico has the absolute power not to let these large "Caravans" of people enter their country. They must stop them at their Northern Border, which they can do because their border laws work, not allow them to pass through into our country, which has no effective border laws…..

— Donald J. Trump (@realDonaldTrump) April 2, 2018
…Congress must immediately pass Border Legislation, use Nuclear Option if necessary, to stop the massive inflow of Drugs and People. Border Patrol Agents (and ICE) are GREAT, but the weak Dem laws don't allow them to do their job. Act now Congress, our country is being stolen!

— Donald J. Trump (@realDonaldTrump) April 2, 2018
DACA is dead because the Democrats didn't care or act, and now everyone wants to get onto the DACA bandwagon… No longer works. Must build Wall and secure our borders with proper Border legislation. Democrats want No Borders, hence drugs and crime!

— Donald J. Trump (@realDonaldTrump) April 2, 2018
At least in part, the President's tweetstorm appears to be motivated by reports that began to surface over the weekend of a large number of Central American refugees, principally coming from Honduras, that have made their way in big and small groups in an effort to reach the Mexican border with the United States. This influx into Mexico is similar to one that we saw several years ago that included many young people traveling alone who were sent off by the parents in the hope that they would be allowed to stay in the United States. For the most part, these groups tried to cross into the United States at recognized border crossings where many of them claimed to be seeking asylum. At the time, the Obama Administration made clear that these groups would not be permitted to simply enter the United States just by claiming asylum or some other protection and that most of them would either be returned to their home countries or held in ICE detention until their cases were adjudicated. In any case, neither the people who arrived via that original "caravan" nor the group apparently headed to the U.S.-Mexican border today would be eligible for DACA or any other similar program, especially since the President's announcement in September means that no new applications under the program are even being accepted.
Given that yesterday was both a Sunday and a holiday, there was no comment from the White House about the President's remarks. Perhaps that will come later today but at the very least the remarks left many observers confused as to where the President stood on DACA and any legislative effort to fix the program and provide protection to the people who fall under its purview. For months after announcing the end of the DACA program back in September, Trump said that he wanted Congress to come up with a solution to the problem. In reality, though, it was President Trump who chose to end the DACA program back in September, and it is President Trump has done everything possible to undermine Congressional efforts to fix the program, and virtually guaranteed that there will be no legislative fix this year if ever.
Back in January, for example, the President held a bipartisan meeting at the White House during which he said that he would sign into law virtually anything that Congress could pass related to protecting DACA beneficiaries. Based on that commitment, Senators Lindsey Graham and Dick Durbin came up with a deal that extended DACA protections, provided funding for border security although not necessarily for Trump's border wall, ended the visa lottery, and introduced some limitations on what Trump and many Republicans call "chain migration," by which they mean laws which allow people in the country legally to sponsor even some distant family members for legal entry to the United States. When that deal was presented to the President, though, he immediately dismissed it in an Oval Office tirade that included his infamous reference to so-called "shithole countries" as a source for immigrants. Finally, shortly before the shutdown last month, Senate Minority Leader Chuck Schumer met with Trump and believed he had reached a deal with the President that would have extended DACA in exchange for partial funding for the President's beloved border wall. When Trump pulled the rug out from under Schumer, Democrats blocked passage of a budget bill in the Senate and forced the short shutdown that lasted about two and a half days.
After that shutdown, there was at least some hope that a DACA deal could be reached, but again, it was Trump and Republicans in the House and Senate who torpedoed any prospect of a deal, not Democrats. While a bipartisan group of Senators did come up with a proposal that seemed like it at least had a chance of passing the Senate, the White House took a hardline position by threatening to veto any proposal that didn't match the outline of what had been proposed by the President in January and members of the Administration and representatives of the Department of Homeland Security, which oversees enforcement of the nation's immigration law, were bad-mouthing the competing plans even before they were formally introduced. Over in the House, hardliners were basically saying that nothing that the Senate was considering, including the President's own proposal, would get through that body, principally over the issue of allowing people who benefited from protection under those proposals a path to eventual citizenship. In the end, and in no small part because of the opposition from the White House and the position being taken by House Republicans, that proposal and three other proposals put forward in the Senate were rejected and, ever since then, there's been no real progress at all toward a resolution of the DACA issue.
Notwithstanding the facts, the President appears to be saying that it's the Democrats fault that a DACA deal is apparently now off the table. While this may play well with Trump's base, it doesn't comport with reality in even the slightest degree.