Trump Appears To Make Concessions On A DACA Deal, Then The White House Pulls Them Back
Less than a day after the President appeared to make a major concession regarding DACA, the White House has thrown a monkey wrench into the whole process.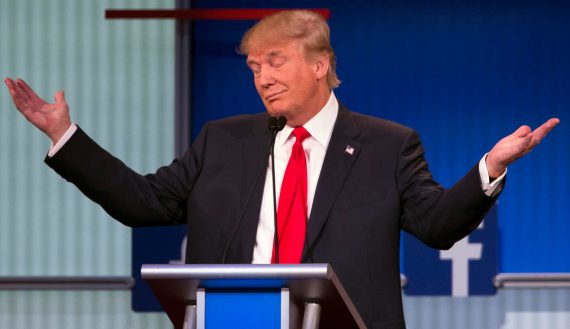 As I noted in my earlier post, yesterday President Trump appeared to make a significant concession with regard to the Deferred Action for Childhood Arrivals (DACA) issue when he said that he'd be willing to accept a DACA deal that included a path to citizenship. Today, the White House made clear that there's much more to what the White House will demand in exchange for a deal on DACA, and it may be more than Democrats are willing to pay:
WASHINGTON — The White House is about to formally offer Democrats what it hopes will be an excruciating choice.

If Democrats want permanent relief for young immigrants brought to the United States illegally as children, including President Trump's promise of eventual citizenship, they will have to accept a massive border wall and strict policies designed to block low-skilled immigrants from joining their families in America.

The legislative strategy is set to be released publicly on Monday. It is designed to exert maximum pressure on Democrats, who are desperate to protect the young immigrants, known as Dreamers, but who fiercely oppose the conservative immigration policies embraced by hard-line, anti-immigration activists like Stephen Miller, the president's top domestic policy adviser in the White House.

But the strategy would work only if the Senate fails to reach a broad, bipartisan accord on an alternative: legislation that would protect the Dreamers, bolster border security, but reject the most draconian aspects of the White House's proposal. If such legislation, now being negotiated, can win a strong majority in the Senate, it might be Mr. Trump who has the tough choice.

"This is a negotiation," said Senator Lindsey Graham, Republican of South Carolina. "I welcome White House input."

Mr. Trump's impromptu comments on Wednesday night, when he said he was open to allowing some of the young immigrants to become citizens in 10 to 12 years, were quickly followed on Thursday morning by a White House email warning of a flood of immigrants into the country and demanding an end to policies that allow families to sponsor the immigration of their immediate relatives.

And even as Mr. Trump was offering reassuring words to the Dreamers — "tell them not to worry," he told reporters Wednesday evening — senior White House officials were emphasizing the more hard-line features of their forthcoming immigration proposal.

One senior official said the Dreamers would be given legal status so long as they were productive, law-abiding members of American society. The official said a path to citizenship was only a discussion point and would only be available to about 690,000 young immigrants who signed up for legal protections under an Obama-era program known as Deferred Action for Childhood Arrivals, or DACA. Legal status would not be extended to those who were eligible for the program but failed to register, the official said.

Taken together, the dual messages from the White House are a clear outline of the administration's endgame as Congress struggles to reach a compromise before the expiration on March 5 of the DACA program. In September, Mr. Trump ended the program and set it to expire at the beginning of March, when recipients would no longer be able to work legally in the United States and would once again face the threat of deportation.

But Democratic lawmakers and activists are vowing to resist the president's trap. They say they will refuse to accept any proposal that requires them to forsake the well-being of other immigrants, including the parents of the Dreamers, to secure the fate of the young immigrants themselves.

"We will oppose it. Most if not all Democrats will oppose it. Some Republicans will, too," said Frank Sharry, the executive director of America's Voice, a pro-immigration group. "We are not going to allow Stephen Miller to exploit a crisis that he and his boss created to take a wrecking ball to the Statue of Liberty and enact his nativist wish list."
This latest announcement from the White House is, of course, further evidence that putting any trust in the things that this President says regarding trust is a mistake. More than once he has said one thing on one day only to turn around and say something entirely different within a short time thereafter. Last year, for example, Trump declared victory in the White House Rose Garden when the House passed a health care reform bill only to turn around can call it "mean" a month later. It also happened the week before the shutdown when he held a bipartisan meeting with Members of Congress and the Senate in which he essentially told them to go back and come up with a proposal to fix the DACA issue and stated that he would sign whatever they came up with. Within a matter of days, Senators Lindsey Graham and Dick Durbin had come up with just such a proposal that appeared to have broad bipartisan support. When they went to the White House to present that plan to the President, though, they found their proposal being rebuffed. This is the same meeting at which the President made his now infamous comments about immigrants from "shithole" countries. It was at that point, that things in the Senate started going downhill and led to the shutdown that ended on Monday. As Senate Majority Leader Chuck Schumer put it over the weekend, negotiating with this President is like negotiating with Jello. Even when he makes a clear and unequivocal statement on what he might accept in legislation, it's become inevitable that the White House or Trump himself will walk it back.
All of this comes even as the Senate is working on a DACA deal that won't be easy to pass to begin with, and it's bound to complicate matters. As I've noted, while it may be likely that there will be a bill to extend DACA brought to the Senate floor before February 8th as Senate Majority Leader Mitch McConnell has promised, there's no guarantee that such a bill will pass or that it will pass in a form acceptable to the parties who are most vehement in pushing for relief for DACA beneficiaries. There's also no guarantee that it will pass the House and now no guarantee that it will satisfy the President. Supposedly, we're going to get some guidance on this on Monday when the White House is supposed to release the details of its own immigration proposal. If the news today is any indication, though, those details are likely to prove to be quite unpalatable to Democrats and Republicans who are eager to reach a deal on DACA. As I've already made clear, the path to a DACA deal is already a tough one.  The White House just made it tougher.