Trump Derides Immigration From 'Shithole' Countries
Once again, President Trump opens his mouth and proceeds to insult a good part of the world while embarrassing the country.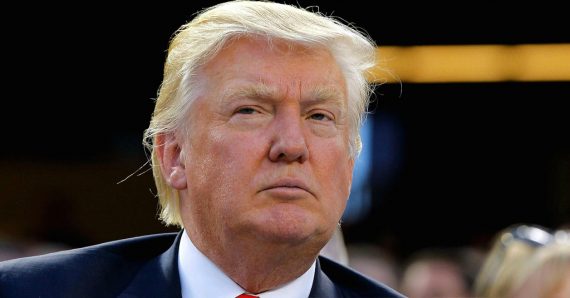 Late yesterday, The Washington Post reported that President Trump responded to a proposed solution to the extension of the DACA program by making what can only be called a disparaging racist remark about immigrants from Africa and other parts of the world:
President Trump grew frustrated with lawmakers Thursday in the Oval Office when they discussed protecting immigrants from Haiti, El Salvador and African countries as part of a bipartisan immigration deal, according to several people briefed on the meeting.

"Why are we having all these people from shithole countries come here?" Trump said, according to these people, referring to countries mentioned by the lawmakers.

Trump then suggested that the United States should instead bring more people from countries such as Norway, whose prime minister he met with Wednesday. The president, according to a White House official, also suggested he would be open to more immigrants from Asian countries because he felt that they help the United States economically.

In addition, the president singled out Haiti, telling lawmakers that immigrants from that country must be left out of any deal, these people said.

"Why do we need more Haitians?" Trump said, according to people familiar with the meeting. "Take them out."

In November, the Trump administration rescinded deportation protection granted to nearly 60,000 Haitians after the 2010 earthquake and told them to return home by July 2019.

Lawmakers were taken aback by the comments, according to people familiar with their reactions. Sens. Lindsey O. Graham (R-S.C.) and Richard J. Durbin (D-Ill.) had proposed cutting the visa lottery program by 50 percent and then prioritizing countries already in the system, a White House official said.

A White House spokesman defended Trump's position on immigration without directly addressing his remarks. White House officials did not dispute the account.

"Certain Washington politicians choose to fight for foreign countries, but President Trump will always fight for the American people," spokesman Raj Shah said in a statement issued after The Washington Post first reported Trump's remarks. ". . . Like other nations that have merit-based immigration, President Trump is fighting for permanent solutions that make our country stronger by welcoming those who can contribute to our society, grow our economy and assimilate into our great nation."

Trump built his candidacy and presidency around hard stances on immigration, vowing to build a wall along the Mexican border and cut legal immigration by half, among other positions. Officials at the Department of Homeland Security have increased immigration raids, including dozens this week at convenience stores across the country.

Trump's comments Thursday also put further scrutiny on his long-standing tendency to make racially charged remarks — including attacks on protesting black athletes and his claim that there were fine people "on both sides" after neo-Nazis rioted in Charlottesville, Va. Trump falsely claimed for years that Barack Obama was not born in the United States and took out advertisements calling for the death penalty for members of the Central Park Five — four black youths and a Hispanic youth who were accused of a brutal rape in New York and later exonerated.

The president's remarks were quickly met with scorn from Demo­crats and some Republicans and could throw another wrench into bipartisan discussions on immigration, which had shown promise in recent days, according to legislators.

Rep. Luis Gutiérrez (D-Ill.) said the comments "will shake the confidence that people have" in the ongoing immigration policy talks.

"Democrats and Republicans in the Senate made a proposal. The answer is this racist outburst of the president. How can you take him seriously?" Gutiérrez said. "They [Republicans] don't believe in immigration — it's always been about people of color and keeping them out of this country."

Rep. Cedric L. Richmond (D-La.), chairman of the Congressional Black Caucus, said on Twitter that Trump's remarks "are further proof that his Make America Great Again Agenda is really a Make America White Again agenda."

Some Republicans also raised objections. Rep. Mia Love (R-Utah), whose family is from Haiti, said in a statement that Trump's remarks were "unkind, divisive, elitist, and fly in the face of our nation's values. This behavior is unacceptable from the leader of our nation."

"My grandmother used to say, 'Digame con quién caminas, y te diré quién eres.' 'Tell me who you walk with, and I'll tell you who you are,' " said Rep. Adriano Espaillat (D-N.Y.), who represents most of Harlem and is an immigrant from the Dominican Republic, which shares the island of Hispaniola with Haiti. "If he's walking around with white supremacists and supporting them, this kind of talk doesn't surprise me."

The New York Times also reported last year that Trump said immigrants from Haiti have AIDS. The White House denied that report.
In its initial responses to the report of the President's remarks last night, the White House did not deny that the President used the words he was reported to have used regarding immigrants from Africa and elsewhere. This morning in a series of tweets, though, President Trump did appear to deny that he had made the comments in question without directly addressing them notwithstanding the fact that the Post reporter who broke the story said that they stood by their reporting. Additionally, Illinois Senator Dick Durbin, who was one of the participants in the White House meeting at which the remarks were made, went on the record this morning to confirm that the President said what the Post reported and that the report was an accurate reflection of what the President said and that at least two people at the meeting, including both himself and Senator Lindsey Graham, spoke up against what the President had said to his face. So far, though, there's been no comment from Senator Graham or any of the other participants in the meeting about yesterday's report. Given Durbin's confirmation, though, which we have no reason to disbelieve, it seems clear that the President did indeed say what has been attributed to him. On other fronts, some Republicans, such as Arizona Senator Jeff Flake, Utah Congresswoman Mia Love and Virginia Congresswoman Barbara Comstock, have issued statements condemning the President's remarks.
There really is no way to tidy up what the President said here, Contrary to what the White House claims, this is not merely some commentary on so-called "chain migration" and a call for an immigration policy that emphasizes skills over family ties. That is a policy position that might at least arguably be defensible and worthy of being debated. What Trump said was simultaneously un-American and racist, and they deserve to be widely and proudly condemned by Republicans and Democrats alike. They are un-American because they go against everything that this country has stood for when it comes to immigration and what it means to be an American. Indeed, at one point or another pretty much everyone living in the United  States can find someone in their family tree who came to this country from what was likely considered at the time to be a "shithole" country. This was true of Irish immigrants, and Italians, of the German immigrants that included Trump's own family on his father's side, and from people such as my Great Grandparents who came here from Eastern Europe in the 1870s and 1880s. They all came here for the same reason, to build a better life for themselves, their families, and for future generations. In many cases, these immigrants faced some of the same hostilities and attacks that immigrants face today. Just as is the case today, though, they persevered and have gone on to contribute to the country in immeasurably good ways. The fact that Trump attacked people who are coming to this country for basically the same reasons demonstrates how little he understands about American history and what it means to be an American, and how little he actually appreciates the nation that he purports to lead.
The racism apparent in the  President's remarks is also plain to see for all but the most deluded of his supporters. The fact that he singles out nations such as Africa and Haiti, and according to some reports El Salvador, as being "shithole" countries while bizarrely asking why we couldn't bring in more immigrants from a country like Norway speaks for itself. It stands alongside other remarks he has made since he became a candidate about Mexicans, Muslims, and other persons of color, and the praise he has spoken for the "very fine people" who participated in a racist march in Charlottesville, Virginia that resulted in the death of a young woman at the hands of a white supremacist.  From all of this one can only conclude that the President not only panders to racists but that he holds some of these same beliefs himself. Given his history, this doesn't come entirely as a surprise, of course, but the fact that so many people seem willing to overlook it for political reasons is both surprising and dismaying. In normal times, comments like this would have been roundly condemned by people on both sides of the aisle. Instead, outside of a few notable exceptions, we are seeing people on the right who are actually defending the President's remarks and acting as if they aren't significant at all. These people are the ones who empower Trump and the base that energizes him, and unless and until they stop doing so they will continue to be part of the problem.