After A Year Of Unparalleled Divisiveness, Trump Tries To Sell Unity At State Of The Union
The President talked about national unity last night, but given his own rhetoric as a candidate and as a President, it's a call that seems to be hypocritical.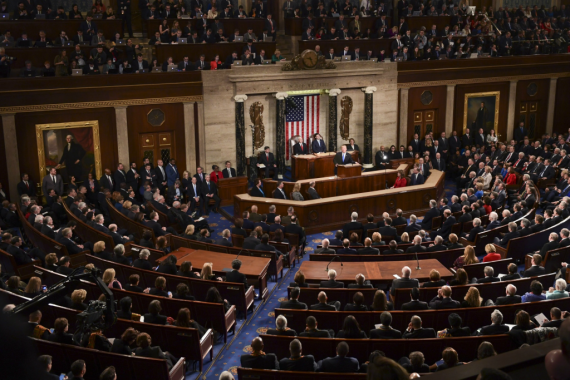 After presiding over one of the most divisive and controversial first years in office of any recent American President, President Donald Trump spent much of his first State Of The Union Address last night trying to strike a conciliatory tone, but as is always the case with this President, the devil is in the details:
WASHINGTON — President Trump challenged Democrats on Tuesday night to join him in overhauling immigration policies and in rebuilding the nation's infrastructure in his first State of the Union address.

Speaking to a joint session of Congress, Mr. Trump hailed what he called the "extraordinary success" of his administration's first year, and largely steered clear of the nationalist rhetoric, political attacks and confrontational tone that have been his calling cards both as a candidate and as a commander in chief.

"Tonight, I call upon all of us to set aside our differences, to seek out common ground and to summon the unity we need to deliver for the people," Mr. Trump said to raucous applause from many Republicans, as Democratic leaders who have bitterly criticized his policies and messaging sat stone-faced in their seats.

"This, in fact, is our new American moment," Mr. Trump said. "There has never been a better time to start living the American dream."

In an address remarkably devoid of new policies, Mr. Trump instead recited what he described as his greatest accomplishments and laid out an improbable agenda for a Congress facing midterm elections in the fall.

He said he would bring Republicans and Democrats together around a $1.5 trillion infrastructure plan to "give us the safe, fast, reliable and modern infrastructure our economy needs and our people deserve." And he dared Democrats to reject what he called a "down-the-middle compromise" on immigration where "nobody gets everything they want, but where our country gets the critical reforms it needs."

"For over 30 years, Washington has tried and failed to solve this problem," Mr. Trump declared. "This Congress can be the one that finally makes it happen."

The president avoided the most controversial elements of his presidency, saying nothing about the investigations into Russian interference in the 2016 election and whether Mr. Trump or his associates helped the effort or obstructed justice.

The president did not acknowledge the "Me Too" movement of women speaking out against sexual harassment and assault. He also left out some standard grievances. He did not renew his threats to crack down on so-called sanctuary cities that decline to work with federal immigration authorities, nor did he devote much time to promising to rip up trade agreements.

Democrats in the chamber spent much of the speech refraining from applause, scowling at his boasts, and at one point hissing in disapproval at his proposal for restricting the number of family members immigrants can bring to the United States. As he took the dais at the Capitol, Mr. Trump had the weakest approval rating of any president of the modern era entering his second year in office, with 37 percent of Americans approving of his performance in the job.

But Mr. Trump stepped behind the lectern still popular with his most ardent supporters, who see him as an unpredictable and entertaining commander in chief who posts vitriol on Twitter against the advice of the White House staff, the Republican leadership and those closest to him.

Mr. Trump built his speech around the theme of heroes, using the stories of ordinary people who had overcome extraordinary challenges — a police officer who adopted the child of a heroin-addicted mother, an Army staff sergeant who won the Bronze Star while fighting in Syria, a North Korean defector who now rescues other defectors — to argue that "the state of our union is strong because our people are strong."

Most presidents have made sure that there is a choreographed rollout of political messages and policy prescriptions before a State of the Union address. But Mr. Trump's past week has been consumed by the revelation that he sought last year to fire Robert S. Mueller III, the special counsel leading a Russia investigation, and by the abrupt departure of the F.B.I. deputy director, Andrew G. McCabe, whom the president had railed against as politically corrupt.

At the same time, Republicans are pushing to make public a classified memo that they say shows a politically driven effort by the F.B.I. and the Justice Department to malign Mr. Trump with manufactured allegations of links to Moscow. Democrats say the memo is a set of cherry-picked facts to distort the origins of the Russia investigation and undermine the inquiry. On his way out of the chamber, Mr. Trump could be heard reassuring a Republican congressman that he supports the release of the memo "100 percent."

Presidents historically use the annual State of the Union address to tout the successes of their administrations. Mr. Trump went even further, using his time in the spotlight to describe what he views as his major successes during his first year in office: job growth, the confirmation of Neil M. Gorsuch to the Supreme Court, the rollback of regulations, a $1.5 trillion tax cut, the defeat of the Islamic State in Iraq and Syria and historic gains in the stock market.

"Just as I promised the American people from this podium 11 months ago, we enacted the biggest tax cuts and reform in American history," Mr. Trump said.

Mr. Trump delivered his roughly 80-minute speech — the longest since President Bill Clinton in 2000 — almost verbatim from a teleprompter, staying uncharacteristically faithful to his prepared script as he paused for ovations, savoring an opportunity to promote his agenda and reaching for lofty statements about the strength of what he called "one American family."

Yet similar rhetoric by Mr. Trump has not lasted long. When he addressed a joint session of Congress weeks after his inauguration last year, Mr. Trump called for an end to "trivial fights." Days later, he was on Twitter charging that President Barack Obama had tapped his phones in Trump Tower.
More from The Washington Post:
President Trump, whose first year in office saw near-constant turmoil and division, claimed Tuesday that he has ushered in an ebullient "new American moment" and issued a summons for "the unity we need to deliver for the people we were elected to serve."

The conciliatory tone of Trump's first State of the Union address was sharply at odds with the combative manner in which he has conducted his presidency — and with the tension evident between Republicans and Democrats in the Capitol, where he spoke.

"Over the last year, we have made incredible progress and achieved extraordinary success," Trump said. ". . . Through it all, we have seen the beauty of America's soul and the steel in America's spine."

The president set an ambitious agenda for his second year in office, from a $1.5 trillion plan to rebuild the nation's crumbling infrastructure to a four-pronged immigration package to a pledge to reduce prescription drug prices. His one-hour, 20-minute speech was the longest since Bill Clinton's State of the Union address in 2000.

The president laid out details of his immigration package, offering citizenship for undocumented immigrants brought to the United States as children, who are known as "dreamers," in return for increased spending on border security, including for his promised wall at Mexico's border; an end to the visa lottery; and limits on family reunification policies.

Trump used some of his most polarizing language when lamenting crime from MS-13 and other gangs, which he blamed on "open borders." He sought to repurpose the term "dreamer" by saying American citizens have seen their economic prospects dimmed and personal safety put at risk because of illegal immigration.

"The United States is a compassionate nation," he said. ". . . But as president of the United States, my highest loyalty, my greatest compassion and my constant concern is for America's children, America's struggling workers and America's forgotten communities." He added, in an apparent contrast with undocumented immigrants, "Americans are dreamers, too."

Trump has set a March deadline to end the Obama-era Deferred Action for Childhood Arrivals program, which has protected those who applied from deportation, and lawmakers are scrambling to come up with an alternative that can survive the political crosscurrents of both chambers.

The speech came at a crucial moment when the president faces a number of challenges: historically bad approval ratings for a chief executive at this point in his term, an investigation of Russian meddling in the 2016 election hanging over his administration and midterm elections ahead in which Democrats are expected to make significant gains in Congress.

(…)

While Republicans cheered throughout, Democrats sat stonily. When Trump said the unemployment rate among African Americans was at a record low, for example, members of the Congressional Black Caucus refrained from applauding.

To give their official response, Democratic leaders picked third-term Rep. Joe Kennedy (Mass.), who marks the third generation of the Kennedy clan to serve in Congress. He spoke from a technical-school auto shop in Fall River, Mass.

"It would be easy to dismiss the past year as chaos, partisanship, politics," Kennedy said. "But it's far bigger than that. This administration isn't just targeting the laws that protect us — they are targeting the very idea that we are all worthy of protection."

Other Democrats said Trump was particularly divisive in his discussion of immigrants and in tying them to crime. "If you were hoping for a unifying speech tonight, you got the opposite," said Sen. Chris Murphy (D-Conn.). "Between the long victory lap with Republicans over tax reform to the over-the-top demonization of immigrants, President Trump picked at pretty much every political scab that exists in Washington today."

Trump made only passing reference to the devastation in Puerto Rico from Hurricane Maria, the federal government's response to which has been widely criticized as inadequate and slow.

Trump turned even more than presidents typically do to the stories of guests, seated in the gallery box of first lady Melania Trump, to put human faces on his policies and build the narrative arc of his speech. A president so often preoccupied with self-adulation shone the spotlight on ordinary citizens.

"It is the people who are making America great again," he said, playing on his 2016 campaign slogan.

Near the end of the speech, as he talked about the nuclear threat of North Korea — which has escalated under his watch amid heated rhetoric — Trump singled out the tragedy of Otto Warmbier, the University of Virginia student who was detained in North Korea and died just after returning home to the United States. In one of the evening's emotional high points, Trump singled out Warmbier's parents, who sat teary-eyed in the gallery, as "powerful witnesses to a menace that threatens our world."

Though he did not use "Little Rocket Man," his provocative nickname for North Korean leader Kim Jong Un, he spoke with toughness and resolve about the threat across the Pacific.

"We need only look at the depraved character of the North Korean regime to understand the nature of the nuclear threat it could pose to America and to our allies," he said.

Trump did not mention the Russia investigation, which is reaching a critical point that could include the president being called in for an interview with special counsel Robert S. Mueller III's team.
Although I did read the transcript of the speech this morning before starting to write this post, I admittedly did not watch last night's speech so I can't speak to how Trump's words came across on television or in the House Chamber. Based on the reactions I'm reading and hearing since I woke up this morning, though, and the excerpts that have been shown on the various news network morning shows, it appears that things went about as I expected. As has been the case in the past when he basically stuck to the script of the speech as it rolled across the teleprompter, the Trump that showed up last night was not the Donald Trump we see at campaign rallies or on Twitter. Instead, he came across as relatively balanced and straightforward, or at least more balanced and straightforward than he ordinarily does, and certainly better than his first appearance before a Joint Session of Congress in February of last year. As I said yesterday, though, thanks to his behavior and past speeches, the bar for Trump was so low last night that he largely would have come across well as long as he didn't come across as a blithering Palin-esque idiot. In that respect, I suppose, Trump met his mark but it's unclear that it will have much of an impact the political climate in the nation as a whole or on Capitol Hill, which currently faces battles over the budget and immigration that must be resolved one way or the other within the next several weeks.
Beyond the aesthetics of the speech, the details of Trump's address were somewhat vague notwithstanding the fact that at 80 minutes it was one of the longest State Of The Union Addresses that we've seen in recent years. On immigration, for example, Trump made reference to the plan that his White House had put forward last week that includes extending DACA to cover more people than it currently does and put those beneficiaries on a path that would allow them to apply for citizenship in exchange for border wall funding and massive changes to the legal immigration system. That proposal, though, has been panned by Democrats and by both moderate and conservative Republicans in the House and Senate, albeit for different reasons. Trump also made reference to the infrastructure proposal but didn't offer much in the way of details about that plan despite the fact that he stated frequently during the campaign that it would be among his highest priorities. Beyond that the domestic policy side of the speech seems to have been more of an opportunity to brag about things such as the jobs numbers, wage growth (which statistics released today show having rising 2.6% in 2017) the stock market, and what he claims are the already apparent benefits of the Republican tax package in the form of wage increases and bonuses that have been announced by several large businesses over the past month. On foreign policy, meanwhile, Trump emphasized a number of topics such as the military buildup he's been calling for, the successes that we've seen in the war against ISIS, and the ongoing tension with North Korea. He also called out the regimes in Cuba, Venezuela, and Iran, but didn't offer anything in the way of policy with respect to any of these nations. On the whole, of course, this last point is hardly unusual for these types of addresses. While some previous Presidents such as Bill Clinton have used the SOTU as an opportunity to push specific policies for the most part Presidents usually use these events to speak more in generalities than specifics, and in this respect, Trump was more different.
As both the Times and the Post note in their reports excerpted above, and as has been noted in other media reports this morning, though, the main theme of Trump's speech last night was an appeal to national unity that comes across as quite ironic and hypocritical given the events of the past year. From the day that he took office, and indeed from the day that he entered the race for President in June 2015, Trump has preached a message that is anything but unifying. During the campaign, he about Mexicans and Muslims, mocking disabled people, attacking women like Megyn Kelly and Carly Fiorina in the crassest and most demeaning manner possible, encouraging his supporters to engage in violence against counter-demonstrators, and demonstrating utter disdain for the Rule of Law and Freedom of the Press. He continued that theme of divisiveness during his first year in office, most notedly in the wake of last summer's events in Charlottesville, Virginia after which he blamed 'both sides' for the violence and declined to condemn the groups who organized and participate in the rally such as the Ku Klux Klan or the broader so-called alt-right movement whose supporters made up the vast majority of the participants. The outrage over these comments was sufficiently broad, even from fellow Republicans in Washington, that the White House was compelled to have Trump deliver a follow-up comment the following Monday that was more measured and emphatic than what he had said before. Whatever damage had been repaired by that statement, though, was short-lived since less than twenty-four hours later when Trump repeated his 'both sides' argument in a press conference and repeated them again -a month later.  More recently, he singlehandedly wrecked what seemed like a done deal that would have saved the Deferred Action for Childhood Arrivals (DACA) program by angrily referring to immigrants from Africa and Haiti as coming from "shithole countries." Given this kind of rhetoric and much more that is far too numerous to catalog here, a call for national unity rings hollow at best and hypocritical at worst.
The final question, of course, is what impact last night's speech might have on either the course of the political debate on Capitol Hill and on the President's job approval numbers and the GOP's performance in the upcoming midterm elections. On the first point, it seems unlikely that Trump moved the debate any further down the road on any issue last night. The two issues that are getting the most attention on Capitol Hill right now are the budget and the immigration debate. On the first point, Trump really didn't say much of anything on that topic and appears content to leave matters up to Congress to resolve prior to the February 8th deadline on which the Continuing Resolution passed last week will lapse. On the second topic, as I noted above the situation remains as divided as ever and resolution as elusive as it has been for quite a long time. As for how this is likely to impact Trump and the GOP in the polls, it's likely that the impact will be limited at best. Historically speaking, these addresses have had a minimal long-term impact on polling to begin with, and it seems likely that this will be especially true of a President who remains mired in the worst job approval numbers of any new President since the Second World War. Initially at least, an overnight poll conducted by CNN shows that the reaction to the President's speech was largely positive, but in what is likely a reflection of how the country as whole feels about the President hardly decisive. Specifically, the poll shows that 48% of respondents who watched the speech said they came away with a "very positive" impression of the President while 22% said they had a "somewhat positive" impression and 28% said they were left with a negative impression. While these are good numbers for Trump they are worse than any President has received since they started asking this question after President Clinton's 1998 State of the Union address. Another poll conducted by CBS News gives the White House far better news, with 75% of those polled who said they watched the speech saying they approved of what they President said and 80% saying that Trump was trying to unite the country. On the whole, though, it seems unlikely that there will be much of a specific impact on Trump's political fortunes, or on the GOP's.
In any case, if you missed the speech you can read the transcript or watch the full video below. Additionally, consider the comment thread an open forum for those of you who did watch the speech to share your own impressions.