Trump Talks Unity While Preaching Hardline Partisanship At State Of The Union
The President's second State of the Union began and ended with calls for unity. In between, it was filled with the divisive partisanship that has marked his Presidency.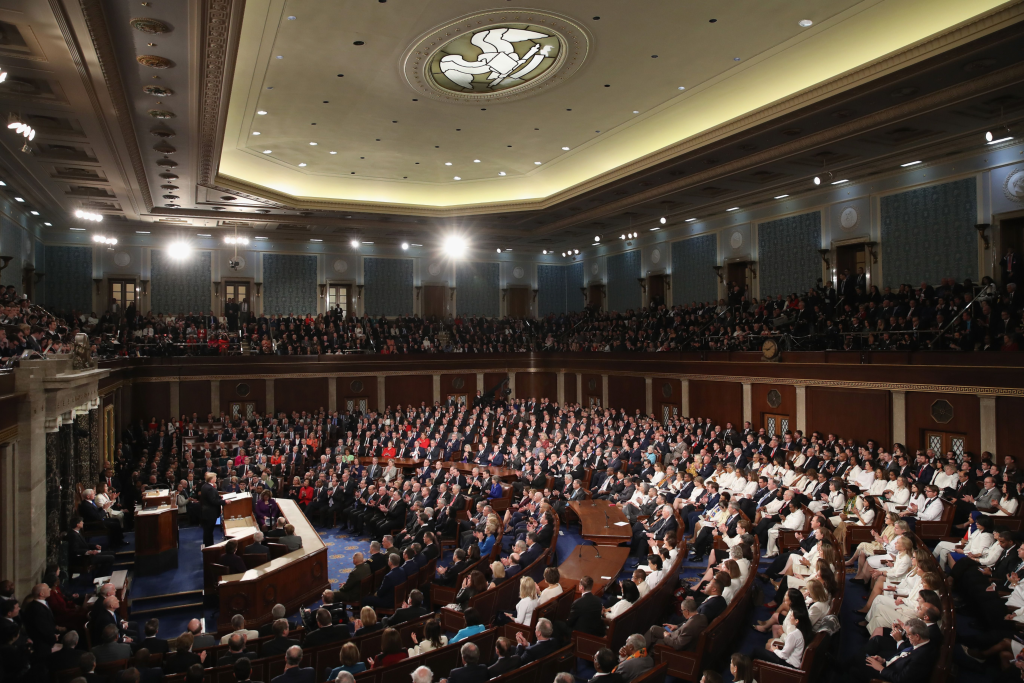 Much as he had during his first State of the Union Address last year, President Trump called for national unity last night during his second such address but also stuck to a hardline on signature issues such as immigration and his border wall even as polling continues to show that the American public does not support his positions on either topic:
WASHINGTON — President Trump delivered a message of bipartisan unity on Tuesday night in his first address to Congress in the new era of divided government, but signaled that he would continue to wage war for the hard-line immigration policies that have polarized the capital and the nation.

In a nationally televised speech that toggled between conciliation and confrontation, Mr. Trump presented himself as a leader who could work across party lines even as he pressed lawmakers to build a wall along the nation's southwestern border that leaders of the newly empowered congressional Democrats have adamantly rejected.

"We must reject the politics of revenge, resistance and retribution, and embrace the boundless potential of cooperation, compromise and the common good," the president said. "Together, we can break decades of political stalemate. We can bridge old divisions, heal old wounds, build new coalitions, forge new solutions and unlock the extraordinary promise of America's future."

Any hopes for a newfound spirit of cooperation, however, seemed elusive as the president and Democrats spent the hours before, during and after the address exchanging partisan political fire, making clear that ritualistic calls for across-the-aisle collaboration were unlikely to transform an environment that has turned increasingly toxic.

Republicans jumped to their feet at the president's calls to curb immigration, limit late-term abortions and ensure that the United States does not turn to socialism, even chanting "U-S-A, U-S-A" a couple of times as if at a Trump campaign rally. "That sounds so good," he exulted.

Speaker Nancy Pelosi, sitting behind Mr. Trump for the first time, and other Democrats largely remained in their seats without applauding and expressed only tepid enthusiasm even for his mention of goals intended to appeal to them, like infrastructure and paid parental leave. Ms. Pelosi maintained a polite, even amused smile on her face for much of the speech.

But the evening was filled with political theater as the president introduced World War II veterans, Holocaust survivors, the Apollo 11 astronaut Buzz Aldrin, a 10-year-old cancer survivor, a police officer shot seven times at last fall's synagogue massacre in Pittsburgh and the teary-eyed relatives of a couple killed by an illegal immigrant, all sitting with the first lady, Melania Trump.

The change in the power structure in a Capitol long dominated by men was on display as Ms. Pelosi and scores of House Democratic women wore white, the color of the suffrage movement, reflecting the fact that 131 women were sworn into the new Congress, the most in American history.

When Mr. Trump noted this breakthrough, the women leapt to their feet, cheering, dancing and high-fiving each other. "That's really great," he said. "Congratulations."

He made no direct mention of the issues that may yet come to dominate the year, such as the Russia investigation by the special counsel, Robert S. Mueller III, or the parallel inquiries that House Democrats intend to conduct into his campaign's ties with Russia and efforts to impede investigations.

Instead, he alluded to them only in passing, but pointedly. "An economic miracle is taking place in the United States," he said, "and the only thing that can stop it are foolish wars, politics or ridiculous partisan investigations."

But Mr. Trump indicated no retreat from his almost singular pursuit of a border wall, directly taking on Ms. Pelosi, who has called it "immoral." He devoted 15 minutes of the hour-and-22-minute speech to immigration with no concession to Democratic priorities like a path to citizenship for immigrants brought into the country illegally as children.

"This is a moral issue," Mr. Trump said as Ms. Pelosi sat unmoved behind him. "No issue better illustrates the divide between America's working class and America's political class than illegal immigration," he added. "Wealthy politicians and donors push for open borders while living their lives behind walls and gates and guards."

(…)

The president's speech, built on a theme of "choosing greatness," came at a pivotal moment halfway through the president's term as he seeks to regain momentum after the midterm election defeat that handed control of the House to Democrats and after his failed effort to use a partial government shutdown to extract money for the wall.

Stung by his retreat on the government shutdown, Mr. Trump has hardly been in the mood for collaboration with the other party. As he and his team drafted his address in recent days, he has groused about the text, complaining that it was too gentle on Democrats, according to people briefed on the matter.

(…)

After presidents suffer setbacks in midterms, they often reach out to the victorious opposition with words of conciliation, however artificial or short-lived they may be. In Mr. Trump's case, he opened this period of partisan power sharing with a relentless confrontation over his proposed border wall, resulting in a record-breaking 35-day partial government shutdown.

That impasse nearly cost Mr. Trump his opportunity to deliver his State of the Union address, as Ms. Pelosi refused to let him come to the House chamber as long as federal agencies were closed and workers unpaid. Mr. Trump backed down and accepted a measure reopening the government for three weeks, but negotiations in the interim have made no more progress toward winning money for his wall — and the government could close again on Feb. 15.

Given that, Mr. Trump's calls for unity were almost surely destined to fall on deaf ears. Even Republicans have publicly rebuked him lately for his plans to withdraw troops from Syria and Afghanistan, and party leaders have pressed him not to declare a national emergency bypassing Congress to build the wall.
More from The Washington Post:
President Trump confronted a split Congress for the first time Tuesday night by delivering a dissonant State of the Union address, interspersing uplifting paeans to bipartisan compromise with chilling depictions of murder and ruin.

Calling the situation at the U.S.-Mexico border "an urgent national crisis," Trump again called on Congress to approve construction of his long-promised wall — and argued that without the physical barrier, working-class Americans would lose their jobs and grapple with dangerous crime and overcrowded schools and hospitals.

Trump also sounded an unmistakable threat to the new Democratic House majority over impending oversight investigations into his conduct and personal finances, as well as alleged corruption in the administration. The president warned that everyday Americans may suffer from what he termed "ridiculous" probes.

"An economic miracle is taking place in the United States — and the only thing that can stop it are foolish wars, politics or ridiculous partisan investigations," Trump said. "If there is going to be peace and legislation, there cannot be war and investigation."

As he delivered his speech from the rostrum of the House chamber, with a stone-faced Speaker Nancy Pelosi (D-Calif.) observing over his left shoulder, Trump stared into a sea of Democratic women wearing bright white in tribute to suffragists who secured women's right to vote. Together, they formed a vivid illustration of this year's power shift and the potential political peril for Trump's presidency.

The tension in the chamber was palpable. As Trump declared the state of the union to be "strong," the women in white stayed seated while Republican lawmakers, most of them men in dark suits, stood to cheer.

Rare moments of joint applause came when Trump touted the bipartisan criminal justice law he signed in December, vowed to fight childhood cancer and committed to eliminating HIV in 10 years.

Trump began and ended his 82-minute speech with a unifying tone that was in conflict with many of his own actions and statements, especially over the past month, one of the more contentious of his presidency.

A president who proudly retaliates against his enemies, taunts his political foes with nicknames and considers himself one of the world's great counter-punchers exhorted Congress to "reject the politics of revenge, resistance and retribution and embrace the boundless potential of cooperation, compromise and the common good."

Trump added: "We must choose between greatness or gridlock, results or resistance, vision or vengeance, incredible progress or pointless destruction. Tonight, I ask you to choose greatness."

Just eight hours earlier, Trump trashed Democrats — as well as the late Republican senator John McCain — at a freewheeling lunch with television news anchors. He assailed Senate Minority Leader Charles E. Schumer (D-N.Y.) as a "nasty son of a bitch," ridiculed former vice president Joe Biden as "dumb" for his history of gaffes, and accused Virginia Gov. Ralph Northam (D) of "choking like a dog" at a news conference where he denied being in a racist photo on his medical school yearbook page, according to two attendees and a person briefed on the discussion.

(…)

Trump's speech came at one of the most acrimonious moments of his presidency. Both parties are deeply divided over his demand to construct a border wall — and leaders still are reeling from the partial government shutdown that ended late last month, which at 35 days was the longest in U.S. history.

The battle over Trump's wall at the U.S.-Mexico border is ongoing. With Democrats refusing to meet his demand for construction money — which Trump had long said would come from Mexico — the president is on the cusp of declaring a national emergency in an attempt to reallocate other federal funds, including perhaps from the Pentagon, to build the wall without approval from Congress.

Though he made no mention of an emergency declaration in his Tuesday night speech, Trump said in recent days that he has "set the stage" for one, while administration lawyers are preparing for immediate legal challenges.

Lawmakers from both sides of the aisle have voiced their opposition to Trump's national emergency idea. Congress has until Feb. 15 to reach a deal to avert a second government shutdown, but Democrats have said they won't offer funding for Trump's wall, and the president has said he doesn't expect much from the negotiations.

The president Tuesday sought to paint undocumented immigrants who cross the southern border, often seeking asylum, as an invading force prone to violent crime. "As we speak, large, organized caravans are on the march to the United States," Trump said, adding that he "just heard" that Mexican cities were trying to rid their communities of migrants by directing truckloads of them to areas along the border where there is little protection.

"This is a moral issue," Trump said. "The lawless state of our southern border is a threat to the safety, security and financial well-being of all Americans." He added, "Tolerance for illegal immigration is not compassionate. It is actually very cruel."

Illegal border crossings are down significantly from their historic peaks, and some research indicates that undocumented immigrants commit crimes at lower rates than U.S. citizens do. Still, Trump has claimed that only a border wall would be effective in keeping out the migrants, many of whom are families with children.

(…)

Trump used his speech to defend his "America First" foreign policy, which has rattled Western allies and sparked some backlash within his party. Several Republican lawmakers have publicly criticized the president's recent decision to pull troops out of Syria, for instance.

Proclaiming that "great nations do not fight endless wars," Trump highlighted his recent attempts to extract U.S. forces from foreign conflicts.

The president also touted his relationship with North Korean leader Kim Jong Un and announced that he would hold his second summit with the dictator on Feb. 27 and 28 in Vietnam.

"If I had not been elected president of the United States, we would right now, in my opinion, be in a major war with North Korea," Trump said. "Much work remains to be done, but my relationship with Kim Jong Un is a good one."

Trump's remarks highlighted just how much has changed in the past year. During his 2018 State of the Union address, Trump decried the "depraved character" of the North Korean regime and highlighted its torturous practices.

On Tuesday, Trump made no mention of North Korea's human rights abuses or other atrocities.

Trump also called for regime change in Venezuela, where embattled President Nicolás Maduro's socialist government is facing a crisis, and said the United States recognizes the "legitimate government" of Juan Guaidó.

Trump did not shy away from his instinct for braggadocio, spending several minutes in his speech highlighting his accomplishments during his first two years in office, including job growth, the tax cut bill, reduced regulations and a manufacturing resurgence.
As has been the case for the past decade or longer at this point, I did not watch last night's speech, choosing instead to read through the transcript and watching various excerpts on video this morning. Because of this, I can't really judge how the speech came across on television or how it was received in the House Chamber. Based on what I have seen, though, it once again appears that things about like you'd expect for a President addressing a Congress under divided partisan control for the first time, with Republicans cheering the Presidents while Democrats largely kept quiet or, at best, offered only polite applause even at those portions of the speech designed to reach across the aisle. Additionally, it's obvious that Trump once again demonstrated different behavior from the man we see at one of his campaign-style speeches or on Twitter. As a result, there is once again some talk about how well the President "came across" as relatively balanced and straightforward, or at least more balanced and straightforward than he ordinarily does, and certainly better than his first appearance before a Joint Session of Congress shortly after his Inauguration in 2017. As is usually the case for this President, though, the bar is so low for Trump generally speaking that one could say he "came across" well as long as he didn't act like a blithering Palin-esque idiot. In that respect, then, I guess you could say the President accomplished what As I said yesterday, though, thanks to his behavior and past speeches, the bar for Trump was so low last night that he largely would have come across well as long as he didn't come across as a blithering Palin-esque idiot. In that respect, I suppose, Trump met his mark but it's unclear that it will have much of an impact the political climate in the nation as a whole or on Capitol Hill, which currently faces battles over the budget and immigration that must be resolved one way or the other within the next nine days. If the President's speech is any indication in that regard, his position makes any such resolution far less likely.
When it came to substance, though, the President's speech left much to be desired. His claims about immigration, many of which he has made in the past, were largely filled with lies, falsehoods, and misstatements that simply ignored the truth. For example, the President repeated the claim that El Paso, Texas was one of the most dangerous cities in America before the construction of a border barrier between the city and its cross-border neighbor Juarez, Mexico. In reality, prior to the construction of a border fence between the two cities in 2006, the crime rate in El Paso had been declining since the early 1990s just as it had in the nation as a whole and that there is no evidence that the construction of a border fence during the Presidency of George W. Bush had any impact at all on the crime rate, or that it was in any way responsible for the drop in crime that began long before there was anything more than a modest border and checkpoint between the two cities. Additionally, the President repeated previous lies regarding human and drug trafficking across the border that ignores the fact that the vast majority of illegal drugs and human trafficking takes place through designated ports of entry. The same is true of many other policy areas, but I'll leave the job of fact-checking the President to the professionals. Suffice it to say that it seems clear that the President greatly added to the number of lies he's told since taking office just over the course of ninety minutes last night.
The question going forward, of course, is what impact if any the President's speech will have on the political climate, on the public perception of the President, and specifically on the ongoing negotiations to reach a budget deal before the February 15th deadline to reach an agreement to avoid another government. On the first two points, it's unlikely that we'll see any impact at all. For one thing, whatever positive notes the President hit last night are likely to be overridden by his rhetoric elsewhere, either in statements to the press, on Twitter, or elsewhere. Additionally, it has been the case that, historically speaking, these addresses have had a minimal long-term impact on polling to begin with, and it seems likely that this will be especially true of a President who remains mired in the worst job approval numbers of any new President since the Second World War. As was the case last year, this speech is unlikely to have an appreciable impact on those numbers, especially given the fact that attention will quickly turn from post-SOTU coverage to whatever the latest news on the potential for another shutdown and the border wall showdown, which will likely happen as early as this afternoon.
In any case, if you missed last night's speech, you can read the transcript here or, if such is your desire, watch the entire thing in the embedded video below: