Trump Delivers Substance Free Address On Shutdown And Border Wall
President Trump's speech on the border wall and the shutdown was fact-free, misleading, and overall a bomb.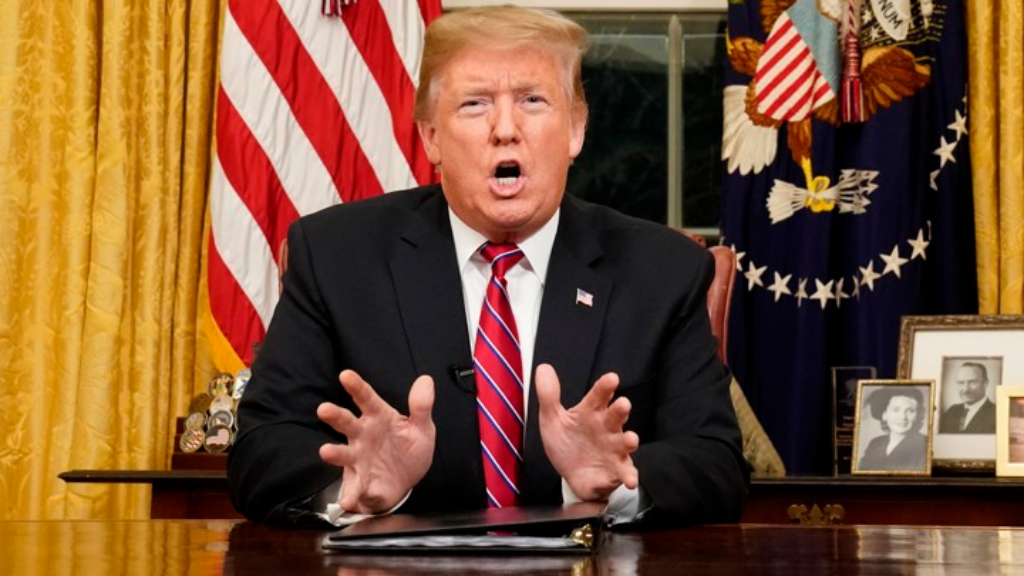 President Trump addressed the nation from the Oval Office last night on the government shutdown and the border wall in a speech that fell remarkably flat, likely didn't change anyone's mind, and leaves one wondering exactly how the White House thinks it can win this showdown with Congressional Democrats that has led to the second-longest government shutdown in American history:
WASHINGTON — President Trump doubled down on one of the biggest gambles of his presidency on Tuesday night with a televised appeal to pressure Congress into paying for his long-promised border wall, even at the cost of leaving the government partly closed until lawmakers give in.

Embarking on a strategy that he himself privately disparaged as unlikely to work, Mr. Trump devoted the first prime-time Oval Office address of his presidency to his proposed barrier in hopes of enlisting public support in an ideological and political conflict that has shut the doors of many federal agencies for 18 days.

In a nine-minute speech that made no new arguments but included multiple misleading assertions, the president sought to recast the situation at the Mexican border as a "humanitarian crisis" and opted against declaring a national emergency to bypass Congress, which he had threatened to do, at least for now. But he excoriated Democrats for blocking the wall, accusing them of hypocrisy and exposing the country to criminal immigrants.

"How much more American blood must we shed before Congress does its job?" Mr. Trump asked, citing a litany of grisly crimes said to be committed by illegal immigrants. Asking Americans to call their lawmakers, he added: "This is a choice between right and wrong, justice and injustice. This is about whether we fulfill our sacred duty to the American citizens we serve."

Democrats dismissed his talk of crisis as overstated cynicism and, with polls showing Mr. Trump bearing more of the blame since the partial shutdown began last month, betrayed no signs of giving in. The White House earlier in the day dispatched Vice President Mike Pence and others to Capitol Hill to try to shore up Senate Republicans, who are growing increasingly anxious as the standoff drags on.

In their own televised response on Tuesday night, Speaker Nancy Pelosi of California and Senator Chuck Schumer of New York, the Democratic leader, accused the president of stoking fear and mocked him for asking taxpayers to foot the bill for a wall he had long said Mexico would pay for.

"President Trump must stop holding the American people hostage, must stop manufacturing a crisis and must reopen the government," Ms. Pelosi said.

In taking his argument to a national television audience and on a trip to the Texas border he plans to take on Thursday, Mr. Trump hoped to reframe the debate. After spending much of the first two weeks of the shutdown cloistered in the White House, he has now opted to use the powers of the presidency to focus public attention on his ominous warnings about the border.

Yet privately, Mr. Trump dismissed his own new strategy as pointless. In an off-the-record lunch with television anchors hours before the address, he made clear in blunt terms that he was not inclined to give the speech or go to Texas, but was talked into it by advisers, according to two people briefed on the discussion who asked not to be identified sharing details. 

"It's not going to change a damn thing, but I'm still doing it," Mr. Trump said of the border visit, according to one of the people, who was in the room. The trip was merely a photo opportunity, he said. "But," he added, gesturing at his communications aides Bill Shine, Sarah Huckabee Sanders and Kellyanne Conway, "these people behind you say it's worth it."

Mr. Trump plans to head to the Capitol on Wednesday to attend a Senate Republican lunch and later will host congressional leaders from both parties to resume negotiations that so far have made little progress. Mr. Trump has insisted on $5.7 billion for the wall, while Ms. Pelosi said she would not give him a dollar for a wall she has called "immoral."

In a nod to Democrats, Mr. Trump spent the first half of his talk on the humanitarian situation at the border before even mentioning the wall, expressing sympathy for those victimized by human smugglers. "This is a humanitarian crisis — a crisis of the heart and a crisis of the soul," he said.

Even so, he directly took on Ms. Pelosi and Mr. Schumer. "The only thing that is immoral is the politicians to do nothing and continue to allow more innocent people to be so horribly victimized," he said.
More from Politico:
President Donald Trump on Tuesday night made a public plea for a wall along the U.S.-Mexico border, claiming that law enforcement officials are the ones demanding it, while blaming Democrats for the prolonged government shutdown that has resulted from an impasse over how to pay for the barrier.

The president, however, did not pull the trigger on a national emergency declaration that would potentially allow him to secure wall funding without Congress but would also inevitably draw a nasty court battle. Instead, he dedicated much of the address to blaming undocumented immigrants for many of the nation's woes, from opioid addiction to violent crime — correlations that have been repeatedly debunked.

"This is a humanitarian crisis. A crisis of the heart, and a crisis of the soul," Trump said in a rare televised address from the Oval Office.

The president opened his address by stating that the United States is suffering from a humanitarian and security crisis at the border, as he urged Congress to provide billions of dollars for a steel barrier by calling it "absolutely critical."

"As part of an overall approach to border security, law enforcement professionals have requested $5.7 billion for a physical barrier," Trump added, even though the wall proposal is his own core campaign promise that he has struggled to fulfill.

The president also tried to present himself as a dealmaker and tried to shift blame to Democrats who have refused to give in to his funding demands.

"At the request of Democrats, it will be a steel barrier rather than a concrete wall," he added.

Trump so far has forged ahead with his demands for $5.7 billion in wall funding, while Democrats, including House Speaker Nancy Pelosi (D-Calif.), have called his proposal "immoral." The standoff has pushed the government into one of the longest shutdowns in U.S. history.

But Trump shot back on the criticism during his address.

"Some have suggested a barrier is immoral," the president said Tuesday night. "Then why do wealthy politicians build walls, fences and gates around their homes?"

He continued: "The only thing that is immoral is the politicians to do nothing and continue to allow more innocent people to be so horribly victimized."

Trump dedicated most of the end of his address to pushing blame for the shutdown on Democrats, saying the situation "could be solved in a 45-minute meeting" if Democrats agreed to increased physical border security.

In recent days, he has changed tacks, offering a steel barrier instead of a concrete wall and openly flirting with declaring a national emergency to secure the funds.

Congress alone has the power of the purse under the Constitution. But presidents are able to use unobligated military funds during a national emergency. Whether such a crisis exists, of course, is hotly contested, with Democrats noting that there are actually fewer border apprehensions over the past year than in past decades.

An emergency declaration would inevitably invite a court challenge that would leave Trump no closer to getting his wall, even if it would provide the president cover with his base.

The White House counsel's office has been reviewing the legality of an emergency declaration since last Thursday, according to a source familiar with the process.

(…)

After demanding equal airtime, Pelosi and Senate Minority Leader Chuck Schumer (D-N.Y.) offered a rebuttal to Trump's speech Tuesday night, accusing the president of stoking fear and reiterating their calls for him to end the shutdown.

"President Trump must stop holding the American people hostage, must stop manufacturing a crisis and must reopen the government," Pelosi said.

Schumer called on the president to separate the shutdown from the debate over border security, and asked that he take up legislation passed by the Democratic-controlled House last week that would reopen the federal government.

"There is no excuse for hurting millions of Americans over a policy difference," Schumer said.
You can read the transcript of both Trump's address and the Democratic response at the link, or watch the videos below:
I'll admit that I did not watch the President's address or the Democratic response live and instead chose to watch the short video when I woke up this morning before having seen any of the reaction of pundits to it. Notwithstanding that delay, it seems clear that this speech was basically a bomb and that the President would have been better off not making it at all. For the most part, what he had to say is no different from what he's been saying about the border since he first became a candidate for President and, most especially, since the beginning of the shutdown. As has long been the case, the claims he made were largely false and the evidence for the claimed "crisis" at the border that he is now using as justification for keeping the government closed for what amounts to, at most, one-quarter of what his wall would cost if it were ever actually built were not supported by the evidence.
For example, it has long been established that net migration from Mexico has reversed and that this has been part of a trend that has been in place for more than 20 years now to the point where more people have been leaving the United States to return home than have been trying to get into the United States either legally or illegally. As for the Central American caravans that Trump has complained about, those people have generally presented themselves at designated ports of entry so that they can properly make their asylum claims pursuant to both Federal law and international treaties to which the United States is a signatory. Additionally, contrary to Trump Administration claims, the majority of importation of illegal drugs occurs at either designated ports of entry or via the nation's airports and seaports. To the extent that there is extensive drug running across the border, much of it is conducted via tunnels that would bypass any border wall this President would build. The Administration has also claimed, without evidence, that terrorists have crossed into the United States via the southern border. As Fox News Sunday host Chris Wallace established in an interview with White House Press Secretary Sarah Huckabee Sanders yesterday. This has been verified by President Trump's own State Department, which found "no credible evidence" that terrorist groups were trying to get operatives into the United States through the southern border.  In short, there is no factual basis for the claims that the President made last night.
Beyond the substance, the President's address, which was again his first Oval Office address after nearly two years in office, just came across as "blah." Indeed, one could describe it as being uncharacteristically low energy compared to the way Trump acts when he's speaking at a campaign rally or even just making statements before or answering questions from reporters. One reason for that, of course, could be the fact that, as the highlight portion of the report above indicates, Trump never really believed that the speech would work. That, combined with the fact that he quite honestly has never been very good at the kind of scripted speech he made last night and that probably goes a long way toward explaining why the address last night was, as analysts such as Rick Wilson, Stephen Collinson, and Daniel Drezner noted, a complete dud that is unlikely to move the needle in any respect. Wilson, who has come to be known for using some rather creative language to describe the President perhaps put it best:
On Tuesday night, Trump's flaming dumpster train of distractions, lies, cons, and empty political promises flew off the rails and plunged into a mountain of burning tires in one of his worst public speeches.

After 17 days of a government shutdown temper tantrum, Trump needed a game-changing home run of a speech to change the political climate in D.C. He failed.

This speech wasn't about saving his utterly fake wall. The $5.7 billion dollars he's demanded as his vig for ending the shutdown isn't even close to being seriously considered, and this speech was an overt admission he's out of airspeed, altitude, and ideas. The crisis he proudly created will end without a wall, and he knows it.

This speech was supposed to be about forcing the national dialogue to stay on the border wall. No such luck. He reeked of defeat, clearly didn't want to be there, and it showed.

Trump looked exhausted, squinty, and bored, reading in a near-monotone from the Teleprompter.  It went over like a wet fart.

The hysterical Know-Nothing show that flooded America's airwaves on Tuesday evening was Trumpian boilerplate: Scary immigrants are coming to kill you! Drugs are coming over the border!

The man who gleefully put kids in cages tried to briefly pretend he gives a damn about migrant children in the least convincing humanitarian performance since the Child Catcher in Chitty Chitty Bang Bang.

The dark warning of the dangerous brown tide coming across the border feeds the Breitbart/Fox base with the same messages they're getting every day, but it lacked the showmanship and agenda-changing power Trump hoped it would. Even if it had, just keeping the base's amygdalas stoked doesn't come close to solving his multiple political problems.

The speech can most accurately be seen as the death twitch of The Wall cult.  Trump can't deliver a product, so he's looking to sell something different.
While Trump's speech was a flaming disaster, I can't really say much better about the short response that Speaker of the House Nancy Pelosi and Senat Majority Leader Chuck Schumer delivered in response. Given the fact that the speech they were responding to lacked anything resembling substance, facts, or passion, one would have thought that the two Democratic leaders could have come up with something better than what they did. Part of the problem, of course, is that responses to Presidential addresses rarely go over well regardless of who the President is or who is delivering the response. Another mistake was having two people deliver what turned out to be a just over two-minute speech. Neither Pelosi nor Schumer are natural good speakers, to begin with, and this format didn't highlight anything good about what either of them had to say. Fortunately for Democrats, the President's speech was so bad that it hardly matters what the Democratic response had to say.
Suffice it to say that this speech is unlikely to move the needle significantly on either the shutdown or the border wall debate. Indeed, there is increasing evidence that support for the President's position is beginning to crack among Republicans on Capitol Hill. The latest evidence for that came in statements from Senators Lisa Murkowski and Shelly Moore Capito who both spoke out in favor of reopening the government and continuing to negotiate over the border wall and other security issues after that has been done. This makes for five Republican Senators who have spoken out in favor of the approach advocated by House Democrats, meaning that there would be a majority in the Senate supporting reopening the government if Senator Majority Leader Mitch McConnell were to let the matter get to the floor. The longer this goes on, the more likely it is that this number will continue to grow and the President could find himself on the losing end of this battle fairly quickly.