As Shutdown Continues, Republicans Begin To Fear Defections
As the shutdown drags on, Republicans are beginning to fear that members in the House and Senate may begin to fall away from supporting the President.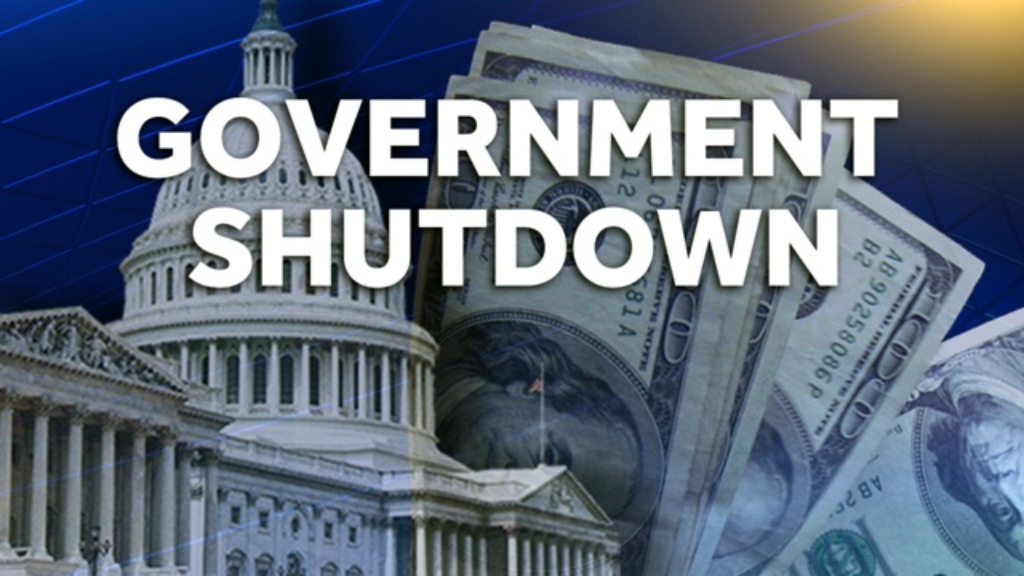 Politico is reporting this morning that Republicans on Capitol Hill are beginning to fear that support is slipping for the White House's position on the government shutdown, which has now officially become the second longest such shutdown in American history:
Several dozen House Republicans might cross the aisle this week to vote for Democratic bills to reopen shuttered parts of the federal government, spurring the White House into a dramatic effort tostem potential GOP defections.

White House officials and Republican congressional leaders worry that GOP support for the shutdown is eroding, weakening President Donald Trump's hand as he seeks billions of dollars for a border wall that Democrats have vowed to oppose, according to GOP lawmakers and aides.

Hoping to sway skeptics in his party and the broader public, Trump will make an Oval Office address Tuesday night to discuss what he called the "Humanitarian and National Security Crisis on our Southern Border," he said on Twitter. Then he will visit the border region on Thursday.

Vice President Mike Pence and Homeland Security Secretary Kirstjen Nielsen will address House Republicans on Tuesday evening. The House is scheduled to vote Wednesday on a Democratic bill designed to fund the IRS and several other agencies, the first of four bills Democrats hope will peel off Trump's GOP support in the House.

Without more money, the IRS could have a problem processing tax refunds. Russ Vought, acting director of the Office of Management and Budget, reversed course Monday and said refunds will be paid out, another move by the White House to mitigate the effects of the shutdown.

The Democratic funding measure is one of several narrow measuresthat Speaker Nancy Pelosi (D-Calif.) and party leaders will push forward this week. The bills are designed to put pressure on GOP lawmakers to break with Trump and support re-opening the nine departments hit by the 17-day shutdown. More than 800,000 federal workers are currently not getting paid — roughly 350,000 remain on the job without pay — with their first missed paycheck coming later this week.

Despite the White House PR blitz, House Minority Leader Kevin McCarthy (R-Calif.), Minority Whip Steve Scalise (R-La.) and other senior Republicans believe that "a significant bloc" of House Republicans could vote with Democrats on the funding measures, according to GOP lawmakers and aides.

A senior House GOP aide said McCarthy and his top lieutenants believe 15 to 25 Republicans will vote with Democrats this week, possibly even more.

"We have a lot of members who are gonna want to vote for these things," said the GOP aide, speaking on the condition of anonymity. "Publicly, we will never tell them to do it. Privately, we will tell them to do what they have to do."

However, GOP leaders say they can keep that number below 55, a key threshold. That many Republican defections, coupled with all House Democrats, would reach 290 "yes" votes, a veto-proof majority. House Democrats can't overcome Senate Majority Leader Mitch McConnell's (R-Ky.) refusal to bring up their bills, but such a vote would signal the House can override a Trump veto, a major blow to the president and his allies.

"The biggest thing we can do to back the president up is to keep it below veto proof," the GOP aide added. "That's a win for us."

"I think the more that you have people not getting paid, the more the stories coming out about the hardships this shutdown is creating, not just for federal workers but those who rely on federal agencies to get their work done, people are shaking their heads," said Oregon Rep. Greg Walden, one of seven House Republicans who voted with Democrats last week to reopen the government. "I think it's a pretty unsustainable position, and I felt that early on."

In forcing these votes, Pelosi and Democratic leaders have copied a GOP tactic from the 2013 shutdown, when a battle over Obamacare led to a 16-day government shutdown.

At the time, House GOP leaders made Democrats take dozens of votes to fund national parks, low-income nutrition assistance, Head Start and the Federal Emergency Management Agency, among others.
All of this comes at a time when the impact of the shutdown is being felt in the real world outside of Washington and as the President contemplates declaring a dubious "national emergency" to make an end-run around Congress, and prepares to address the nation from the Oval Office tonight:
WASHINGTON — President Trump unleashed an offensive on Monday to persuade Americans that a "humanitarian and security crisis" on the southern border must be addressed before a government shutdown can end, announcing a prime-time address for Tuesday and a trip to the border later in the week.

Vice President Mike Pence briefed reporters on the status of negotiations in a hastily arranged session, part of an orchestrated effort to sway balking Democrats who say the government should reopen while they wrangle over Mr. Trump's demand for $5.7 billion to begin his border wall.

The shutdown, heading into Day 18, has become a critical test for Mr. Trump, who campaigned as a master negotiator and deal maker but so far has achieved virtually no agreements with Democrats. Already, it is the second-longest breakdown in government funding in the nation's history, affecting about 800,000 federal workers, many of whom will miss their first paycheck this week. The president has offered little to his Democratic adversaries to lure them to the table.

Now, he will try to use a broad-based public appeal to raise the pressure.

Senate Democrats, for their part, were moving to halt legislation to pressure Republicans to reopen the government, starting Tuesday. And late Monday, the Democratic leaders of the House and Senate released a joint statement demanding equal television time.

"Democrats must immediately be given equal airtime," said the leaders, Speaker Nancy Pelosi of California and Senator Chuck Schumer of New York. They said that "if his past statements are any indication," Mr. Trump's address "will be full of malice and misinformation."

The vice president, while conceding that no progress was made in weekend negotiations with senior Democratic staff members, said Democrats "did not dispute our facts" about what he called a "humanitarian and security crisis." Democrats and immigration advocates have argued that the administration has vastly overstated the scope of the border situation.

Democrats said Mr. Pence appeared to be misrepresenting their position. While they agreed there was a crisis at the border, one senior Senate Democratic official said, they see at as a humanitarian rather than national security issue. As such, Democrats view Mr. Trump's proposed wall as an expensive and pointless response that does nothing to address the needs on the ground.

Several aides briefed on the weekend negotiations said the White House appeared eager to promote agreement on almost anything in lieu of any real progress between the two sides.

(…)

The administration's credibility continues to suffer, as Democrats call out Mr. Trump for falsehoods about the crisis, such as his assertion that former presidents had told him privately that they should have built the wall. On Monday, former President Jimmy Carter joined the list of presidents who said they had never discussed a border wall with Mr. Trump.

With talks to end the shutdown at a standstill, Mr. Pence said the president had directed the Office of Management and Budget to take steps to "mitigate" its effects, including an order to the Internal Revenue Service to issue tax refunds. Under previous shutdown plans — and interpretations of federal law — the I.R.S. was prohibited from dispensing tax refunds when Congress had not approved money to fund the Treasury Department, as is the case now.

On Capitol Hill, Democrats tried to use leverage of their own to force Senator Mitch McConnell of Kentucky, the majority leader, to come to the table and pressure Mr. Trump. On Monday, Democrats said they would vote against advancing a package of bipartisan Middle East policy bills slated for consideration this week unless Republicans allowed a vote on bills to reopen shuttered federal departments already passed by the House — a decision that could scuttle its prospects if Democrats stick together.

Senate Democrats did not indicate whether they are ready to block other bills, but their position raised the prospect that a significant portion of the chamber's work could halt until the Senate gets to vote to reopen the parts of the government now closed.
All of this happens as the government shutdown now reaches its 18th day, meaning that it now officially exceeds the length of the 2013 Obamacare Shutdown and is just three days away from equaling the length of the shutdown that lasted from December 15th, 1995 to January 6, 1996. As things stand, it looks as though we'll go well beyond the length of that shutdown. While there were some talks over the weekend, they were basically just at the staff level since Congress was out of town for the weekend and not returning until later today. Even with Congress back in town, though, the prospects of any kind of deal coming together in the coming days is fairly unrealistic. The parties are as far apart as they were when all of this started, and there isn't anything that has happened since then that seems to be serving as an impetus for action that could end up leading to an end to a shutdown.
That lack of an impetus isn't going to last forever, though. The longer we go on, the more that the "real world" impact of the shutdown will be felt. That will start at the end of this week when hundreds of thousands of Federal workers, both those who are furloughed and those who are considered "essential" and thus being forced to work without the prospect of being paid at least until the shutdown is resolved. The shutdown is also having an impact outside the Federal Government as Federal contractors and businesses that rely on Federal workers are starting to feel the pinch of the lapse in Federal funding. That impact will only become more apparent the longer this shutdown goes on and at some point, someone is likely to reach a breaking point. Until that happens, though, the theater, especially from the White House, will continue and the lack of progress will continue.