Pelosi Getting Too Much Credit for Shutdown 'Win'
The Speaker was dealt a winning hand and played it with the skill of a seasoned pro. But the outcome was all but inevitable.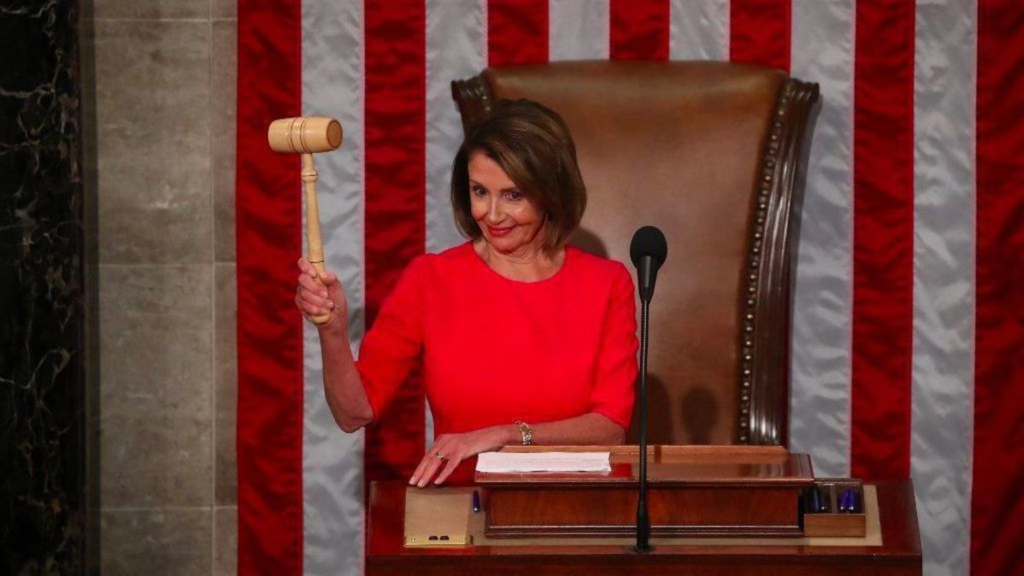 President Trump's bid to force the building of a border wall on the backs of civil servants was a complete and utter failure. That doesn't make Nancy Pelosi a strategic mastermind.
POLITICO's report "'She's not one to bluff': How Pelosi won the shutdown battle" is an exemplar of the contrary narrative:
Two months ago, Nancy Pelosi was battling an internal Democratic rebellion trying to bar her from the speakership.

Pelosi faced doubts over whether she was the right person to lead the new Democratic majority, despite shepherding her party to victory on Election Day, and some colleagues demanded she step down after 16 years in power.

Now — just weeks after reclaiming the speaker's gavel — the California Democrat has already bested President Donald Trump in a gut-wrenching fight that may help define the 116th Congress, while strengthening her hold over rank-and-file lawmakers.

Trump surrendered to Pelosi and Senate Minority Leader Chuck Schumer in astonishing fashion Friday after insisting for 35 straight days that he would never reopen the government without winning on his central 2016 campaign promise: a big, beautiful border wall between the United States and Mexico.

But just as she did with her Democratic critics weeks ago, Pelosi waited Trump out until he couldn't take the heat anymore. Amid a wave of news stories on furloughed federal workers showing up at food banks or in unemployment lines, airports across the country facing slowdowns, thousands of IRS employees who weren't returning to the job when ordered back without pay — or, perhaps more so, the public blaming him for the chaos – Trump wilted. Pelosi held firm.

"No one should ever underestimate the speaker, as Donald Trump has learned," Schumer (D-N.Y.) told reporters Friday.
But there was no "gut-wrenching fight." Trump threatened to shut down the government if he didn't get his way back in December, in the last day of a Congress with Republican majorities in the House and Senate. He didn't have the votes and the government in fact shut down. When the new Congress formed in early January and Pelosi was elected Speaker, Democrats had 235 votes to 199 for Republicans (that number has since dropped to 198). There was simply no conceivable way Trump was going to get his way absent an abject surrender by Democrats.
Aside from the institutional advantages, she was on the right side of the issue fiscally and politically. A border wall is an absurd solution to a problem that scarcely exists. The American public overwhelmingly disapproved of building it. Even though it was the only policy issue on which Trump remained consistent throughout his campaign, he couldn't get it built in his first two years with a majority of his own party in both Houses.
So, what is Pelosi being given so much credit for accomplishing? Holding the caucus together.
Pelosi worked behind the scenes to keep her caucus in line — even as a small faction of her own members grew skittish about the shutdown's impacts on constituents and privately urged her to counter a recent Trump compromise with an offer of her own.

Pelosi's reply? Don't give an inch and stay together, she told nervous Democrats as recently as this week. If we counter-offer Trump on the wall, we lose, Pelosi insisted. And we're winning.

Even Republicans seemed to concede that Pelosi's was truly Trump's match.

"She's not one to bluff," said Rep. Mark Meadows, the Freedom Caucus leader and Trump ally who encouraged Trump to shut the government down in the first place.

It's also a reminder that although polls show Trump is more popular with his base than Pelosi is with her own, Pelosi's enormous legislative acumen — sharpened by years of arm-twisting and friendly cajoling — dwarfs the political infighting skills displayed by the ex-real-estate mogul who's long touted himself as the one of the toughest negotiators in the world.

Pelosi, it turns out, drives a much tougher bargain.

"I don't know if it's because she's a woman, but [Trump] certainly underestimated her," House Majority Whip Jim Clyburn (D-S.C.) said. "I told somebody that I don't know what kind of nickname he will find for Nancy, but 'Low Energy' won't be one of them."

Trump himself has expressed frustrations with how the entire process played out. During a tense meeting with staff Thursday, after watching negative coverage of the shutdown highlighting insensitive comments made by his own top officials, Trump complained that "Nancy is never going to give me what I want" on the border wall, according to two people briefed on his comments.

The next day, Trump caved.

Yet Trump's fold came at just the right time for Pelosi, who presides over a caucus filled with anxious centrists and freshmen desperate for any signs of progress that the stalemate — the longest shutdown in U.S. history — was ending. While a vast majority of her members supporter her strategy through and through, several dozen started feeling restless.

Many Democratic lawmakers were getting an earful from constituents back home who were ready to see the shutdown end, no matter who was to blame for starting it. And some members were upset that leadership canceled a scheduled recess this week, forcing them to be in Washington while postponing town halls and other events back in their districts.

During several meetings of the more pragmatic-minded New Democrats Coalition, lawmakers expressed exasperation that the Pelosi-favored hashtag "#TrumpShutdown" wasn't enough to shield them from angry constituents back home. Other members, like freshman Rep. Abigail Spanberger of Virginia, complained that the messaging strategy Pelosi had laid out may work for solid blue districts but wouldn't hold water in her Republican-populated stronghold.

Even House Democrats who supported Pelosi's "no negotiations until the government is open" stance privately agreed that the longer the shutdown dragged out, the tougher it'd be to stay unified. Democrats, the party long known for championing policies that help the poor, were worried that food stamp checks and affordable housing assistance might not be distributed in February if the standoff continued. Some even privately admitted they may have to cave to Trump's border wall demand if their constituents continued to take financial hits.
Essentially, then, Pelosi is being credited for being ruthless with an unbeatable hand. Trump was betting that Democrats would care more about the non-military parts of the government being shut down that Republicans and caving. He lost.
Yet, all the polls showed that the public blamed Trump for the shutdown, so Democrats were winning the political fight. They just had to be as willing as Trump to let Federal employees suffer in order to get the win. Pelosi was able to persuade them to hold out.
Beyond that, it may have been the furloughed employees themselves that turned the tide by refusing to continue working without pay.
HuffPo's Alexander C. Kaufman explains in "Nancy Pelosi Didn't End The Shutdown Alone. Federal Workers Did The Heavy Lifting."
In the hours after President Donald Trump announced a short-term plan to end the longest government shutdown in history, House Speaker Nancy Pelosi (D-Calif.) was showered in praise.

The hashtag PelosiWins began going viral on Twitter. MSNBC pundit Lawrence O'Donnell credited her with "crushing" the president. Vanity Fair's headline blared, "Checkmate: Nancy Breaks Trump and Ends the Shutdown," proclaiming that "Pelosi's masterclass, and plummeting polls, forced the president's hand." ThinkProgress editor Ian Millhiser warned to "never ever" ― with the second word repeated 36 more times ― "bet against Pelosi."

Her steadfast opposition to Trump's demand for billions of dollars for a border wall may well be "proving her Democratic skeptics wrong," as The New Republic wrote two days ago.

Yet it was thousands of federal workers, facing a second missed paycheck as the shutdown stretched into a 35th day, who stopped showing up to work and put the real pressure on Trump. On Friday the Transportation Security Administration reported its national rate of unscheduled absences surged to 7.6 percent from 3 percent a year earlier. A shortage of air traffic controllers briefly halted flights to LaGuardia Airport in New York City and delayed flights to Philadelphia International Airport and New Jersey's Newark Liberty International Airport.

The absences were a daring — if officially uncoordinated — labor action. The National Labor Relations Act gives American workers the right to strike but does not extend that right to government workers. President Jimmy Carter enacted legislation to prohibit federal workers from striking, as The New York Times noted. President Ronald Reagan gave the statute teeth; when air traffic controllers went on strike in 1981, he ordered them to return to work and fired them when they didn't.

The uptick in workers calling out this week was no coincidence. In a fiery statement, Sara Nelson, the president of the Association of Flight Attendants-CWA, said air safety professionals were "fatigued, worried, and distracted" as they carried out "unbelievably heroic work even as they are betrayed by the government that employs them."

"So the planes will stay on the ground," she said. "Do we have your attention now, [Senate Majority Leader Mitch] McConnell? All lawmakers? Open the government and then get back to the business of democracy and discuss whatever issue you so choose."

A separate statement from the National Air Traffic Controllers Association, the Air Line Pilots Association and the Association of Flight Attendants-CWA excoriated lawmakers for creating a public safety threat by leaving workers unpaid.

"In our risk averse industry, we cannot even calculate the level of risk currently at play, nor predict the point at which the entire system will break," the statement read.

Just two days ago, the National Transportation Safety Board told CNN of 87 accidents have not been investigated since the shutdown began. According to Larry Willis, the president of the Transportation Trades Department with the AFL-CIO, more than 1,800 air safety workers quit over the past month to find new jobs.

"They have a legal prohibition against strike. The unions did not violate that … but they were correct in pointing out that workers were going to leave the industry," he said by phone Friday. "They had to find ways to put food on the table, and at some point that was going to cause positions to go unfilled. That's exactly what you started to see over the last several days."

Beyond the aviation industry workers, federal employees spoke out about the hardship they were facing because of the shutdown, having to look for new jobs and forgo essentials. Their willingness to tell their stories raised essential public awareness about the real-life consequences of Washington games.

To her credit, Pelosi seemed to see that for what it was. On Thursday, responding to billionaire Commerce Secretary Wilbur Ross' widely criticized remarks urging federal workers to take out loans to make up missed paychecks, she said, "Is this the 'Let them eat cake' kind of attitude? Or 'Call your father for money'? 'This is character building for you'?"
Closing down LaGuardia airport pretty much sealed the deal, I think. And more of that sort of thing was inevitable as the shutdown continued.
Pelosi was dealt a winning hand. She played it with the skill of a seasoned pro, which of course she is. But the fact of the matter is that no funding for Trump's wall was possible without a majority of votes in the House. There was no way that was going to happen unless Trump conceded something extraordinary in return or Democrats caved in droves.